iCrowdNewswire - Apr 27, 2017
PERSONA's Second Studio Album!
We're stepping it up a notch with our next album and we'd really appreciate your support!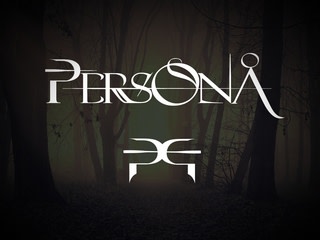 We're very excited about this new album because all the ideas, influences and inspiration accumulated since the release of the previous one will finally take shape! While maintaining our original sound and style, the new songs will be spiced up with some fresh and diverse elements, both instrumentally and vocally. Lyrics will be 100% personal and inspired by real life situations, each song being a fragment of the album concept. It would mean a lot to have you as our supporter!
Hello dear reader!
We are Persona, an alternative metal band from Tunisia (North Africa). In May 2015 we released a music video for our single "Blinded", followed by our debut album "Elusive Reflections" in February 2016. As an independent band in a country where there are no festivals, labels, studios nor music producers for metal music, where we constantly struggle with the lack of venues and media support, it wasn't an easy task to deal with all the steps an album production requires. But once we managed to finally get it out there, "Elusive Reflections" got such an amazing response from so many people all over the world, and we are extremely happy we haven't let all the obstacles and setbacks stop us.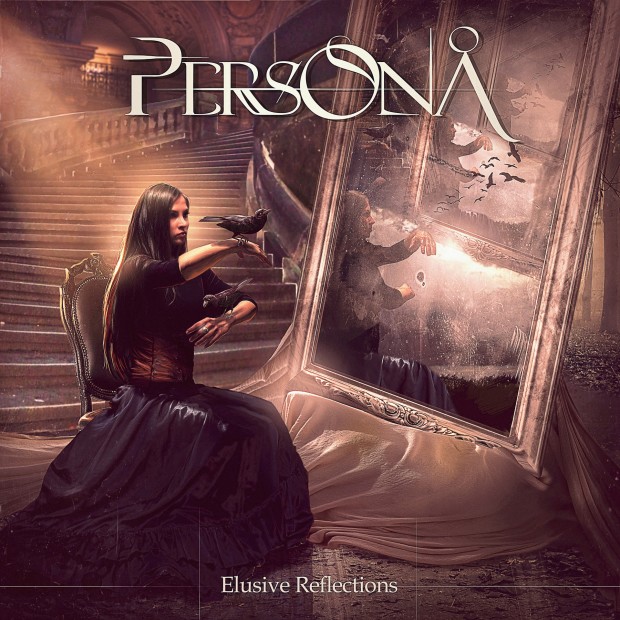 Many of you have been supporting us since our very beginning, and that's the greatest motivation a band can have – dedicated and encouraging fans like you! We appreciate so much that you have shared this part of our journey with us, and now we invite you to participate in our next big step: OUR SECOND ALBUM!
We plan it to be a lot more adventurous and divergent than the previous one, but don't worry, the core of our musical personality will still be there, only improved and enhanced. Like the first time, we will engage our creativity, inspiration and skills to the maximum, because we want to create something worthwhile and meaningful, something you will enjoy at least as much as you've enjoyed "Elusive Reflections". We are also ready to finance this project to the extent of our possibilities, but since we're still an independent band, unfortunately, this time our funds are limited. We're afraid we won't be able to achieve the quality we're striving for and to realize some of our ideas without your help.


At this point, all the songs have been written (12 songs – over 60 min of music), some are still undergoing final corrections and changes, but that shouldn't take too long. After the recording is finished, there will still be a lot to do and that's when we'll be counting on you! Here is how it looks like:
Our first goal of $3500 is meant to cover the expenses of recording, mixing and mastering.
If we reach $4500, we'll be able to make physical copies (including artwork, pressing and printing of the CD).
If we reach $5500, we'll be able to make a lyric video, get more creative with merch items and general visual aspect of the album.
And if we manage to reach $6500 we will have a possibility to make a real music video!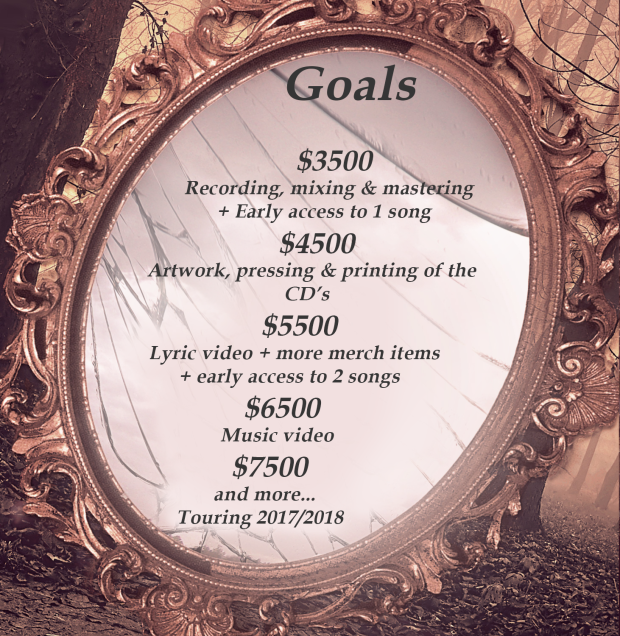 – If our goal of $3500 is achieved, to thank you for your participation, at the end of campaign you will get an exclusive, private link to listen to ONE of our NEW ALBUM songs, in DEMO version (audio), way before the release date!
– If we reach $5500, at the end of campaign we will reveal a SECOND DEMO SONG through a private link to all of you who supported us!
– If we reach $7500 or more, all extra money will be used for touring expenses in 2017 and 2018 – after many concerts here, we can't wait to start playing outside of Tunisia!
If we don't manage to reach our goal, we will do our best to produce this album until the end, but it won't be easy with limited funds, and delays might be big.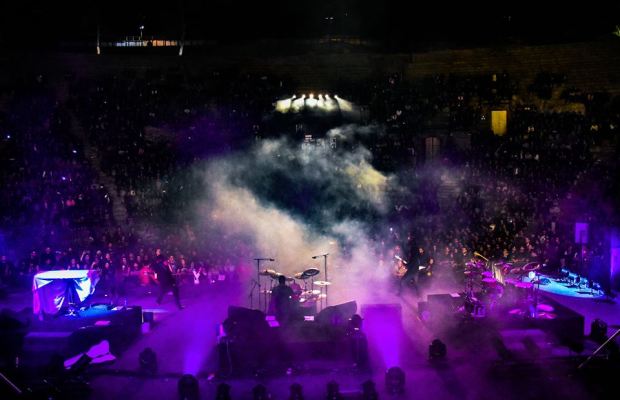 (opening for Myrath in Carthage)
The final product is scheduled to be ready before the end of September 2017 and we will post regular updates about our progress until then. There's a variety of perks we're offering for your donation – just pick your favorite! If you can't donate but you would still like to participate and help us, sharing and spreading the word is also an excellent way to do it!
Here are some details about our Exclusive Perks and included items:

A 45 min Skype chat with us! You can ask us anything you like, we will play one acoustic song for you if you're in the mood, or we can just hang out! It would be a big pleasure to meet you!
*Available starting from mid October 2017/beginning of November 2017.
**'Skype chat' item in all the other perks is also available starting from mid October 2017/beginning of November 2017.

Meet us for a drink and a nice talk! We'll hang out, take photos together, and we'll personally hand you over all physical items from the perk!
*Available ONLY in Benelux/Paris/North France area in the end of September 2017, possibly beginning of October 2017, OR if you come to Tunisia after this period.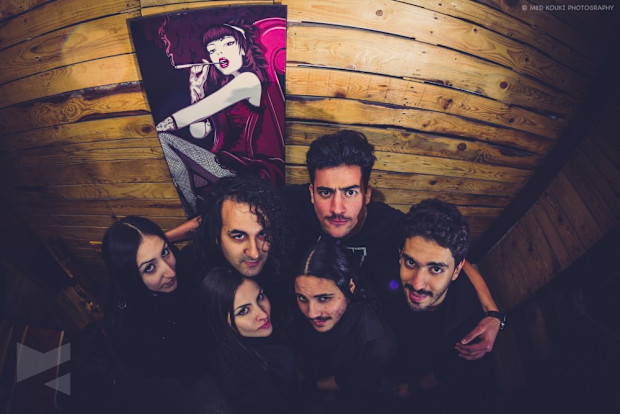 Besides other items, this perk offers an exclusive T-shirt with the band logo and a personal thank you note to YOU!
*Girlie T-Shirt available too!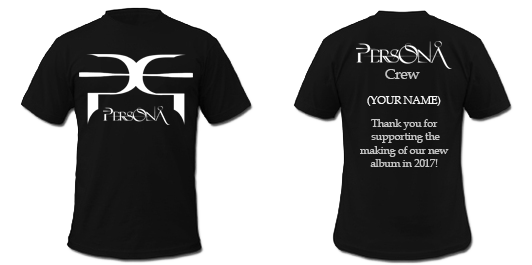 Includes DOWNLOAD and private streaming link of our UNRELEASED music video for "He kills me more"!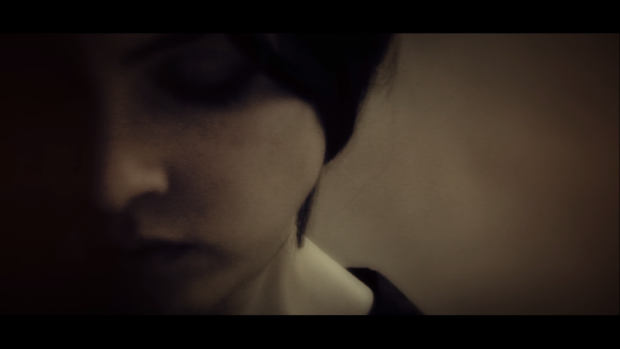 We will come to your place to play an acoustic 1h set! And of course, we will personally deliver to you all physical items from the perk!
*Available ONLY in Benelux/Paris/North France area in the end of September 2017, possibly beginning of October 2017, OR if you come to Tunisia after this period.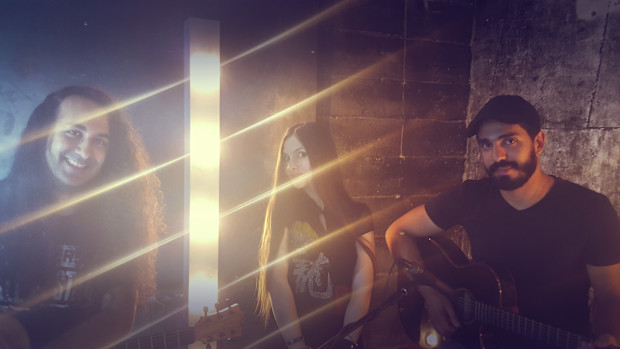 We'll be forever grateful and extremely pleased if you decided to support us in our campaign, because, besides helping us financially, you would become a great and invaluable part of our music. Knowing that we can count on you and that you're excited about this project as much as we are, gives us extra motivation to work with even more passion and enthusiasm. In other words: we'd really love and greatly appreciate to have you aboard in this new adventure!
Thank you so much in advance!
Jelena, Melik, Yosri, Youssef, Walid and Nesrine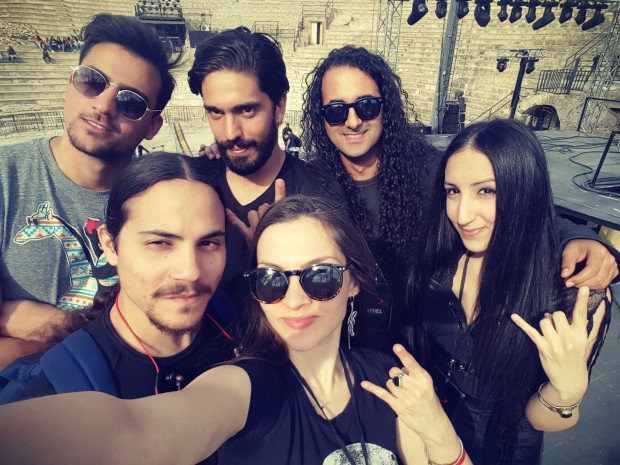 Get to know us better on:
Artwork by Bader Klidi
Photos by Seth Photography & Med Kouki Photography