iCrowdNewswire - Apr 20, 2017
Devlok, the techno-templar. Book Two
Chapters 3 & 4. Next part and end.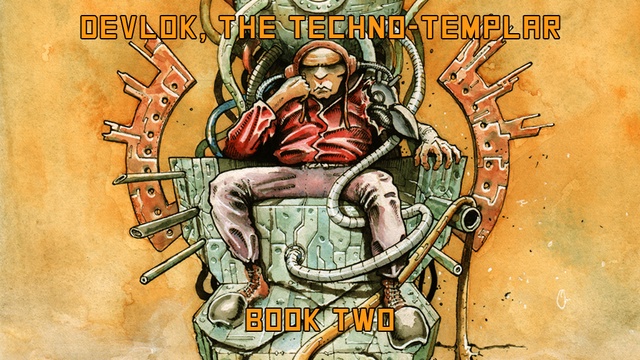 About the project
"Being captured by gunheaded teflo-droids, our hero, Devlok, is carried through the giga-tubes in a protoplasmic driven train speeding towards "Node 32″, a numerisation unit dating from the great wars between artificial intelligences and situated in the oriental stratohedron. At the same time, a techno-templar team of erasers is on his tail…"
First thing you should know, this very page is to publish the book in French, if you are only interested in the English version, then I invite you to visit the kickstarter page: http://www.kickstarter.com/projects/2082461417/devlok-the-techno-templar-book-two
"Devlok, the techno-templar" is a confusing, gritty, anticipation graphic novel taking place in "the hyperhedron", a (very) futuristic universe whose structure is made of cyclopeans tubes of poly-teflo-carbon. "Devlok" had, for a yet unknown reason, flew from his former masters and he's now falling into a game dominated by the interests of powerfull artificial intelligences …
Every original page is 27x40cm. 100% hand made with pencils, pens, watercolor and acrylics on arches paper 300gr.
You can see much more from the creative process on my facebook page and Instagram.
For the little story, 3 editions (two of 100 copies in English and one of 150 copies in French), were printed between april and june 2016 and sold out. This was the first part of the story. Now it's time to release the chapter three and four, this last including the end!
You can read the chapters 1 and 2 online on my facebook page or on my website.
You can check both last successfull crowdfundings here:
56 pages of 200gr. paper on A4 format (11,8×15,8″) with soft cover, matt, comprising:
Chapter three and four of Devlok's story in French (34 pages) (You can also pledge for the english version here on Kickstarter)
"Procreator" 8 pages surprise B&W erotico-cyber short story
"A breakcore saga" 4 pages surprise B&W short story
Full pages illustrations
Concept and roughs
If you don't have the first book which comprises chapter 1 and 2, I strongly recommend to order the reward "Complete cycle" or "complete cycle #2.
This very page is to finance the printing of the French version! If you are interested in the english version, please visit my Kickstarter page. http://www.kickstarter.com/projects/2082461417/devlok-the-techno-templar-book-two
34 pages story board:
10 pages of the chapter 3.
There's then 24 pages still to complete, as I usually take 2 to 5 days by page, I hope to be able to send your books for the end of june or begining of july. But as I don't want to compromise the quality, be prepared for an eventual slight delay!
Please, read carefully what the rewards are entitling!
– Eternal thanks: Your name will be displayed in the thanks section of the book and on my website.
– Book Two: The new book in French. Comprises chapter 3 and 4. (Obviously the image is a mockup)
– Book One: The previous book in French. Comprises chapter 1 and 2.
– Black & white dedication: A small ink drawing with a personnal word in a page of your book!
– Color dedication: A small watercolor illustration with a personnal word in a page of your book!
– Bookplate: Bookplates are around 7x15cm, they are hand stamped with black acrylic ink on 300gr Langton paper and signed. (Those in the picture are the previous ones, new ones will be made)
– Digitally printed bookmark: A printed illustration on 250gr. paper, bookmark format: 7x25cm. (The one displayed here is an example)
– Hand drawn/painted bookmark: A real, watercolor and ink illustrated, 7x25cm bookmark on Arches 300gr paper. Signed of course. (The one displayed here is an example)
– Posters: All posters are printed by a professional company on 250gr paper and signed.
– Personnal phone call: I will call you at your prefered time (Yes, even if you're in the US, Japan or Mars) to thank you in person and to speak about the decline of the human species.
– A real, original page from Devlok: Yes! A real one! They value between 400€ and 600€ (for the moment).
– Invitation to the private vernissage: I will organise, probably in june, in my home in Berlin, a private evening where the original drawings will be exhibited. And I will prepare snacks myself!
*All rewards include shipping fees worldwide.
*If you want to add, remove or exchange something in your reward, just ask me, most of the time, everyhing is possible!
What are the funds for?
By participating in this project, you'll help me to continue to make sequential art but above all of course, it is about the opportunity to get the signed and dedicated book directly to your door. Plus all the extras that can come with it: Dedications, bookplates, Illustrated bookmarks, Posters, Special editions and Original illustrations!
Also, except in a few European conventions or in the case of an eventual re-press, this book might be difficult to get elsewhere than through this campaign.
Remember too, that on Ulule, if the goal is not reached, everyone will be refunded and the book will not be printed (or at least not now). That's why talking about this project with your surroundings is crucial.
I'D like to print a minimum of 150 books, which costs around 650€, shipping fees usually hit the 300€, rewards are close to 250€ (without counting the value original illustrations) and Ulule takes 8%.
Well, that's more or less all! Thank you for taking the time to check out my kickstarter. I'm really proud of where this project is heading and hope to have you be a part of it. Even if you can't donate. Just spreading the word, telling a friend, or sharing the link helps us get one step closer to completing our project.
Thanks again!
Please note:
I repeat but: This is the second part of the story! So if you don't have the first part, I strongly recommend to order the reward "Complete cycle" or "complete cycle #2.
This very page is to finance the French version, if you want the english version, I invite you to visit my Kickstarter page. https://www.kickstarter.com/projects/2082461417/devlok-the-techno-templar-book-two
If you bought the very first english edition (from april 2016), that only has chapter 1. Please simply let me know, I will send you the chapter two in a special 20 pages extra book only for the shipping fee (3,4€).
If you like my work and wish to support me, maybe consider to become one of my patron through Patreon. By pledging small amounts monthly you get access to undisclosed material and more while helping me to cope with the financially shitty life of a comic author.
I am looking for a scenarist for future projects. If you are writing deep, dark, philosophical, transcendenting, action, polarish, sci-fi stories, please don't hesitate to contact me and send me some examples of your work, maybe we can work something out together but please note that I am not interested in super hero in tights saving murrica.
About the project owner
I was born in 81 in Namur in french speaking Belgium. I lived there in a comic culture since my childhood. While following briefly the art academy I discovered the classic sci-fi from that time and the artists that represent it, H.R. Giger, Moebius, Druillet, Otomo, Shirow and many, many more who would still influence me untill today. As I have also been an electronic music producer, a field where technology is also very present, it was natural to merge with the visuals, resulting in my actual graphic works, depicting cybernetic wired creatures and dystopian landscapes.
Altough my art is very focused on the future, I am only using "old" traditionnal techniques, such as pencils, ballpointpens, brushes with ink, watercolor, acrylic and paper of course.
As freelancer between legality and not since around 10 years, I have been commissioned for various purposes, including concept art for virtual reality games, music record covers and night-life advertizing material. I exhibited my works in different types of events, from group and solo shows to comic conventions and art fairs.
You can see more about my work through these pages:
http://instagram.com/haedre_art