iCrowdNewswire - Jan 12, 2017
Gunbarrel Brewing Company
Help us elevate Gunbarrel Brewing Company in Boulder, Colorado from modest to magnificent!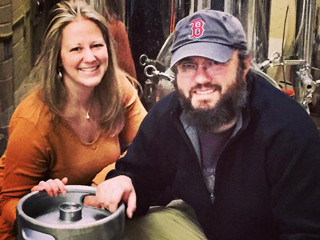 Gunbarrel Brewing Company is the culmination of many years of practice and insight, of experience and education, of friendships and explorations. We produce finely crafted, innovative beer expressing a wide range of variations that are delicate, funky, audacious and by all means ambitious, wrapped in an experience that enlightens with beer after unforgettable beer. Please help us elevate our plans for the brewery & taproom from modest to magnificent!
WE ARE CRAFT BEER.
Gunbarrel Brewing Company is owned and operated by James Fox & his wife Marie. We are your friends, your community and the heart and soul of Gunbarrel Brewing Company. We are friendly, honest and hard-working people who are passionate about craft beer and building a company that enriches all of the lives it touches.
The brewery is located at 7088 Winchester Circle in Boulder, Colorado, facing 71st street. The brewery is named for the small, independent-minded unincorporated Boulder community of Gunbarrel which it calls home. Renovations of our 20,000 sq ft. facility are underway, brewing equipment is waiting in storage, and we are on the brink of opening in March of this year. We're beyond excited to serve all of you by bringing audacious beer and community-minded business to our corner of Boulder!
SOON TO BE GUNBARREL'S "LIVING ROOM"
Our casual, spacious, and lively tap room will be a place for both local residents and visitors to gather and enjoy the Brewery's regular beers, as well as experimental and limited production beers offered only on-site.
Our beautiful outdoor beer garden will be a fantastic gathering spot for a sunny game of corn hole or relaxing under the stars around the fire pit with friends.
Enjoy an evening out in Gunbarrel! Gather round the taproom for live performances from local and visiting musicians. Unwind with friends around the pool table, throw some darts, play shuffleboard or enjoy any of our other assorted games. Visitors the the brewery will find a selection of delicious locally made food products to nibble on, as well as a selection of innovative food trucks from the surrounding area. We will offer guided tours of our brewery facilities, as well as regularly hosted educational events.
Those seeking a more private affair can utilize our event facilities for neighborhood meetings, parties, corporate and other special events.
CHEERS TO OUR FRIENDS!
Opening a 20,000 sq foot brewery in Boulder is no small task. Our $27k goal is what we'll need to put finishing touches on our taproom and really bring it to life and make it special. We value your contributions and are showing our thanks with a slew of awesome rewards. If you'd like to make a monetary donation without receiving a tangible perk, please click the pink "BACK IT" button above. Your reward for a donation includes our undying gratitude and splendiferous high-fives!
WHAT MAKES US SO DARN SPECIAL
quality assurance
We will employ our own laboratory from day one in order to craft the best beer possible. The laboratory is a key component of our Quality Assurance Program ensuring excellence in our beer. James' extensive scientific background and training will allow for knowledgeable implementation of these programs, which will save both time and money on outside testing. We are fortunate to have the expertise on site to implement these programs which are unfortunately uncommon in most craft breweries.
culture craft
Gunbarrel Brewing Company is among an elite society of International breweries to employ a coolship. We are the first brewery in the United States to open with one, marking our commitment to continuing the tradition of spontaneous fermentation started long ago in Belgium.
A coolship is a large, shallow, open vessel in which fresh wort is exposed to wild yeast and bacteria from the environment. After exposure these beers are then allowed to ferment and age in oak barrels. This process allows for unique flavors to arise from the local wild organisms along with flavors derived from each individual barrel, giving our beer a special sense of place. With time, patience, and love, these beers develop into exceptionally unique beers that vary from batch to batch and year to year, bestowing new and intriguing tastes upon our consumers.
eco consciousness
We make sustainable resource and disposal choices, to lessen our impact on the environment, enhance overall efficiency, and convert waste into a valuable product.
Implement universal zero waste requirements and comply with the Universal Zero Waste Ordinance.
Donate spent grain, the leftover malt, to farmers to be re-purposed into animal feed.
Packaging product only in serving tanks, kegs and cans instead of bottles whenever possible.
100% clean energy powered business by offsetting our energy usage with Green-e certified Renewable Energy Certificates from American wind farms.
community
Craft beer brings people together from all walks of life in the name of the best hobby there is – appreciating all things craft beer. We will host our own regularly planned beer education club. Stay tuned for details! Additionally, visitors will enjoy trivia, games, themed parties, beer and food pairings.
Our annual Found Fruit Project highlights the enthusiastic donations of fruit from community members throughout Boulder County. The project helps to keep perfectly good fruit from going to waste, while pushing our imaginations to produce some really innovative brews with a real sense of place! In 2017, we will be hosting a huge party at the brewery to celebrate the beers we make with community sourced "found fruit"!
investing in our people
While aspiring to brew some of the best beers in the world, we also want to be the best company to work for that we can be. We are building a team of hardworking, passionate, driven and talented people who share our love for outstanding craft beer.
Our passion for great beer is what defines us. Having everyone in our company not just share this passion, but also share the knowledge that underpins this passion is imperative to our mission. The Cicerone program is similar to Sommelier qualifications but it is completely focused on beer. We provide training for all of our co-workers, we fund the exams and study materials, provide training sessions and even give people an automatic pay raise for each level of the accreditation they pass.
Great service is a cornerstone of our success and what defines our customer relationships and interactions with each other as a team. We intentionally create an organizational culture that nurtures great service. We teach each and every one of our employees the recipe that we have developed for great service.
We treat everyone we come into contact with as an individual and with care. We provide them with high quality service to match and EVEN enhance the high quality CRAFT beer that WE SERVE.
IMPACT
The past three years have been leading up to this moment. We searched far and wide and finally have a place that will be perfect for the brewery of our dreams (and yours too we hope!). Your contribution to this project represents a very unique opportunity to be a part of something special and impactful.
Thanks so much for checking our campaign out – if you can't contribute, please consider sharing this with your friends and helping us spread the word!
Sincerely,
Jamie & Marie