iCrowdNewswire - Oct 15, 2016
Help Fund 'GUARD', a boxing film set in Belfast.
We have an award-winning team. Help us make a belter film.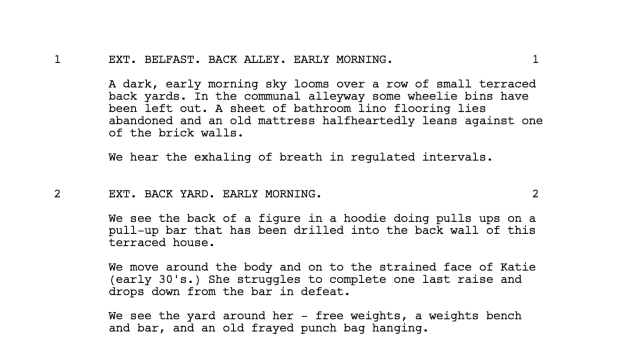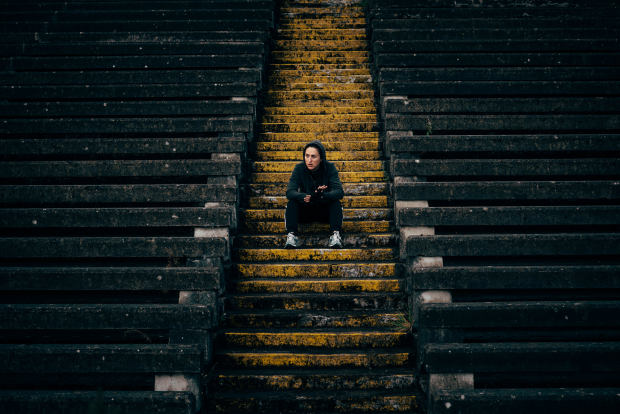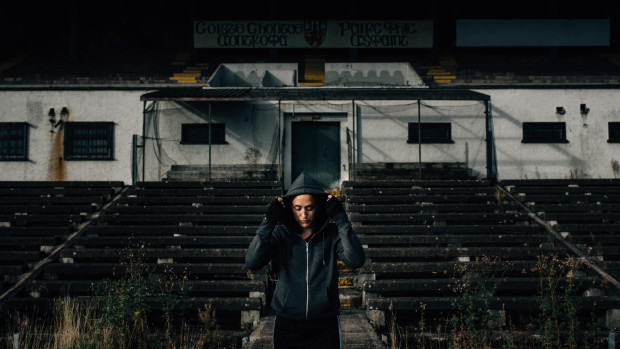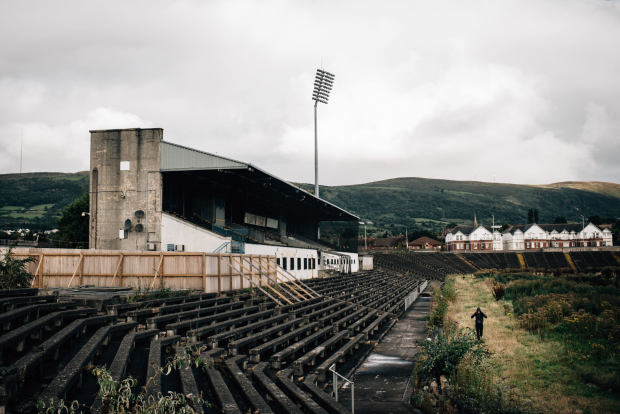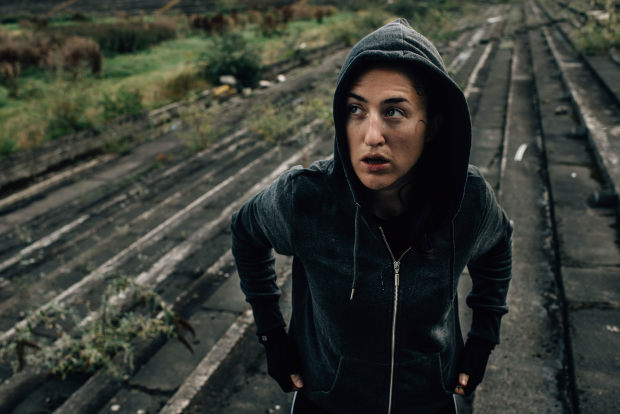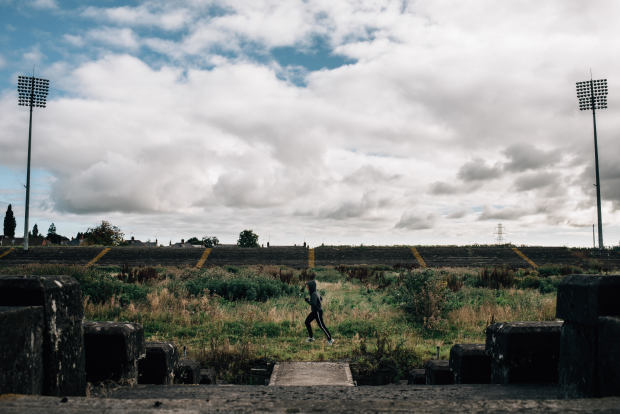 GUARD is a short boxing film set in Belfast. Written by and starring Bronagh Taggart (The Fall), it will be shot by BAFTA winner Michael Lennox (Boogaloo & Graham), and cast by multiple Emmy winner Robert Sterne (Game of Thrones). In order to make GUARD the way we envision it, Bronagh and I created Honesty Inc., a brand new production company based in Belfast. Our aim is simple: to tell stories truthfully. To tell our first, we need your help…
What's it about?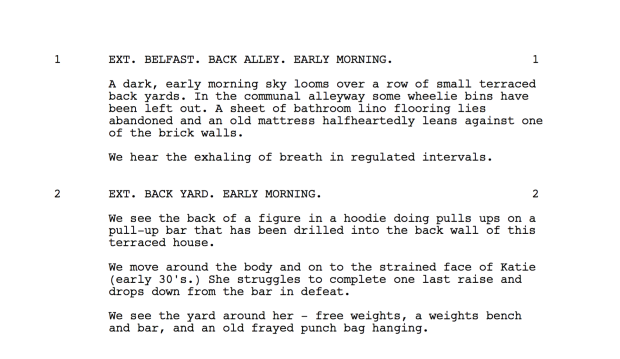 Katie (Bronagh Taggart) wants to be able to handle herself, should she ever need to. Living alone in the house she grew up in, she makes a point of staying fit and strong, but her routine is disrupted when her da lands back home after fifteen years inside. Surprised by his estranged daughter's new obsession, Kieran feels he finally has something to teach her, and initiates Katie into his old world: boxing. In the ring she takes the punches and tries to learn from her father, but getting Katie to drop her guard outside the ring will be Kieran's toughest battle yet.
Who's involved?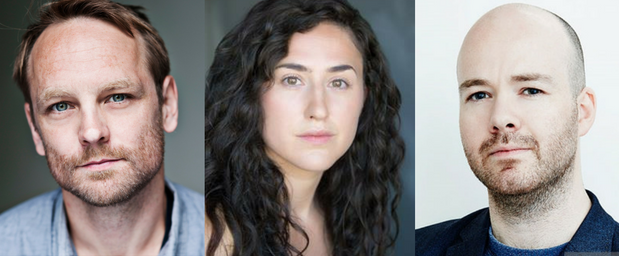 I'm Jonathan Harden, and I will be directing GUARD. I'm an actor from Belfast you have most probably never heard of, but over the past ten years, I've built up nearly 50 film and television credits, working with outstanding directors such asRalph Fiennes, Stephen Frears, Rian Johnson and Oliver Hirschbiegel, opposite some of my acting heroes, including David Oyelowo, Kristin Scott Thomas, Derek Jacobi and Judi Dench. This will be my first time behind the camera, but I think I've served my on-set apprenticeship and feel ready to direct a film of my own.
GUARD was written by my wife, Bronagh Taggart, who – aside from having previously written a short for broadcast on Channel 4, most of BBCNI's 6Degrees, and is currently under commission to create a brand new period drama – also happens to be one of my favourite actors. And if you think that sounds biased, wait for this: GUARD is hands down the best short film script I have ever read. And I have read a few in my time; I've been in over twenty. We've shown it to a lot of people in the industry too, and their response was the same. Put simply: the project, although at the early stages of pre-production, is standing on very solid foundations. Add to that a BAFTA winner in Michael Lennox, and one of the world's foremost casting directors in Robert Sterne, and you can see why Bronagh and I are very excited to be embarking on this journey together.
Most recently, we're delighted that Leah McFall has given us permission to use her music in the end credits, when we get there.
Why crowdfunding?
As this is my first time directing, and as Bronagh's script didn't need further development before going into production, we're not eligible for funding from NI Screen (the Northern Irish film funding agency). We're not in a position to fund it ourselves and neither of us has any wealthy friends or relatives. What we do have is a great script and a great team, who are all working for free because they believe in the quality and value of the project.
By donating to our campaign, you will be helping us to make a short film that we hope will punch well above its weight. We're also pledging 5% of the total amount raised to Womens Aid NI – the lead voluntary organisation in Northern Ireland addressing domestic and sexual violence and providing services for women and children.

What we need, and what you get
Although no individual working on the project will be getting paid for their time, there are still a lot of costs to cover. We need at least £8,193 to cover the initial production of GUARD, from location and equipment hire to travel expenses and catering. Here are some specifics (plus a 10% contingency, 5% IndieGoGo commission and 3% transaction fee):
Set-up Costs: £150
Equipment Hire: £2,000
HD Drives: £210
Travel, Transport & Accommodation: £945
Cast/Crew Daily Travel Expenses: £830
Catering: £876
Location Hire: £600
Costume: £400
Insurance: £450
And if your brain doesn't work that way, here's a simple summary of the whole budget broken down into headline categories: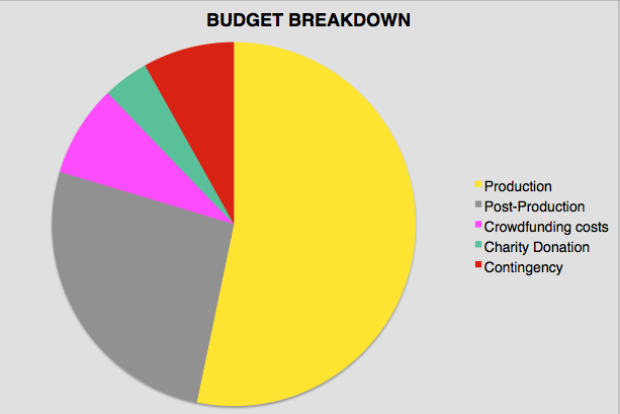 To say thank you, we're offering a range of perks: from digital downloads and signed scripts, to 'Special Thanks' and Executive Producer credits. Most importantly, you'll know you're helping to make a project that otherwise just wouldn't be possible. So, thanks. Genuinely.
We are also fundraising outside of this Indiegogo campaign, so even if we don't reach our target on here, there's a very good chance we'll still get there. Once we have the film 'in the can' and can show what we've got, we're confident we can find the rest of the budget necessary to complete the post production process. That said, if we pass the £8,193 mark, then we'll be delighted to put the extra cash towards our post and marketing costs. The total budget, with nobodygetting paid, is £12,129.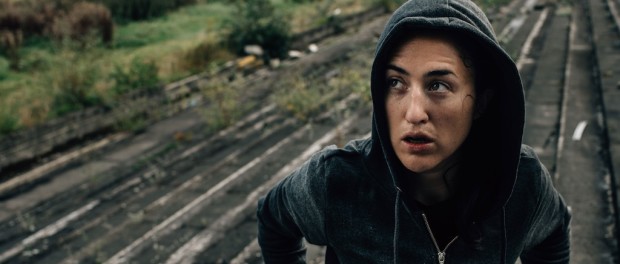 Why we think it's worth it
An outstanding female voice in Bronagh Taggart and that rare thing, an exceptional female lead role, make GUARD a unique proposition. This is a story worth telling, and worth telling well.
Northern Ireland has a rich filmmaking history, and in recent years has become a production centre of international standing. Our short films are some of the best in the world. Most recently, our Director of Photography Michael Lennox was nominated for an Oscar and awarded a BAFTA for his short, Boogaloo & Graham. With GUARD, we aspire to follow in that lineage and to bring the best of Northern Ireland to the global stage.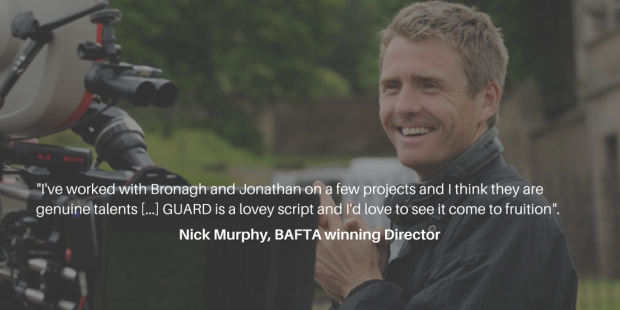 Don't just take our word for it…
These guys know better than we do…
NICK MURPHY – BAFTA WINNING DIRECTOR OF THE SECRET
"I've worked with Bronagh and Jonathan on a few projects and I have to say that I think they are genuine talents – both of them. Moreover, I think GUARD is a lovey script and I'd love to see it come to fruition. It's got originality, it's got purpose, so anybody backing it – I urge you to do that – there's every chance it could turn out to be something you'll be really proud of being involved in. And I wish Jonathan, Bronagh and the team – which is quite a team by the way – all the very best."
Nick Murphy is BAFTA winning director and writer. He is best known for Occupation (2009), The Awakening (2011), The Last Kingdom (2015) and The Secret (2016).
ELAINE SPERBER – FORMER VICE PRESIDENT OF PRODUCTION AT HBO PICTURES
"It's been my pleasure to work with Bronagh Taggart on several of my series in recent years. She's a very talented screenwriter, and I've been very lucky to have her as part of my writing team. Her acting is pretty great too; I like to think of her as the next Emma Thompson."
Elaine Sperber is the former Vice President of Production at HBO Pictures, Head of Drama at CBBC, and Head of Family Drama for Zodiak Media. Her shows have won numerous BAFTA, RTS, and Broadcast Awards, and an International Emmy. She is currently Vice Chair of Northern Ireland Screen.
SHAUNA SHIVERS MCATAMNEY – CINEMAGIC INTERNATIONAL EXECUTIVE
"GUARD is a fantastic script and Jonathan and Bronagh have a great vision for the film. It already boasts an impressive team and a long list of supporters, to which I'm delighted to add my name."
Shauna Shivers McAtamney is International Executive for Cinemagic. She was also Production Co-ordinator on A Christmas Star (2015).
The hurdles, and the risks
Our first hurdle is financial; we can't do this without your help. That's because…
I haven't directed a film before. Our second hurdle, which not only means that NI Screen won't fund GUARD, but also that I have to excel in order to make it the exceptional film I want it to be. But that's why I have Michael Lennox on board to shoot it. Not only is Mike a BAFTA-winning director in his own right, he's also one of my best friends. We've worked together on numerous short films, including: his first, RIP AND THE PREACHER; his film school graduation film, NINE LIVES; and the now famous BOOGALOO & GRAHAM. Mike will be my wing man on this, not so much holding my hand as tapping me on the shoulder and taking me to the side for a word of advice.

The final hurdle will be getting the crew necessary to make this all happen. Thankfully, between Bronagh and myself, we have worked with the best filmmakers in Northern Ireland and are confident can get some of them to give up a weekend to help us make GUARD. We've also teamed up with Cinemagic to provide opportunities to some of their most promising young filmmakers, and aim to have a highly motivated local trainee working within every department.
There is always a risk in making any creative project that the final product will not live up to expectations. By starting with a great script and getting the best team on board to make it a reality, we hope to limit that risk as much as possible.
Other ways you can help
We know some people just can't contribute, but that doesn't mean you can't help.
Please help get the word out and make some noise about our campaign.
Talk about it, share it on facebook, tweet it or shout it from the rooftops!
Join us in our fight to make a film that can stand toe-to-toe with the best of the best. Thanks for reading. Thanks for donating. Thanks for spreading the word.