iCrowdNewswire - Oct 14, 2016
cluck – cook smarter with a smart kitchen timer
Life is busy. Free up your mind, your hands and your time with a smarter kitchen timer.
cluck is a patent-pending kitchen temperature sensor and timer which works with the pots and pans you already own. The sensor and companion smartphone app work together to make it easier to monitor and prepare some of your favorite foods more conveniently, consistently and safely every time you cook. When you cook with cluck, you can have the peace of mind that when your eggs, noodles or potatoes need you, the app will call you back to the kitchen.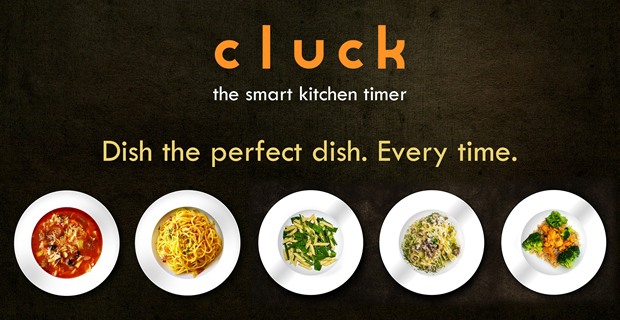 The simplest thing you can do with cluck is to boil water. Use this feature for whenever you're making coffee, tea, a noodle pot, instant mac-n-cheese, etc.
The cluck app will send you notifications right before the water boils and right as it is boiling.
But cluck isn't just for boiling water. At launch, we'll be supporting a limited number of food types for you to cook with (e.g. eggs, pasta, etc.). Not only will you receive the helpful notifications about your water, cluck's active temperature monitoring will also tell you exactly when your food will be done.
Post launch, we'll be pushing out updates to the app to add more foods you can use with cluck.
Stay tuned, there's more to come!
Building cluck has been an amazing journey.
We started with a rough concept and built our first prototype to start testing our hypotheses. Our temperature prototype was so large (nearly a foot tall) that we called it Grototype (gross + prototype)! Although it wasn't pretty, Grototype helped us understand the problem and the path to a solution so much better.
From there, we iterated on our prototype several times, increasing temperature accuracy, extending the battery life and reducing the size with each iteration.
The next step after creating a functioning temperature-accurate prototype, was to create a fully submersible and food-safe device.
In our research it was clear that food-safe, BPA-free silicone is the preferred material for home chefs. Silicone is not only heat resistant, it won't change the flavor (or color) of your food.
We leveraged food safe RTV (Room Temperature Vulcanization) Silicone to over-mold our potted electronics which is when cluck was born. The next phase in our journey was develop the best food-safe temperature sensor that was a compliment to our design. Finally, after a year of intense experimentation, we found a sweet spot we were happy with and our near final device emerged.
Timelapse video of how we built our cluck prototype.
We are very proud of how far we've come and that our fully functioning prototype is now so close to having market quality and being production ready.
There may be some necessary tweaks to cluck once we move into manufacturing, but we are confident that the design and size will remain similar (if not identical) to the prototypes we have currently.
Here are the specifications for the device we are planning on shipping.
KEY SPECIFICATIONS
Electronics: PCB with BLE-enabled micro-processor, temperature and vibration sensors, secret sauce
Battery: High-temperature coin cell (estimated life of 5+ years)
Inner Material: All electronics encapsulated in an injection-molded shell (airtight for buoyancy)
Outer Material: Food-safe silicone
Dimensions: roughly 2″ tall with a 1.5″ diameter (just like an egg)
This has been an incredible year and we have made great progress. Now, we are ready to take cluck all the way, but we need your help!
WHAT WE HAVE
Strong Team
Design, Product and Technical Program management expertise bolstered by influential board member in the connected kitchen space.
Sustainable and Scalable Technology Advantage
A patent-pending product including claims for future features and integration with 3rd party hardware and services.
Significant Traction
In one year, we have gone from concept to a working hardware prototype with iOS application and cloud data support. Alexa voice integration is in the starting blocks.
HOW YOU CAN HELP
We are seeking: $50,000 to take the cluck hardware and software from prototype to being a market-ready product.
RISKS AND CHALLENGES
We are working with local contract manufacturers and have done our due diligence around our manufacturing costs and challenges. However, hardware is hard and unexpected obstacles in manufacturing and tooling may arise. In order to minimize the risk from a component sourcing perspective, we have reduced the need for custom electronics to one component: our temperature sensor. For all other parts, we have opted to use electronics which are readily available in market. To mitigate delays due to the acquisition of any necessary certifications, we are using FCC-certified parts.
THE TEAM
We, Arne Gaenz and Feridoon "Doon" Malekzadeh, are two veterans of the local Seattle tech scene. With our combined areas of expertise and passion around technology, we want to solve common problems in new and delightful ways.
We are fortunate enough to have some fantastic people supporting us with their expertise and bolstering our ability to make cluck a reality and bring it to market.
frequently asked questions
As more questions come up, we'll make sure to update this section with the most common ones.
How does cluck and cluck app work?
How easy is it to setup cluck and the cluck app?
Can the battery be replaced?
How many clucks should I buy?
Can I select the color?
How much does the cluck app cost?
What phones/tablets does the app support?
Will we continue to keep the app updated and provide support?
Will cluck continue to be on the market after the campaign is over?
Do we have a warranty for cluck?
Is cluck microwave, oven safe, or BBQ safe?
Are there other ways I can support cluck?
Last update: October 10, 2016