iCrowdNewswire - Oct 12, 2016
Paddle the Ganges – adventure for cleaner waters
An adventure for awareness & advocacy against water pollution via storytelling, film & science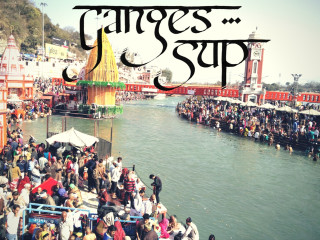 A world's first adventure to Stand-up Paddleboard the Holy Ganges, from source-to-sea (2525 kms) . During this 3 month expedition commencing Sept 2016, we will shine a global Spotlight on the perils of water pollution while also highlighting stories of individual and community successes towards cleaner and safer water. All against the mind boggling backdrop of the great Indian outdoors and the countries' rich confluence and variation of human, social, cultural and environmental streams,
Thank you for Stopping By – You support is very gratefully and humbly received.
A quick round up of the Project and why it matters
GangesSUP's Goals are :
#PaddleForChange – Using the Power of adventure to understand the very serious problem of water pollution via citizen science, community clean up projects, simple call to actions and citizen advocacy.
#AdventureInyourOwnBackyard – Showcase the immense accessibility of the SUP sport as a means of creating additional Eco-tourism opportunities in India's great outdoors. While also improving youth and individual engagement in environmental issues via something aspirational and cool.
#SUPAgainstSUP – We are aware that cleaning rivers is a long term, often politically charged matter, hence we are focusing on causes of water pollution that are visible, do not require huge barriers for considerable improvement and see a huge improvement with the littlelest of governance changes. We are focusing on raising awareness against single use plastic (SUP)- i.e #SUPagainstSUP (stand-up paddleboarding against single-use plastic) and other causes of pollution that are more readily addressable (e.g. treatment of sewage waste before it goes into the river).
Our Project Deliverables
We plan for:
Documentation on this goddess of a river which is facing its death;
A documentary film to premiere in Spring 2017;
Analysis of the condition of the river & the water via sampling where possible, anecdotal evidence, interaction with local organisations and qualitative & human ecological questions;
Photography of the entire journey;
Regular Blogs, Vlogs, Social Media and Website updates as we travel;
Collaborative events such a 'Clean up drives', school visits & community interactions in the major hubs/cities along the river;
Media events to spread the intent & the messaging of the expedition far and wide;
2 strong calls to action – Disincentives for usage of plastic bags as well as working with WaterAid for advocacy against disposal of untreated sewage into the Ganges
The context for the Project
The Ganges or Ma Ganga is not only a critical pillar of India's cultural and spiritual identity but also one of the most prominent and significant rivers of the world. In the words of India's first prime minister – 'The story of the Ganges, from her source to the sea, from old times to new, is the story of India's civilization and culture, of the rise and fall of empires, of great and proud cities, of adventures of man'.
The Ganga river basin is one of the largest river systems in the world, supporting not only over a 12th of the world's population but also numerous diverse ecosystems, from the alpine forests near Gaumukh to the plains of northern India to the mangrove forests and saline mud flats of West Bengal.
This river-of-life however, is now facing an accelerated death due to the immense strain placed on it due to human activity and interference. The challenges of the Ganges are similar to those faced by water bodies around the world – issues that are of global relevance and urgency as all this waste and these pollutants end up in our oceans, endanger marine life and eventually find their way in our bodies through the food chain.
The pollution and threats to the Ganges have many origins at different points along the river and is easier to understand by dividing the river system into three main geographical regions along its main course: 1. Upper Ganga Region: the origin of the river in the lap of the Himalayas 2. Middle Ganga Region: the river as it meanders through the plains, where it is the most heavily populated. 3. Lower Ganga Region: the delta region as the river meets with Ganga Sagar. This is a very helpful graphic from Ganga Action Parivar –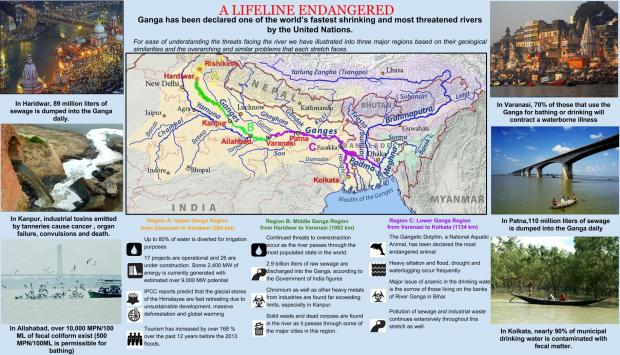 Why does water pollution matter and Why the time for GangesSUP is now?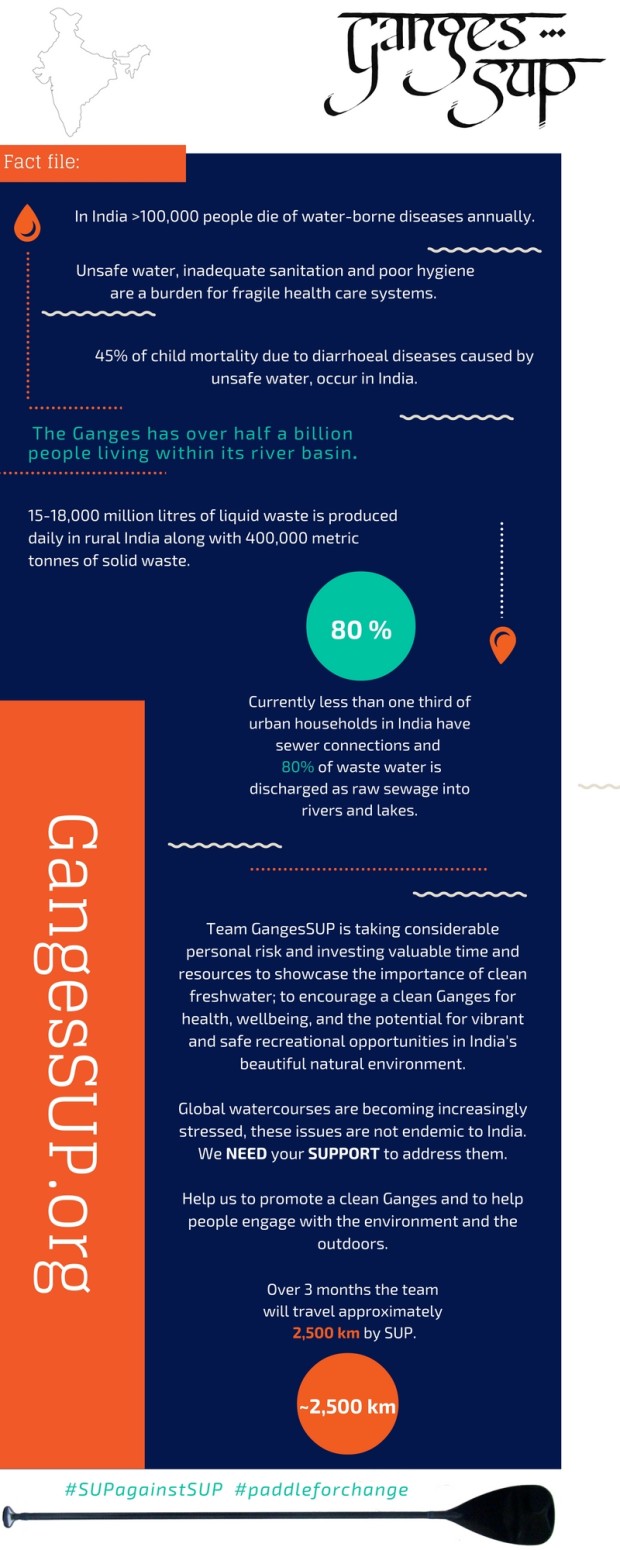 So Why Stand Up Paddleboarding?
Stand Up Paddlboarding (SUP) is not only the world's fastest growing watersport but is also an incredibly accessible sport, all one really needs is water and a paddle+paddleboard to practice it. The advent of inflatable paddleboards has made it even easier to 'travel with'. The sport also gives unrivaled visibility both inside and outside water.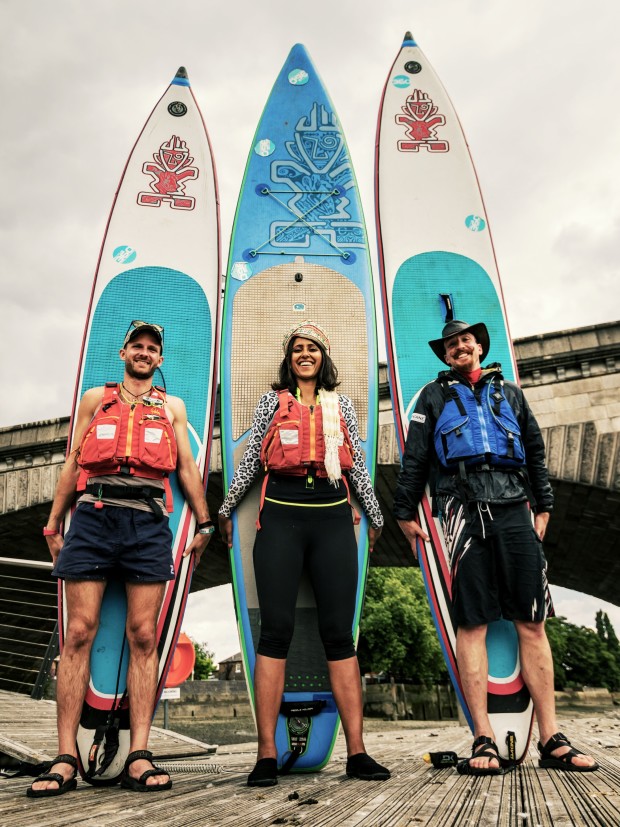 Who we are
We are a three person international team of Shilpika 'Shilps' (female, Indian), Spike (male, British & Irish) and Pascal (male, German).
In late 2015, the idea of GangeSUP germinated from Shilps' burning dream to combine her love for adventure, a desire to discover more of her motherland via an 'immersive' & 'slow travel' mode (having been away from India for a decade) & most importantly realizing the need to create a constructive & engaging dialogue for the very very serious problem of water pollution. Meeting Spike via London's fitness and adventure community led to the seed of the idea growing into a tangible expedition format and with Pascal's addition to the team in the form of an environmental scientist, we bring together what we think are essential components for this expedition team's adventure-for-purpose.
As a team we are united by our passion for impacting and creating sustainable change, for pushing the boundaries of stereotypes & comfort and for empowering purpose via adventure.
We also bring a range of complementary skills and backgrounds to this expedition as below –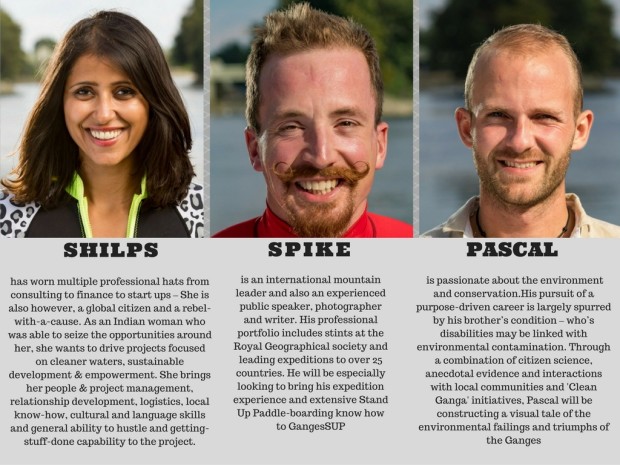 More details on the team can be found here –GangesSUP Team Profile
Besides this core team of 3, we are fortunate to have some passionate adventure and environment enthusiasts join us for shorter phases of the expedition along the river.
We are forever indebted to our wider team of family, friends and sponsors and partners, without whom this idea may have never actualized.
The Expedition plan (Well Plan A in any case!)
Kicking off in the final week of September 2016, our expedition itinerary is broadly divided into 3 phases –
Taking into account rest stops, community engagement projects and likely safety/health concerns, we expect the expedition to take up to 3 months
– Phase 1 Week of 28th September – Commence the 270km odd trek from Gaumukh +Gangotri, 4100metres high in the Himalays (i.e. the source) down to just below the Tehri Dam. We expect this to take approx 2 weeks.
Phase 2 Week of 10th October -Tehri Dam to Haridwar – We will be getting on our inflatable stand up paddleboards at just below Tehri Dam / near Devprayag and will aim for Haridwar through the white waters (approx 70 kms with rapids upto Grade 6).
Phase 3 Haridwar to Ganga Sagar – We will be swapping to our hard stand up paddle boards from Haridwar and embarking on the longest phase of our journey until Ganga Sagar.

OK but have you done ANYTHING like this before?
To prepare for this journey we have just finished the first 307 km long source to sea descent of the river Shannon by paddleboard. This Irish river is the longest river in the British Isles and the expedition took us roughly 2 weeks agains the backdrop of constant headwinds, heavy rain but unfailing and lovely Irish hospitality. We were lucky to get some Media love as below:
Why are we asking for your support ?
So far the expedition is completely Self-Funded barring equipment support from our incredible partners . This project has now been 9 months in planning and is a huge (yet super rewarding) feat to undertake -Shilps has been dedicated to it full time for this duration & Spike and Pascal have also spent considerable effort in getting us to this stage – Between expedition logistics, training expedition in Ireland, insurance, plane tickets, expedition gear, filming, photography and editing of the film , our budget is to the tune of GBP 50,000+. The great news is that we are GBP 28,000 of the way there already !
We really really really NEED your support for the remaining GBP 22,000+ (BRExit has made our funding goal about 12% higher than initially estimated) which is broadly split as follows:
– GBP 13,500: India Specific Expedition Safety & logistics – In its leanest and meanest form, this includes but is not limited to -State specific permissions to be on the river, support vehicle, white water support, local fixers where needed. Our conviction to do this Expedition completely unsupported has been gradually chipped away due to reinforcement of local concerns regarding the risks mentioned above.
– GBP 1000-1500: Scientific Experiments and cost of sample analysis.
– GBP 7000: Production of the Expedition Documentary, editing, post production – We consider our work and purpose left unfinished if we cannot share our findings on the river with a global audience, in a raw, authentic and unbiased form – this will be by the means of a post expedition documentary film which we will also use to fundraise for our Charity Partners, including WaterAid India.
All funding will go directly to the project- Please donate if you are so engaged, inspired and are able. Every single contribution counts and we greatly value all support we receive—moral, fiscal, and social.
As we currently stand today w.r.t gear and monetary position – we are fully in a position to undertake the expedition as per plan – the difference between funding and lack of, is jeopardizing our safety and health and not being able to expand the environmental and social impact of this expedition beyond the adventure. We are only going to attempt this particular journey once, so we want to really push the boundaries of what impact and change we can create through it.
We are also confident that there are plenty of like minded individuals out there who care passionately and deeply for cleaner waters and will help us reach our Funding goal, enabling us to honor our Campaign Rewards.
For the Rewards themselves, we were very keen on not listing anything that might be an additional burden on the environment and more importantly where we would be able to engage with our backers as much as possible. Please take a look at our rewards list and we hope that there will be something you will like!
The Impact
This is the reality of the human impact on our rivers and our oceans today – Recognizing, addressing and taking action against water pollution is essential to life, to human survival, to civilization itself.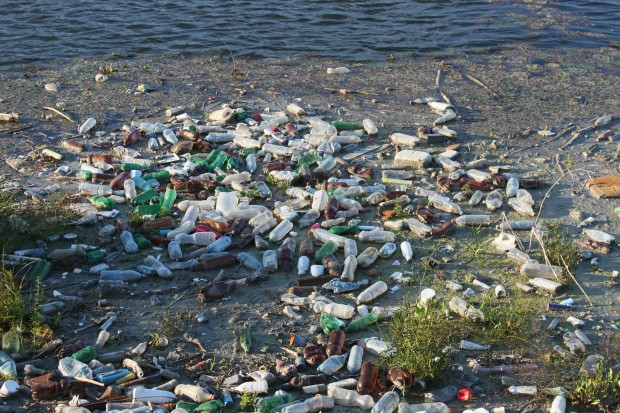 Risks & Challenges
We often say in our team that if this adventure did not come fraught with risks, it would not be an expedition. Our mantra however, is to be Risk Aware, not Risk Averse. We have undertaken extensive risk assessment exercises for the expedition, put contingency measures in place and will continue to revise and update the plan as we go along the river and as and when we have new information. We have comprehensive insurance & as a team have extensive experience on the paddleboards as well as in expedition management. If we can find the funding, we will also have on ground support which will be critically useful. Additionally, we have an Indian on the team who speaks the language (s) as well as understand the cultural and social nuances of the areas we will pass through.
Broadly the major Risks are:
-River itself – white water, strong currents, changing flow due to heavy monsoons, crocodiles & other wild life, submerged & visible hazards;
-River pollution – which creates a wide array of difficulties ranging from sourcing cleaner water to causing serious illness;
-Remoteness – which will impact communication, evacuation if needed, resupplies etc.
-People on the banks themselves (theft, assault etc.);
-Equipment failure.
Besides the adventure specific aspects, our big Challenges are:
-To authentically tell a story of the river and its people using a combination of anecdotal evidence, citizen science, photo, footage & writing;
-To crystallize the format of the legacy we would like to leave post expedition;
-To get our message out to as many people as possible, to engage them enough to create momentum and empower action.
There are many other ways of helping!!
We firmly believe that each one of you can meaningfully contribute to the campaign & our rivers in myriad of other ways if not financially:
Spread the good word –You can help simply by spreading the message by word of mouth or via Facebook,Twitter & Instagram by using the hashtag #Paddleforchange and #SUPAgainstSUP – collective change & mobilisation has the power to save our rivers.
Show us some Social Media Love by liking us on Facebook and following us on Twitter & Instagram.

#OneLess Pledge – Perhaps take a moment and reflect on the role of Single-Use plastic in your life and find ways of cutting down on it – We need not all be on the water to find ways of making it cleaner.

Join Us – GangesSUP encourages you to join us on the expedition – you may be an environmentalist, a scientist, an adventure enthusiast or may simply want to explore a new country by human powered means – You are all welcome – just drop us a line on gangessup@gmail.com
Love & Luck – Please send good energy, positive thoughts, and your moral support as we make this very exciting, purposeful, yet dangerous journey.
For more information please visit our website and social media channels as below please!