iCrowdNewswire - Oct 4, 2016
Solartab C
The world's first solar charger with USB-C! Charges any mobile device with 1 USB-C and 2 USB ports.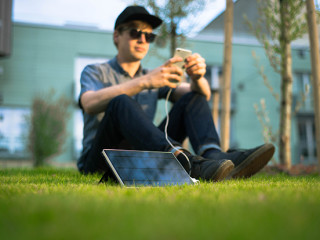 Solartab® C is the world's first solar charger with USB-C and brings you everything you need in one, extremely portable package: 6.5W solar panel, 9,000 mAh battery, USB-C and dual USB ports and a built in cover and stand. Lighter. More mobile. Waterproof (IP67). Endless power, day and night – the green way!
Meet the Solartab C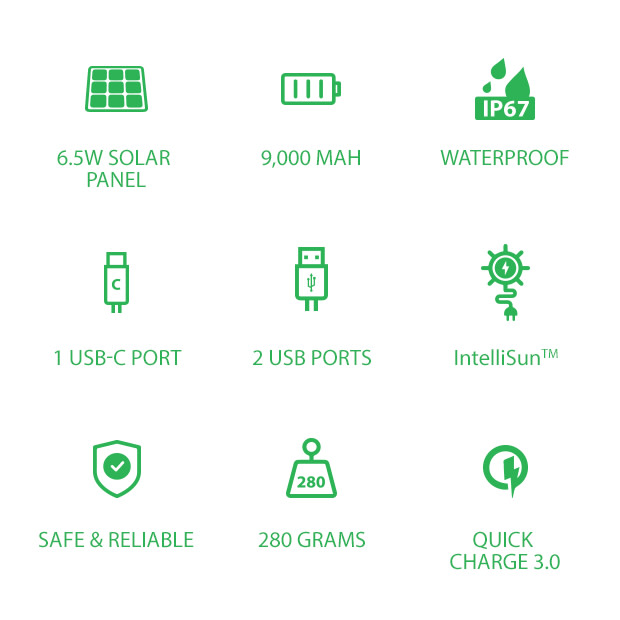 The world's first solar charger with USB-C
USB-C is a future proof, reversible and high power connection that works both as power input and output. Always charge your mobile devices and the Solartab® C itself at maximum speed.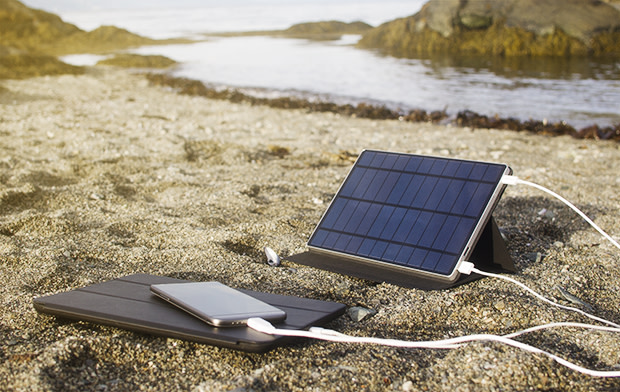 Including USB-C devices like Samsung Note 7, Google Nexus 5x and 6P, HTC 10, LG G5, OnePlus 2 and 3 and even the Macbook. As well as all your regular USB devices, like the iPhone 6s.
The Solartab C at a glance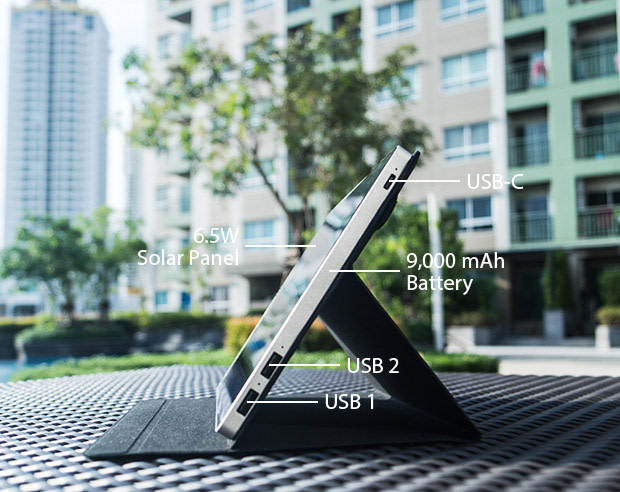 Charge day or night. Over and over.
Thanks to the Solartab C's 9000 mAh internal battery, you can keep charging your mobile devices several times after the sun goes down!

IntelliSun™ Technology
The Solartab® C now features our new proprietary charging technology. Making both charging your devices, and the internal 9000 mAh battery, quicker and safer than ever before.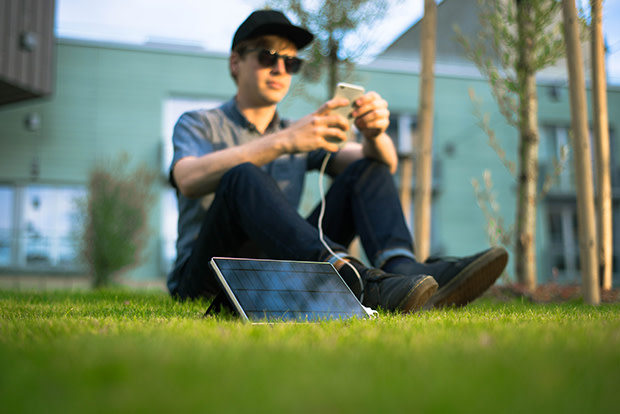 And we have included Qualcomm Quick Charge 3.0 technology on all the charging ports, making your devices charge at the fastest rate possible.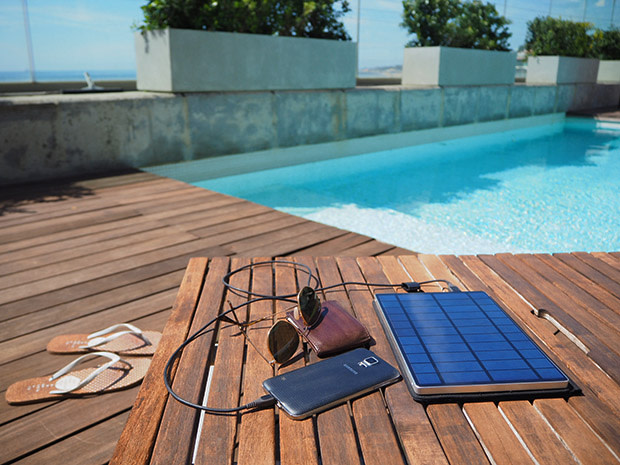 Waterproof
The Solartab® C is waterproof with IP68 certification. No need to worry about rain or spills when using your Solartab® C. It's always ready, wherever you are.
Bring your Solartab® C to the beach, forest, hiking and more! Never worry about your endless power source, even if it starts pouring down.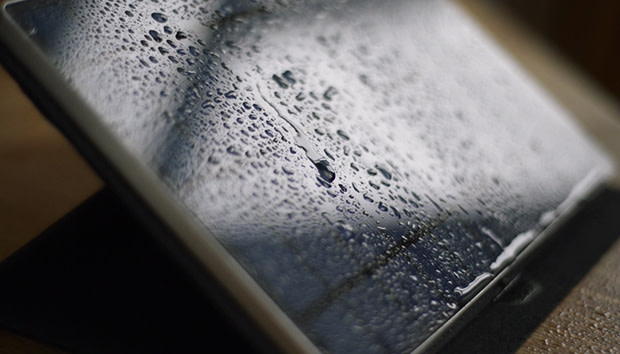 Powerful, slim and portable
We have managed to package a super efficient 6.5W solar panel and 9000 mAh battery into an extremely portable package. So you can bring the Solartab® C with you everywhere.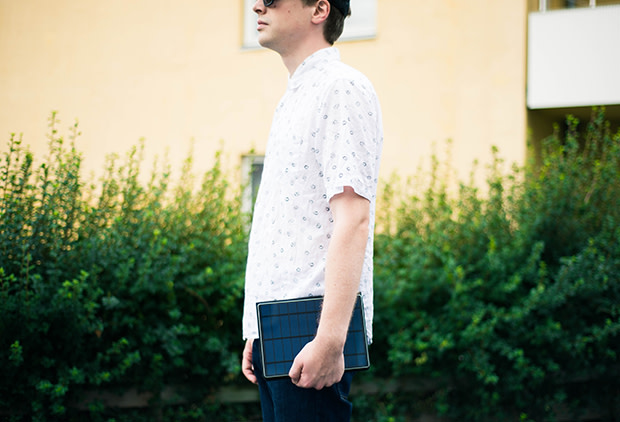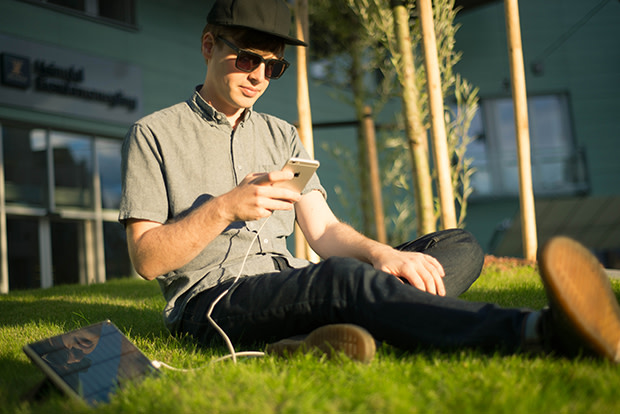 And it can even charge your Macbook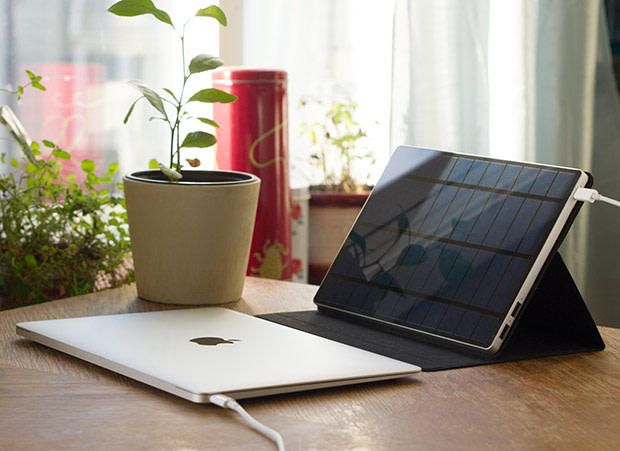 A unique cover
The Solartab C's cover gives it a stunning look, and protects the solar panel.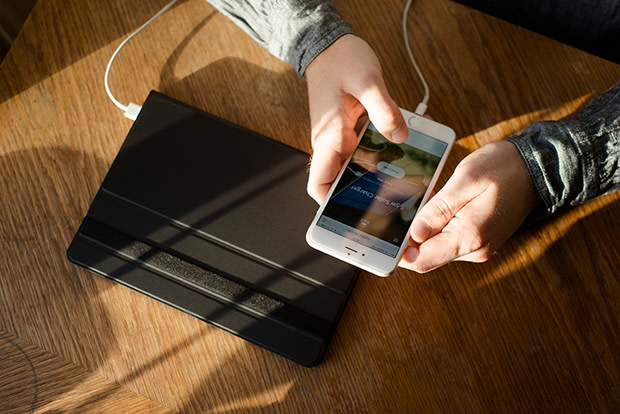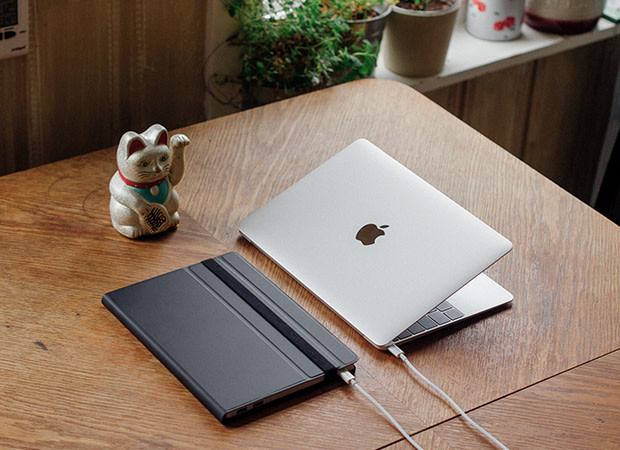 The cover also works as a stand, so you can angle the panel in different positions.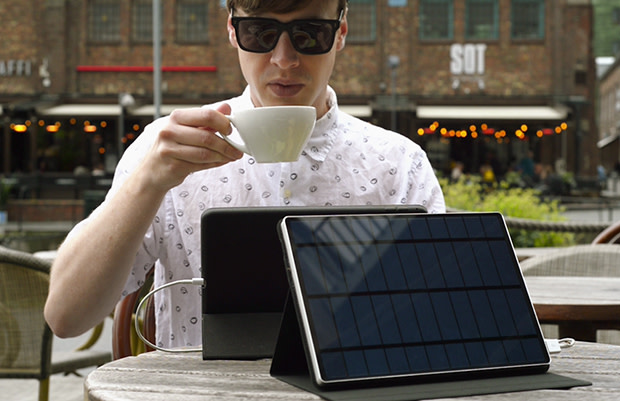 Find the right angle for maximum exposure to sunlight, plug in your device, and the Solartab C will automatically start charging it at the maximum possible rate!
Our premium quality
The Solartab C features the same premium quality and beautiful build as our first product, the Solartab One.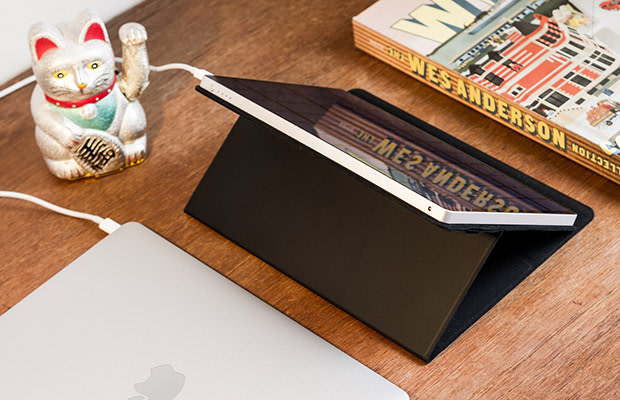 Which was loved by the press, and called the "solar-powered phone charger that actually works" (Rachel A, Popular Mechanics), "the perfect tablet companion" (Derek M, Treehugger) and simply the "best solution for using solar energy to charge your gear" (Chuck L T, The Mac Observer).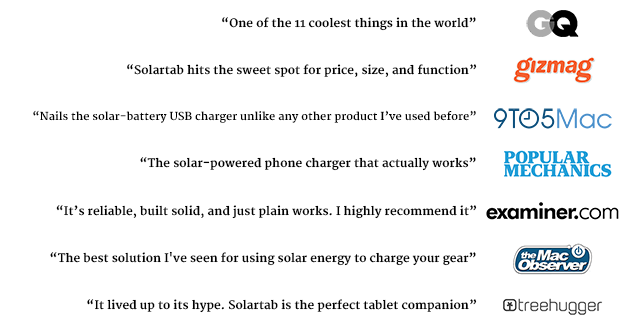 You can even charge your Solartab C the old way
Solartab C comes with a handy wall charger, so if you ever need to, you can also charge it from a wall outlet. Always have 9000 mAh of built-in extra power on the go, even if the sun is hiding.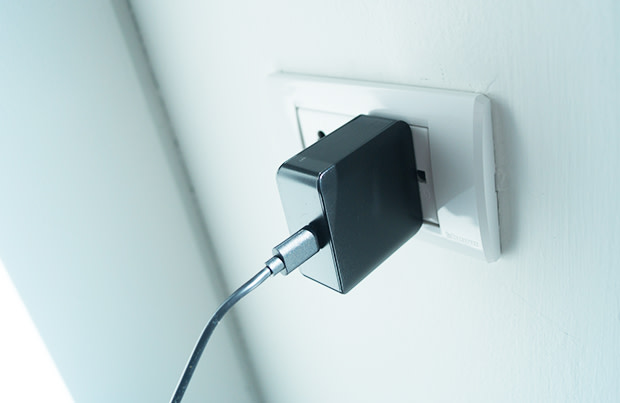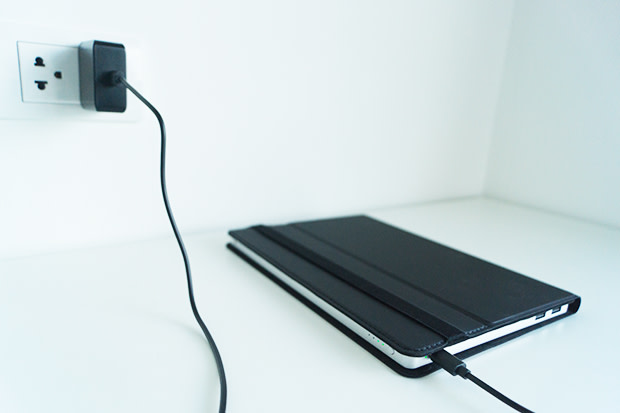 Tech Specs

USB-C

A solar revolution: The Solartab C is the world's first solar charger with USB-C port
Supports Quick Charge 3.0 5V/3A input and output. A reversible, high-power connection that can give power both ways.
Compatible with Samsung Note 7, Google Nexus 5x and 6P, HTC 10, LG G5, OnePlus 2 and 3 and all upcoming USB C smartphones and tablets.
Compatible with MacBook.
Thin, light and portable

Solartab® C is super light: only 280 g
Slim and thin: only 7.5 mm
Extremely portable when folded together, easily slips into your bag
Powerful and durable solar panel

6.5W solar panel with IntelliSun™ charging technology
Super durable yet light solar panel thanks to our Gleam™ coating technology
Quick & light internal battery

9,000 mAh LiPO battery
Charges quickly from the sun
Heat shielded for safety and durability in high temperatures. Long lasting.
Waterproof

The Solartab® C is waterproof
IP67 verified
Bring your Solartab® C to the beach, forest, hiking etc
Dual USB ports

Dual 2.4A USB ports with Quick Charge 3.0 technology, that ensures all phones and tablets are charged at maximum speed.
IntelliSun ™ discovers your device's charging protocol to provide the fastest possible charging speed for any device.
Safe and Dependable

Solartab® C's IntelliSun™ technology includes surge protection, short circuit prevention and advanced safety features keep you and your devices safe.
The Solartab® C detects when it's not in use and hibernates. So there's always power, even if you haven't used your Solartab® C in a while.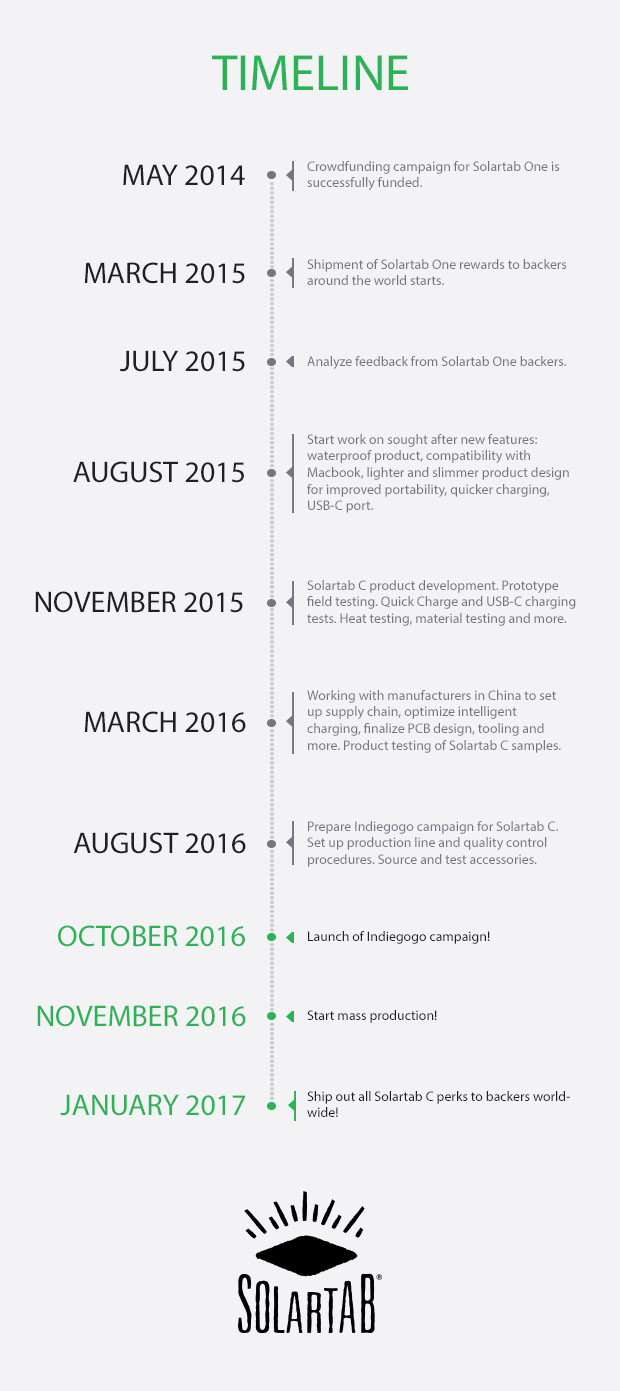 Follow us
Always stay up to date with the Solartab team's latest updates on social media, and pick up some daily news from the world of solar power and the green energy revolution!
• WEBSITE: http://mysolartab.com
• TWITTER: https://twitter.com/solartab
• FACEBOOK: https://www.facebook.com/solartab
• GOOGLE PLUS: http://plus.google.com/+Mysolartab
• INSTAGRAM: http://instagram.com/solartab
• PINTEREST: http://www.pinterest.com/solartab/

————————————————————————
Frequently Asked Questions
Q: Can I order the Solartab C even though i do not live in US?
A: Yes, we ship the Solartab C worldwide.
Q: What are the shipping costs for the Solartab C?
A: Shipping is free in the United States. For every other country, we add $20 for shipping.
Q: How long does it take to charge my iPad with the Solartab-C?
A: For a full charge, it will take about 3.5 hours for the iPad Air 2 and 4 hours for the iPad Pro 9.7.
Q: When is Solartab C expected to ship?
A: Solartab C is expected to ship from December. We have already placed the order for the first batch of Solartab C for Indiegogo backers with our manufacturer.