iCrowdNewswire - Oct 3, 2016
Rigid3D, High Quality Precision 3D Printer
Rigid3D is a high precision 3D printer with the ability to create most life size objects in 1 piece
For the first time on the market we have developed a fully functional, large, full lead-screw 3d printer. Not only that but there is no heat bed. Belt driven printers have been known to cause a lot of problems and don't give as much precision as a lead-screw does. We found that almost every week we were having problems with belts and having to replace them which took a lot of time and wasted a lot of filament.
After several years of being involved in 3D printing and observing the community, we realized that one of the most important aspects in 3D printing is precision and quality. Most major manufacturing and CNC machinery are running on precision machined lead-screws, so we thought why not bring that in to 3D printing. So here it is, a fully leadscrew driven 3D printer that fits small businesses as well as home users, from creators to hobbyists. We have designed one of the first 3D printers that we know of that has no belts, Rigid3D!
Why choose Rigid3D? It is designed to be rigid, with the best possible precision to produce great quality printed models. The advantages of a full lead-screw driven machine is the highest precision you can possibly seek, easier maintenance, and easier setup. Also there is no need to worry if the belt is too loose or too tight. With the use of a Delrin anti-backlash lead-screw nut, and high quality precision machined lead-screw, any adjustments in maintenance are easily done in seconds. In the past we have seen many users having trouble with their belt tension, slippage and wears with the use of a full lead-screw system. Now all these inconsistencies can be eliminated.
Rigid3D comes in various models:
Rigid3D 450P – 350mm x 350mm x 450mm coupled with E3D v6 Hotend.
Rigid3D 600P – 450mm x 450mm x 600mm coupled with E3D Cyclops Hotend.
Rigid3D 600P+ – 550mm x 550mm x 600mm coupled with E3D Volcano Hotend.
Rigid3D 600T+ – 550mm x 550mm x 600mm couple with Diamond Hotend for Multi Color mixing/up to 3 different materials at the same time.
To put these sizes into perspective, you can print objects as large as a 24″ Alloy wheel that you see on some sports cars. The choice of hotend can always be altered as the customer so chooses, just drop us a message once we launch the printers with our website. Selection can be made directly from ordering page.
All of our printers are controlled by RADDS 1.5. It is the latest and one of the more popular opensource 32 Bit 3D Printer boards powered by the Arduino Due 32 bit ARM processor. With this more powerful setup, it provides a higher performance, greater precision and it is also capable of handling more features. eg. CNC Milling and Laser Cutting
We have chosen one of the most widely known high quality extrusion systems. We went with a Bowden-style system with a geared extruder to reduce moving weight and to improve print speed as well as easy filament switching/feeding in the case of running out of filament during prints without even pausing your print. We use genuine E3D hotends, one of the most reputable 3D printers hotend vendors, for single and dual extrusion with sharp prints and jam-free printing as well as genuine Diamond hotend for more printing options. E3D Volcano for thicker printing layers on large objects with less print time and stronger parts, and a Motech stepper motor with 5.5 Kg.cm of torque on each extruder. With the smallest model comes standard with E3D V6, the 600 Models comes standard with E3D Cyclops as well as a T model comes standard with Diamond Hotend for multi color mixing/up to 3 different materials at the same time. Our Hotend mounting has been designed for easy access for swapping between all available hotends listed
Precision X,Y,Z-Axis Motion
Many other Manufacturers skimp on components and often use imprecise threaded rods for the Z axis, causing ribbing and banding on prints. To eliminate these issues, we use CNC-grade leadscrews and couplers. These precisely-machined parts give the Z axis smooth motion resulting in the prints have flawless sides. As well as the Z axis, we also use CNC-grade leadscrews on the X and Y axis coupled with an anti-backlash nuts, eliminated all the belts you see on other 3D printers on the market so no more loose or stretched belts! The result is a flawless with every layer precisely laid on top of another every-time at any layer height. We use a Motech stepper motor with an 8.2kg/cm of torque on the X, Y axis to maintain the speed as most standard 3D printers on the market are capable of even on a large prints, there is no need to drop the speed down to maintain the quality. We offer better value with higher quality and specifications! We know exactly where Rigid fits into the market; an affordable printer that produces excellent prints time after time. By focusing primarily on quality.

Resolution prints on the Rigid3D, click here to view the full size image
We use 3D printed parts with PETG filament on our final production, a beautiful finish that compliments the printer nicely. You can send a print to the SD card from a computer, then start the print and run it without being connected to a computer. This feature frees up your computer with full control of your printer from its own LCD display. You can print most materials without the use of a heated bed. The result is a more power efficient 3D printer with a large print volume, although a heated build platform can be added as an optional add-on. All models of printers will have autobed leveling using mechanical switches but we have tested various methods with various sensors of autobed leveling and found this to be most reliable. Our Printers have been designed for easy assembly with detailed illustrated instructions, it's easily put together than a lego house .
The most important aspect of any 3D printer is print quality. After much testing and revising on our design, we finally have a good quality 3D printer capable of layer height as low as 0.01mm (10 micron) and a speed up to 250mm/s. Thanks to all of the above design considerations, Rigid3D is capable of producing beautiful prints time after time at any layer height. The demonstrations in the video were done with Rigid3D 600 with a build volume of 450mm x 450mm x 600mm
The images shown in the gallery is our prototype of our fully functional 600P 3D printer, more samples and updates will be added shortly. However, the final product for shipping will be visually revised to give it a better look and ready for enclosure, wifi connectivity to be added. All investors will receive special discount/free printable upgrade through email on the rewarded printer in the feature. Mechanical design and mounting points will remain the same as tested to be functional and Rigid, hence the name – Rigid3D!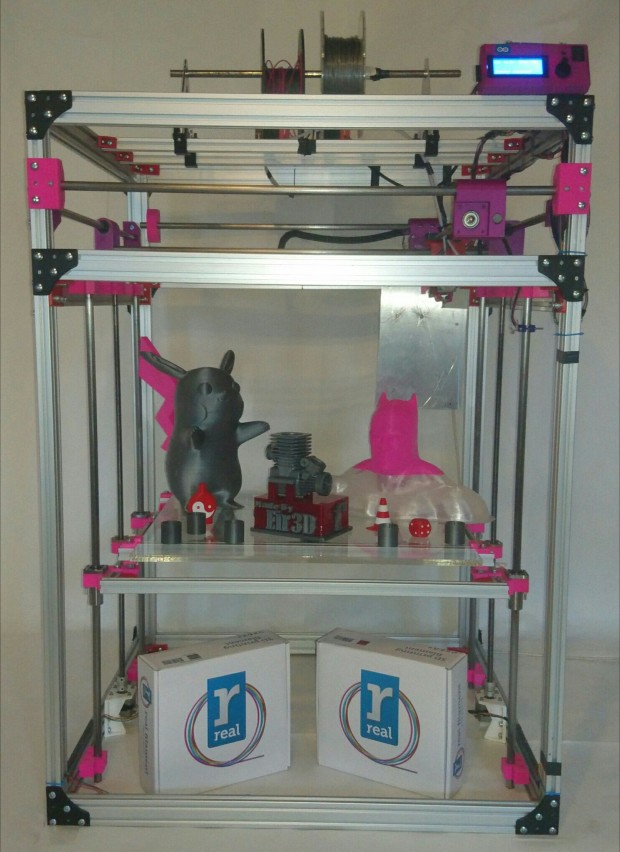 Fully Functional Prototype Rigid3D 600
Further developmental upgrades will be milling and laser cutting after successful funding…and customers will be offer a choice or informed via email
Final Look of Rigid3D for shipping
Available colors include:
Blue, Red, Green, Yellow, Black and White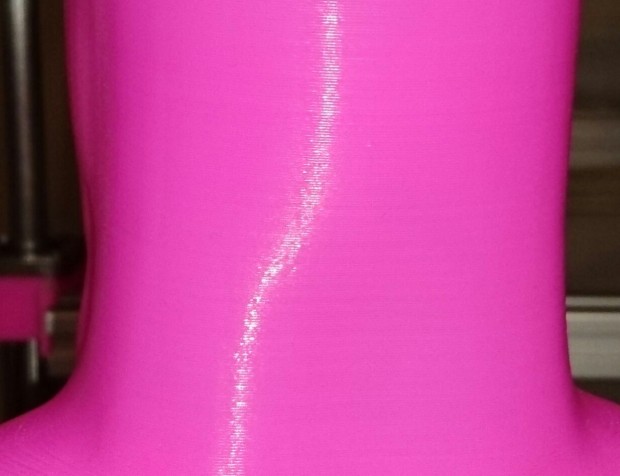 Precision Layering at 0.35mm Layer Height, 350 Micron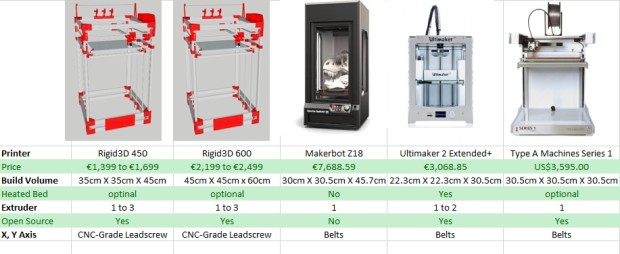 Printer comparison chart
Because of the high shipping cost from Ireland we are offering rewards for Print-It-Yourself STL files with full instructions and documentations, or a printed PETG parts kit. Shipping cost for full kit may vary from country to country, please feel free to contact us for shipping quote. We will however offer a fully built system in the future.
Finally, for everyone that helps to bring this project into final production and the birth of the company each investor will receive updates on our printer designs and any other future product developments via emails. Your name will also be listed on our company website on successful funding when launched.
Risks & Challenges
We have spent over 2 years developing Rigid3D and are confident that it is ready for production. However, several challenges or delays could occur after completion of the campaign such as delayed orders from manufacturers, shipping issues, or quality issues with parts we receive.

To help eliminate these risks, we have lined up all of our manufacturers and part distributors to ensure a quick risk free fulfillment of your pledges.

Please note that printers are shipped out based on pledge order. We anticipate being able to produce and ship around 50 printers per month.
Pros and Cons
Rigid3d is lead-screw driven. Which gives a lot more precision to your print outs.
You won't have to worry about setting up a belt system anymore: saving you time and money in the long run.
There is no heat bed! Now you can save money on electricity and also you won't have to wait for a heatbed to be hot enough for your print to stick.
Larger print volume. You can print bigger models such as dollhouses, helmets, or even small pieces of furniture.
Filament switchover: You don't have to pause your print if you need to add a new spool of filament.
Cons
The 600 size Rigid3d may not be able to fit through a door frame if you need to transport it, hence why we provide smaller size printers.
The larger sized printer may have a longer learning curve for beginners in 3d printing.
If ABS filament is being used an enclosure upgrade will be required.