iCrowdNewswire - Sep 29, 2016
Clean Fuel screen filter- cleans before tank
We have developed a gasoline pre filter (cleans/filters the fuel as it is being pumped in the tank)
I have been in the automotive/aviation field for fifty plus years,and I have always known about contaminated gas and the problems that it presents, yet no one has ever done anything about it. We have developed a pre- filter that filters the fuel as it is being pumped into the tank thus prolonging the life of the fuel pump, filter injectors, 02 sensor and catalytic convertor. Clean fuel very important.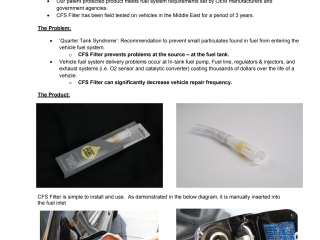 Short Summary
The Clean Fuel Screen Filter was invented by Ernie Washington, an aviation & automotive mechanic of 60+ years. This product was invented while contracting in the Middle East.
While servicing a large fleet of vehicles in support of the military, we noticed a gross amount of unserviceable vehicles due to failure of major components in the fuel delivery system. This was caused by particulates, debris, & sediment being introduced into the tank during refueling.
Although we already have at least 2 filters in most vehicles systems, they are all post filters, meaning that they are attempting to filter the fuel after it has already entered the tank.
This got us thinking..Not only is this a major issue in the Middle East, but during my 50 years of owning my own repair facilities across the U.S., I have encountered this same "dirty fuel" problem over & over again. I knew that something needed to be developed that would eliminate this problem for good. That's when I came up with the idea of filtering the fuel before it enters the tank.
The Clean Fuel Screen Filter is a revolutionary product that does just that.
No auto mechanic needed.
It's low price, & simple installation or removal makes it accessible to almost anyone. Once it is installed, it aids in prolonging the life of the fuel pump, the fuel filter, the fuel pressure regulator, the fuel injectors and more. Which, in turn, will leave your wallet thanking you.
What We Need & What You Get
We have single, couple & family packs available in our perks section. Each perk except the single pack is priced at a discount.
We've tested the Clean Fuel Screen Filter to fit many vehicles, but we'd like to expand our testing to include as many vehicles as possible. You can support the project by letting us know if the Clean Fuel Screen Filter does not fit your vehicle. If you find that the Clean Fuel Screen Filter does not fit your vehicle, visitwww.cleanfuelscreen.com/compatibility and add your vehicle year, make , and model to our list to help us expand the project so everyone can benefit from having a vehicle that functions at peak performance and a prolonged life.
If we don't reach our initial goal, all orders that have been placed will be fulfilled and we will continue sales via our official website as well as other internet outlets.
The Impact
This product is one of the most needed parts in the fuel delivery system. It really allows the vehicle to function at it's peak performance. At present, we are fighting the detrimental results of fuel filtering that begins at the vehicles fuel pump filter. We set out to change this by introducing our product (Clean Fuel Screen Filter) which filters the fuel at the fuel pump nozzles end – before it enters the tank.
With extensive internal testing and use of our original prototype, upon application of our product, we found that debris, particulates and sediment were trapped, preventing it from entering the tank in the first place. The problems we encountered on the test vehicles prior to installing the Clean Fuel Screen Filter were no longer occurring. With these successful results we were employed to install this product on all the vehicles in our fleet which was our first major purchase order of $137,000.00.