iCrowdNewswire - Sep 28, 2016
END OF THE LINE: THE WOMEN OF STANDING ROCK
Indigenous women unite to stop the oil pipeline that threatens their land and water.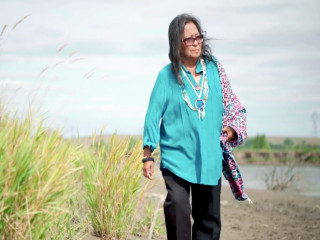 You've seen the headlines. What you may not know is that, as the chosen protectors of the water, the women of Standing Rock are the backbone of the #NoDAPL fight. With your support, their voices will be heard.

The ancestors warned against the "Black Snake" that would come to poison Mother Earth. 
From acclaimed documentary filmmaker Shannon Kring comes END OF THE LINE, the incredible story of a group of indigenous women willing to risk their lives to stop the Dakota Access oil pipeline construction that desecrated their ancient burial and prayer sites and threatens their land, water, and very existence.
But there was another prophecy: the women, as the guardians of the waters and protectors of all life, would rise.
They are the brave survivors. Among them, the descendant of the female warrior who fought the U.S. Cavalry alongside Sitting Bull. The great-grandmother who was fired upon at Wounded Knee in 1973. The lifelong activist who became a part of the system in order to defeat it.
They are the daughters and granddaughters of brave survivors. People who escaped genocide, only to be robbed of their lands and herded onto reservations. Children who were taken from their families and placed in non-Native boarding schools and foster homes where they suffered further abuse. Today, these women tell their own tragic stories. Stories ranging from forced sterilization to substandard medical care.
Yet somehow the spirit of these women has not been broken. The women of Standing Rock vow to protect Mother Earth and all her inhabitants. It is their responsibility to the ancestors and to the seven generations to come. This is their last stand.

"It's very simple. We have to have water for life. And so we're petitioning the world community to join our campaign. Every effort we make is for all of our children and grandchildren. We make a commitment to continue the struggle, and to make every effort for all of us."
– A woman of Standing Rock
The women of Standing Rock do not call themselves protestors. They are protectors. In interview after interview, they explain that their fight is for the greater good. Standing Rock is their home, but Mother Earth is home to us all.
Since the women of Standing Rock began their peaceful protest on April 1, 2016, pipeline spills in the U.S. alone have dumped 121,700 gallons of crude oil and tar sands, and 298,300 gallons of diesel fuel and gasoline.
Last year, there were 132 major spills. That's approximately one every three days.
Human rights, land rights, and environmental justice concern us all.

Creating independent films without the support of the studios or mainstream media is challenging and expensive. We're up to the task. We know the importance of championing the stories that may otherwise go untold. We believe films such as this must be created with utmost integrity and respect. This means without the outside influence of studio heads, network executives, or advertisers. This is where you come in.
No contribution is too small. Every amount helps.
Our goal is the minimum we need to proceed. Every little bit counts. We're grateful for whatever you're able to contribute. Together we will make a difference.


As an expression of our gratitude, we'll continue to update our donation perks. Please check out what's available today.
Perks are offered to donors worldwide. If you'd like, you can donate without collecting a perk, or you can gift your perk to someone else.

Shannon Kring is a writer/director/producer with 15 years experience in creating factual content. Her first television docuseries, THE KITCHENS OF BIRÓ, was broadcast nationally on PBS and won an Emmy in its first season. Her first feature documentary, 2012: THE BEGINNING, was the most-watched film of 1,400+ at MIPDoc Cannes. It went on to air on more than a dozen top television networks worldwide, and was presented by the United Nations Permanent Forum on Indigenous Issues, Queen Sofía Foundation, UNESCO, NASA, Smithsonian Institution Museum of the American Indian, British Museum, National Museum of Finland, and many others. Her most recent production is the forthcoming television docuseries SACRED FOODS. www.shannonkring.com
Pearl Daniel-Means is a producer, activist, and author who speaks around the world on matters concerning indigenous issues, human rights, and environmentalism. She was born into the Ashiihi (Salt) Clan of the Navajo Nation. Her Lakota name, Iyoyanbya Izanzan Win, translates loosely to "Bright Light". Pearl walked alongside the late American Indian activist, author, artist, and actor Russell Means, as his wife, business manager, and collaborator.www.russellmeanslegacy.com
Lesley Kubistal is a television and documentary film editor with 15+ years experience in narrative-driven projects that range from reality docudramas to feature-length documentaries. Among her credits are THE OPRAH WINFREY SHOW, OPRAH'S NEXT CHAPTER, SUPER SOUL SUNDAY, OPRAH'S WHERE ARE THEY NOW, and OPRAH'S LIFE CLASS. Her work has appeared on ABC, OWN, A&E, History Channel, National Geographic, and others. www.lesleykubistal.com
Marc Gerke is a director of photography with 10 years experience as a documentary editor. His credits include AMERICAN IDOL, GOOD MORNING AMERICA, CBS NIGHTLY NEWS, UNDERCOVER BOSS, SUPER SOUL SUNDAY, DR. PHIL, BIZARRE FOODS, THE VOICE, THE DOCTORS, and many others. His work has appeared on ABC, A&E, CBS, NBC, Bravo, Discovery, E!, ESPN, Fox, HBO, NFL, MLB, History Channel, MTV, TLC, OWN, and others. www.j7pictures.com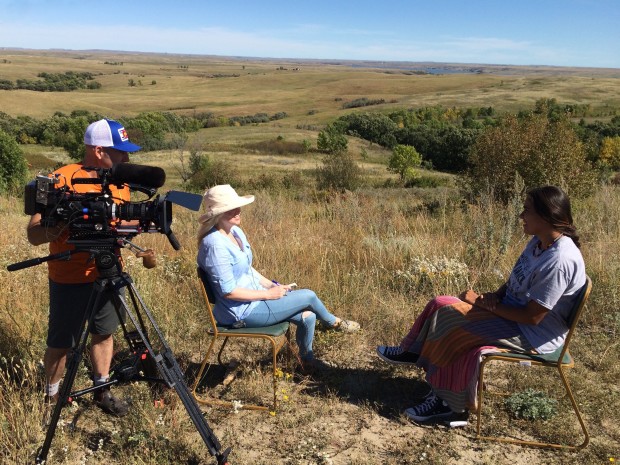 1. Contribute whatever you can.
2. Spread the word. Send everyone you know the link to our Indiegogo page. https://igg.me/at/endofthelinefilm
3. Like us on Facebook. www.facebook.com/endofthelinefilm
Thank you for your support!