iCrowdNewswire - Sep 23, 2016
Grounded
Written by George Brant, Presented by Northwestern University's Jewish Theatre Ensemble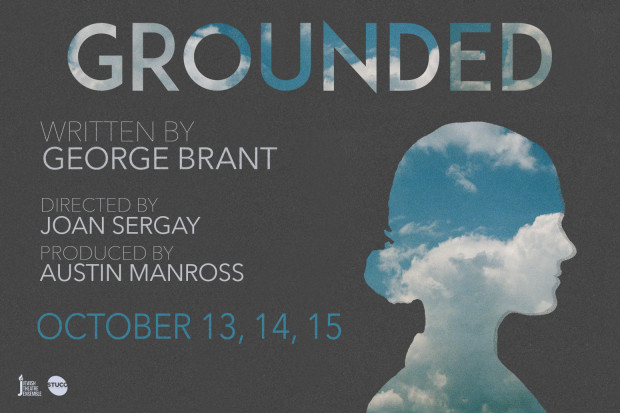 Grounded is an intense and intimate play that follows one woman's unforeseen shift from a hot shot fighter pilot to a member of the "Chair Force," flying unmanned drones in a windowless trailer in the Nevada desert. Grounded tells a story of the ways technology has changed the rules of military and psychological engagement, of how both civilians and military negotiate the shifting boundaries of battle, and how one pilot questions the very meaning of her identity in the armed forces.
Summary
Directed by senior Joan Sergay and produced by sophomore Austin Manross, Grounded is entirely student created and self-funded. With over twenty passionate Northwestern students directly involved in the show, and numerous others contributing their support, a tremendous amount of teamwork and cooperation has been curated to make this show happen. Every student is dedicated to creating a show unlike anything the campus has ever seen. By elevating a single woman's story concerning her position in the armed forces, we are shining a light on a narrative that is too often overlooked. Your donations will help bring this show to life, and expose students to theatre that has, up unto this point, been absent from campus.
What We Need & What You Get
As a student theatre organization, our production is entirely self-funded, and we are aiming to raise a total of $2,000 to make this show possible. Donations that are received will go towards a variety of expenses, including, but not limited to, purchasing set pieces, renting lights, crafting costumes, designing and printing posters, leasing advertisement space, and taking care of the numerous miscellaneous expenses that are required when producing any show. Each person who generously takes the time to donate to our production will receive a handwritten note that expresses the magnitude of thankfulness that we feel towards their contribution. Though, of course, we hope to meet, and even surpass, our goal of $2,000, there is a chance that we will not reach our goal. In the event that this happens, the funds that we have already received will be put towards the production of the show.
The Impact
As stated before, a one-woman show is not something that is generally seen in theatre, and certainly not theatre that has happened on Northwestern's campus. Additionally, the show make students aware of the psychological effects of being involved in the military, something that is often overlooked, and really shouldn't be. Not only is Grounded a great way to introduce Northwestern to theatre that it isn't accustomed to, it is also a learning experience in and of itself. Every single person on the Grounded team is a student, and many of the students are working in positions that they've never held before. Grounded, like all student theatre, is a wonderful opportunity for students to learn important skills in a safe and non-threatening environment, enabling them to be better prepared as they begin to move from academic careers to professional ones.
Other Ways You Can Help
Whether you contribute to our project or not, we would be forever grateful if you would help spread the word about Grounded. So please, share this on Facebook and other social media, tell your friends and family about it, we will cherish any and all publicity.