iCrowdNewswire - Sep 21, 2016
Never Again: Voices of Martial Law
9 stories. 9 plays. A million and one lessons about atrocities that should never be repeated.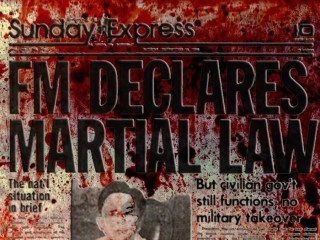 They say those who cannot remember the past are doomed to repeat it. Martial Law may be decades gone, but it remains a festering wound that continues to poison our country. Yet there are those of us who have not forgotten, and we ask you to join us in remembering. Help us tour Never Again: Voices of Martial Law, plays designed not just to remind us of the atrocities of the era but also to honor its true heroes. Together, let's make sure those dark days are never forgotten, never repeated.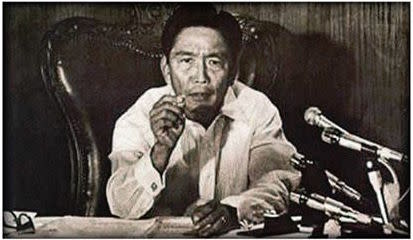 The Martial Law era from 1972-1986 were dark days for the Philippines. The massive theft and corruption by the despot Ferdinand E. Marcos were overshadowed only by the atrocities that happened during that regime– tortures, deaths, disappearances, a throttled press and the curtailment of personal freedoms– the effects of which the country is still enduring now.
In February of 1986, the country finally succeeded in overthrowing the dictatorship.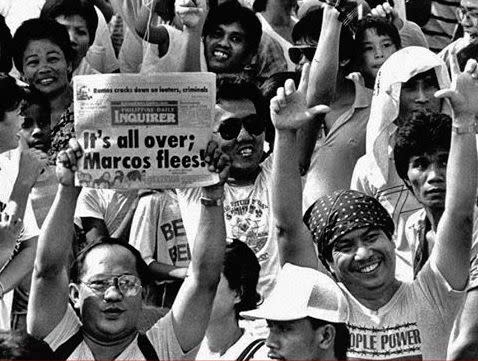 Yet in the evening of May 9, 2016, people watched in shock as Ferdinand R. Marcos, Jr. was almost elected as Vice President on May 9, 2016– only losing by a narrow margin. 14 million people voted for him, nearly putting him in a position that was a heartbeat away from the Presidency.
The Problem
It was clear that for many Filipinos, Martial Law has become an abstract idea several decades old. And even worse, it has become an appealing idea to the youth, longing for days of discipline, adherence to the law, and a false peace under a police state. The atrocities of that era have become largely invisible, buried by both time and secrecy much like many of the victims of these state-sanctioned crimes.
Worse, we are now seeing a growing sentiment that devalues human rights, the rule of law, and democracy in the public today as a result.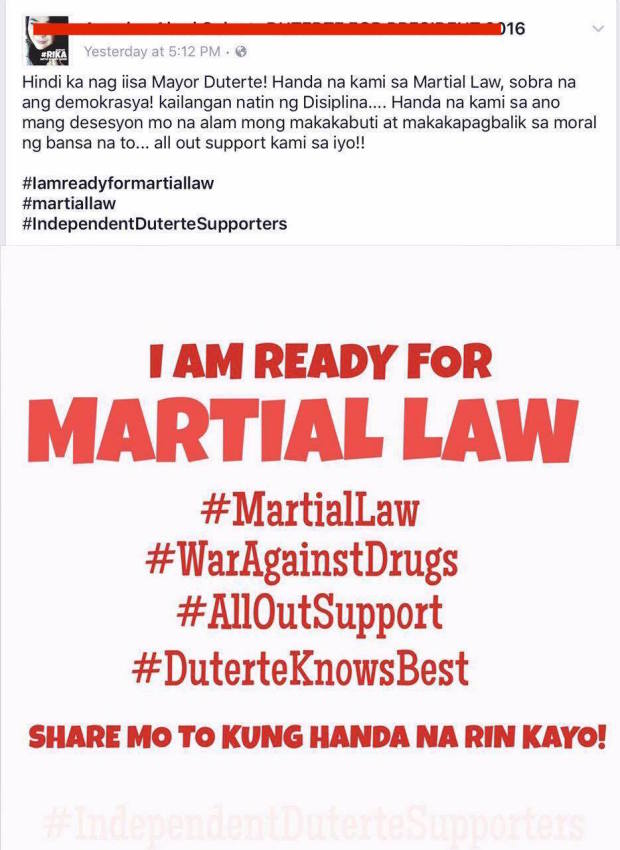 The lessons of the Martial Law era have not been learned. We have a lot of catching up to do.
The Project: Never Again, Voices of Martial Law


Through MarkaBayan: Mga Kuwentong Hindi Mabubura campaign, Ladies Who Launch intends to do its part by staging and touring Never Again: Voices of Martial Law (NAVoML).
NAVoML consists of nine (9) Martial Law-themed one-act plays grouped into sets of three (3). These plays are designed to create awareness on the martyrs of the Martial Law era, the people around them, their work and its impact on the Philippines today.
Notable names in theatre such as Audie Gemora, Rody Vera, Pinky Amador, Lou Veloso, Kanakan Balintagos, and Chris Martinez are involved in the production. This initiative also has the support of the Coalition Against the Burial of Marcos at LNMB, a broad coalition composed of Martial Law victims, claimants, NGOs, and various civil society groups.
What We Need
We would like to invite you to partner with us in mounting and touring this theatrical education campaign. The play's preview will be on September 21, the anniversary of the proclamation of Martial Law. Weekend performances will run from September 23 until to October 16 at the Bantayog ng mga Bayani Auditorium.
The money raised in this campaign will go towards 1) funding our first season at Bantayog ng mga Bayani, including costumes, sets, and lighting design, as well as salaries and stipends for actors, playwrights, choreographers, designers, educators, stage managers, and crew, and 2) touring the production around different schools, cities, and provinces. We will put your money directly into the production.
What You Get
For as little as 500 pesos (12 USD), you get a ticket to one show of your choice, consisting of a set of 3 plays along with our everlasting gratitude. (descriptions and schedules below.) If you are not able to enjoy the show, let us know, and it will go towards sponsoring a student who needs to learn about the Martial Law era badly.
You can also choose to sponsor a whole show, as well as other perk packages in this campaign
The Impact
What we'd like to do is unearth the stories of Martial Law and the Marcos era and make them visible, visceral, and palpable. We want those alive today to remember the victims as people, not just as statistics or bios on a website. Above all, we want to ensure that the evils of Martial Law are never forgotten, never repeated.
With your help, we hope to win the fight against the blatant revision of history being perpetuated by the Marcoses. In so doing, we can honor those who fought against the injustices of Martial Law, and we can make sure that the horrors of those dark days will never happen again.

The Plays
SET A
September 23 8PM, October 1 8PM, 9 4PM, 15 8PM
Loyalist Redux, written and directed by Kanakan Balintagos
Imelda returns to the Philippines. A Loyalist mother is ecstatic about this headline and wakes up her activist-artist son to his nightmarish reality. A bag of worms from the past is opened up like Pandora's Box. Will mother and son finally console their political irreconcilable differences? In the end, are we loyal to those we love? (First staged at the Virgin Lab Fest XII)
Duyan ka ng Magiting, written and directed by Erica Estacio
This tragic one-act play tells the story of how activists and by Erika Estacio patriots Lorena Barros, Macli-ing Dulag, Edjop and Evelio Javier endured and perished in the hands of their torturers and murderers. (First staged for the People Power Experiential Museum)
Thingy Or Ang Pak na Pak Ganern na Ganern sa Pakikipagsapalaran ni Melenyo,
D' Great Pokemon Hunter), written by Chris Martinez and directed by Dennis Marasigan ​
One actor portrays a clueless millennial. Another actor portrays all the other characters who will react to her tweet about the 'Martial Law thingy.' (A Never Again: Voices of Martial Law original)
SET B – September 24 8PM, 30 8PM, October 8 8Pm, 16 4PM
Disco 1081 written by George De Jesus III, directed by Melvin Lee
Bubu, Lina, Anton and Caloy meet up at a disco where they will be celebrating Bubu's 18th birthday. They are student activists, but Bubu has quit, causing her and her boyfriend Caloy to break up. For her birthday, Bubu has one request– that they don't discuss activism, Martial Law or anything to do with the movement. Something that causes pain for the other three. Because they have all come to a turning point, and they have all come to say goodbye.
(A Never Again: Voices of Martial Law original)
Princess Lilli written by Layeta Bucoy directed by Tuxqs Rutaquio
"Do not live in the past, act according to the present, so they say, but can you really separate the past from the present, the present from the future?" –Lilliosa Hilao
There are several versions of the truth: some versions are less painful than other. But are those really what we need?
Sarah, ten years old, has a vivid imagination. With her home life, she needs it. She draws fairy tales with princes and princesses, and happily ever after, but what she writes about is the truth. She talks to Princess Lilli and her prince–- and we find out that the Martial Law era was never a fairy tale.
(A Never Again: Voices of Martial Law original)
Bulong-Bulungan sa Sangandaan written by Ramon Jocson and directed by Audie Gemora
Construction workers billeted at a construction site, away from their families, discuss their daily struggles as below minimum wage earners from the days of Martial Law to the present. Security guards interrupt their discourse from time to time. Is there a better life outside, and should they stay or should they go?
(Don Carlos Palanca Memorial Awards for Literature, Second Prize, 1989.)
SET C
September 25 4PM, October 2 4PM, 7 8PM, 14 8PM
Shhhh written by Allan Lopez, directed by Jenny Jamora
September, 1977. Makati. On a rainy day in a studio in
Kim and Mark discuss a friend who is missing. What he is like, his outspokenness, where he could possibly be, and should they help in the search. They also talk about Imee Marcos. Mark finds her hot, Kim says she is kind.
Two friends join them, saying their friend has been found. He is dead. He is Archie Trajano, 21.
(A Never Again: Voices of Martial Law original)
Indigo Child written by Rody Vera and directed by Jose Estrella
Felisa, a rebel caught, tortured and raped, is committed to a halfway house as the new millennium breaks. Her son, Jerome, now 20, has been taking care of her since his teens, after she is diagnosed as bipolar due to multiple traumas.
In one confrontation, Felisa reveals many secrets that Jerome finds hard to believe—about Jerome's father, what happened before his birth, and her belief that he is an indigo child, sent to save the world. Jerome wants to know the truth. But where does he start? And if he does find it, will he be able to handle the truth?
(A Never Again: Voices of Martial Law original)

Ang Lihim na Kasaysayan ng Huling Habilin ni Ferdinand Edralin Marcos (Spiritual King Solomon of Israel) Hinggil sa Pamanang Kayamanan ni King Bernardo Carpio at Jose Protacio Rizal Para sa Pagpapaunlad ng Bansang Pilipinas na Siyang Nalalaman ni Mang Ambo, Taxi Driver written by Guelan Varela and directed by Roobak Valle
The gospel according to Mang Ambo, taxi driver and evangelist of the cult of Ferdinand Edralin Marcos, the spiritual once and future King Solomon of the Philippines, the new Israel about the last will and testament of past kings Bernardo Carpio and Jose Protacio Rizal. As revealed to G, a journalist taking his cab. Prepare to repent, and be enlightened.
(A Never Again: Voices of Martial Law Original)