iCrowdNewswire - Sep 12, 2016
Chimpee : Magnetic Canvas Prints
Snap.Click.Change.™ Easily swap the images on your wall with magnetic canvas prints.
Chimpee™ frames allow you to easily and magically swap the memory you have on display. No other product on the market combines the beauty of canvas prints with magnetic technology, allowing your photos to be updated without having to buy expensive new frames. Chimpee saves money, saves trees and saves stress.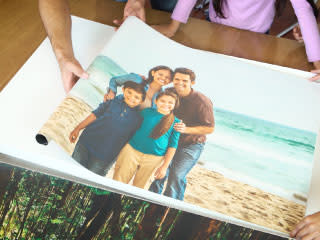 Chimpee™ was created to shake up a century old industry and introduce a better, more flexible product. Traditional canvas prints are so…permanent. Chimpee™ solves that by creating, well, a not-so-permanent canvas.
Our patent-pending frame is wrapped using a specially treated magnetic canvas. What makes Chimpee™ unique is the removable ChangeOut™ layer that is printed with your custom photo. ChangeOuts can be removed and replaced with almost no effort. As the name suggests, a user can simply change out the image they have on display at any time.
Life is a gallery, display it beautifully.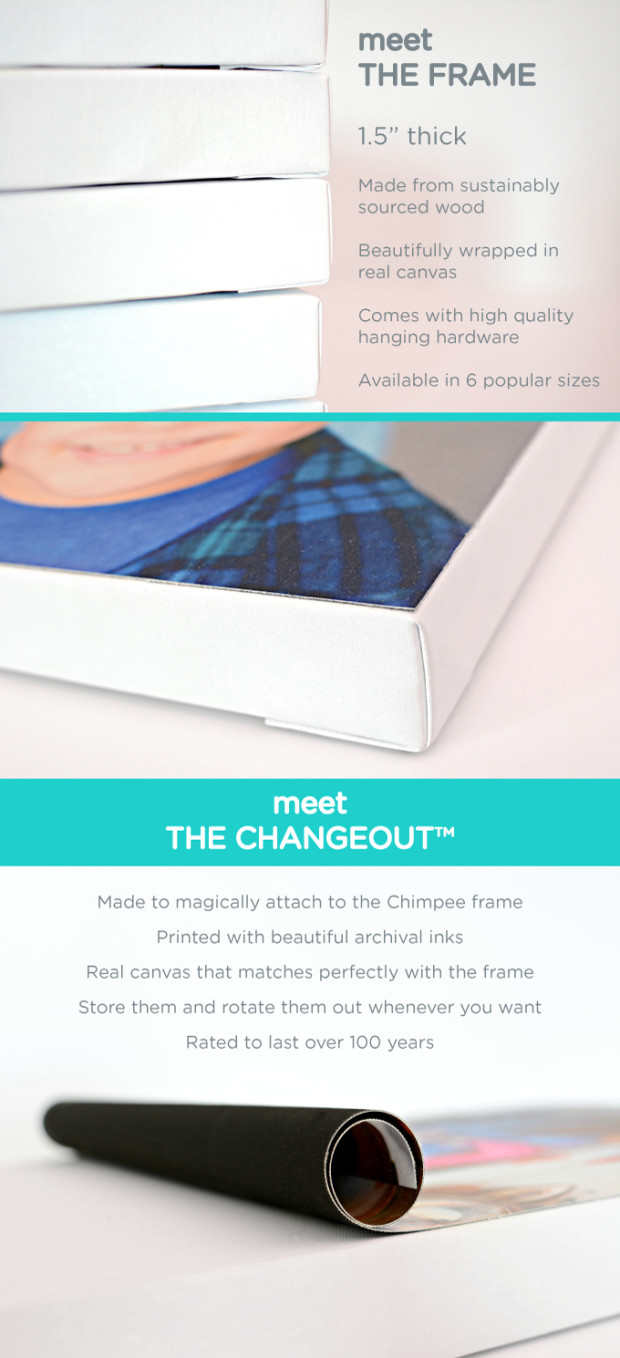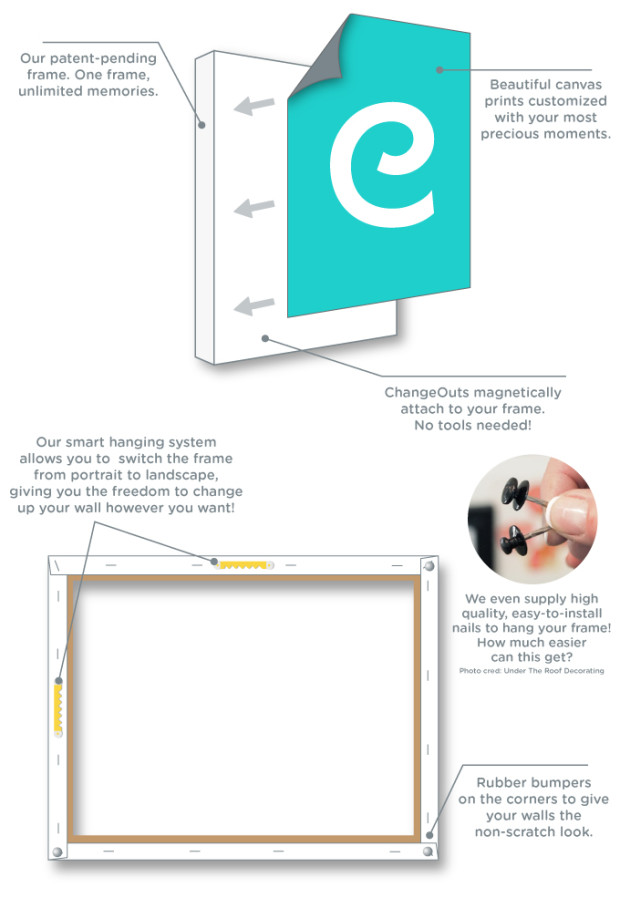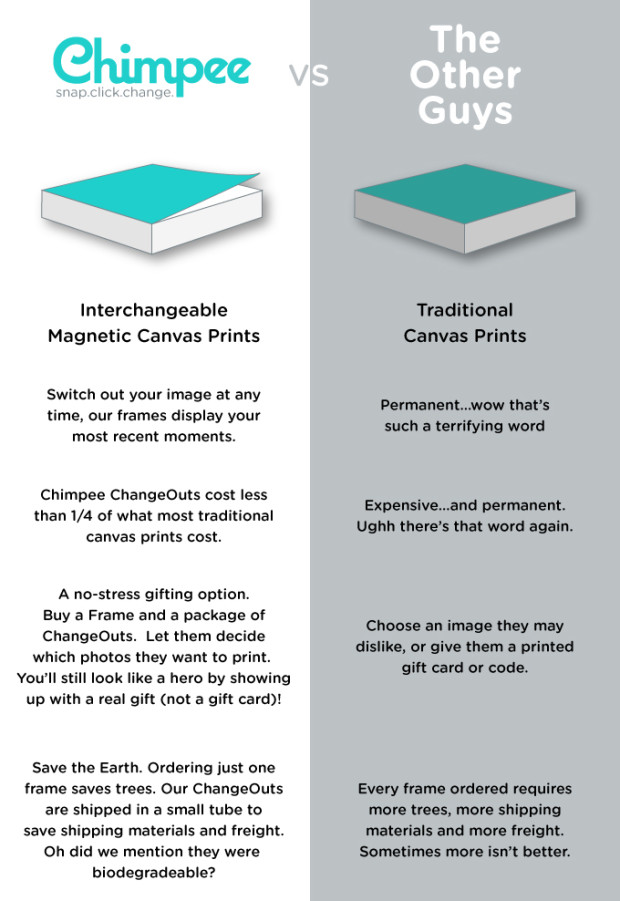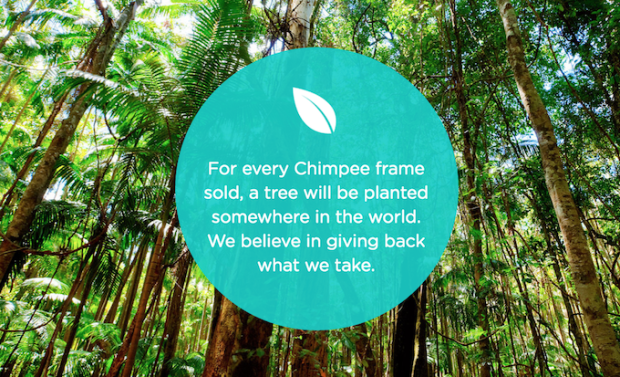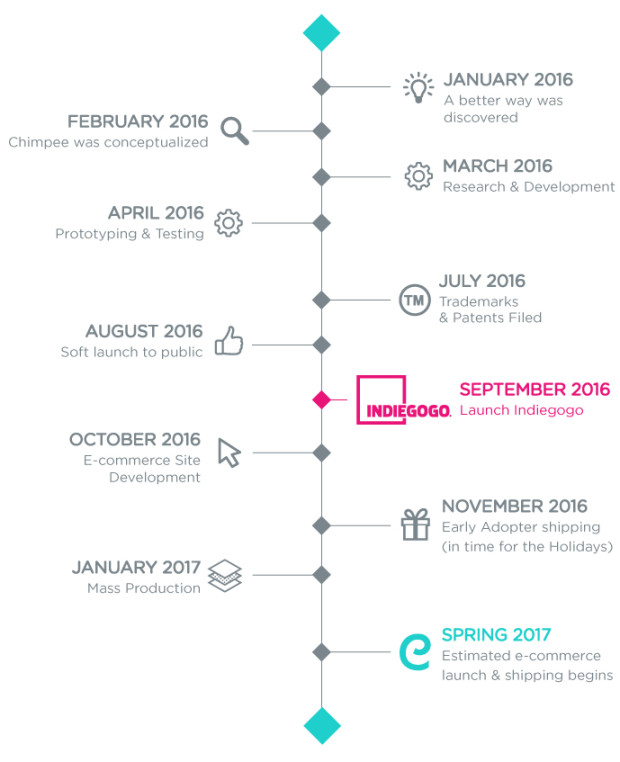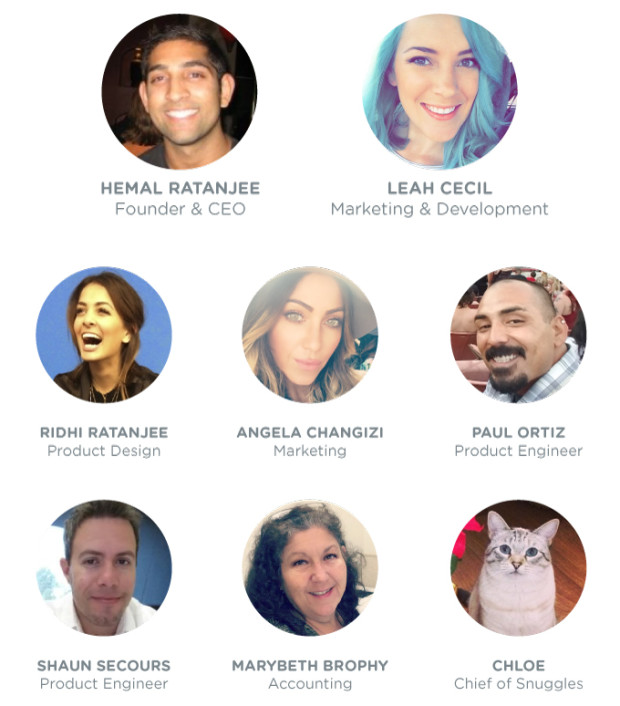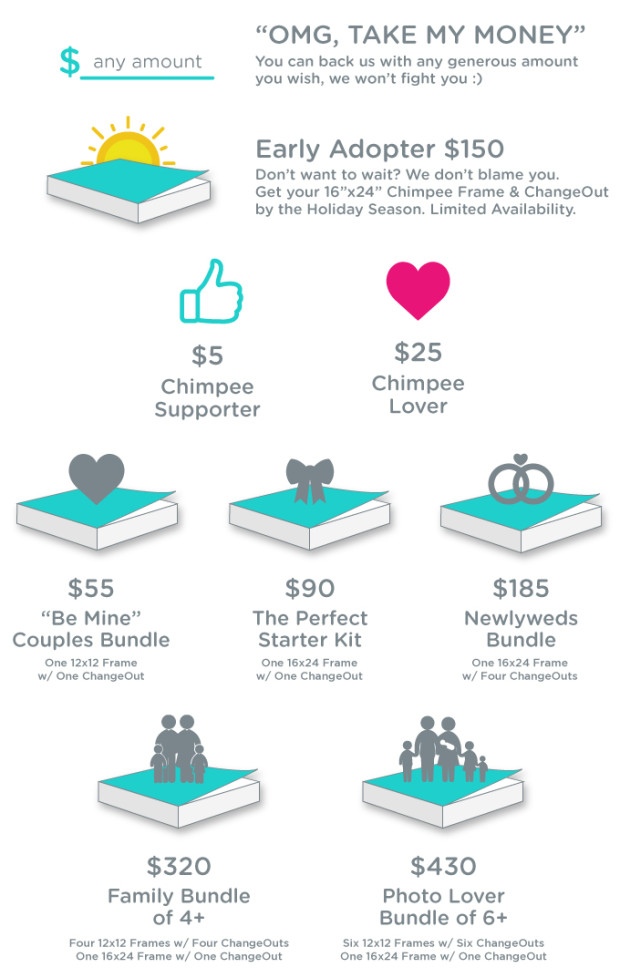 Interested in writing about us? Our press kit is available for download here. Also, please feel free to email us directly at hello@mychimpee.com or give us call at888.MY.CHIMPEE.

Wait…what is Chimpee™?
Chimpee™ has completely transformed traditional canvas into an interchangeable system which contains a ChangeOut™ that magnetically attaches to the frame. A Chimpee™ frame is our patent-pending canvas wrapped frame with a magnetic base. The ChangeOut™ piece allows you to replace your custom image as often as you'd like without having to purchase expensive frames each time. A Chimpee™ is the easiest, most beautiful and least expensive way to display your most recent memories on canvas. There's no other product like it.
What is a ChangeOut™?
A ChangeOut™ is our fancy name for the customized interchangeable print that magnetically attaches to the frame. ChangeOuts are shipped in a compact mailing tube and are an inexpensive way of replacing your canvas graphic. Just upload a photo at mychimpee.com and redeem a ChangeOut™ whenever the mood strikes. When you receive your ChangeOut™, simply unroll it and place it over the frame. The magnetic attraction locks the print in place and doesn't let go. Kind of like Angry Birds.
When will Chimpee™ be released?
Chimpee is currently scheduled to be released in "full production mode" by Spring 2017. We will, however, offer an Early Adopter opportunity. These lucky few will receive their Chimpee frames before the holidays in 2016. Check out our featured perk at the top of this page!
How is Chimpee™ different from other canvas prints?
Chimpee™ is not just different, its insanely different when compared to other canvas printing companies. With Chimpee™ users don't have the stress of committing to one photo, instead they can change out their images as often as they want all while preserving that look and feel we all love from a traditional canvas print. Think of the trees our product will save over a lifetime. It's a lot. Also think of the freedom you now have when ordering canvas prints, you'll never be stuck with one image on your wall forever, change it out as often as you'd like…kind of like your underwear. Now snap to it!
How much does it cost?
While pricing has not been confirmed, we can tell you that Chimpee Starter Kits (which include 1 Frame and 1 ChangeOut) will be at, or below, the current retail price of high quality traditional canvas prints! You get a better print, a better frame and the flexibility of Chimpee for less! The best part is that the ChangeOuts will cost less than 1/4 of what traditional canvas prints currently retail for. Amazing you say? We think so too.
What sizes will you have available?
Chimpee will be available in 6 standard sizes. Rectangular frames have hanging hardware on 2 sides to give you the flexibility to change from portrait to landscape.
12″x12″
12″x18″
16″x24″
24″x24″
24″x36″
32″x48″
How does it work? (coming Spring 2017)
Simply choose a Chimpee Package. The Starter Kit includes 1 frame and 1 ChangeOut™. You have the option to add more ChangeOuts to redeem now or in the future. The more you buy, the more you save. Saving money is fun, so is shopping. So by buying more and saving money, you're actually multi-tasking!
Pick the frame size you want (remember all rectangular frames come with mounting hardware on both sides, so you can easily switch from landscape to portrait easily)
When you're ready to redeem one (or more) ChangeOuts, simply upload your cherished photos from your phone, computer, or social media accounts. You can edit your photos (here you can change colors, lighting, add text and stickers, even overlays and memes) and submit to print.
Finish up with your billing and shipping info and you'll get your order in a few days!
I want to work at Chimpee™! Are you hiring?
Heck yeah! We're glad you asked! We are always hiring and looking for the very best talent. Send your resume to jobs@mychimpee.com and put your name + specialty in the subject line and we'll see where you fit!
How do I stay in touch with Chimpee™?
You can Facebook, text, email, call, visit us, write a letter, hit us up on Twitter, Instagram or even SnapChat us. We'd love to hear from you!
Are your products eco-friendly?
When the wood used is sustainably sourced, the canvas is biodegradable, the ink used is nontoxic and the very use of the product reduces tree consumption exponentially, we'd say that would suffice for being eco-friendly. Of course, we didn't stop there, we've teamed up with charitable organizations to plant a tree for every frame sold!
Will my ChangeOut™ feel like canvas?
Not only will your ChangeOuts™ feel like canvas, they will also taste like canvas. That's because they are canvas! Our specially formulated canvas material is used on the frame and ChangeOut™ so everything looks perfect when it's put together.
What is the frame made out of?
If we told you we'd have to roll you up like our ChangeOut™ and put you in a storage tube. What we can tell you is that our entire framing system is made from high quality wood that's built to last with a mixture of canvas and magnets here and there that make it all work. Your Chimpee™ frame is safe and lead free.
How easy is it to remove or put on my ChangeOut™? Do I need to take the frame down to do this?
First you take your thumb, then you take your forefinger, pinch the edge of the graphic and pull slightly. Magically the ChangeOut™ comes right off the frame. No tools, no muscle, no brains required, you don't even need to take the frame down. Its that easy. To put it on, read this sentence in reverse.
How do I hang a frame when I get it?
We thought long and hard about this, finding the most innovative and technologically savvy way to make this work. We figured it out and are working with our lawyers on getting a patent. We'll let you in on our secret, it involves a hammer and a nail. We supply the nail (in fact it's a really good one, too). You supply the hammer and the muscle. Your frames even come with hangers attached to the back side to keep the frame flush to the wall when hanging.
Do I get to choose whether I want a portrait or landscape frame?
All rectangular frames come with a hanger on each side, so you can switch from portrait to landscape without hurting your neck.
Are there any other options I can purchase for my Chimpee™ frame?
Lets see, it comes with a frame…a custom ChangeOut™…a nail…hanging hardware on the back…bumpers to protect your wall…a storage tube for your ChangeOut™…
What else do you need?!?! 🙂