iCrowdNewswire - Sep 7, 2016
Matthew
Pedal Forward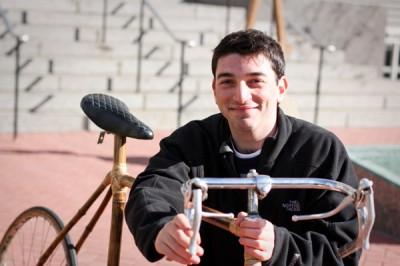 Matthew's story
To put it simply, I am an engineer who loves to bike. When I was in seventh grade I went on a bike ride from New York City to Boston with my Dad that, unknowingly at the time, would set me down the road to building my own bicycles. In 2011, while living on a college budget, I decided to build my first bicycle out of something I found right in my backyard: bamboo. A few years and a couple of prototypes later, I co-founded Pedal Forward, which was the winner of the 2012 Clinton Global Initiative University Commitment Challenge, and was recognized in 2015 by The White House as a Global Emerging Entrepreneur.
This loan is special because:
It helps a New York entrepreneur and his business expand and employ the homeless in his community.
More about this loan
Business Description
Pedal Forward builds sustainable bamboo bicycles that turn heads without breaking the bank, while supporting bicycle access worldwide. We partner with Back on My Feet to employ members of the homeless population in New York City to build our bamboo bicycles. For each bicycle sold ($499.99), 10% of proceeds go towards providing bicycles to the developing world through our partner organizations, where each bicycle directly impacts five individuals. At home and abroad, too many people are stuck in a rut without access to affordable, reliable and sustainable means to move from A to B. In urban environments, the line from A to B is often clouded from carbon emissions and gridlock. (A car's carbon footprint is 271 g/km; a bamboo bicycle's is less than 21 g/km.) We manufacture and sell bamboo bicycles that get people from A to B in a way that is both sustainable and socially responsible. Our long-term goal is to continue our philanthropic model while leveraging bamboo's availability to produce our bicycles in the developing communities where bicycles are needed most. We will be providing both an economic boost to these communities with the introduction of an entirely new industry, as well as access to affordable transportation. We will develop and implement bamboo bicycle manufacturing facilities in the Global South, eventually turning each facility over to be managed and employed by members of the local population. Each facility will act as a sustainable economic driver for the population at large, while those who purchase bicycles in their community receive the many benefits of bicycle ownership.
What is the purpose of this loan?
The past few years have been full of the expected trials and errors that come with building a product I one day hoped to bring to the world.
In total, there have been: 7 different types of bamboo; 4 different joint materials; countless components; and an immeasurable amount of hours trying to get epoxy out of my hair.
Fortunately, all these experiments have led us to one version of the Pedal Forward bike that I believe is ready to help us achieve our goals.
A Kiva loan would help Pedal Forward bulk-order our custom-made, steel lugs, lowering our cost/bike. These lugs hold the bamboo together at the joints, thereby providing structural integrity to the bike.
In addition to reducing the cost per bike, this loan will allow us to hire more of our formerly homeless employees through our non-profit partner, Back on My Feet, to build our bicycles. In addition, this loan will allow us to increase our marketing budget to help increase our reach and thus increase our sales.
Industry: Services
Years in operation: 3 years – 5 years
Website: pedalforward.com
A loan of $10,000 helps increase our marketing budget, hire formerly homeless builders, and bulk order custom lugs, reducing the cost to produce our bikes.