iCrowdNewswire - Sep 5, 2016
Peaceful Portway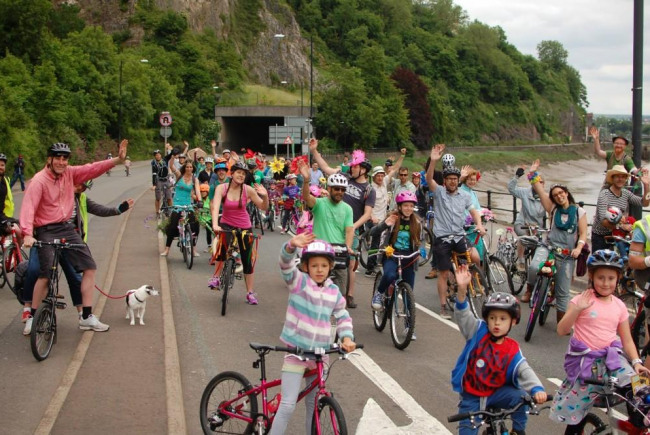 People love the Peaceful Portway! Bristolians and visitors can walk and play on 3 miles of road without cars, by the tidal River Avon, in a dramatic and unique gorge. We need your help to do more!
The Portway runs alongside the River Avon through a steep gorge, framed by Brunel's famous Clifton Suspension Bridge. The Avon has the second highest tidal range in the world, providing a unique environment for wildlife. Normally, the Portway teems with traffic, travelling at 40-50 miles an hour, so walking or cycling along the pavement makes for a very noisy polluted journey and it's hard to appreciate the natural beauty surrounding you. Working with our local communities and organisation such as Avon Wildlife Trust & Bristol cycle Campaign, we extended the road closure five times after major events. This year it only possible to do two, but we working hard to get the Peaceful Portway events into Bristol's annual calendar. We has a lovely time on May 15th and our next date is 25 September 2016 2 to 6 pm. We would love more people to have the chance to come and share the sensation of hearing birdsong in the Avon Gorge.
What we'll deliver:
Road closure costs
Security
First Aid
Entertainment and Activities
Telling everyone to come along!
Why it's a great idea:
Peaceful Portway gives the time and space to wander, chat to friends, neighbours or strangers (and be able to hear what they're saying), visit Avon Wildlife Trust's Centre, see the wicker whales, forage for food, skateboard down Bridge Valley Road and much more. For the environment, decreasing dependency on roads is imperative if we want to reduce climate change. Closing major routes such as the Portway for occasional Sundays is a start and if nothing else, we reduce C02 emissions for a day at least. Cycling and walking is so good for us. We don't need to fly to exotic places to pedal or hike in a dramatic setting- we have our own right here in Bristol! Cities can be places to play as well as work.
Steps to get it done:
Secure funding 31 August 2016
Hold the event 25 September 2016