iCrowdNewswire - Sep 2, 2016
SLOPES Black, Instant Stand for GoPro in housing
a MUST for GoPro! The easiest way to set up the camera angle! Whole world your tripod!
SLOPES Black is a multi-function instant stand for GoPro camera in its housing. 18 handy angles and the plug & play quick deployment make it a Must-Have GoPro accessory. Moreover, features like 360 panorama shooting and LEGO attaching make your GoPro a more versatile camera.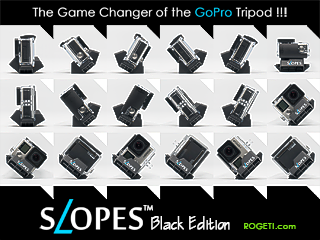 Introduction
SLOPES Black is a multi-function instant stand for GoPro camera in its housing. 18 handy angles and the plug & play quick deployment make it a Must-Have GoPro accessory. Moreover, features like 360 panorama shooting and LEGO attaching make your GoPro a more versatile camera.
Compatibility
SLOPES™ Black fits into different GoPro in their housings. It is compatible with:
GoPro Hero4 Silver/Black
GoPro Hero3+ Silver/Black
GoPro Hero3 White/Silver/Black
GoPro Hero / GoPro Hero+ / GoPro Hero+LCD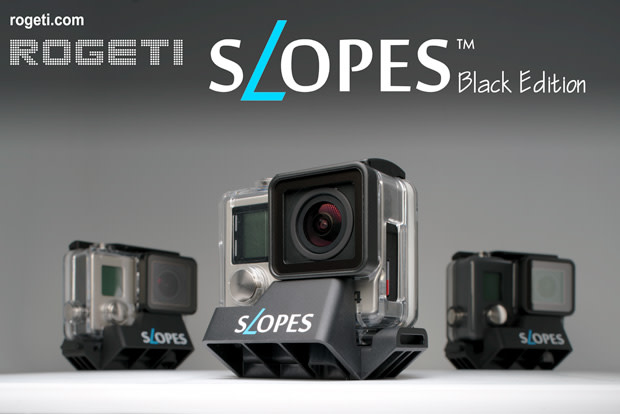 SLOPES™ Black edition on different GoPro Cameras/Housings
Features

18 handy shooting angles!
SLOPES™ Black has an unique cradle that allows Gopro to be installed in 4 different ways, (portrait or landscape, forwards or backwards) and a 5-facets polyhedron bottom that provides five positioning angles. The cradle plus the bottom endows GoPro with 18 handy angles for shooting. For a super wide angle camera as GoPro, these 18 angles are enough to fulfill almost all your needs in different circumstances.

It can dock your GoPro in four orientations, settle at any of five angles,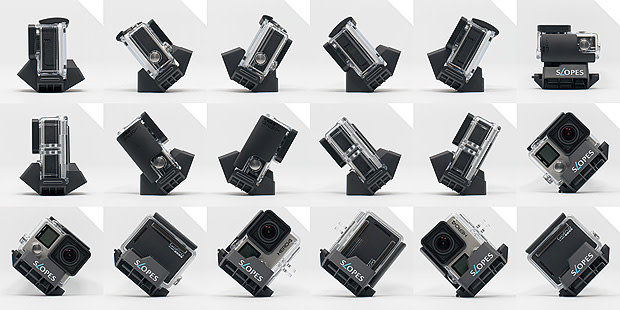 totals to 18 ways to point Your GoPro!

Speedy Deployment
The Plug n' play nature provides you the unrivaled deploying speed. All the positioning set-up could be settled in two seconds. No messing with the screws and positioning arms.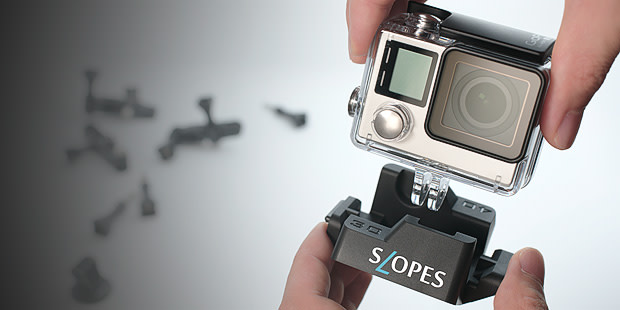 Plug and lay down in seconds. Farewell to screws now!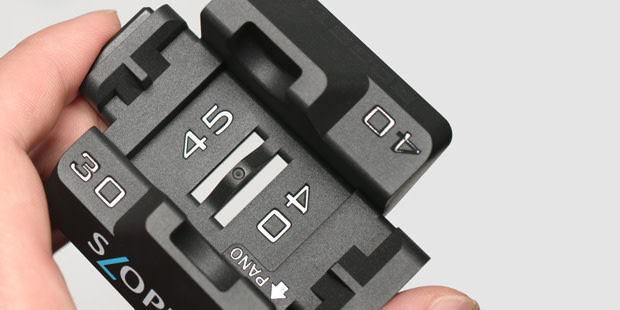 Slope degrees are marked at the top and easy to identify. Never been confusing you!

Ultra Slim
Ultra-slim body makes SLOPES™ portable and enables using in narrow spaces. It can free-stand on any flat surface, like footstep, windowsill, and closet top, makes the whole world your tripod.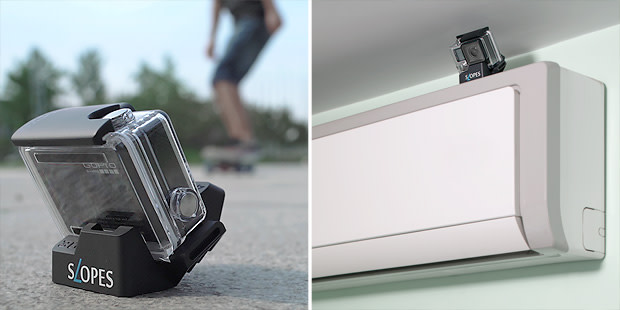 From ground to ceiling, achieve the ultimate possibility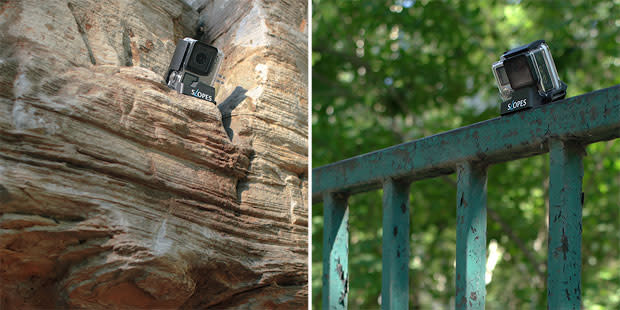 You can place it on narrow beams and ledges easily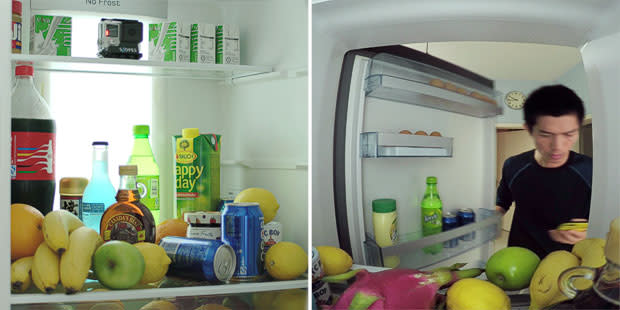 Use SLOPES Black to find interesting viewpoint you've never tried

Waterproof / Dustproof
Different from traditional tripod, SLOPES™ Black was made through one-step injection molding process, therefore it is natrually waterproof and dustproof. If it is soiled, just rinse with water to clean it up. Neither rain nor sknow, nor dirt Can Stop You.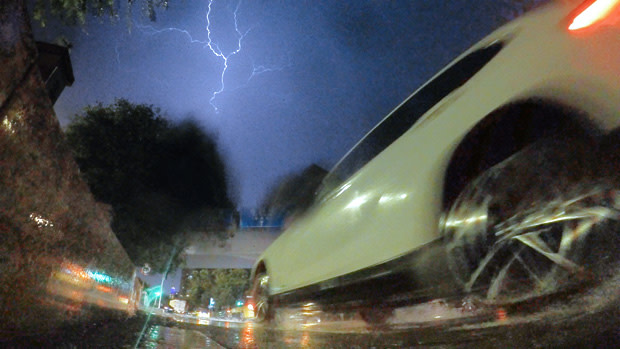 Filmed in heavy rain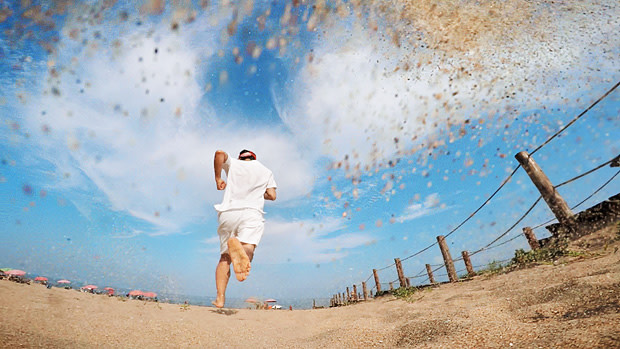 Filmed towards flying sand

Joining with LEGO
There are some ribs at the bottom of the SLOPES™ Black. This design is not only strengthening the product, you can also having fun by joining SLOPES with LEGO bricks to extend its flexibilities, such as making a camera truck. Besides, these ribs will provide good grip on sand and snow.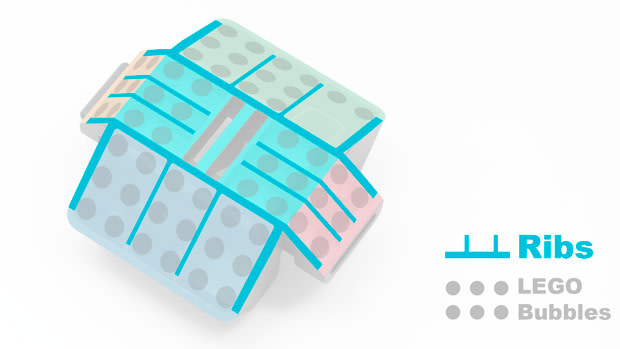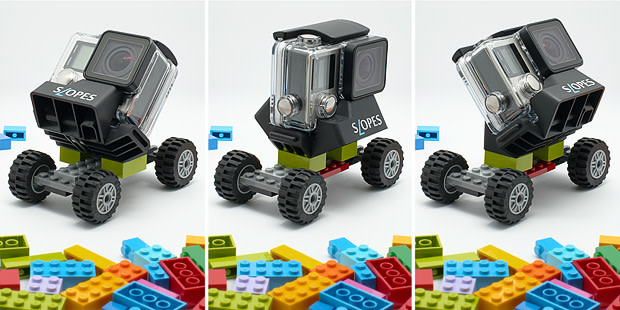 The underneath ribs of SLOPES™ Black can clip with LEGO bricks

360° Panorama
SLOPES™ Black comes with a cubic NodeAnchor for 360° panorama shooting.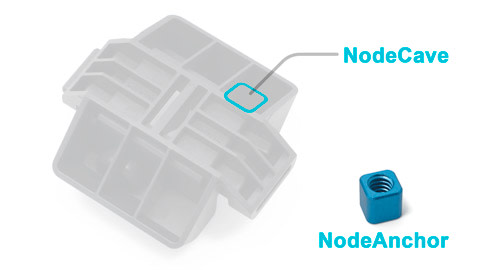 Insert GoPro horizontally and ensure its lens following the direction of the arrow sign carved on SLOPES™ Black. Having the node cave trapping the NodeAnchor from four orthogonal directions and take one picture at each of the 4 positions. Then you can use Panorama Studio or PtGui or any other Panorama stitching software to connect the 4 shots to a 360° cylindrical panorama.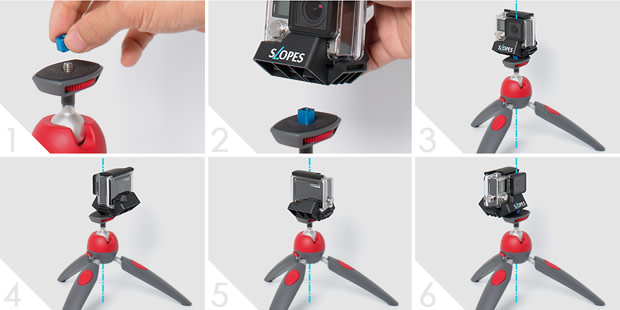 NodeAnchor keeps the location of GoPro's lens unchanged

Four panoramic images captured on SLOPES Black could be stitched to a seamless 360° panorama easily
Technical Specs
Material
The main body of SLOPES™ Black is made of ABS through one-step injection molding process. The NodeAnchor comes with it is made of alloy.
Weight
Main body: 23g
NodeAnchor: 1g
Dimensions
Main body: L*W*H=73X66X32mm
NodeAnchor: L*W*H=9X9X9mm; 1/4″ screw hole
————————————————————–
About the Perks
Help us create this tool that will save you plenty of time and make your GoPro a more versitile camera! Certainly, our perks offer you lower price than MSRP.
Our perks include SLOPES™ Black edition and SLOPES™ Red edition. Black edition is for GoPro in its housing while Red edition is for naked GoPro. Click HERE for more info about SLOPES Red edition.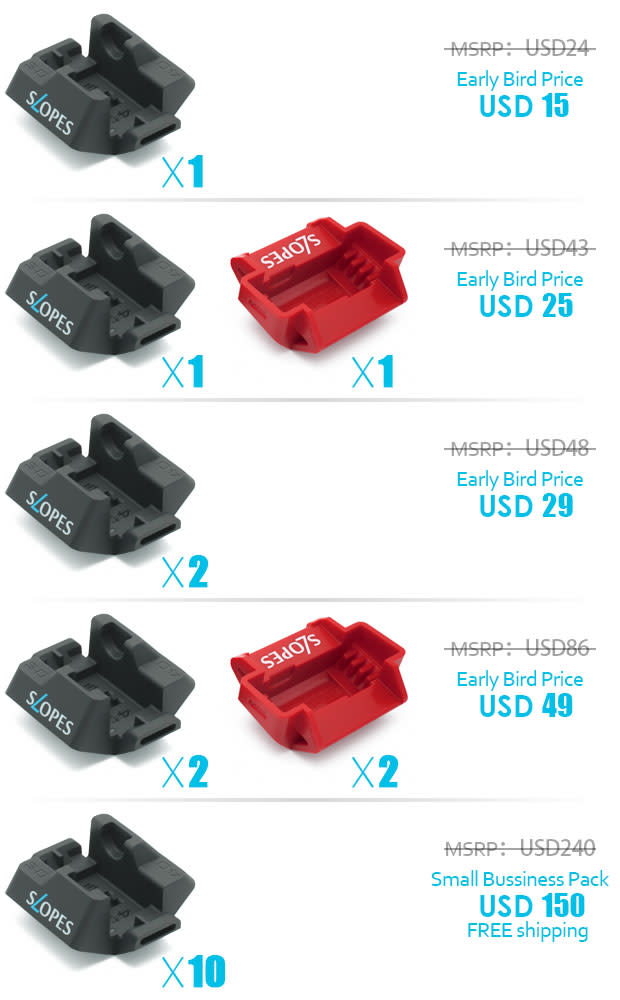 ————————————————————–
Timeline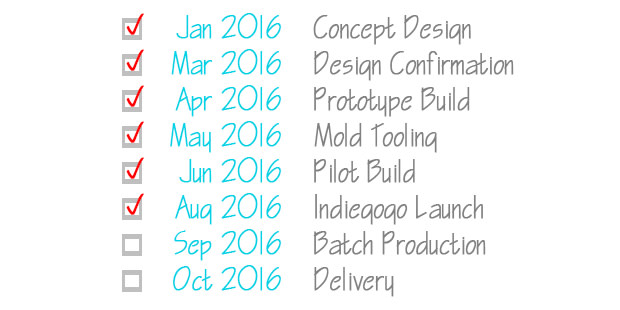 Lend Us a Hand
Last year, we released the the world's first polyhedron stand – SLOPES™ for GoPro (naked GoPro) Red edition. That innovation made a really big noise and received overwelming responses by rewarding over 2,000 backers from 86 countries around the world. After that, Many requests were received about designing a version for GoPro with protective case (housing). Besides, some time-lapse photographers hope SLOPES™ allows tethered shooting, and a few guys want it in dark color for unobstrusive shootings… We gathered all of these to a wish list and designed the SLOPES™ Black edition.
This black little dock will not only satisfy all the demands mentioned above, but we also added some special features to it, such as panorama shooting and LEGO attaching. It has really become a MUST HAVE accessory of GoPro because it is so useful to everyone! Now we come back to ask for your support again – help us bring SLOPES™ Black to production and lend us a hand in changing the world of action camera photography.
Please join us by supporting SLOPES™ Black or sharing our project with your family, friends and other GoPro users like you. Feel free to include us in your posts onFacebook, Twitter, Instagram and other social media. Any help would be appreciated for ever!
THANK YOU!
Team ROGETI
Frequently Asked Questions (FAQs)
We are constantly adding more SLOPES™ Black edition FAQs here, please check for the latest information / questions on SLOPES™ Black edition.
Can I get the product if SLOPES Black didn't achieve its crowdfunding goal?
Yes. Even if SLOPES Black does not achieve its crowdfunding goal, we would still have it in mass production and deliver to every backer. There is no need to worry about it.​
When will I receive my order?
We plan to begin shipping internationally in early Oct 2016. For international air mail, it will take around 10-15 working days to arrive.
Does the NodeAnchor come with each of the SLOPES™ Black?
Yes.
Does SLOPES™ Black come in any different colors?
SLOPES™ Black is only offered in black. We also sell SLOPES™ Red, but they are not the same version. SLOPES™ Black is for housed GoPro while SLOPES™ Red for naked GoPro.
Retailers/Dealers
Want to sell SLOPES™ Black edition at your store? Just email us with your info.
About ROGETI
Created by professional photographer ZHOU Ruogu, ROGETI is dedicated to producing interesting and unique equipments, extending the fun of photography. We are a tiny team and our partners come from different places around the world. However, we have created some imaginative photography tools like SLOPES Red and Pano5+1.
Follow Our Campaign On