iCrowdNewswire - Sep 2, 2016
Fairly Simple To Bring Ethical Undies to Dayton
Changing the World from the Bottom Up — It's Fairly Simple.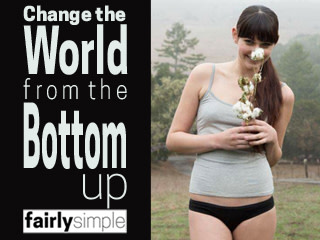 Every purchase we make is a vote for the future we wish to see. Fairly Simple acts as a bridge between considerate customers and passionate makers of great cotton basics and body care essentials. Purchasing products that are good for you and good for everyone doesn't have to be complicated. Together we can change the world from the bottom up – it's Fairly Simple.
The foundation of Fairly Simple
In 2011, during a conversation with a fair trade shop owner, I came to realize what I had already suspected–the problem of modern day slavery is large. But what I couldn't accept was that this is "the way it has to be."
While I could understand that those trapped in cycles of poverty were continually exploited to produce items for "cheap", I couldn't believe that I had to keep being part of the problem instead of the answer.
Since then, I have found many ways to generate awareness while making it my personal quest to find an ethical solution. In the process, I discovered many people who are frustrated by not being able to shop locally in full freedom to buy whatever they need without fear of doing more harm. That was the beginning of Fairly Simple LLC.
The first step is on your end.
While the causes and solutions in relation to human trafficking are complex and complicated, our personal response to help end this global crisis doesn't have to be. Decreasing the demand for slave-made goods and services is a way to thwart those who profit from slavery and bring it to an end. We even have the ability to protect and empower the most vulnerable with our purchases.
The issues behind human trafficking are big and overwhelming, but being part of the solution doesn't have to be. It can be Fairly Simple.
Change your underwear change the world.
When we replace the items we already buy with quality made products that are good for us and good for those who made them, we can change the world. Our purchases can empower the people behind the product. When you purchase your everyday basics, like socks, t-shirts, soap and underwear from Fairly Simple, you tell the world that ethical consumerism isn't a niche, it's the norm.
We've got you covered.
Local access to fairly-traded basic items will have a lasting impact on people, communities and the environment, at both local and international levels. Fairly Simple bridges the gap between makers and customers to provide you with a transparent supply chain — giving you the confidence you are changing the world from the bottom up.
Fairly Simple Future
Our goals for this crowd funding campaign are, you guessed it, Fairly Simple! I have spent the last six months establishing relationships with suppliers, connecting with my customers and testing products in the Dayton market. In that time, I have had a growing demand for a physical location to make it easier for customers to shop, try things on and visit us more frequently. Our price point is accessible, and our location needs to be accessible as well.
Our campaign goal is to raise $25,000. These funds will provide initial lease monies, store fixtures, launching inventory, and some promotional materials. Meeting this financial goal will allow us to secure a physical brick-and-mortar location and outfit it with the necessary start-up equipment for Fairly Simple's success. Our initial inventory will feature a limited range of basics for both men and women and will include underwear, socks, leggings, tees and camis and body care essentials. Suppliers for Fairly Simple will likely include Conscious Step, Ludic Soap, Maggie's Organics, Mighty Good Undies, Miscoots, Naja, and PACT apparel.
Beyond Simple
Meeting our tipping goal will give us start, but meeting our stretch goal of $35,000 will provide us with enough working capital to ensure Fairly Simple a long-term presence in the heart of Dayton. It would also allow us to expand our basic offerings to include our initial inventory in a wider array of color options and sizes, as well as add additional essential items like bras, loungewear and basic outerwear.
Let your voice be heard and donate.
Change the world from the bottom up–it's Fairly Simple.