iCrowdNewswire - Aug 20, 2016
Revolutionizing the Art of Gifting
Curated giftbox of artisanal products from socially conscious companies dedicated to positive change.
The idea of Packed with Purpose was born out of a desire to create a more socially conscious and impactful gift. A gift that not only excites you to give and to receive, but one that is also filled with meaning, or as we say, packed with purpose.
Giving Through Gifting: Revolutionizing the Art of Gifting.

Packed with Purpose is a specialty gifting company that curates gift boxes comprised of products with a social impact. We discover and showcase items produced by social enterprises and purpose-driven companies across the country. We thoughtfully curate our collection of products into individual boxes that you will love to give and to receive.
Our collection of products creates social impact across US communities. We believe in causes that all humans can relate to and get behind.
For example, one of the products we feature, and the organization behind it, provides disadvantaged individuals with workforce development opportunities to break the cycle of poverty. Another of our partner organizations empowers teens to develop their leadership and entrepreneurial skills.
Packed with Purpose gift boxes can be purchased on a one-off basis or as a seasonal subscription (4 boxes per year). In addition, for larger orders, we customize and personalize boxes for corporate and event gifting needs. At launch we will feature one curated gift box. Starting in early 2017 we will offer a variety of gift box options for you to choose from online.

Packed with Purpose was created with a desire to infuse social good into gift giving. Have you ever wished you could send a gift that was unique, reflected your values, and also delivered social impact? I did. And that's why I've created an alternative to the gift options currently available. With Packed with Purpose, I've married my passion for social impact with my desire to find thoughtful, unique gifts.
In my own gift searching and gift giving efforts, I have learned about countless organizations across the US who create beautiful products that have a profound impact on people's lives. I want to increase the impact of these organizations by creating gifts that consumers like yourself can enjoy- both for the products themselves, and for the impact they have on individuals' lives.

We believe in the power of surprise so we've decided not to fully reveal the items in our gift box. But rest assured you will be delighted with a beautifully designed box that we're sure you'll love. Once you peel your eyes from the box itself you'll be thrilled to discover an assortment of high-quality products produced by socially conscious companies and organizations across the US.
Every product in your box is packed with purpose. We really mean that – each and every product has a positive impact on society in its own unique way. So, as you enjoy some rich honey, delicious chocolate, or a fragrant candle you are not only treating yourself, but are also making a positive impact on society. Our gift boxes offer true meaningful indulgence.
Through all this, we never lose sight of the joy gifts are meant to bring forth. We believe in stimulating all your senses, so some products will appeal to your taste buds, some to your smell, and others to your touch. The social impact of your gift is just the cherry on top of a joyful experience.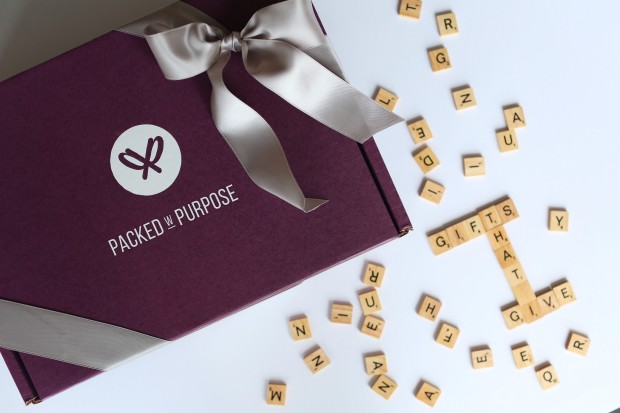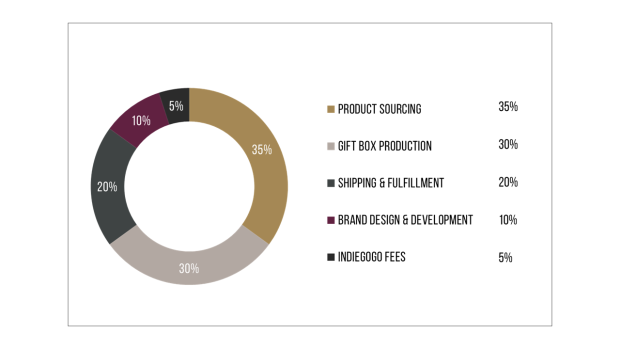 You'll be able to order Packed with Purpose gift boxes in the following ways:
1. Corporate & Event Gifts
Looking for a great end-of-year employee recognition gift, a unique gift to send clients for the holidays, or a memorable event gift? If you're interested in customizing Packed with Purpose gift boxes for your specific needs contact us directly (via our website) so we can talk to you about our custom gift box options.
2. One-off Gifts
We will offer distinct Packed with Purpose boxes for different occasions (i.e. birthdays, a new baby, house warming) and across themes (i.e. for the Midwesterner, for the chef). New options will be available every month, so be sure to sign up for our updates. One-off gifts enables you to select the perfect gift for your friend or loved one.
3. A Subscription Model
By signing up for a subscription, you will receive a Packed with Purpose box once a season, (4 boxes a year) filled with a curated assortment of products. Each box is different and you'll never be bored with our changing assortment of goods.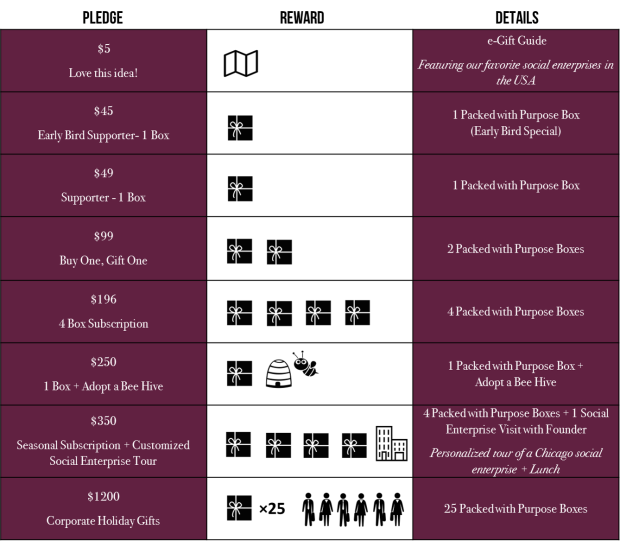 All the products that will be featured in this launch Packed with Purpose box have already been selected and we've developed a strong relationship with the suppliers behind them. So, rest assured, you'll receive a fantastic gift box.
Plus, we've already secured a top-quality fulfillment center who will work to assemble and ship our gift boxes to you. We've done our best to think through all the details around the handling, shipping and logistics so that all you need to do is to kick back and await your unique gift boxes in the mail. Our promise: if any hiccups arise, we will be sure to address them asap.