iCrowdNewswire - Aug 16, 2016
Send WAM to the AES Convention in Los Angeles!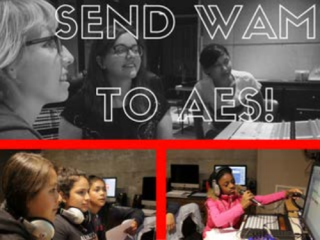 Send WAM to the 141st AES Convention in Los Angeles!
Help send WAM to the 141st Audio Engineering Society Convention (AES) to represent and recruit awesome women in audio!
Thank you for helping us get to AES!
We are so humbled by the incredible generosity we've witnessed from our friends and supporters like you over the past week. We have already made it to 99% of our goal to send WAM staff and interns to the Audio Engineering Society Convention in Los Angeles! Thanks to you, we will be able to connect with women in audio from all over the world next month.
The work doesn't stop there. Help us surpass our original goal so that we can sponsor underserved girls (93% low income, 30-40% high school drop out rate) in our Girl's on the Mic program this semester. $1,000 will provide a free semester of training for 10 middle school girls in the Girls on the Mic program. Can you help sponsor one of these girls? Any donation amount will help create new opportunities and career/education paths for the girls that need it the most.
As always, thank you for believing in WAM!
Did you know that women make up less than 5% of audio professionals?
Help send WAM to the 141st Audio Engineering Society Convention (AES) to represent and recruit awesome women in audio!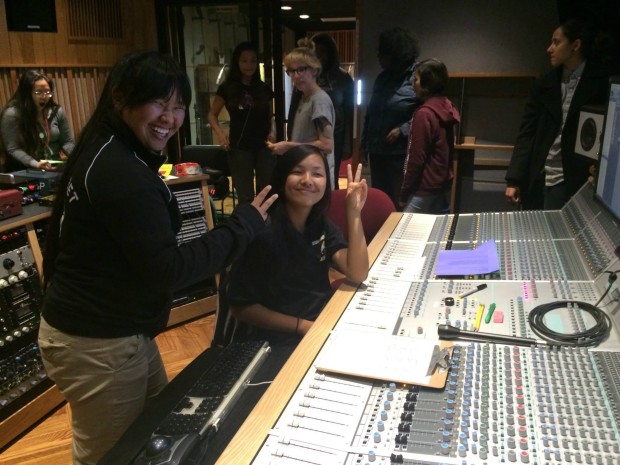 What is WAM?
Women's Audio Mission is a San Francisco-based, non-profit organization dedicated to the advancement of women in music production and the recording arts. In a field where women are critically under-represented (less than 5%), WAM is "changing the face of sound" by training over 1,200 women and girls in a year in music technology and media production in the only professional recording studio built and run entirely by women and girls. WAM believes that women's mastery of music technology and inclusion in the production process will expand the vision and voice of media and popular culture.
Why Send WAM to AES?
The Audio Engineering Society Convention (AES) is the largest gathering of audio professionals in the world, with over 18,000 attendees, uniting engineers, creative artists, scientists and students worldwide. 
It's also the most important event of the year for WAM. WAM reaches the largest number of women in audio at AES, from new students to industry veterans. AES allows WAM to connect women to our programs and help them with networking, internships, jobs, and more!
WAM has attended the conference every year since 2004. AES generously donates a booth to us every year, so we can provide a place for women to connect, network, and get hooked into WAM's programs and services. But first we need to get our WAM team to Los Angeles!
Why WAM Needs to be at AES This Year
The WAM Booth provides a critical "homebase" for women attendees to meet, connect, and network with other women and industry professionals;
AES is the best event for us to reach the largest amount of women in audio and get them involved in WAM's programs and services, increasing their chances of graduating from audio programs and getting into audio careers;
WAM provides students with a gateway into the conference, offering student-tailored guides, tips, career/educational guidance, and encouragement;
WAM recruits new interns from all over the country at the AES conference (in the past, interns from the UK, Thailand, Indiana, Georgia, and more!)
25,000+ WAM supporters, members, and women in audio will be connected to the 141st AES Convention through WAM's social media channels full of updates, videos, and tech coverage from the conference!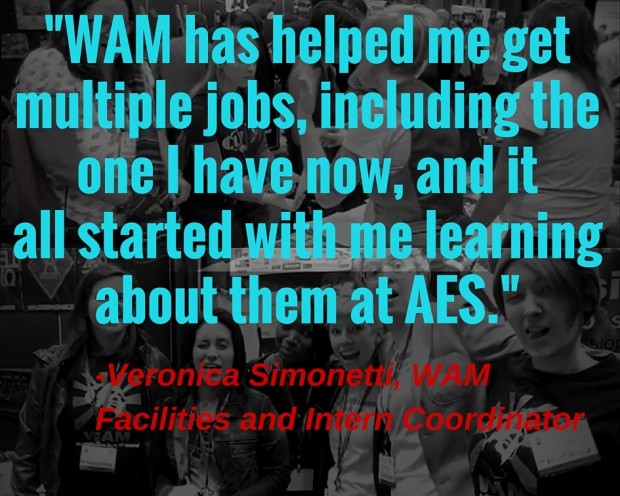 What We Need & What You Get
WAM is raising funds to cover travel, accommodation and booth expenses.
WAM is a small nonprofit with a small budget, any help at all that you can provide would be appreciated immensely! Here's what we need to get there:
Hotel Accommodations for 7 people for 4 days: $2,200
Booth Staff: $2,400
Airfare and Transportation: $2,000
Booth Furniture/Electrical Costs: $400
Total: $7,000
Our AMAZING perks include:
Full and half-day recording sessions at WAM's professional studio
Exhibits-Plus Badges to AES
WAM t-shirts, sunglasses and watches
Dedicated Social Media Blasts (over 25,000 subscribers) and a spot in our quarterly newsletter (4,200+ subscribers)
Logo Placement on our Booth Banner
And more!