iCrowdNewswire - Aug 11, 2016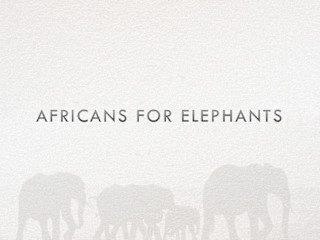 Africans For Elephants Nairobi Fundraising Ball
100% of ticket sales at all Africans For Elephants events goes to Elephant Projects continent wide.
Short Summary
A dear friend introduced me to Raabia Hawa of The Walk With Rangers Initiative. Raabia is looking to raise funds for an Anti-Poaching Unit in the Tana Delta area of Kenya which has been heavily hit by poachers. Her Walk With Rangers Initiative also raises awareness and funds for rangers who risk their lives daily while protecting elephants.
Having hosted events and parties in Nairobi for the past seven years, a couple of my friends have approached me and enquired if I could host a formal ball which would support a good cause. I feel that African Elephant conservation is not only a worthy cause, but an urgent one as well.
The aim of hosting the inaugural Africans For Elephants Ball is to raise the necessary funds for the upcoming and desperately needed Anti-Poaching Unit by Walk With Rangers.
What We Need & What You Get
Our plan is very simple. We will host a formal ball on the 1st of October this year out of which 100% of the tickets sold go to Walk With Rangers' Anti Poaching Unit. However, we need to cover all the event costs.
I have spoken to a couple of prominent companies based in Kenya in order to have them step in as sponsors in any capacity. Many of them have been hesitant to sponsor. One company stated outright that elephant conservation does not concern them and that Kenyans do not care about elephants, therefore why should they?
This obviously got me worked up, and with the encouragement of my friends, I decided to set up this campaign so that I could prove to them that yes, we care very deeply about our elephants (both Kenyans and the rest of our friends around the world!)
With your help, we will be able to host an amazing event which will illustrate our passion for African elephants and at the same time raise the much needed funds for Walk With Rangers Anti-Poaching Unit. 100% of the amount raised from the ticket sales will go towards the initiative.
Here is the breakdown of our budget for the first ever Africans For Elephants Fundraising Ball. We have some friends who have already offered generous gifts which will be part of the event's raffle section.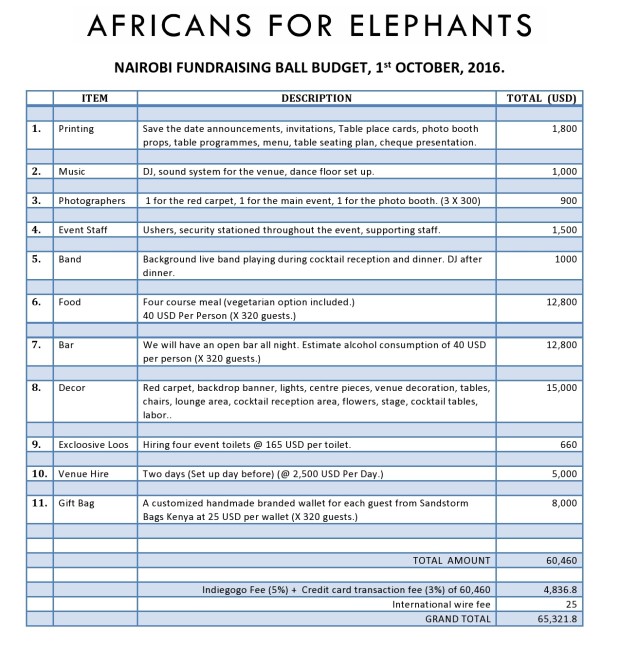 The best case scenario is that we raise the full amount we need for the ball and proceed to have a fantastic fundraising event for elephant conservation in Nairobi.
The second best case scenario is that we are unable to raise the full amount and can not proceed to host the ball. Every single cent we raise then goes to The Walk With Rangers Initiative. We therefore have a win-win situation.
For our friends based in Nairobi who wish to attend the event, feel free to get in touch for ticket details
The Impact
We believe that taking the first step will eventually get us to our destination. Our ambitious goal at Africans for Elephants is to host a global tour of events across various cities, with each event raising money for several Elephant Conservation projects continent wide.
What is next after the Nairobi October fundraising ball? That's obvious! We will be heading over across the border for a fundraising cocktail event for an amazing elephant project in Tanzania (details coming soon!)