iCrowdNewswire - Jul 31, 2016
Mrs Gloss AW16
We made the ultimate summer holidays scent; now The Glossers & 4160Tuesdays are warming up winter.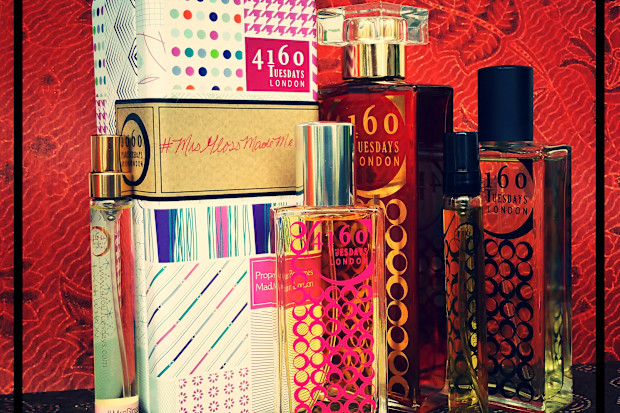 This is a shared bespoke two-perfume project for members of the Facebook group Mrs Gloss & the Goss. (Non-Glossers, if you'd like take part please do join the group, because it's only polite. Also it is most excellent good fun.) We made a fabulous summer fragrance with rose, candy floss and pink grapefruit – now it's time for a pair of autumn and winter perfumes. They'll be ready to test mid September. All the perks showing on day one are the early bird prices; if they run out, we'll add more.
We're 4160Tuesdays, makers of fine fragrance in very very small batches.
We're based on London, and handmake all our fragrances in our Acton studio.
Our Mrs Gloss collaboration makes it possible for group members to have their own private fragrance (but without the £5K fee).
By sharing the costs, and having 20 Glossers round to the studio to choose the aromas they want, we hope to make a batch of 20 – 50 litres to share among everyone who wants some.
We have a really good offer for everyone who'll back it before we've even made it, based on 4160Tuesdays' track record in indie fragrance.
We'd love it if you'd join in, so we can buy all the raw materials we need to make a batch of both perfumes.
Break it down for folks in more detail:
Our early bird rates are for everyone who's prepared to take a gamble on how the scents will turn out. (If you don'd like them, you can swap them later on the 4160Tuesdays News Facebook group.)
Every perfume comes with a free sample of it's other half. If you buy both, you get two free samples to share with another Glosser (or to keep :-) ).
Start small, with a 9ml pocket perfume, right up to 2 x 100mls.
We'll make the perfumes even if we don't crack the £2K target, so everyone will get their scents.
We've done this before…
As crowdfunding goes, this is pretty low risk; you will get a perfume come hell or high water, as long as we're here in once piece to make it for you.
Here's the plan as it stands incorporating some of the suggestions we've had so far:
#MrsGlossMadeMeGoForAWalk – the smell of fallen leaves, icicles, wood fires, warm woollies, a walk outdoors in the crisp cool winter.
#MrsGlossMadeMeEatIt – all the wonderful scents of winter treats: mandarin oranges, liqueur chocolates, chestnuts roasting by an open fire…
We'll post the update right after the 20th August workshop, so there's still plenty of time to back our project, if you're not sure about plunging in before we've decided exactly what they're going to smell like. (If they turn out not to be exactly to your taste, you can always swap them on our Facebook group page.)