iCrowdNewswire - Jul 30, 2016
Stonecote Sudbury School
An innovative school where students have the freedom to be responsible for their own education.
We're a group of professionals with diverse backgrounds in education, psychology, social services, and entrepreneurship. We have over 75 years of experience in unconventional models of education. Right now too many students are exhibiting signs of unmet needs within traditional schools: anxiety, depression, loss of creativity, disinterest in learning, and more. We believe there is a better way. We are opening Louisville's first Sudbury school, an innovative alternative to traditional education.

A NEW APPROACH TO EDUCATION
We are opening a new school that aims to redefine learning for Louisville students. Stonecote Sudbury School is based on the educational model of the Sudbury Valley School, founded in 1968 in Framingham, Massachusetts. The fundamental difference between learning at Stonecote and being taught at traditional schools is the level of responsibility students have in their own education. The school will be led by a participatory democracy, the School Meeting, consisting of all enrolled students and staff members. The curriculum is student-led, following the philosophy that motivation follows interest. Stonecote will be the first school in Louisville to follow the Sudbury model of education. The facility is located on a landmark estate at 1005 Alta Vista Road in the heart of Louisville.
Our Founders have been working diligently to open Stonecote this fall. We have received tremendous support from the community, including the pro bono work of a local real estate attorney, tax attorney, film-maker, photographer, and a leading financial consultant. Now we are asking for the help of family, friends, parents, students, anyone who has ever been involved in Sudbury education, and anyone who supports educational freedom for children. Your donation will help build the foundation of this new school.
WHAT MAKES STONECOTE SUDBURY SCHOOL DIFFERENT?
Stonecote Sudbury School's instructional philosophy is largely based on the Sudbury model of education. The fundamental premises, as defined by Sudbury Valley's publication Kingdom of Childhood, are as follows:
"that all people are curious by nature;
that the most efficient, long lasting, and profound learning takes place when started and pursued by the learner;
that all people are creative if they are allowed to develop their unique talents;
that age-mixing among students promotes growth in all members of the group;
and that freedom is essential to the development of personal responsibility."
Stonecote Sudbury School is led by the School Meeting; a participatory democracy consisting of all enrolled students and staff members. Each School Meeting member has an equal vote on all concerns. The School Meeting occurs weekly and is responsible for all areas of school governance, e.g., instituting school rules, hiring requisite staff, determining annual budget, maintaining the school building and grounds, and establishing Clerkships, Committees, and School Corporations.
At Stonecote, we begin with the assertion that learning arises from within the student. Passionate interest ignites intrinsic motivation, leading a student to pursue activities, knowledge, skill, and achievements based solely on personal interest and initiative, rather than on the external motivation of earning a reward or avoiding a punishment. The byproducts of such focused pursuits are habits of ingenuity, passion, persistence, and confidence.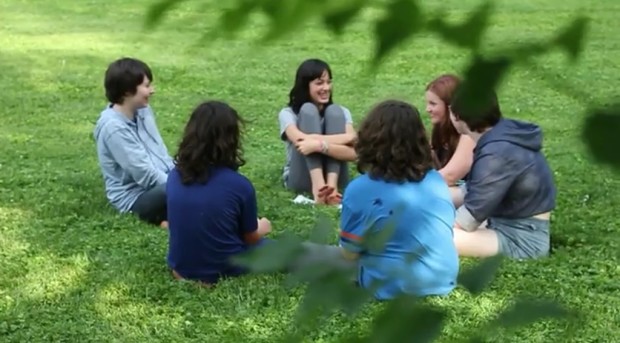 Because Stonecote is governed by the School Meeting, a broad range of students and staff is essential to life within the school. The more diversity present in the members of School Meeting, the richer the discussions surrounding each topic of debate. A participatory democracy thrives on a variety of voices and opinions. The School needs all kinds of students and staff members to give voice to the diverse needs of the school community, and the community outside the school as well.
The curriculum and instruction at Stonecote Sudbury School are also enriched by an increase in student and staff diversity. Students create their own day and follow their interests toward their desired outcomes. A more diverse student population will increase the potential for student exposure to a broad range of interests.
The School's chosen curriculum, rather than being a tiny subset of skills and knowledge, is divergent, open-ended, and as infinite in variety as the students are. Through observation and experimentation, students test a variety of ideas and behaviors to discover what works and what doesn't work for them. Adults and other students provide vital examples and possibilities, offer organic feedback as friends and equals, and allow for opportunities to consolidate growth through sharing information, conversation, and experience.
The main goal for the students is to gather the skills they need to become successful adults. These skills are naturally learned through play, self-selected study, conversation, and practical experience in a participatory democracy.
A secondary goal for the students is to become empowered by the School's structure, governance, and culture. Students are free to pursue self-chosen challenges and opportunities; and through their experiences, they develop new competence and become increasingly self-reliant within a community of support.
WHAT WE NEED:
Our goal of $95,000 will help provide the following:
Financial aid for families in need
Necessary technology and equipment for the students
Modifications to the property pursuant to code to effectively change the use of the building from residential to educational
A reserve fund for the school's debt service, unforeseen repairs, and operating expenses
Redesigning learning spaces according to student interest and Stonecote's unique approach to educational freedom and responsibility
The guarantee that a Stonecote education becomes a reality for the children of Louisville, surrounding counties, and Southern Indiana.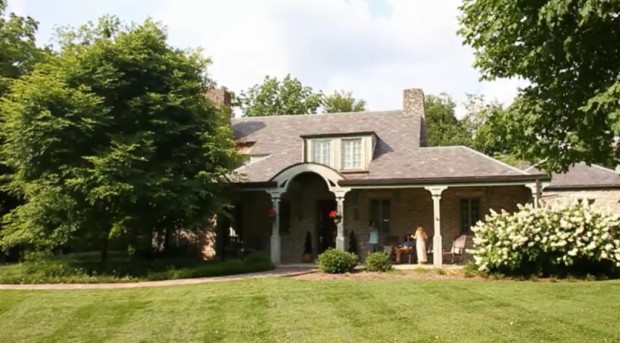 OUR WAY OF SAYING "THANKS!"
When you contribute to Stonecote Sudbury School, you become part of an education revolution. We are a non-profit entity with an application in process to be qualified as an Internal Revenue Code Section 503c3 charitable organization. Upon approval, you will receive a receipt for your tax exempt donation amount.
THE STONECOTE GIVING TREE
We have local artisans in our Founders group who are creating The Stonecote Giving Tree, a monument to our fantastic donors. Made of hand-crafted wooden pieces, each featuring the name of a donor, our tree will be a prominent, artistic focal-point in the main room of Stonecote Sudbury School.
Each perk level corresponds with an embellishment on the Tree: from having your name on a shared branch of the tree, to a leaf or a blossom; from a delightful butterfly or dragonfly, to a beautiful bird, or an adorable woodland creature. Details on exact donation levels are in the full list of Perks. Check it out to find the Perk that works for you!

We created the $2016 Perk level to honor our Founding Year. Although the original idea of opening a Sudbury model school in the Louisville/Southern Indiana region began years ago with a couple of our Founders sitting in their kitchen over a cup of coffee, discussing the possibility of a better educational option for their kids, the reality of Stonecote made its debut in the final days of 2015.
Since January 1, 2016, the Founders have:
researched the property to ensure that it meets or exceeds the needs of the school and its students
been doing our due diligence to comply with all applicable codes (Fire code, ADA requirements, zoning, building use, planning and design, etc.)
filed Articles of Incorporation with the Commonwealth of Kentucky
submitted the 501c3 application to the IRS in order to obtain tax-exempt status
completed an extensive business plan as part of our Lender Presentation to illustrate that our model can sufficiently support the project financing
created our website
held routine Information Meetings to introduce the Sudbury model to families in the community, and to build excitement about our new school
negotiated a purchase agreement for Stonecote Estate and announced our expected opening date of September 6, 2016!!
If you want to honor our inaugural year, 2016, a $2,016 gift is the perk level for you! To thank you for your gift, our artists will create a Giving Tree decoration of your choosing! Your name will be emblazoned on your design, and our heartfelt thanks go out to you.
To complement The Stonecote Giving Tree, we will have a page on our website, which will serve as our digital donor tree. To all donors who wish to remain anonymous, your wish will be respected with gratitude.
Beyond The Giving Tree
For a gift of $5,000, you will be honored by having a room named by you for a period of five years. In order to meet the needs of the students, each room within Stonecote Estate will have redesigned elements. Your gift will make those improvements possible, and the room will bear your name, or the name of a person of your choice, as a monumental Thank You!
At the $10,200 level, your contribution will help a student attend Stonecote Sudbury School who otherwise couldn't. This amount is equivalent to one year's tuition at Stonecote. Donors at this level will receive our tremendous thanks, and will have a scholarship fund named in their honor, or in honor of a person of their choice.
To all of our supporters, You are helping bring this school into reality! You are creating educational freedom for students in Louisville and beyond, and you have our thanks!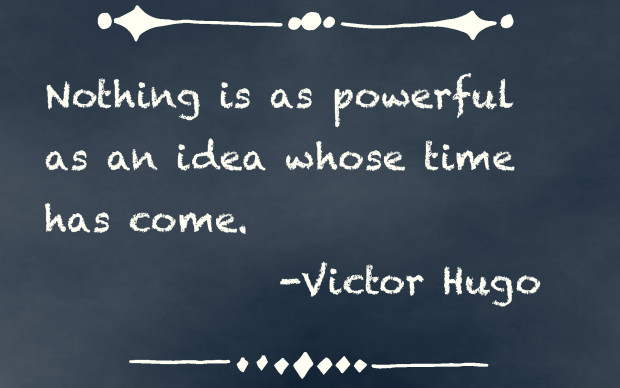 THE IMPACT OF A STONECOTE EDUCATION
Children across the country are giving indicators that their needs are not being met within the world of traditional education. These indicators are becoming more and more pronounced each year. They are evidenced by the dramatic increase in childhood mental health
diagnosis
. To follow are some staggering statistics as cited in the film, "
Schooling the World
."
16,000,000 U.S. Children suffer from depression and other emotional problems
1,600,000 are currently on 2 or more psychiatric drugs
69,000 girls between 13 and 19 regularly cut themselves
120,000 children have tried to kill themselves in the past 12 months
Additionally, there are many other children who may be thriving academically by common societal measures, but who are exhibiting less obvious, though no less damaging, consequences of a traditional education, e.g., disinterest in learning; general disengagement; loss of wonder; loss of creativity and critical thinking skills; extreme fear of making mistakes; and loss of self. In analysis of conventional education and its present trends, these are profound indicators that signal, culturally, society's readiness for a change.
The needs and opportunities for learning have changed immensely since the onset of standardized education in the Industrial Age. Critical thinking, creativity, self-initiative, collaboration, effective communication, and technological literacy are absolute necessities in today's world. The adverse effects of our outdated model of education are presenting themselves in greater intensity each day, and educational professionals and psychologists are researching and writing about these issues and what can be done to solve them in abundance.
The solution Stonecote Sudbury School is offering is to be an educational environment where students are not forced into the box of traditional education, but are free to explore their world and to discover their unique interests, talents, and needs, as well as how to utilize those traits to be successful as adults.
According to extensive studies of Sudbury graduates, alumni excel in customary measures of success; 87% of graduates go on to college, and an astounding 42% are involved in entrepreneurial pursuits. But most importantly, graduates indicate that they see themselves as confident and adept members of society, capable of defining meaningful goals for their lives and finding ways to achieve them.
ADDITIONAL WAYS YOU CAN HELP
Share this campaign with family, friends, acquaintances, strangers on the street, anyone at all who is interested in an alternative approach to education. This is not only for children of Louisville, but to help spread educational freedom for children everywhere! Use the Indiegogo share tools to spread this campaign, or share this link: www.StonecoteSudbury.org.
If you want to be added to our email list, sign up here, and we will send you updates on our progress. Invite your friends to sign up too!
THANK YOU!
A huge "Thank You!" to Louis Bowman for creating our wonderful campaign video, and endless thanks to
Hudson Valley Sudbury School
for use of your introductory videos.
We can do exponentially more when we come together!