iCrowdNewswire - Jul 29, 2016
Raleigh Play Space & Mini Cafe!
Raising $1500 in 15 days to bring a creative play space and mini cafe to Raleigh, NC!!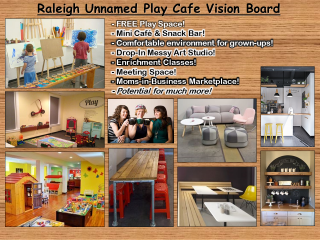 Funds raised through Indiegogo will contribute directly to key components of our creative play space and mini cafe/snack bar!! If we reach our goal of raising $1500 in 15 days, we promise to reveal the adorable name of our new business on August 11th and you, of course, will enjoy the perks of your donation level!!
Short Summary
Imagine: a FREE creative play space for our community, inspiring kids to learn through discovery while their grownups unwind in a cozy environment and enjoy refreshments for purchase in a simple, self-serve coffee and snack bar. This space will offer various Creative Play Stations such as a playhouse, dress-up area, book nook and train table, alongside a "Pay-to-Paint" Messy Art Studio where children can let their inner Picassos shine- and parents don't have to worry about the cleanup! In addition to these regular features, this play space will offer a rotating calendar of classes, special events, incredible birthday parties, and provide local family-friendly businesses a unique space for meetings, advertisement opportunities and support!
Our proposed location is 3721 Lynn Road. We currently have approval for a one-year lease as a testing ground for this concept! Pending inspection and building code approval, we plan to be in our space by September 2016!
What We Need & What You Get
$1500 in 15 days! The money raised from this campaign will go directly to the "no charge to play" aspects of our play space including:
-$450 Foam floor tiles with a "hardwood" finish. Soft, safe, durable and easy to clean/sanitize!
– $500 Cafe furnishings including a community style dining table, comfy chairs, tables, and benches.
– $250 Quality, hands-on "learning through discovery" style toys and toy storage.
– $200 Decor and ambiance.
– $100 Non-toxic, child-safe cleaning solutions and equipment.
If we EXCEED our goal we can provide even more services and items to meet the needs of our customers and community!
In addition to the various levels of contributor perks, ALL donors will receive an invitation to a VIP Sneak Peek prior to our opening, just our small symbol of a HUGE THANK YOU!
The Impact
Your contribution will help create a community space like no other: a gathering place to connect with others, a cozy space to plug into your laptop, a home away from home for you and your family! By focusing on parental comfort as much as a child friendly environment, we hope to fill a need for many families in the Raleigh area!
Risks & Challenges
As with any new venture, we expect to encounter various obstacles and learning opportunities along the way!
Nicki Medford owned a business with a similar vision when she lived in Colorado Springs. The business survived a year and brought in a small profit when she decided it was time to close doors, take a step back and spend a few years to refine and redevelop the concept. Jenn Spencer has a keen business sense and has owned several successful e-commerce businesses. Together, Nicki and Jenn are combining what they know, making a list of possible outcomes and solutions for any situation they may encounter. They also hope to use community support as a sounding board to continue to meet the needs of guests if the business begins to miss any marks.

Other Ways You Can Help
Word of mouth is HUGE in this industry. We need your encouragement and continued support by sharing our concept with your friends and joining our Facebook Group to make your voice heard! YOU are the reason we are pushing so hard to bring this place to life in such a radical way. THANK YOU!!