iCrowdNewswire - Jul 19, 2016
ONCE UPON A GEEK
Volume 1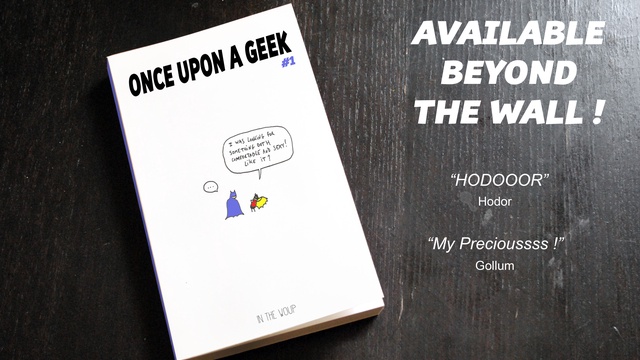 About
ONCE UPON A GEEK is a collection of 250 black and white illustrations that revisits with humor the daily lives of our favorite heroes! Dozens of universe are present in the book : Game of thrones, Harry Potter, TMNT, DBZ, Back to the futur, The walking dead, Star wars, Deadpool, Batman, Vikings, Beetlejuice, Zelda, Crocodile Dundee, The goonies …. The good old classics : )
Discover in preview some of the illustrations : inthewoup.tumblr.com
The book is 100% in english !
ZOOM on the cover
Book preview
The book is not enough ?! Here are some counterparties that will touch your geek's soul : )
The MARIO WORLDZ project includes 6 sets of 6 Mario in costumes from unpublished CROSSOVER ! Our favorite plumber usually take different costumes during his adventures so I thought " why not go even further ?". Each of the 36 Mario was thought to best marry the two worlds: pose, colors , design. All in accordance with the originals sprites of Super Mario !
Can you recognize the 36 costumes? : )
#1
#2
#3
#4
#5
#6
#ALL
Prints preview
Framed original drawings
If you have a crush on one of the book's illustrations you can get the original box and signed ! To book illustration send me a message when you receive your copy or before if you find your happiness on inthewoup.tumblr.com ( knowing that they're not all online). The frames are 22cm x 20cm . Here are some examples…
What are the funds for?
Book's printing + shipments : 600€
Financing counterparties (prints, frames) + shipments
Ulule's commission : 8%
About the project owner
Street artist for over 10 years my work has always been inspired by the Geekdom and its infinite wealth. Raised by video games and the "club Dorothée" (french cartoon show) I subsequently quenched my thirst of fantasy through books , movies, mangas, boardgames … In short everything that came to my hands ! I use many materials for my creations : pixel art , mosaics, drawings , paper art and stencils. And every time I try to return a bit of pleasure that was given to me by so many talented authors and artists. With ONCE UPON A GEEK I hope to make you laugh (till you cry) and make you rediscover your hero in a new light …
IN THE WOUP