iCrowdNewswire - Jul 18, 2016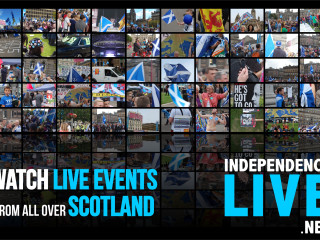 Indy Ref2 & more new Scottish media collaborations
DON'T HATE THE MEDIA, BECOME THE MEDIA. Connecting Scottish voices online and more…
Help Scotland's only livestreaming grassroots organisation to keep going. We have an educational ethos and aim to show and work with the new Scottish media, independence supporting groups and other organisations how best to use livestreaming.
The EU referendum result was momentous. With Scotland voting by a massive 62% to stay in the EU the opportunity for #IndyRef2 is now likely within the next 2 years.

Who are we?
Independence Live are part of the new Scottish media network and we are pro Scottish independent. We are a grassroots group who are interested in bringing you news and information that main stream media will not or cannot cover. We have done over 700+ livestreams and blogs, YouTube videos and podcasts.
With our educational ethos, we want to get more people, groups and new Scottish media organisations livestreaming in order to bring their news to a wider audience.
We have helped to develop closer working relations through joint projects with the new Scottish media like Bella Caledonia, CommonSpace and Kiltr. One of our goals is to help educate the new Scottish media in various ways so that they can exploit livestreaming to help increase their audience and create news content on their websites.
Independence Live giving training & discussing ideas at the CommonSpace office…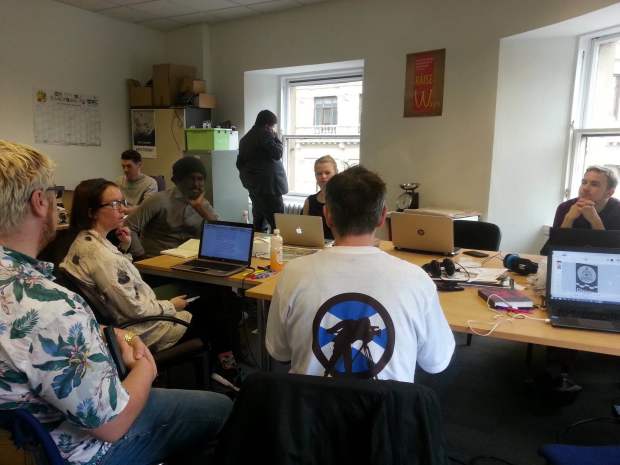 Independence livestreamimg from CommonSpace office to their Facebook page. Findout what happens behind the scenes at CommonSpace

In addition to our livestreams, we are involved with new exciting developments such as the National Yes Registry & Yes 2 group. We also offer help to all Yes groups with livestreaming, and we want to see a network of livestreaming groups throughout Scotland, which we hope can be achieved with our involvement with the National Yes Registry.
What we want?
Please donate to our crowdfunder and in doing so you will be helping to keep one fulltime member of Independence Live. This also includes travel expenses, equipment and general running costs.
Your donations will help Independence Live to continue and develop our work with the new Scottish media. Through our partnership with the National Yes Registrythat launches on the 18th of September we hope to create a network of Yes groups who can livestream from their local areas.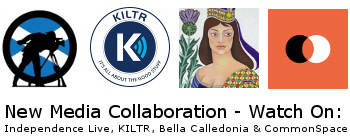 How it works…
To keep our one fulltimer we do a cycle of crowdfunders with 3 crowdfunders per year. One of those crowdfunders (the previous one to this) we asked for more money to cover the cost of our yearly livestream Premium account.
—————————————-
LISTEN TO OUR SUPPORTERS…
Lesley Riddoch, Marie, John Drummond, Alan Bissett, Derek Bateman, Jonathon Shafi, Pat Kane, Jim Sillars, Ivan McKee, Stewart Bremner, Cliff Purvis (veterans for indy)…