iCrowdNewswire - Jul 18, 2016
360 MMA Fight Nights
360 MMA Fight Nights is a Mixed Martial Arts promotion based in Belgium looking to promote athletes.
We are looking to build a strong promotion that offers the best platform to our athletes in order to promote them as best as possible. Also, we aim to offer our fans a great and unique experience during our shows. Belgium is lacking such a promotion and a lot of athletes are waiting for this. We have a lot of talents to show the world and that's the reason this project is so important to us !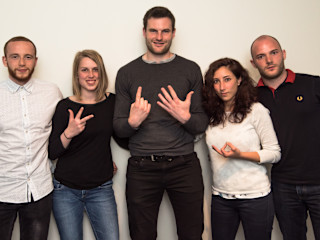 Short Summary
We are a team of 5 young hard workers that wanted to have an extra project in their life. MMA is one of our common ground; we all are passionated by this sport.
When we analyzed the needs in Belgium, we realized a lot of competitors and fans were waiting for shows to be well-organized and that's what drive us all. We are ready to spend our time and energy to provide a great promotion that will help the athletes being seen by our local fans !
What We Need & What You Get
Via this crowdfunding, we want everyone to get something. For our first event (Genesis, which will be held in Mont-Saint-Guibert on the 29th of October), we will offer different things to all fighters:
Medals to all participants
A Novice+ tournament will be held, the winner will get a trophy
Our amateur main event will be for a huge cup of 120 cm !
Our main event will be a professional title fight, winner gets a belt.
All Pro fighters that end their fight with a finish will get a financial bonus for the show.
The fighters involved in the best fight of the night also get a bonus.
Since all these gifts will be given to the athletes to thank them for the shows they offer the fans, we would like to give an opportunity to the fans to thank them back, by being a part of this project, in helping us buying these gifts.
We get something: a financial help. And we thank the fans by assuring a great show. We thank the athlete by giving gifts.
Fans get something: A great show. And they thank athletes by financing the gifts. And they thank us by helping us financially.
Athletes get something: Great gifts for their performance. And they thank fans and us by giving their best.
Everybody win. Nobody lose.
The Impact
We have already shown how serious we are and how important it is to feel that everyone is involved in this project, having the same vision. We want everyone to go in the same direction, and we look to make everyone happy.
Risks & Challenges
There exist a lot of risk but we measured and will control all of them. We will face financial challenges as there are a lot to think about; rent the place, the MMA ring, pay the fighters, the audio-visual materials, etc. We are looking for sponsors everyday and we feel confident we will find the budget we need. If not, we are ready to put our own money on the line because we truly believe in the success of this project.
Also, some athletes might get injured leading to the event. But we have a big athletes database that would insure late-replacement if needed and we will be able to make sure the show goes on for the fans !
Other Ways You Can Help
We are looking for partnerships and sponsors of all kinds. If you are interested, feel free to contact any of us, we will be happy to discuss it with you: chris/max/ally/linda/jerem@360-mma.com
The more visible we are, the more our athletes will be visible. Share our Facebook page and invite your connections to follow our beautiful project:https://www.facebook.com/360MMA/