iCrowdNewswire - Jul 15, 2016
SEXY BRAIN & HEALTHY GUT – works longing 2 birth
BOOKS/WEBINARS for YOUR health, relationship & family's well-being need funds to get them OUT THERE!
I could not have children due to a drug my mother was given when pregnant with me. My books and projects are my children and legacies. I am a hormone scholar and nutrition and gut expert. I have merged all my 40 years of writing, serving thousands of patients, and teaching re-licensing courses, into two books and two on line courses for professionals and smart folk to help me help YOU! Help me birth my kids!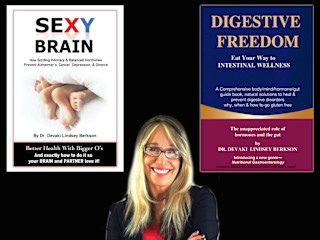 Here's the EXCITING Scoop
Here's two new projects longing to get out to YOU and YOUR FAMILY to help YOU be the best that you can be —
Successfully intimate.
Cognitively bright.
And with a healthy gut to achieve unstoppable wellness!
1. First is my new book and online course — SEXY BRAIN: How Sizzling Intimacy and Balanced Hormones Prevent Alzheimer's, Cancer, Depression And Divorce
Nature is all about the next generation, even with intimacy!
Nature put pleasure into hugging, cuddling, and orgasms for a reason. To protect your brain. Healthier parents make for happier, more stable families. Sex is supposed to be brain-gasmic. This means filled with ecstasy and brain-boosting power. But you have to know what you are doing.
Just like you can't sit down in front of a piano and magically become an amazing musician, fabulous brain-boosting intimacy needs to be learned. This book introduces a science-based intimacy skill set called the "hormone language of love."
I am a hormone scholar. I have worked with the top scientists studying and publishing data on everything surrounding hormones. I show how estrogen and testosterone are hard-wired in their deepest biology. I translate the amazing differences between these hormones into what happens in your conversations, therapist's office, but most importantly, in your bedroom. Understanding the "hormone language of love" will help you achieve amazing brain-boosting sex and the tools to make love stay.
The book will launch along with a 6-week intimacy online course. A sizzling power point will show with great illustrations the mesmerizing understanding of how and why it's so challenging for men and women to understand each other. And love each other. And have the kind of orgasms that can bathe our brains in intelligence.
I share information never before presented. The scientist Dr. Michael Baker kindly shared with me his not yet published data on how estrogen and testosterone signaling first evolved. This shows you why the Mars/Venus dance can be so exasperating, but gives you the know-how to make it easy and delicious.
Parents can hand this book to their young adults who are about to get married, with peace of mind that it will give them a better chance at happiness, and decrease their risk of divorce.
The online course will be for practitioners, coaches and regular folk, but no one under 18 years old.
2. My other new project is called DIGESTIVE FREEDOM: Eat Your Way To Intestinal Wellness, an online certification course for professionals (and smart patients). This provides natural answers for diverse gut disorders, and many protocols not yet know by most experts.
This is a sequel to my book Healthy Digestion The Natural Way, which was the first gut/nutrition/mind book on the market, and successfully sold for over 20 years. Digestive Freedom now takes gut health further. It introduces the much needed new genre of Nutritional Gastroenterology.
Digestive Freedom also introduces the unappreciated role of hormones and the gut. I share my personal strategic, safe, and science-based hormone protocols for inflammatory bowel disease and other gut disorders. This information how some colons can be spared from surgeries.
Digestive Freedom (the course and ultimately the 600 page reference book) is filled with firsts. For example, I share a new scientific understanding of how estrogen is produced in the stomach! And how this helps the liver and gallbladder detox. If the liver is fatty or ill, if the gallbladder has stones or has been removed, this estrogen is then shunted mainstream. I help you know what do to about it.
I tell you how normal pregnancies can damage healthy digestive cells and how to identify and fix this. I show how parathyroid issues can be linked to grabbing for an acid blocker. I share foods that fight pathogens better than some meds, proven in randomized trials. I show how glaucoma may be linked to an intestinal infection. And more!
Digestive Freedom starts out as a 6-month certification course for practitioners (MDs, NDs, DCs, health coaches, and more) and ultimately made into a 600-page reference book so many can benefit from this information for years to come. This book is almost ready for the editor. But it is so large and in-depth that the formatting and indexing will take about ¼ of a year to finish and cost about $9000 just for these actions.
My kids —
I could not have children due to a drug my mother was given when pregnant with me.
Thus, my books and projects are my children and legacies.
Help me birth them!
COSTS —
I've already written 18 books—some best-sellers, some out of print, and some still selling. I now want to own all stages of my projects to avoid the growing complexity of the publishing industry.
The costs for editing, formatting, indexing, and cover art for both these projects and courses are huge. SEXY BRAIN will cost about $15,000 to get out there and DIGESTIVE FREEDOM in it's scope, the first of it's kind ever so purpose driven and written, will be about double that.
BACKSTORY
I already had to put almost $20,000 into just getting the rights to write and create the online digestive course!
Wiley & Sons published Healthy Digestion in 2000. It sold solidly and is used by the prestigious American Academy of Anti-Aging Medicine as the authority in natural protocols to heal gut health. This group is the largest training institution for functional MDs in over 120 countries.
Wiley then sold all their trade books, including mine, to another company that basically buried it. Two years ago I had to buy my book back for almost $20,000 in order to update and republish it!
I had already honed and used the concepts in this book to reboot my own health as well as the health of thousands of my clients over my 40+ years in practice. For years I was seriously ill and was told by many doctors that I would never be well. I spent a year in bed . . . until I discovered the amazing healing abilities of strategic hormone balancing, nutrition, and rebooting the gut.
Healing pearl after healing pearl will be in the course and the books!
You will learn exact detoxes to reboot receptor function that our toxic environment is damaging.
You will learn why and how testosterone can only "take" compared to estrogen and how this translates into sex.
You will learn how to treat even recurrent diverticulitis without antibiotics and the scientific articles that even your gastroenterologist doesn't know.
You will learn that more fiber protects the gut from diverticuli is a myth.
You will learn what daily task can paralyze your lipoprotein lipase enzymes that line all your digestive organs, and what to do about it.
All this amazing natural set of NEW and SAFE and EXCITING factoids will be available to the practitioners that heal you, and ultimately for your own home reference library.
I am asking for only $22,000, although the actual costs are higher.
Why I need these funds —
The scope of both books and courses and the brand new information is enormous and has taken much time and money.
I took off much of the last few years to write these courses and books.
I bought the rights to Healthy Digestion.
I have already paid over $6000 in editing alone for SEXY BRAIN and now it is ready for formatting, indexing and marketing.
So I need your help to get them OUT to the public.
Those who know my work, know I write game-changing books.
Examples are —
Hormone Deception: One of the first books on endocrine-disrupting compounds in the environment.
Natural Answers For Women's Health: The only female reference book on 225 conditions and how they relate to hormones, food, and nutrition.
Safe Hormones, Smart Women: One of the breakthrough books on the safety and need for bioidentical hormone replacement.
Help me help you!
Dr. Devaki Lindsey Berkson
Austin, TX
Click here for foreword of Digestive Freedom by David Brownstein MD
Click here for advance praise, table of contents and forewords for SEXY BRAIN
Click here for my expanded vitae