iCrowdNewswire - Jul 15, 2016
Wavie – Gestures Controllable Light Switch, Dimmer
Wavie is a touchless light switch and dimmer in one device, which is controllable by hand gestures.
What is Wavie?
Wavie is a configurable touchless controller of light with dimmer or of any other device and it is controllable by hand gestures.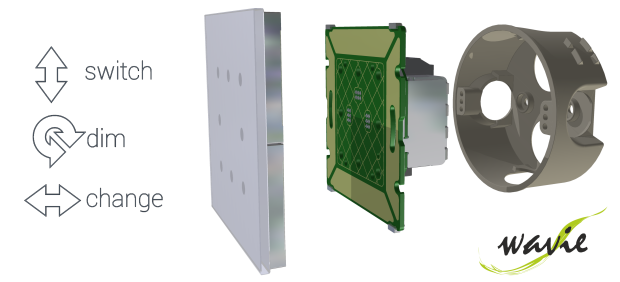 Why has been Wavie created?
We noticed that the standard, ugly and often dirty light switches have been used for decades with ability only to turn the light on and off, and thus we said, enough of them! Nowadays, devices are controlled touch-free. We hold the opinion that in this century there should be more elegant solutions moving us forward.
Wavie is not just a light switch.
Wavie contains several intelligent qualities.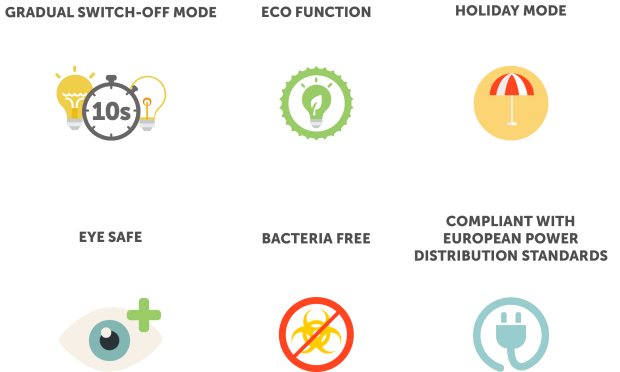 Today, Wavie can not only turn the light on and off without using a hand, but it can also work as a light dimmer, creating a desired atmosphere. In addition, it can turn the light off with delay, which is usable in situations when you need to make a few more steps after turning the light off.
Wavie contains the ECO function that will ensure you will never again have to worry about forgetting to turn of the light. Wavie turns off after a few hours on its own.
In case you are leaving for holiday, you can set a special "holiday mode", during which Wavie will simulate your presence to make uninvited visitors uncertain about whether you are at home or not.
Nowadays, people often return home at night and tired. Your eyes are not adjusted to the sharp light yet and turning on the light causes shock for your eyes. Wavie can turn on by gradual increasing the light intensity and this way it protects your eyes.
Though, Wavie doesn't only protect your eyes but also your health. Bacteria are usually transferred by touch contact especially in the places where the light switch is used by many people. Touchless control can get you rid of these bacteria for good, leaving the light switch beautifully clean.
LED diodes automatically adjust their brightness based on the light conditions of the environment so that you will never again have to grope for the switch in darkness.
Some people may say, it is a great gadget, but how can I install it into my current cabling in the older house where I live. We thought about this as well: Wavie works with any cabling. For the device installation, the electrical installation boxes compliant with the EU and UK standard are suitable.
Wavie is not just a light switch, but also a design decoration of the place.
If you get tired of the Wavie's design in time, you can easily replace the cover with a new one. Cover is made of cut glass placed on a high quality metal frame, attached to it by neodymium magnets and it is easily replaceable. It is available indifferent color variations to match the color of your place. For the more demanding customers, we can engrave the glass with almost any image: from business logo to personal emblem, or simply … You can even create your own design limited by nothing more than just your own imagination.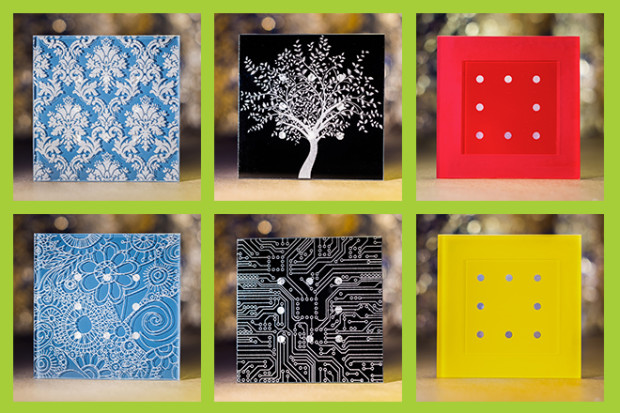 Others cover design you can find in "Gallery" tab or in our website.
Perks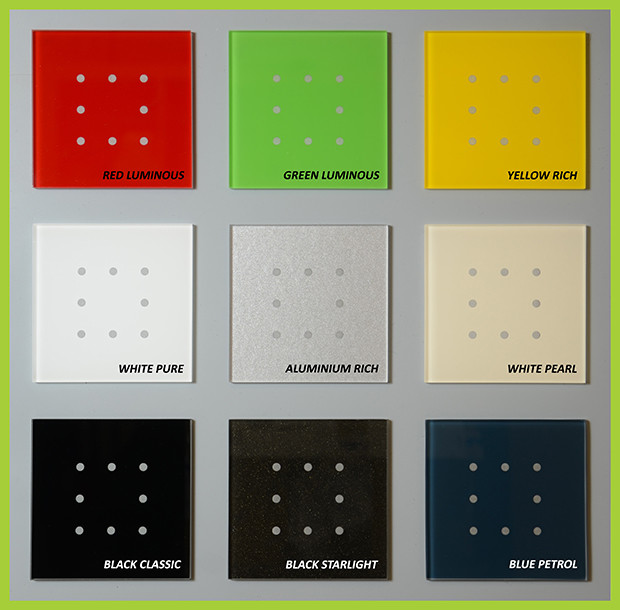 COVER DESIGN GALLERY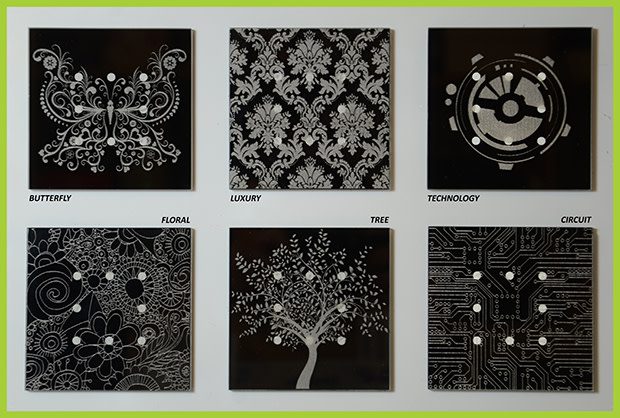 COVERS WITH ETCHED BORDER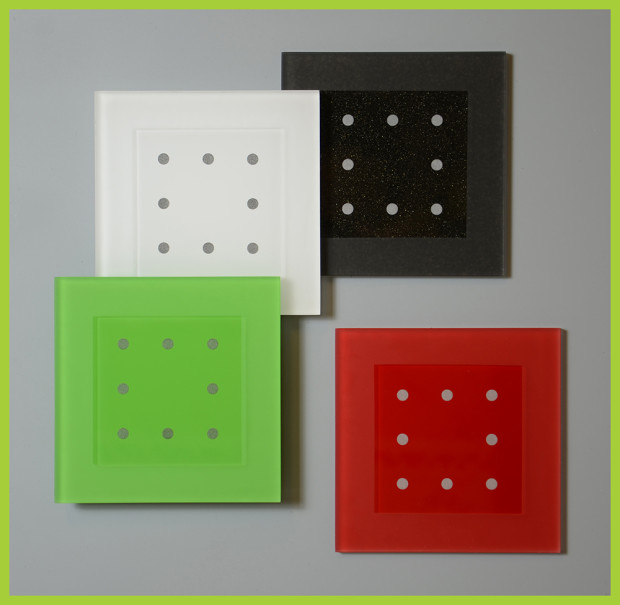 Others cover design you can find in "Gallery" tab or in our website.
Wavie in Numbers

Weight

0.4 kg

Dimensions

3 x 9 x 9 cm

Mounting Box

Mean 68 mm, Min. Depth 30mm and more

Voltage:

220-240VAC/50Hz

Total Rated Load one light circuit

400W

Total Rated Load both lights circuits

600W

Self-Consuming Power:

<1W

Operating Environment:

0~50 Centigrade; Less than 95% RH

Recommended bulbs

Halogen

Information

Some LEDs and energy-saving bulbs may not function properly.

For properly LEDs and energy-saving bulbs function an adapter will be soon available.

Neutral

Neutral is not required in light switch, it works with or without neutral
Configuration options you can find in settings tab here.
Why do we need your support?
1. MASS PRODUCTION
Although we are now able to produce a certain number of present-day Wavie's model, we need finances to launch a mass production and ensure that control of light will never be boring again.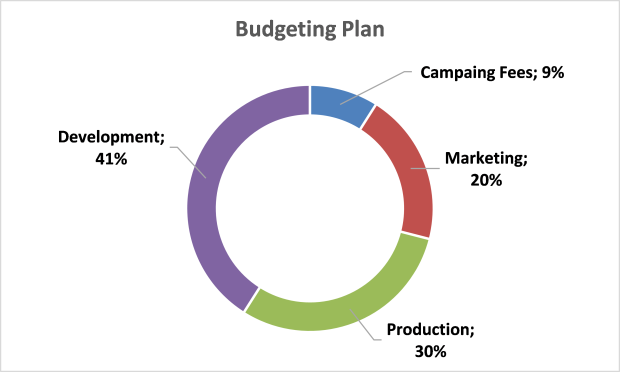 2. BOOST DEVELOPMENT
We are also aware of the opportunities the product gives us to proceed. We need finances also for its next development: we want the next version to contain functions like WIFI to make Wavie controllable through web, smart phone or automatically. In future, Wavie might be usable as a regular garage or blind opener, or to manage other devices in a smart house. It is our priority to bring Wavie to the American market in the foreseeable future.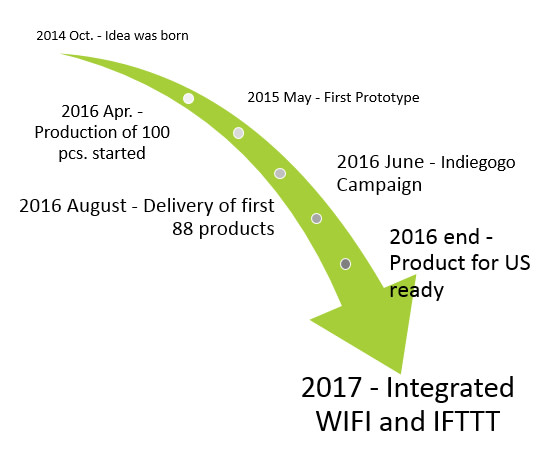 3. YOUR HELP IS APPRECIATED
Apart from the financial help, where all potential investors (also outside support via IndieGoGo) are welcome, we will appreciate your help in a form of ideas, wishes or actual help in the next development.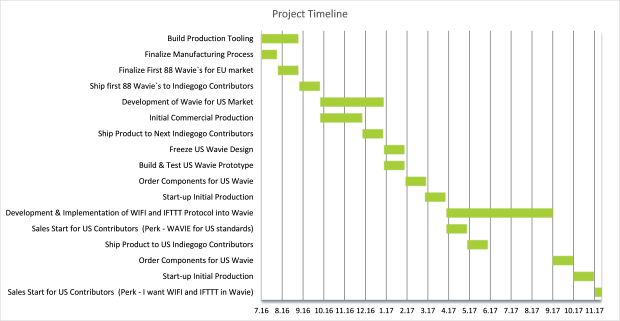 Who we are?
We are a team of people, who decided to join the storm of new ideas and to contribute with one. We have a history of the many years' cooperation on projects and experiences with regular business activities too.

Oto is a man who isn't satisfied until he reaches perfection. And his demands on perfection are very high – sometimes even so high that his colleagues find it hard to deal with. However, he is invaluable member of the team who handles all the technical matters and keeps Wavie on a high technical excellence.

Matej is a king of economic tables and numbers. He has a firm hand on our business plan and project and his academic knowledge has a great benefit for us.

Roman has occupied different positions; from a man who holds all positions to a company director. Sometimes he sees an opportunity even if there isn't any and thus he creates it. He is a right person when there is something to deal with and his experiences in sale are welcomed.
Our vision
We intend to bring innovations into regular things and reinvent them this way with technologies of 21st century.
An integral part of our vision are its pillars:
Wise and simple solutions
Internet in things
Ecology
FAQ
PAYMENT & DELIVERY & SALES QUESTIONS
What if I want to be a Reseller or order wholesale quantities?
Contact us on wavie@wavie.eu with quotation of your request.
I have a problem with Paypal payment, what should I do?
Contact the Indiegogo Support at support@indiegogo.com. They'll be able to help you with your issue.
Why is there a $ 9 shipping fee?
This fee should cover the shipping cost in most regions around the world.
What if I want to help you or invest to this project?
Please, write an email to wavie@wavie.eu. All contributions are welcomed.
TECHNICAL QUESTIONS
How does Wavie work?
Wavie operates on a principle of scanning disruptions in the electric field, which are consequently evaluated by the device and it performs an action based on your gesture.
Do I need a special cabling for Wavie?
No special cabling is necessary. Wavie can function as a regular switch; it needs only a phase conductor installed which is connected or disconnected based on a hand gesture. Wavie can also work as a regular dimmer. It is recommended to put also a neutral phase conductor into the installation box (blue color cable).
What do I need for Wavie installation?
Screwdriver, electrical installation box placed into the wall in depth minimally 30 mm and with a diameter of 68 mm (usually your old switch is already placed in it).
How many volts does Wavie need to function?
The current version works at 230VAC, but another version working at 115VAC is being prepared for the American market.
What kinds of electrical installation boxes is Wavie suitable for?
Wavie can be installed into electrical boxes compliant with EU and UK standards. In the near future, a version compliant with the American standard will be produced.
How long does it take to install Wavie?
The installation takes about 15 minutes.
Do I need a special kind of light bulbs?
Halogen or standard bulbs, which work excellently also as dimmers, are the most suitable choice. If you decide to use LED, compact or energy-saving bulbs (appliances with front-end energy source), it is necessary to install the neutral phase conductor into Wavie or to use an adapter (available in 6 months) in the power supply circuit to ensure the correct function of the dimmer.
What is the performance limit of Wavie switch?
Wavie works with max. 400W for one light circuit (single switch) or with max. 600W for 2 light circuits (double switch).
How long does the delivery take?
If in stock, Wavie can be delivered in less than one week within Europe.
What number of Wavie devices can be delivered?
Currently, approximately 100 pieces are in production, which will be delivered to the first customers to order Wavie. Another series is already planned for production with estimated delivery date within 3 months.
Where can I buy Wavie?
The best option is to buy Wavie through the campaign at Indiegogo. Another way is to use the e-shop at www.wavie.eu. Distribution to physical stores is being prepared.
How to set Wavie?
Wavie is set by a button, which is necessary to press with a paper clip. The button is located under the glass cover, which can be easily removed because it is attached by neodymium magnets. Configuration is precisely described in the manual.
What makes Wavie different from other similar products?
Wavie can control two light circuits without touch of hand and it is able to recognize various hand gestures. It contains also more complex functions, like various modes of usage or a dimmer.
What is warranty for Wavie?
Wavie has warranty of 2 years.
What is lifetime of Wavie?
In production of Wavie only high quality components are used, which are often not especially cheap. Its production is strictly monitored and each piece is tested before sending away. This is the reason why we presume its lifetime to be 10 years or more.
What is Wavie cover made of?
Cover is made of cut glass, attached to a high quality metal frame by neodymium magnets and it is very easily replaceable. The glass cover is available in various colors to make it match the colors of your place.
What colors are available for the cover?
Theoretically, glass cover is available in any RAL color, but because of the wide spectrum of RAL colors we picked only certain colors for you.
Is it possible to engrave on the glass cover?
Cover can be engraved with any black-and-white image, but too complicated patterns may cause the glass to get peeled off during the engraving process – even out of the engraving area. In case of custom image order, the image is engraved multiple times on the glass slide and the best result is chosen.
What to do if Wavie doesn't respond or responds incorrectly?
The cause may be in poor contact of magnets attached to the cover. Remove the cover and make sure that the magnets attached to the cover and to the Wavie are clean.
Another option is an incorrect installation of Wavie. Please, check the installation in the manual.