iCrowdNewswire - Jul 13, 2016
evive: transform your ideas to reality!
The ultimate embedded platform to learn better, build easier and debug smarter.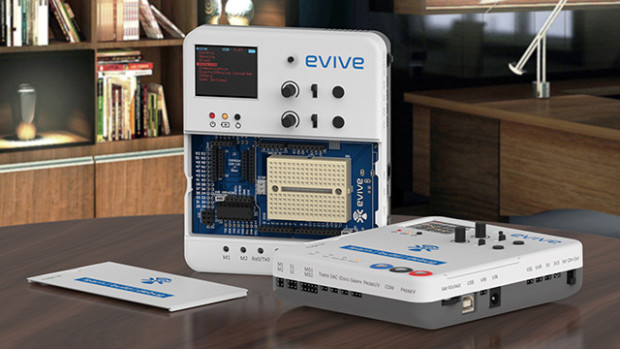 evive is an open-source embedded platform for makers of all ages to serve a wide range of applications. It can be used by beginners to develop their making skills towards robotics and embedded systems, by hobbyists and students to build projects and experimental setups with ease, and by advanced users like researchers, professionals and educators to analyze and debug their projects.
Made with a vision of transforming the very basics of making, it enables you to innovate, transform and contribute towards technological progress of mankind.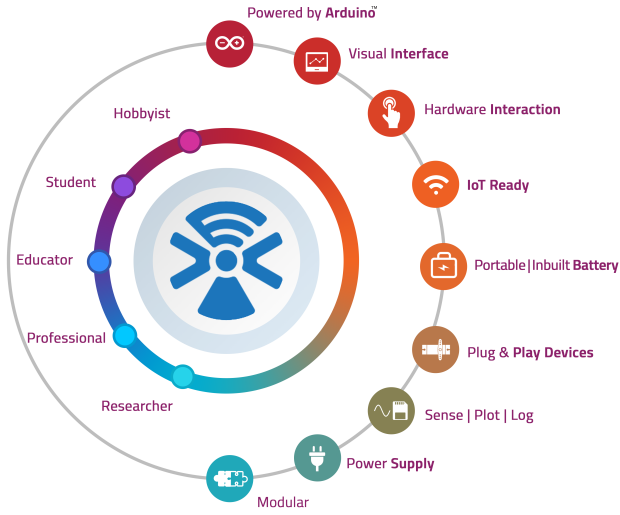 With Arduino MEGA at its heart, it offers a novel way of interacting with your hardware using it's visual interface. The accurate current & voltage sensing capabilities let you collect and analyze data from your projects. The whole world of IoT, along with power supplies, support for sensors and actuators and a prototyping hub is available in one small portable unit. It saves your time and allows you to focus more on creativity and innovation. So wait no more, bring evive to your team and let it transform your ideas to reality!

Forget dealing with humongous amount of components! When you have evive, that's all you will need. It's awesome features and innumerable components make it a one-stop solution for the maker community. And all of that at an never seen affordable price!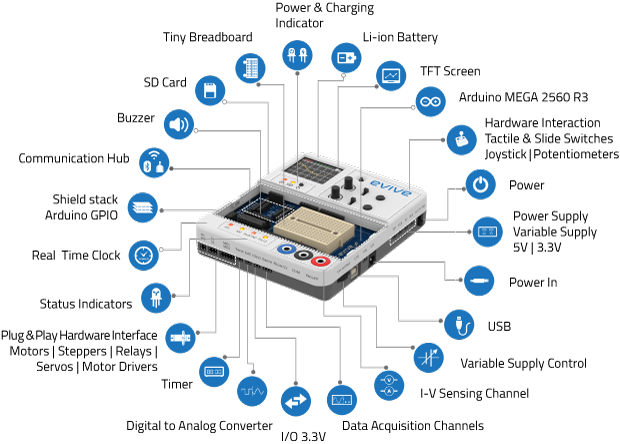 evive is an open-source hardware project. It is licensed under the Creative Commons Attribution-ShareAlike 4.0 International License. All the hardware and software related information will be made available on our GitHub repositories.


It's made for everyone! Whether you are a high school student, a college student, a STEM tinkerer, a hobbyist, a professor, a trainer, a professional, a scientist, a researcher or anybody who loves machines coming to life, evive will expand the horizons of your creativity in a cost effective way.
Students can learn with evive by making fun projects using evive's easy to assemblelearning modules and boost their STEM skills. These modules will be provided with proper documentation to help you assemble the robots together, which can then be operated with user-friendly and intuitive on-screen menu.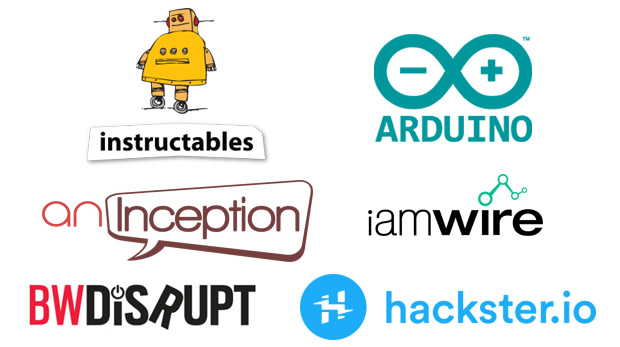 The variety of ways to power evive and your devices with it give you flexibility and enhance compatibility. The variable voltage supply can be controlled simply by rotating a knob. Unlike Arduino, you won't need a power supply everytime, as evive is portable with a 2600mAh Li-ion battery inside.



Avoid messy circuits by directly using on-board switches and potentiometers.



Could it be any simpler than plugging your hardware into evive and controlling directly from the on-screen user interface. There's an inbuilt motor driver with overcurrent protection to deal with heavy current carrying devices without posing any harm to evive.


evive offers a very novel way of interacting with your hardware and programs. You can also make your own user-defined functions and add them to evive's program using Arduino IDE or other compatible platforms. All you need to do is plug in your hardware, scroll down to your desired function and you're ready to go! LEDs and Buzzer are provide to give you feedback and alerts.




For all your analog sensing experiments, use evive's precise 24-bit Analog to Digital Converters with ±30V or ±5V voltage sensing ranges and ±3A current sensing range. With a Real Time Clock and SD Card, you can log all your measurements with timestamps.
You no more need to spend hundreds of dollars on an oscilloscope for your basic testing. evive has a built-in tiny 2-channel oscilloscope. Though it supports low frequencies (upto 1kHz) which should be sufficient for regular making needs. It has advanced features like time scaling , voltage scaling (20mV to 30V), current scaling (20mA to 3A), scanning modes, offset etc. It also features one-click Send to PC/Save to SD card options.


It brings the whole world of IoT to your Deck. Just place your favorite communication module without the need of any additional soldering or adapter.


Magic Lid has all the magic inside, it houses an Arduino Mega R3* and allows access to Arduino pinouts, an option to connect multiple shields and bi-directional logic level shifter to support 3.3V I/O.


Its compact, light weight and drop-safe. Mounting holes are provided to fix evive directly on your robots.


Oh! What if you mistakely connect reverse battery terminals to evive, or supply a higher voltage or draw too much current from it? Don't worry, evive is capable of protecting itself from such mistakes!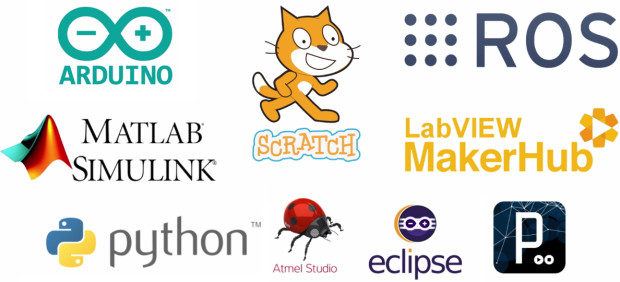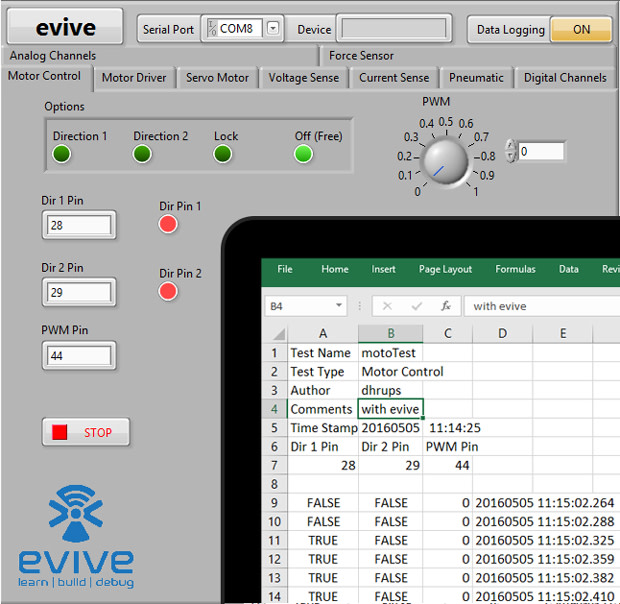 An open-source LINX (LabVIEW) based GUI is also provided to help you access evive's features real time.






With these awesome learning modules, your kid can nurture the genius inside. These easy to assemble kits will boost their STEM skills in a fun way. Relevant documentation will be provided with the kit to guide you through assembling and using evive to control them.

Our team and many DIYers have made some amazing yet simple projects with evive. The tutorials to make them are well documented on Instructables. evive is fully tested and foolproof for all your projects.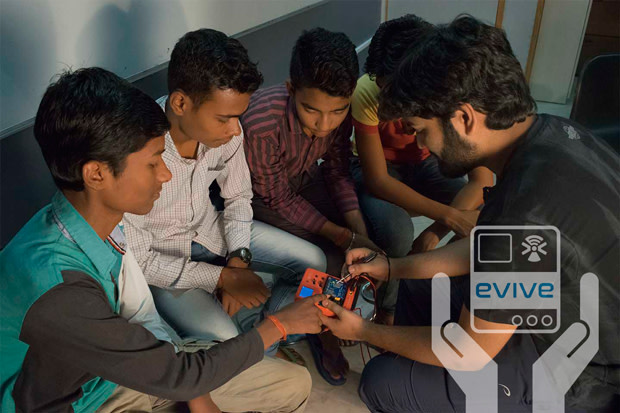 In developing countries like India, quality education is still inaccessible to many. Most school laboratories suffer lack of funds and resources. We are collaborating with Robotrix India, an organization working towards boosting robotics education in India. Together, we have designed several high-school level experiments on evive and we need your support to send them to schools. Donate $25 towards the cause, for every five backers, we will donate an evive with a starter kit to a needy school via Robotrix India.




evive is ready for manufacturing! The software part is under upgradation. Several laboratories, makerspaces and startups have started using beta versions of evive and are giving their valuable feedback.

Beta production for a small batch of 15 has been done and is being tested at various laboratories and makerspaces. evive has been designed and will be manufactured in India, supporting Make In India movement.

We're very passionate about the art of Making. We have been building lots of project with Arduino for over 5 years now. evive is made with love for the DIY community- for all the hackers and makers out there, for all those students who're taking their first step in the awesome Arduino world, for those teachers who are passionate about robotics and embedded systems and for researchers who've spent their life building & struggling with robots.
We've got real working prototypes, ready for mass manufacturing. With your support, we want to bring evive to the masses. The team has expertise in designing & manufacturing circuits & plastics. Our manufacturing partners are experienced in PCB fabrication & assembling, injection molding etc. Join the evive community and contribute to the world of technology!

Due to restrictions imposed by the central banking institution of India on PayPal, we can only receive payments via debit & credit cards as recommended by Indiegogo, which means that we can only create a flexible funding campaign. But since evive's low price point is possible only due to economics of scale, this is an all-or-nothing campaign for us. If we don't reach the goal, we will refund!


evive is the first commercial product of Agilo Technologies, a startup formed by a group of student entrepreneurs from Indian Institute of Technology Kanpur (IIT Kanpur), who are passionate about robotics, embedded systems and design. The team has experience of working on internship & externship projects with General Electric, Indian Space Research Organisation, Boeing and University of Southern California. We have previously worked on several industry projects. The startup is guided by renowned mentors and is emerging as an innovative hardware startup.

We thank IIT Kanpur for providing us access to various prototyping facilities in the institute during development & testing process, to various labs & faculty members who agreed to beta test our product and to student Science & Technology community for their help and valuable feedback for the product.

Manufacturing
While we have already contacted various vendors and suppliers for electronic components, PCB printing and Plastic Injection Molding, complications could potentially emerge and delay the manufacturing schedule. To tackle these risks we carefully select each partner and always keep suitable backup plans. We also have experienced mentors to guide us in the process.
Product Revision
Our team has used its own experience as well as that of distinguished makers during the design process. We tried to include as much as we could, but nothing is ever perfect. If you feel that evive is missing some important feature, write to us atcontact@evive.cc. Rest assured your idea will be comprehensively discussed by the team.
Shipping
We have given a little conservative estimate for delivery dates. We are committed towards keeping you updated of our progress both during and after our campaign. We assure you that we are all working very passionately to develop this product and give you an evive with maximum features at affordable cost!

I can see only Arduino UNO pinouts, then how is Arduino MEGA's processing power given?
evive has an Arduino MEGA at heart! It uses some of the pins for internally connected components and leaves the complete Arduino UNO pinout for all your shields along with some more leftover pin-outs.
Devices like XBEE, ESP etc work at 3.3V, but Arduino works at 5V TTL, so is there a risk of damage to such devices?
No. evive includes Logic Level Converters to support all such devices.
How long would battery work on single charge?
evive works for about 4.5 hours on a single charge with the supplied 2600mAh 18650 Li-ion battery. The user can replace the battery with higher capacity for longer life.
What are the specifications of Micro SD card?
The maximum size of SD card is 32GB. This is the limit for all types of SD cards on Arduino. Arduino only supports SD (2GB and less), and SDHC (more than 2GB and up to 32 GB). Cards larger than 32GB are SDXC and are not supported by Arduino libraries.
Can I use Arduino shields with evive?
Yes. But with evive, you most probably won't need to.
Can I use it with Windows/Linux/Mac OS?
Yes. You can use it with any operation system which supports at least one of the development platforms we've mentioned.
Can I use evive to run an actuator which consumes very heavy current?
Yes. Though evive can't supply more than 3A in total and 1A per motor driver channel, but you can use simply plug in your external motor driver to evive and control it through our hardware interface.
Is the Arduino MEGA used in evive is replaceable?
Yes. The Arduino MEGA used can be replaced by accessing it by opening the bottom casing. Despite our efforts and your care, sometime things might blow up, that's why we have kept it replaceable.
Why is Arduino MEGA marked with a *?
Arduino is open-source and lots of manufacturers have started making it. We are giving you an option for both Original Arduino (Genuino) MEGA 2560 R3 or compatible boards which are exactly the same but from a different manufacturer. By default, we will ship evive with Compatible Arduino board, but we strongly recommend to upgrade it to Official Arduino (Genuino) boards.
Where are the software and hardware files available?
The hardware and software files behind evive are available at our GitHub Repository. Note that during the campaign the repo would be unstable and we may make backwards-incompatible changes. A stable release will come out before shipping.
[India] I am facing problems with payment? My card is not valid for international transactions.
It may be possible that credit/debit card of some Indian banks like SBI is not valid for international transactions. You can try paying using other cards of ICICI, HDFC, Axis Bank, etc. We are with you on this problem and will try to help you out the best way we can. Please contact us at support@evive.cc, if you still face problems. You can also visit here for more details. (Note: We are unable to accept payment via PayPal because of Reserve Bank of India restrictions)