iCrowdNewswire - Jun 29, 2016
Algorithmism: Premiering at FringeNYC!
Help support a new play that explores what happens when art and technology collide!

Alex Hersler
Brooklyn, United States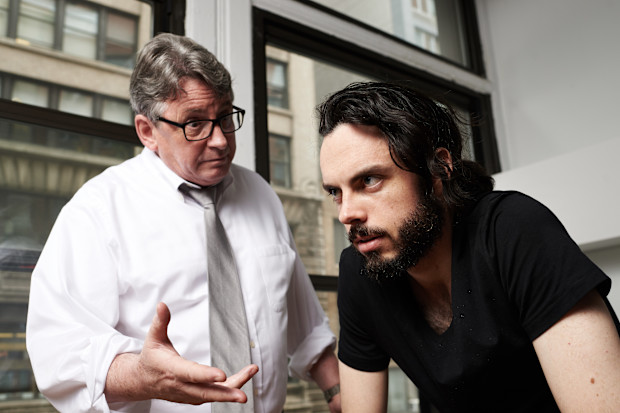 Hi, I'm Alex Hersler, the writer/producer of Algorithmism, which will have its world premiere at the 20th annual New York International Fringe Festival this August. I'm super excited because this is going to be the first production of a full length play of mine, but I need your help to actually bring the production to life!
Is Creativity Uniquely Human?
We're living through a seismic shift in the structure of society. Artificial Intelligence is getting smarter and more complex every day, and it is alreadybeginning to rival some of the intellectual capabilities of humans. But when it comes to making art, is the process ultimately describable in its totality by algorithms and neural networks, or is there something baked into the concept of creativity that makes it impossible for AI to rival a human artist?
Why do we respond to art? And why do we respond to art differently when we know it's made by a machine?
These are questions that are going to help shape the way we design AI. And they are questions that are going to help inform our relationship with art. As the intersection of art and technology grows and evolves, I think it's very important that we ask ourselves: why do we want machines creating art? I believe that any work today that is a part of the conversation about our relationship with AI is going to help us move into our future more fully equipped.
With your help, we can bring this important topic to the New York stage!
This play is about two men who have become emotionally intertwined over a ten year relationship, and who discover how desperately they need the other to appreciate their true value in the world. Paul, a famous painter whose immediacy in the art world is fading, champions human-made art, while his agent, Tom, whose reputation for having excellent taste is growing, champions the inclusion of machine-made art. The two find themselves on opposite sides of history after the world learns that a machine is autonomously making art that is commanding top-tier prices.
Ultimately, the play is a fast-paced tale about art and AI that unfolds as an explosive power struggle between two characters who are super fun to watch.
Where I'm Coming From
I moved to New York in early 2014 from Oakland, CA to refocus my life around theatre and specifically around playwriting. I studied theater, philosophy and creative writing at Northwestern University, where I first got excited about the synthesis of big ideas and live performance.
I initially got turned on to the intricacies and existential questions surrounding the trajectory of artificial intelligence through a post on the blog waitbutwhy. The topic of AI is hugely multi-faceted and I find its implications deeply inspiring. I wrote this play as a part of a much larger conversation.
And your support will help drive this conversation forward!
The Nuts and Bolts
I'm asking for $6000, which is going to go directly toward funding the hard costs of the production. Here's a breakdown of how the funding is going to be used:
Actor/Designer/Production Team Stipends – $2700
Set/Props – $300
Costumes – $200
Rehearsal Space – $600
Marketing Materials – $700
Publicity – $700
Insurance – $400
Copy costs (several drafts of play) – $250
Travel Reimbursement – $175
Playbills – $300
Fringe Participation Fee – $700
Venue Director Tip – $100
=$7125. I plan to recoup the difference through ticket sales.
Your Networks…
Please consider spreading the word through social media! To your network of humans… through your network of computers…
Links
If you're interested in learning more about AI/the future of AI/the intersection of AI and art, check out some of these awesome resources.
Wait But Why – Artificial Intelligence Revolution – long read but ultimately worth it. This is what catalyzed my deeper interest in the future of AI
Excellent and Digestible Primer on Machine Learning
Humans Need Not Apply – Elements of this video were hugely inspiring in writing this play
Alt-AI – A recent conference in NYC that had a wide range of presenters that exist at the intersection of art and AI
Robots Can't Dance – An interview with Ken Goldberg that is focused more specifically on creativity in humans vs. machines