iCrowdNewswire - Jun 23, 2016
Help FoodShare keep its kitchen!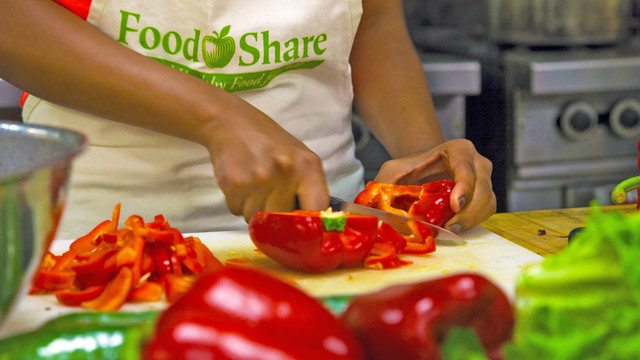 Hi!
I've been working at FooodShare for the past year and a half supporting it's inspiring programs. It's been a rewarding experience and I am so proud of the work we are doing.
Please help spread the news about our move and consider donating – every little bit counts!
Thanks!
xoHeidi
FoodShare Toronto wrote:
A kitchen is more than fridges and ovens. Its drawers hold more than forks and knives. The counters bear more than cuts and spills. Its tools grow people and help them thrive.
FoodShare's kitchen is cooking up the future of school lunches. It's where women going through breast cancer treatment cook together. It's where youth get a healthy food education. And people connecting is an ingredient we haven't even mentioned.
But we have to move this August and could lose the kitchen since our new location doesn't have a cooking space. Your contribution can help us build a place for people to cook, connect and savour.
Donate before July 16th to help us keep the burners on. We've already raised a portion of the retrofitting budget but need your help to:
move our equipment to the new location. We're keeping our coolers and ovens to keep costs and impact down.
install a new hood. Better ventilation means more people can cook together at the same time.
construction. We need to lay down plumbing and build some walls.
We're asking for your help because you know what happens when people cook and eat together. The perks for this campaign are pretty delicious, but more importantly every dollar you give goes into building the new kitchen.
And your support for good food doesn't have to be a dollar amount. We'd love if you could tell your friends and colleagues about our project! Send an email, Tweet, Facebook or Instagram it. We're very thankful for any support.
For all donations, you will receive a tax receipt less the value of the perk you choose. If you donate and elect to not choose a perk you will get a tax receipt for the full amount of your donation. So feel free to be generous!
You can also start a sub-campaign for yourself or a team of colleagues to help us reach our goal. It's simple, just click the button on the bottom right of this page to get started!
About perks:
When do I get my perk? All physical perks will be delivered in October 2016, when we settle into our new location.
Will any perks go out before the campaign is completed? Yes! You'll get our favourite recipes or the desktop collage as soon as you donate.
Last year's kitchen impacts:
17,600 cups of Power Soup delivered. That's a lot of warmth in winter.
Over 20 small food businesses incubated in our space. That's alumni likeBombay Street Food and Sweet Sammies cooking great things across TO. Our new location will have 24/7 access which means even more local businesses being launched.
72 community kitchens hosted. That's 936 people who connected over a meal.
2,707 Wellness Boxes packed. That's over 240,000 servings of pre-cut fresh veggies and fruit for students and seniors.
420 of volunteers engaged. That's over 2,500 hours given to community.
63,850 Good Food Café lunches served. That's pizza days turning into salad days!
200 salads ready to go each week for TTC Grab Some Good markets. That's eating well made possible in transit.
15 staff and students trained. That's over a dozen careers started.
Who we are:
FoodShare Toronto is Canada's largest food security organization. We are a charity with a 30-year history of increasing consumption of vegetables and fruits through community lead projects. We believe everyone deserves access to affordable, fresh food. Our mission is Good Healthy Food For All!
Our new address as of the end of August will be: 120 Industry Street, Toronto