iCrowdNewswire - Jun 14, 2016
Stojo Biggie: Collapsible Reusable Coffee Cup
Finally, a convenient alternative to bulky travel mugs and disposable cups.

Stojo
Brooklyn, United States

The Stojo Biggie is the world's only 16 oz. ultra-portable, collapsible and leak-proof cup designed for both hot and cold beverages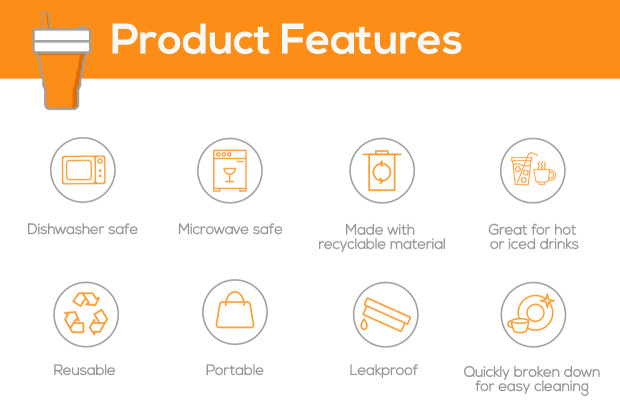 We launched our first project on Kickstarter in 2014, and with the help of crowdfunding developed the patented 12 oz Stojo Pocket Cup. It's the world's only ultra-portable, collapsible, leak-proof coffee cup. We learned a lot about making collapsible coffee cups along the way, and received invaluable feedback from our early backers and customers. Two of the most common requests were: "I need a bigger cup!" and "What about a straw?"
Well we listened and now we're back in a "Biggie" way! Same awesome design and functionality as the Stojo Pocket Cup, but with 33% more thirst-quenching capacity and a collapsible straw, so you can enjoy your coffee, tea or other beverages hot or on ice.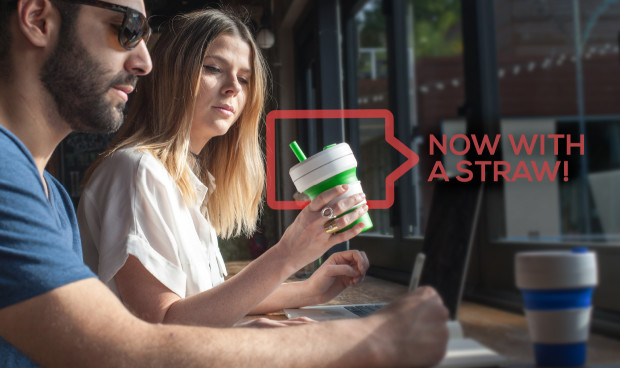 The design is complete, the prototypes work as expected, but the tooling is expensive. We need to raise $40k in order to build the tools that will mass produce the Stojo Biggie. With almost 200,000 Stojo Pocket Cups already manufactured and sold, we've already proven we can make a killer product. But ask any Shark and they'll tell you, 1 product does not make a company. That's why we need your help!
By backing us today, you not only get first dibs on this year's coolest coffee gadget (and mad props at the local cafe), but you get the satisfaction of knowing that you (and we do mean YOU) actually helped bring a product to life that will prevent millions of disposable cups from polluting our environment. All it takes is 5 minutes of your time, a few dollars, and a few clicks of the mouse. We'll do the rest! Our best educated guess is that cups will begin shipping in October.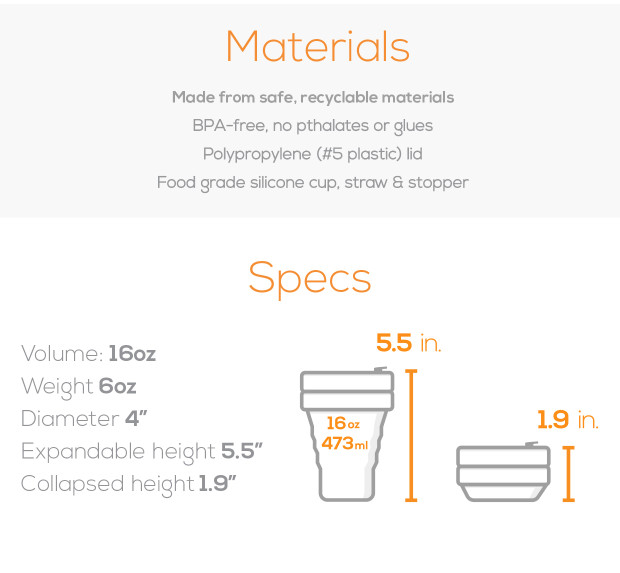 For now, all you have to do is pick the number of cups you want. At the end of the campaign, you will be given the opportunity to pick what color cups you want.
The three of us started working on the 12 oz Stojo Pocket Cup in 2012 upon learning that American's toss an estimated 58 billion disposable cups each year. As three coffee-loving dad's with a passion for the environment, we hated to admit that our combined habit alone was responsible for over 1,000 of those disposable cups being added to the waste stream each year. We considered switching to travel mugs for a hot second. But lugging around a bulky travel mug just didn't fit into our urban lifestyle. We looked around, but nothing solved our need for portability. We knew there had to be a better way to reduce disposable cup waste.
Fast forward two years and we have manufactured and sold almost 200,000 Stojo Pocket Cups, drastically reducing the amount of disposable coffee cups that get used and tossed into our landfills. This product resonates with people around the world. Stojos have been shipped to over 100 countries including the US, Brazil, Peru, Chile, Canada, Mexico, Poland, the UK, France, Netherlands, Belgium, China, Japan, Korea, Australia, New Zealand, India, Jordan, Israel, Turkey, Russia, South Africa, the list goes on!
It gives us the warm and fuzzies and makes us want to do more! Will you join us and help spread the gift of reusable cups people that people will actually use on a daily basis?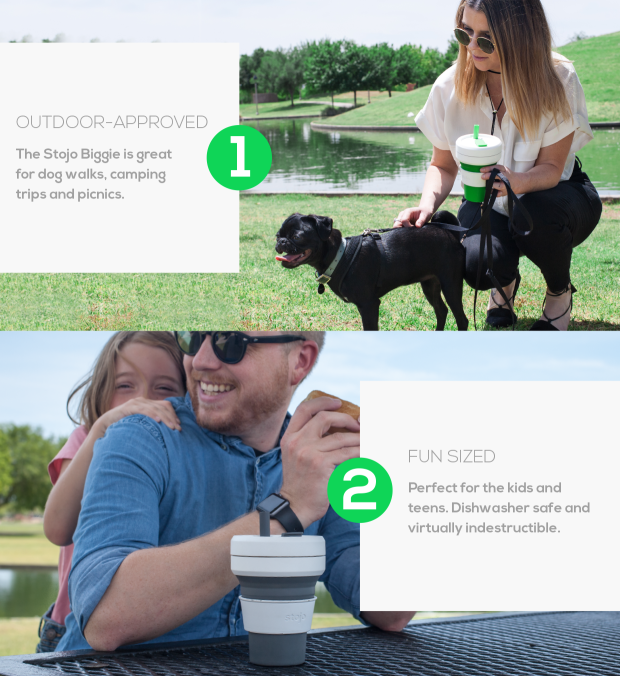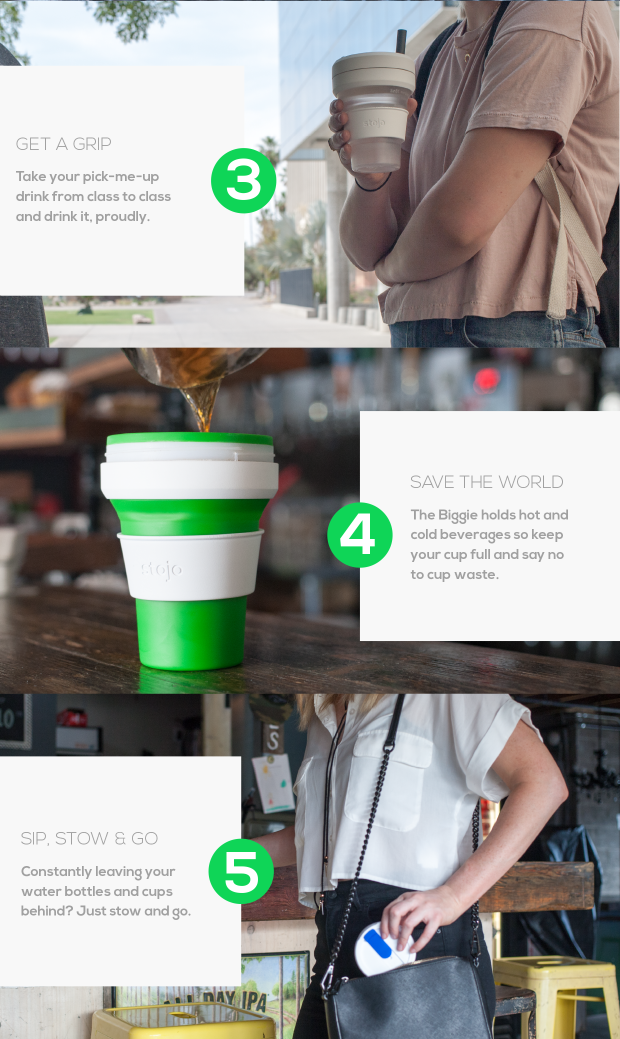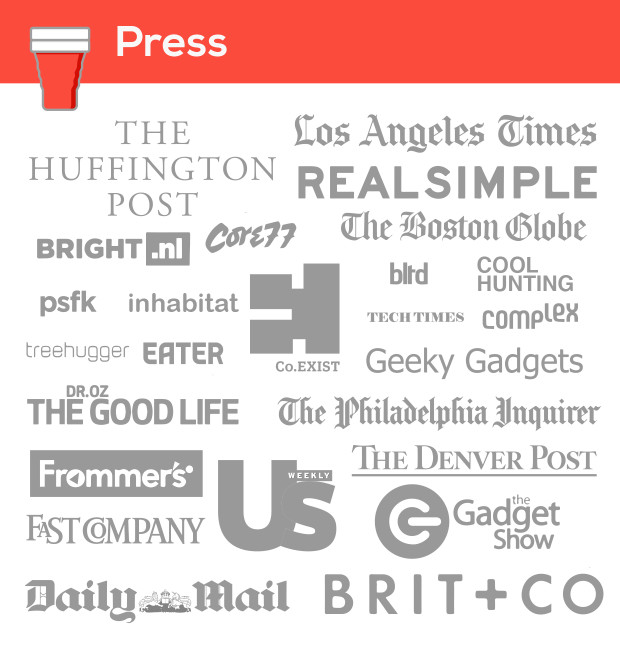 Want to give your company some serious eco street cred? A company can never have enough eco mojo! Buy the 16 oz Stojo Biggie or the 12 oz Stojo Pocket Cup. Because we can put your logo on them, they make the perfect premium promotional item or client or employee gift. If you're a coffee roaster or cafe, you can sell them in your shop (we sell attractive bamboo POS displays), make some extra cash, get your brand out there on a cup that'll actually get used (and not left in a cupboard), and do some good for the planet to boot!
During the campaign (order must be placed by July 14th), Stojo is offering an extra 15% off our regular wholesale pricing on order of 96 cups or more. Whether your operation is small or large, we have packages to fit your needs.
For orders of 96 or more cups, for an added fee, we offer the ability to print one- or two-color logos on the heat sleeve.
For orders of 984 or more cups, for an additional fee, we can color match any part of the cup. We also offer the ability to print one- or two-color logos on the heat sleeve.
Interested in the above? Get in touch with us at wholesale@stojo.co and we will create a perk specifically for you!

At Stojo, although our primary focus is on the environment and profitability, we believe companies should look for ways to make a positive impact anywhere they can. We love what companies like Toms and Warby Parker and organizations like Charity Water are doing. We want in and want to make it a part of Stojo's DNA!
Here's our plan. As part of our customization strategy and in order to "give back", Stojo is going to periodically launch special edition cups to help raise money for charities or other good causes. A pre-defined portion of each cup sale will be donated in a transparent manner. We won't play around with loosely defined terms that give the appearance of giving. We will clearly state the per-cup amount prior to launching a campaign and then give that amount multiplied by the total number of cups sold. Good old fashioned simple math!
"All American" Stojo Biggie
Jacob, our amazing summer intern, and Patrick, his best friend since kindergarten, agreed to help us beta test the Giving Back business model by introducing their own limited edition Stojo Biggie. We're dubbing it the "All American".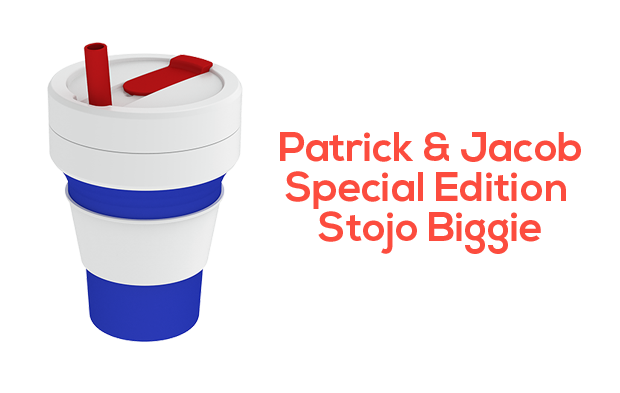 Why this name? Because these two young men embody a competitive, entrepreneurial spirit, as well as a strong commitment to each other, their families, and causes that are bigger than them…the environment and philanthropy. Traits that have helped make our country great. Also…blue is Patrick's favorite color and red is Jacob's. Plus, the cup looks like the Stojo Biggie Captain America would have designed if he was our summer intern instead of Jacob.
Patrick & Jacob's story
The boys started competing in long-distance races together in high school after being inspired by a father-son team who ran the Boston Marathon. Patrick lives with Cerebral Palsy and competing in these runs challenges both boys and gives them a fun way to bond.
They will be running a half-marathon on June 11. In honor of their undertaking, they thought it would be cool to raise some money for a good cause. Read more about Patrick and Jacob here.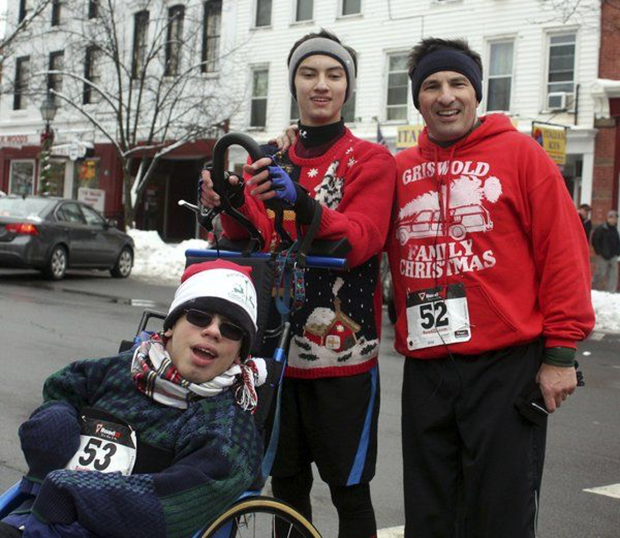 Patrick Dewey, Jacob Russell & Dave Russell Rockin' Ugly Christmas Sweaters!
How will Stojo use my money?
$10 from the sale of each $25 cup will be donated to the Double H Ranch, a wonderful organization that provides specialized programs and year-round support for children and their families dealing with life-threatening illnesses. Patrick used to attend their programs as a boy and giving back would mean a lot to him.
Please help support the boys fundraising efforts by buying the "Patrick and Jacob Perk" above. Together we can help make sure this organization receives the contributions and support they need to continue their work with these families.
If you have a cause that is close to your heart and want to consider creating a special edition Stojo Biggie to raise money, please reach out to us athelp@stojo.co. We'll work hard, make it fun, and help you raise money in a unique, environmentally friendly way!