iCrowdNewswire - Jun 9, 2016
NOTHING BUT THE WAX
Celebrating African Fashion & Black Beauty.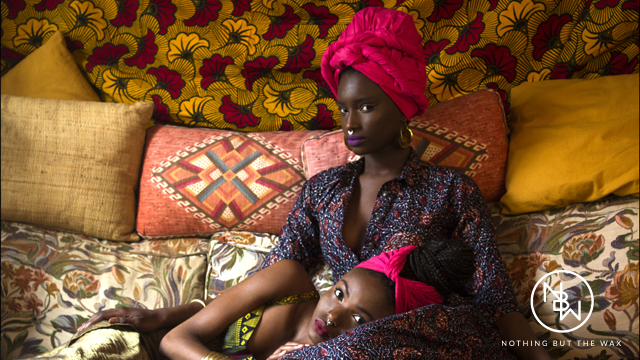 ​
The Origins
Launched in 2010, Nothing But The Wax was initially a blog by Chayet Chiénin, a young journalist. This blog aimed to shine a light on African designers and debunk misconceptions about the African fabrics and fashion she was passionate about. Displaying far more than just trends, but styles steeped in history and proclaiming a cultural heritage.
France's first specialised blog to address African fashion, Nothing But The Wax has managed to gather an audience that is able to relate to its tone, its authenticity and its vision of the black world. Listed by trends forecasting agencies, featured in several articles (Forbes Afrique, Courrier International, Madame Figaro), involved in the most important events and talks, NBW has become a point of reference, is now internationally recognised and provides a sought-after expertise in the African fashion industry.
And now, a media platform to reach a wider audience
These days, a mere handful of media deal with African fashion and black beauty. So it was only natural to turn this personal blog into a proper public medium.There is a creative, aesthetic andintellectual effervescence happening: an undeniable global-appetite for African and black cultures that needs to be highlighted, promoted and celebrated. And that is what this new media intends to do!
This project caught unanimously the attention of a jury of French prominent media professionals (RFI, Arte, Brief Me, Contexte, Mind, etc) and won the 2015-2016 edition of the Media Maker, an incubator for innovative proposals. This three-month phase of incubation allowed us to further refine our editorial vision and define precisely our business model from January to March 2016.
This project intends to explore topics in depth, through investigative journalism, both in France and abroad.
A media that brings a generation together
We want to take a whole new perspective, broach new paradigms with an eye to making room for that generation that expresses itself, asserts itself and is proud of the multiplicity of its culture.
A refined media with an afro pop vibe
NBW is a discovery platform, a space to analyse the creative industries in Africa and its diaspora. From Accra to Dakar, from Paris to NYC through Lagos, our media will decipher all of the new fashion and black beauty trends. NBW is the relay mast that amplifies the new of afro pop(ular) culture.
An innovative and interactive media
Through reports, interviews, original video content, we want to tell untold stories and be the voice of groundbreakers, doers and entrepreneurs.
What are the funds for?
Our reports are ready, some of our articles are too and others are more than likely being written while you are reading this. All we need now is a website worthy of the content we have cooked up for you! Backing this crowdfunding is not just about contributing to a project you believe in, it is joining a team. This medium will come about thanks to you!
Budget
The funds will mainly help us to cover the cost of developing our website and translating our content into English over a three-month period. We will be able to purchase essential equipment such as a Zoom handy recorder, a lavalier microphone, several portable hard drives and an office computer.
Timeline
If your support goes beyond expectations and we reach 20K, we will pay for our first field reports abroad.
It was essential that our rewards made sense and reflected our mindset and the core values of our medium, namely, the promotion of afropolitan fashion. But also, to endorse African arts and crafts, traditional savoir-faire and to draw attention to African-made goods.
More Details
Nothing But The Wax stems from a DIY culture. Drawing on our skills goes without saying. That's why we have created Ankara tote bags and Khanga clutch bags with the help of our head seamstress Faïza Saïd, student at La Fabrique, a professional school of fashion and decorative arts in Paris. We have also teamed up with Julien Paris from Arteesan, a silk-screen printing company.
We could not resist sharing a moment of nostalgia with you. These lovely colourful bangles will resonate with any little girl who grew up in Africa or had the chance to stay there for a bit. They are made in Burkina Faso, out of rice bag fibers and woven with yarn braids.
Babatunde is one of NBW's staff faves! Poppin', colorful and absolute African wax prints lovers, this South-African brand has successfully managed to win the Western market.
Teaming up with Panafrica is about supporting entrepreneurs who believe in the viability of manufacturing products in Africa and encouraging a certain savoir-faire in order to create long-term value on the African continent.
Original shapes, beautiful fabrics or bold statements, that's what we like about afropolitan brands like De La Sébure, Ladyhood et Pop Caven.
There's an impressive knowledge and passion that show through the Baba Tree Basket Co's pieces. Picking these amazing raffia baskets over anything else was our way to celebrate African traditional arts and crafts. Handmade in Bolgatanga, in the north of Ghana, we fell utterly in love with these gorgeous baskets. The fibers used to weave them have been naturally dyed to respect the environment.
Get to know us ! Come dine with us. You are invited to join NBW team at a secret location for an afro-gastronomic dinner, created by Bernie Seb,our on-site chef for this special occasion
At Nothing But the Wax, we like to analyse, understand, explain… In short, make meaningful things count! That's why we are organising our very first workshop about the influence of the afropolitan culture all around the world and what new trends are to be expected soon. We are really looking forward to meet you during this upcoming event, which should be held in October 2016. We will livestream the event for those who will not be able to join us in Paris.
Levels
www.babatunde.co.za / www.babatree.com / www.popcaven.com / www.mediamaker.fr /
www.delasebure.com / www.arteesan.fr / www.ladyhood.com / www.panafrica.com
About the project owner
I am Chayet Chiénin, founder and editor-in-chief of Nothing But The Wax, an online media celebrating African fashion and black beauty. After a 3 year career as an financial auditor in the skyscrappers of La Défense, the business district of Paris, I ended up giving up everything to become a freelance journalist. Telling stories, stories about the African diaspora or youth that moves forward, asks questions, expresses their drive and creates, has always been my motivation. Today, it's my turn to get into it and launch my own media.
This project derives from very specific ambitions. We are a team of young and keen go-getters and we share a strong connection to Africa thanks to our own convictions, lifestyles and personal commitments.
Special thanks to Fanny Kara-Mohamed, Manon Louard, Nicolas Tilly, Margaux Deslandes, Thomas Smaïl, Marty Amunga and Edilson Boz for their help.
Facebook : https://www.facebook.com/Nothing-But-the-Wax-255989727747895/
Instagram : @nothingbutthewax
Twitter : @nothingbuthewax