iCrowdNewswire - Jun 7, 2016
The Falls: Covenant of Grace
The final installment of the LGBT cult favorite The Falls from writer/director Jon Garcia.
Hello!
As a big thank you to all of the fans that have made The Falls and The Falls: Testament of Love such amazing successes and to those that have expressed their keen enthusiasm for a third film, we are attempting to complete The Falls trilogy. The Falls: Covenant of Grace is in pre-production right now. Jon Garcia has just put the finishing touches on the script, has been in the studio recording the soundtrack, assembled the cast, and is very busy with all the little details that go into making a great independent film. We are scheduled to start shooting in Portland, Oregon on July 1st.
The Falls films only exist because people have made huge sacrifices to see them through. Our crew is currently understaffed, underpaid, and lacking essential equipment. As artists we are used to making these sacrifices to see our work through to completion, but this time we really need your help to bring this story to the completion that everyone has been craving!
If you're unaware of the previous two movies, here's a little background…
The Trilogy
The Falls is a story about R.J. Smith and Chris Merrill; two Mormon missionaries who fell in love while on their mission. It beautifully captures the lives of two American teens struggling to make sense of the conflicts between their worlds, their faith, and their feelings toward each other. What they found in themselves was unpredictable, but a moving testament to the human spirit.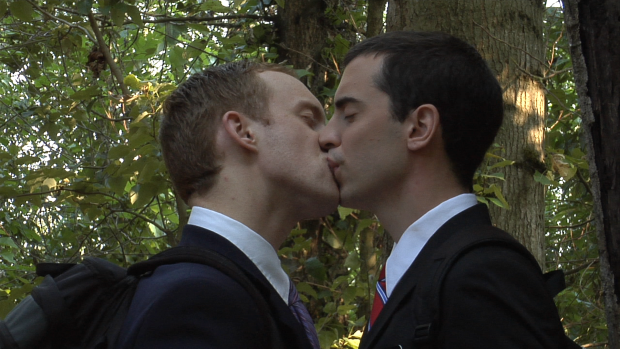 Benjamin Farmer and Nick Ferrucci as Chris and R.J. in The Falls
The Falls: Testament of Love went deeper into the story of RJ and Chris. The film explored the inner workings of religion and how it can isolate LGBT individuals. This story shows how two families were affected by the relationship of two young men who wanted very much to be together but couldn't because of religious doctrine and church policies.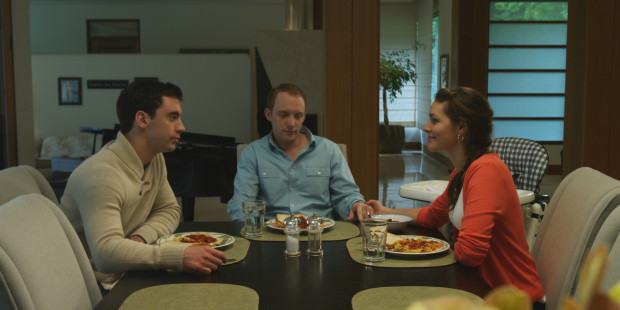 Nick Ferruci, Benjamin Farmer, and Hannah Barefoot as Emily Merrill in The Falls: Testament of Love

The Falls: Covenant of Grace
begins one year after the
The Falls: Testament of Love.
After the LDS church makes an announcement against baptism for children of same sex couples, RJ calls Chris to talk about his feelings towards the matter. The talk inspires them to meet in Seattle for a weekend to address their Mormon faith, discuss their relationship, and decide to either put the past behind them or move on with their lives. The film will present very timely issues for the LGBT community.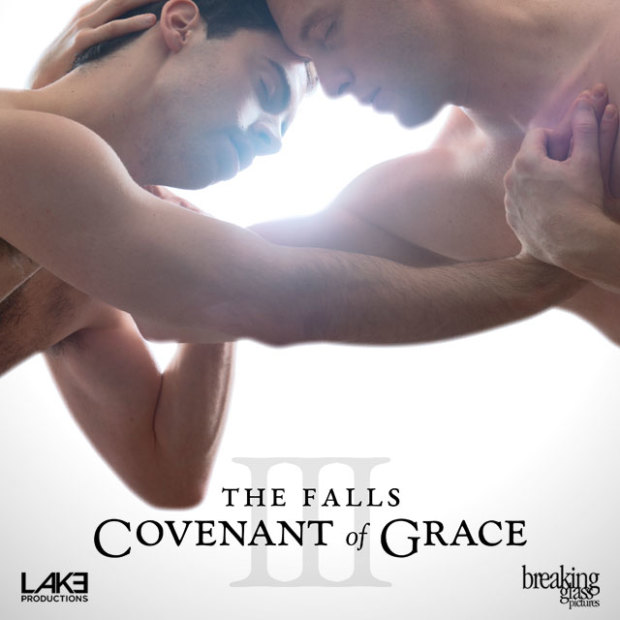 Our Goals
Distributed by Breaking Glass Pictures, a distribution company that puts out many gay and lesbian films, The Falls resonated with straight, queer, and faithful audiences alike. Breaking Glass was instrumental in the success of the second film and is going to help us fund, market and distribute the final installment of the trilogy.
For our Indiegogo campaign we are asking for $50,000 in addition to the funding provided by Breaking Glass to make The Falls: Covenant of Grace our best film yet.
We've created a budget that would allow us to:
Fly in our new and returning cast members. Benjamin Farmer, who plays Chris, now lives in New York, and our two new actresses Rebecca Karpovsky and Alee Spadoni live on the east coast as well.
Pay our hardworking and previously underpaid cast and crew a market rate;
Enable us to shoot in more desirable locations;
Hire additional cast and crew along with an expanded cast of extras,;
Enrich our wardrobe, props, and set design;
License Music;
Rent Gear; and
Generally make life on the set more pleasant.
The money will also help fund our amazing perks! We have some exciting incentives to make it worth your while. We'd like you to be a part of making this important film happen.
By contributing to this campaign, you will have the opportunity to get really cool swag from not just The Falls: Covenant of Grace, but from the previous films as well. You could also get the chance to be intimately involved in the independent filmmaking process by becoming a Producer, an Extra, or visiting the set to watch the magic happen and hang out with the cast and crew.
And it doesn't stop there! If we go beyond our $50,000 fundraising goal, we'd love to be able to create a Falls Trilogy Behind the Scenes Documentary, but to do this, we would need to bring in another camera and hire additional crew. We would also have the opportunity to upgrade current perks and add some extra special perks.
If we do not reach our goal, we will try to use the funds we've gathered to make the best film possible, but our production scope might be limited, creating challenges that could become insurmountable.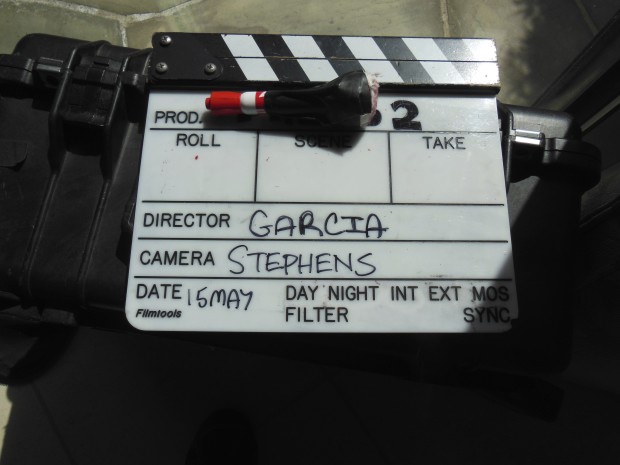 These films are meant to inspire empathy and understanding for sexual minority individuals of faith. When The Falls came out, America was curious about the Mormon faith as Republican nominee Mitt Romney was running for president. At the same time, the LGBT community and their allies were fighting for marriage equality, making the film politically and socially relevant.
Both the institution of marriage and the interpretation of scriptures regarding gays have been in constant flux. Ever since conservatives have taken up cultural arms against the gay rights movement by stating that God was against homosexuality, earnest people of faith have been caught in the middle of the debate, especially the gay community and their loved ones.
The Falls: Covenant of Grace continues the story of R.J. and Chris, but will also provide a more in depth analysis of what it means to be an LGBT person of faith. We will also tackle the struggle for marriage equality and speak to the issues that lesbians face within the religious community.
The Falls films do not aim to say anything negative about the Mormons or religion in general, instead they intend to inspire more conversation among people of all faiths.These films have made an impact on the lives many. Here are just a few of the many heartfelt messages Jon has received from his fans.
"Your writing and film directing produced an experience that reached my soul. Because of your God-given talent, you created a movie with something more than a story." – Ray
"Like the characters Chris and RJ, I came from a religious family, and in my youth faith was a pure and wonder-filled thing; I read scripture and contemplated God with full-hearted awe and love. When I came of age and realized I might be gay-I did everything I could do to change that about myself: I tried to pray it away…" – Mark
"Please make a third movie showing the evolution of Chris and RJ as well as Emily, Kaylee, and both characters' parents." – Greg
"You are such a wonderful writer and director! … I know one day Annette and I will meet you and I will give you the biggest hug you've ever had! …When Annette and I have a wedding you are definitely getting an invite. We would love for you to be there. – Elizabeth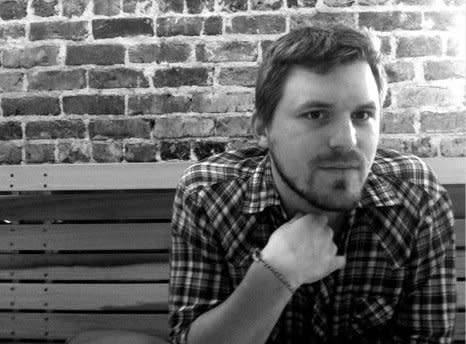 Writer/Director Jon Garcia
We understand if you're strapped for cash.
Trust us. We get it.
If you can't contribute financially, maybe you could help us out by spreading the word on social media, your blog, website… whatever you can think of to get this campaign in front of as many people as possible. You can also share this campaign directly from Indiegogo. You can sign up to receive updates on the campaign and news about the production progress at the link below.
Thank you!