iCrowdNewswire - Jun 4, 2016
Clothing For Living Yoga
Pre Order Items from our Fall 2016 Collection to Help choose what gets produced!
Anjali Means Offering!
These clothes are our offering to the world.
We are a 10 year old eco-conscious activewear & lifestyle brand that is made in the USA.
We take tremendous pride in our work and it really lights us up whenever anyone connects to and appreciates our clothing.
For the Fall 2016 season we pushed ourselves to come up with the best collection we have ever done. All of our prints and graphics are designed in house and are exclusive to Anjali. Each piece is individually printed to ensure optimal quality and our production is locally sourced so that we can monitor every step of the process.
Press the Gallery Tab above to view multiple images of each piece that we offer.
What We Need & What You Get
We want to partner with the every day Yoga enthusiast to select our Fall Collection.
Pre-ordering a collection is usually only available to retailers and those orders are what determines what actually goes into bulk production. We are offering you the opportunity to collaborate with us to decide what we make.
We are utilizing the Indiegogo platform to allow people to select items through pledges of support. Once the campaign period ends, each contributor will receive an order form so that they can choose their item, color and size. In addition to giving each person a vote on what our final collection looks like, they will receive their selection before any retailer, shipped for free to anywhere in the world. In order to encourage people to participate and to sweeten the deal even further, each participant will receive a discount code that they can use for a later purchase.
If you would like to support the campaign but are hesitant to commit just yet, we offer a discounted gift card that you can use at any time on our website for anything your heart desires at that time, Its a win, win. YAY!
Initial Goal
Our goal covers the production cost of our core offering, which includes 3 original print designs and our Embossed Baroque design. That includes the cost of fabric, printing, cutting and sewing.
Two of our prints, Versailles and Urban Jungle, are on a poly-spandex fabric made out of BPA free recycled plastic bottles.
The Apex Dot is printed on a premium quality poly-spandex mid compression space dye.
We are also offering the Embossed Baroque Performance range, a fabric that could easily go from Handstand to Happy Hour and our beloved Everyday pant, that is made from such a scrumptious fabric that you simply want to wear them every day!
All fabrics have 4-way stretch for maximum mobility, quick drying capabilities, and are anti-microbial.
Scroll down to see full item details and size chart

The Pieces
We have put a lot of thought and care into developing these pieces. We have designed them to serve you whatever activity you might be into. We mean it when we say from Handstand to Happy hour! We make Clothing for Living Yoga, whatever your Yoga is!
Our pieces are all made in the USA.
Our prints are sublimation printed, which is an environmentally responsible printing method that results in no water waste.
We utilize flat-lock stitching for a smooth chafe-free experience.
All are true to size.
Our Leggings have a higher rise and waistband to ensure maximum coverage and stability, as to keep you together through the stretchiest sweatiest of activities.
No Logos!
We don't put our logo on the outside of our clothes. We don't feel that your Yoga Clothes should look any different from the rest of your wardrobe. Only you should know who you are wearing.

Every pledge of support will come with a special Thank You card, which includes a 10% discount code that can be used for any future purchase on our website.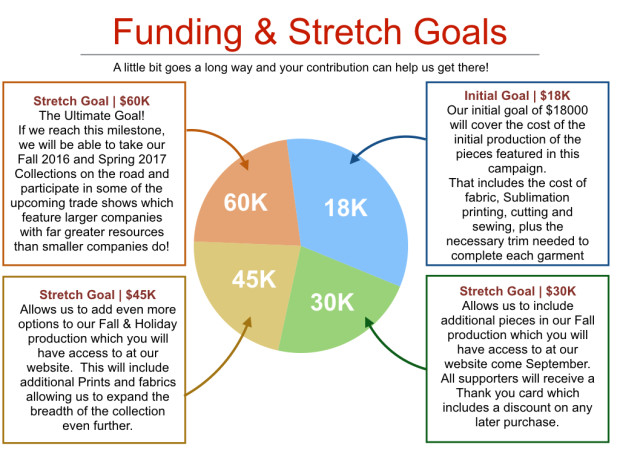 Sizing
Our sizing is pretty standardized and we work hard to maintain strict consistency. The measurements below are approximate and there could be a small variation, but not enough to make a difference when choosing your size.
The waist measurements is taken on a flat garment. and you should take into account that it's the measurement of elastic before it stretches.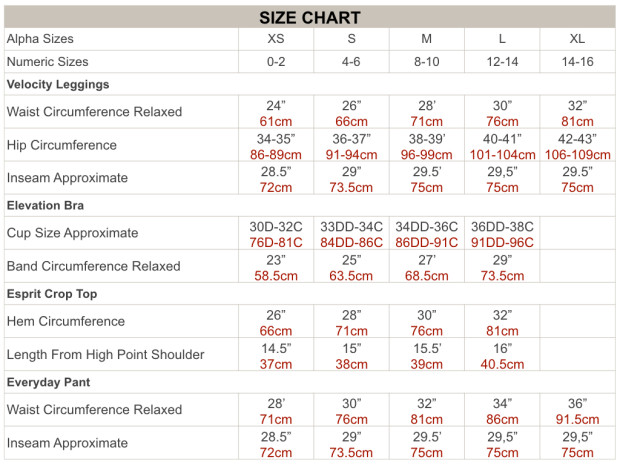 Risks & Challenges
This is a low risk campaign. Anjali has been in business for 10 years. We work with some amazing production partners in New York & New Jersey and all of our fabrics are sourced from California.
We are subject to some production minimums like all companies are. If any particular item does not receive enough support to move into production, we will offer you the option of selecting a different item or refund the contribution for that item.
The production time will take approximately 8 to 10 weeks and we anticipate being able to ship all rewards the first week of September. We will of course keep you updated throughout the entire process.
Who we are & where we come from
Kristinn is originally from Iceland and Julissa is a born and raised New Yorker. We met 25 years ago when we were paired to form a design team. We have been together ever since, partners in life.
Between the two of us we have over 30 years experience in the fashion world. We each have 16years of Yoga practice and Julissa has been a Yoga teacher for 11 years and counting.
Over the years we have been featured in countless magazines and blogs and even dressed Justin Theroux' character Seth in the movie Wanderlust.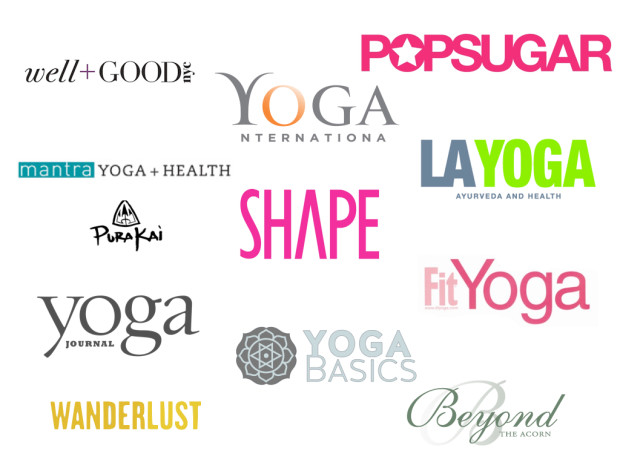 Other Ways You Can Help
We believe that Collaboration creates Community so even if you can't contribute to our campaign, please consider supporting us in another way.
Make some noise about our campaign. Tell your friends and help us spread the word.
Use the IndieGoGo sharing tools to share this campaign on Social Media.
Thank you so much for checking out our campaign!