iCrowdNewswire - May 26, 2016
We Need Your Kitten Season Donations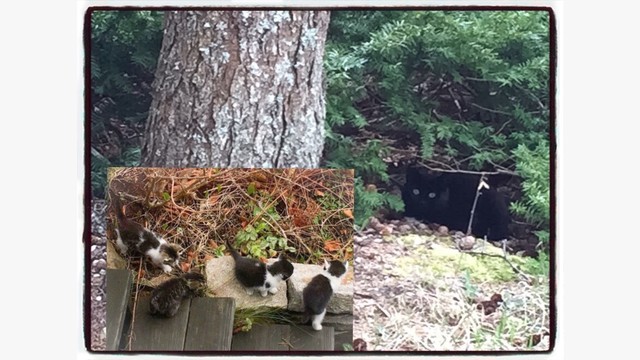 We are in desperate need of money! This money is critical to the care of the many cats and kittens that need our help this time of year. The need is endless. We have 9 litters of kittens already in our care…NINE…and it is just the beginning of May. At countless colonies all across much of Maine we are extremely active in TNR (Trap, Neuter, Return) so we can stop more kittens from being born and allow these feral cats to live out their lives without procreating.
If you have ever met me and our volunteers you will know how passionate we are about helping these cats! We have big hearts. We spend countless hours socializing kittens and trapping cats and we spend our own money when we can. But we don't have the endless money needed to help all the cats that need us. And this time of year the calls keep coming in.
While it is easy to raise money for one cat in need, it is much harder to raise money for the many. Like the black cat in this photo…she is the momma to the kittens in the photo and she is feral. We are trying to trap her so she can be spayed. She is not allowed back to her home as there isn't a feeder so she will be relocated to a barn. And then we need to trap her 5 kittens. Once trapped they will be placed in foster homes for socialization before they will be ready for adoption. And this is just one of the many, many colonies.
We also just had a large surrender of cats…all needing spay/neuter and all needing medical care. The need doesn't stop…we are small…and while we will do the hard work we don't have the money. Please help us…if you believe in us please help! No amount is too small and no amount is not ever used. 100% of your donations goes to help the cats…we are an all volunteer organization…we just love cats and the work we do is endless and heartbreaking but the reward is huge…we save lives. If we don't get the much needed money we cannot continue to help. And the cats we help are not the cats helped by shelters. Without us they wouldn't get any help at all. It's that simple! So please, if you believe these cats deserve a chance, help us by making a donation today.
If if you would rather donate direct through PayPal:
Paypal.me/forgottenfelinesme
By mail:
Forgotten Felines of Maine, PO Box 264, Gouldsboro, ME 04607
Direct to vet:
Small Animal Clinic, 9 Toothaker Lane, Ellsworth ME 04605
THANK YOU, THANK YOU, THANK YOU!!! God bless. ❤️