iCrowdNewswire - May 19, 2016
Ground Zero: Zombie Survival Paintball.
Ground Zero tasks you and your group with surviving an apocalyptic zombie scenario. Can you survive.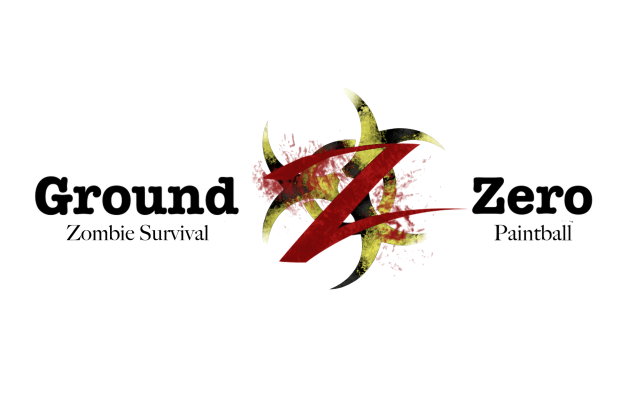 The Basics
Welcome to Ground Zero! The first zombie survival paintball course of its kind! We all daydream about what we'd do to survive in an apocalypse. Ground Zero gives you the chance to live it out. Stop daydreaming, get out from behind the tv, and survive!
Unlike any other paintball course, Ground Zero is truly like a video game, but in real life! We provide you and your team with random gear, random weapons and a random objective. You decide how to survive, with what you have and what you find.
Use strategy and team tactics to fend off zombies and complete your objective in time!
The Survivors
You've waited all your life for a chance to survive in the zombie apocalypse, trust us, we know. Now's the time to do it! Bring yourself and 6 friends (or more) to Ground Zero to play the first ever Zombie Survival Paintball where literally everything is random, just like it would be in a real life apocalypse. You and your team each pick a bag to take with you onto the field. In these bags are random weapons (a paintball pistol, a paintball grenade launcher, or nothing), random gear (a map, binoculars, walky talky, or again, nothing). After you get your bags, you will then receive a random game type (objective) to complete in order to win and "survive" the apocalypse. You and your team are then transported to a random starting point on the field and your game begins. Quickly and tactically traverse the course, kill zombies, complete the objective and make it out safely. Don't worry, if you started out with just a pistol and a notebook you will have the chance to find "better" gear and weapons randomly placed throughout the field! Oh and one more thing, remember everything is random? Well, the amount of ammunition you receive and find will also be random, so conserve it! Be smart with what zombies you shoot and don't shoot, use strategy and tactics! Don't spray and pray! Your team might not back you up for poor decisions! Good luck!
The Zombies
Sticking with the randomness of a video game and "real lifeness" of a zombie apocalypse, the Zombies in Ground Zero are just as random as everything else. As a Survivor you will definitely come across a bunch of Zombies you'll have to fight or avoid to complete your objective and "win". And just how every one of YOU is different from the next, so are the Zombies. They could be classic, slow moving zombies or they could be more of the fast moving, intelligent type. Or a good mix of both! Who knows what you might encounter, and it's all up to you on how you handle it! But let's say you don't want to play as a survivor or the teams are all full for the day, this is where we flip the whole thing on end! Instead of sitting around waiting for your game to start, you have the ability to play as a one of the Zombies on the field! For as long as you want, before and after your game as a Survivor, or even against your own friends. A quick briefing and some makeup and your ready to go out on the field and play as your favourite zombie, you decide how to play, maneuver, and "attack"!
Accolades
At this point, things get a even better! More so like a video game than real life per-say, you have the chance to be awarded accolades, or achievements, in the form of badges to show off what you've accomplished here at Ground Zero. As a Survivor you are given, or you can purchase, a military style jumpsuit to wear over your clothes so they don't get dirty. The accolades, or badges, you earn can be sewn right onto your own Ground Zero jumpsuit, if purchased, to represent all the awesome things you may have accomplished! Now these badges CANNOT be purchased, EVER, only awarded! Each "objective" you are given has its own badge to be awarded if you succeed. Other badges could be earned through finding the best weapon on the field, to playing at night, to even "dying" in the game. And yes, you can even earn accolades playing as a Zombie, but those are entirely different and a surprise!
Other Activities
At Ground Zero there will be loads to do other than playing the game as a Survivor and Zombie. You will have the opportunity to hang out in the lobby, watch a movie or play video games while you wait, or even spectate the current game on the monitors! Test out the different weapons Ground Zero has to offer on the shooting range (all paintball and all are used in the games). Beat the fastest time on the military style obstacle course! Or shop around in our little zombie retail store! There will always be ways to "kill" time at Ground Zero! Get it?
What do you get?
Well besides an amazing new take on paintball, you as a donator can be proud in the fact that you are helping create a community! One that anybody, from anywhere, with any interests in zombies, paintball, sports, outdoors or just about anything can be apart of!
Regardless of the amount you donate you will be rewarded! No donation is too small and goes unnoticed, whatever you donate you will get something back in return! Go check out the perks we offer, it's worth it!
The Impact
One thing we hear more often than not, is parents wishing their kids would go outside and play more! Get fresh air, exercise a little, make new friends. Experience the world! Ground Zero hears those cries for putting down the video game controller and getting out from behind the tv and answers with what may be the perfect reason to go outside! A real life video game that anybody can play, out in the fresh air, creating a fun new way to exercise and educate the youth and adults on healthy outdoor survival, teamwork and individual growth. It's exciting, it's adrenaline pumping, and it's a great education in the process. You're welcome parents!
With your help we could fight the battle against boredom and laziness! Create a community and friendships that outlast! This is Ground Zero, this is where it all starts, and you are already apart of it!
The Founders
Meet John Rinn and Anthony Cunningham, the two goons behind Ground Zero.
    John Rinn

– I've grown up loving zombies, pretty much just like everyone else, but I would always come up with all these different ways I would survive a zombie apocalypse! Though the closest I got to putting my ideas to the test were just video games. Fun and all, but it didn't feed my hunger. Pun intended! So I thought, why not make a place where people, like  me, could put their plans and strategies to the test. Create a place where people could actually use their wits and literally try to survive a zombie apocalypse and get exercise and education while they're at it!

   Tony Cunningham

– Growing up with a bunch of brothers I was introduced to just about every horror movie so my childhood was pretty intense but it gave me an imagination. I also love action movies too! Having a mixture of both in a real life game is arguably the coolest thing ever.

 
Can't help? Sure you can!
You don't have to pay to be a part of this! Help us by spreading the word! The more people you tell the faster this can happen! Create hype! Anything truly helps. If you're excited about Ground Zero please share this campaign on Facebook, Twitter, etc! Then go ahead and follow us on our pages for weekly updates!
Thank you for everything, nothing is possible without you!
Find This Campaign On