iCrowdNewswire - May 18, 2016
POP Limitless battery extension for iPhone&Android
POP: the power bank that integrates with your phone with swappable batteries for endless charging.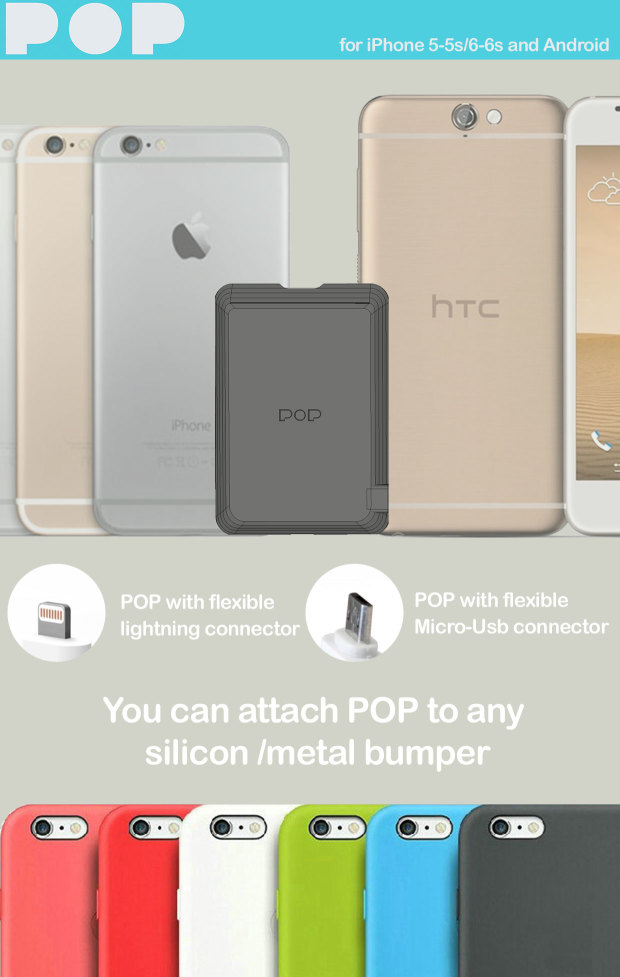 POP is the perfect add on for iPhones and Android phone models in which it is no longer possible to switch out the battery. With POP, you can finally stop having to carry around messes of charging cables or bulky power banks in your pockets in order to ensure your phone lasts as long as you need it to.
Need to charge up your phone but still have to use it? POP is the best way to do that on the go.
POP is compact, resistant and designed to attach seamlessly to your telephone thanks to its polyurethane gel strip backing.
If you use your cell phone a lot during the day or if you're a photographer or film maker, POP ensures that you'll never run out of energy when you need it the most. You can keep extra batteries on hand and switch them immediately so that you can keep using your phone without any down time.
POP is made of slip proof plastic to guarantee good grip when you hold your smartphone.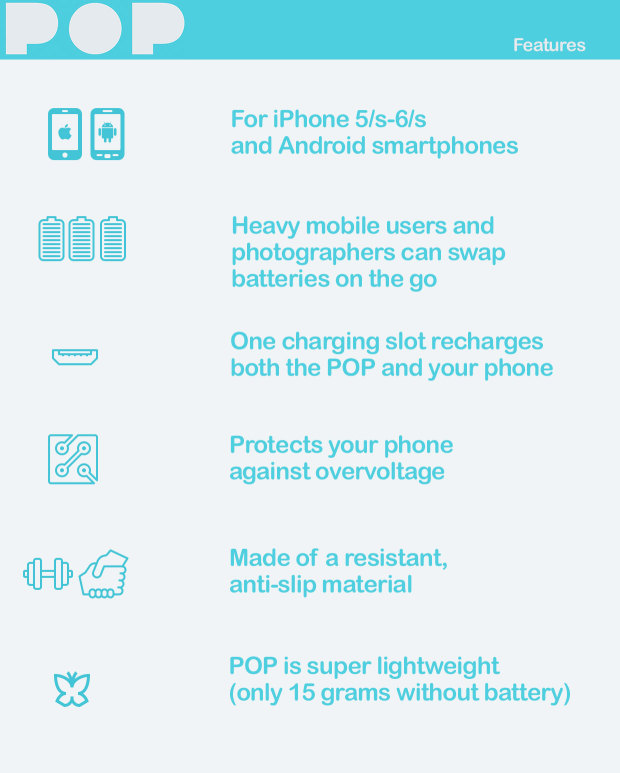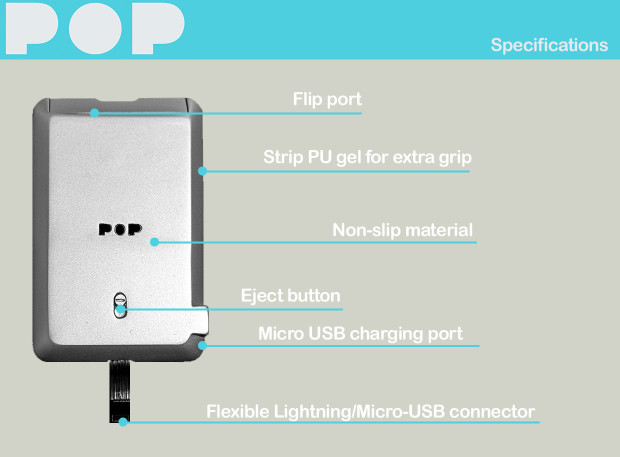 Stop messing with cables and bulky power banks when you're out and about!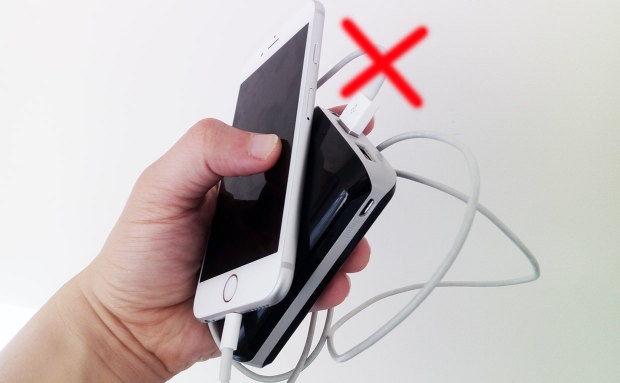 POP Easy Plug
POP Compact and solid
POP swappable battery
POP can be used with a bumper
POP charges both auxiliary and smartphone battery at the same time
POP prototyping and testing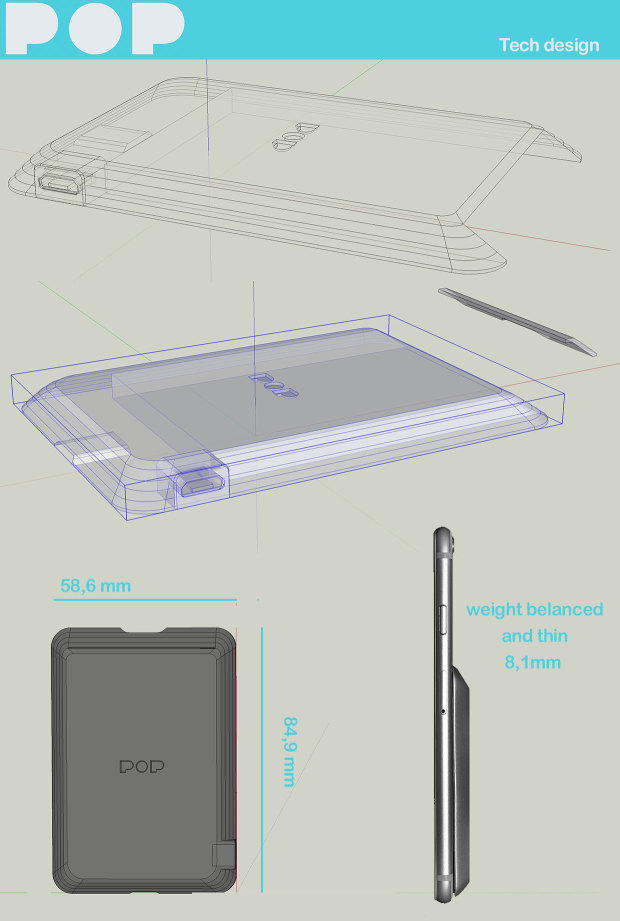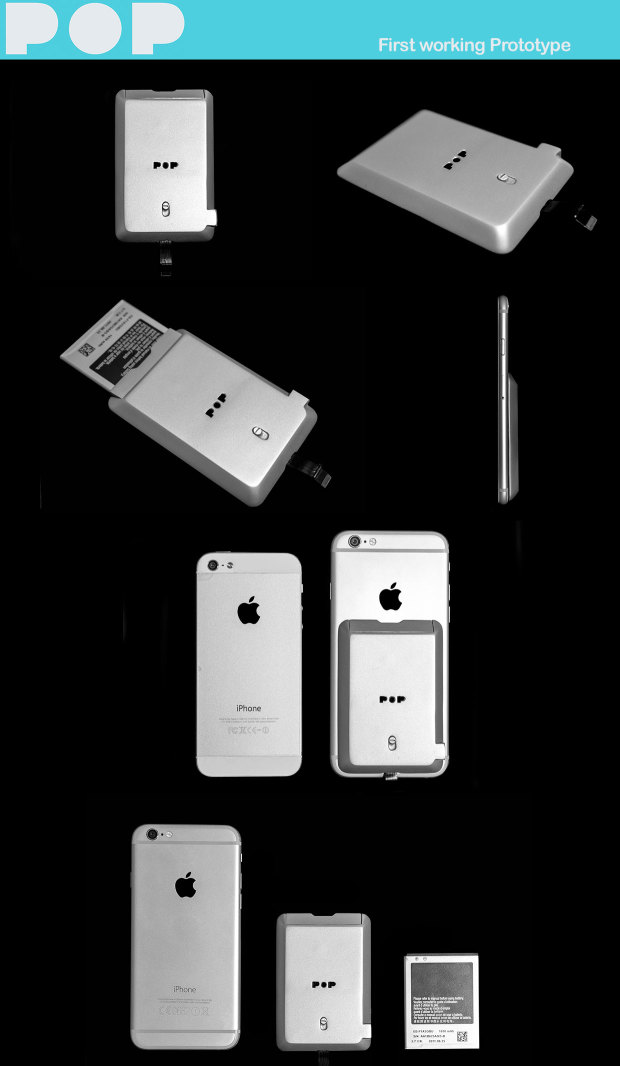 The first POP prototypes were made using professional 3D printers. The aim of our Indiegogo campaign is to raise the necessary funds to industrialize the production and to get a pre-order large enough to cover the costs of molds and the assembly process.
Timeline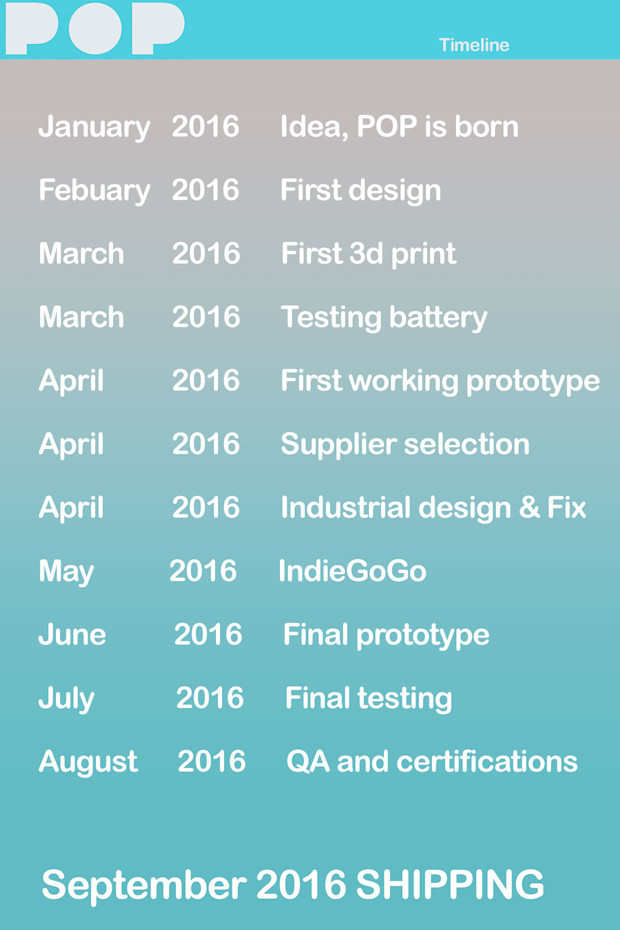 Questions & Answers
What can I use POP with?
POP works with iPhone 5, iPhone 5s, iPhone 6 and iPhone 6s (and 6s plus). It also works on all Android phones that have centrally placed micro USB charging port.
Is POP safe?
POP will be certified FCC and CEE.
What type of protection does POP have for charging?
POP has a circuit that protects against overvoltage.
Why do I have to buy the battery from you?
You don't have to! We offer batteries that we can order bulk from our suppliers in order to offer you a fully functioning product straight out of the box, but you can buy your battery by yourself.
Can I use POP with a case/bumper?
Yes!
When I'm charging POP with my Smartphone attached, can I sync data between my phone and my computer at the same time?
Yes!
Find This Campaign On