iCrowdNewswire - May 18, 2016
Keep Homegrown Close To Home!
Homegrown is being forced to move. Your support allows us to continue to cultivate our community!
PART OF A COMMUNITY
Through recent years of exhilarating change downtown, Homegrown Hamilton has held steadfast in the heart of our city. This first generation ethical coffee shop has gone beyond serving home-roasted fair trade coffee, organic local food and craft beer. It is more significant than simply a café, restaurant or bar and much more than just a venue for independent music and art. Homegrown is like a second home for many. In addition to our loving and laughter filled atmosphere, we've provided a safe space and a central location for the city's organizers and local activist movements to gather.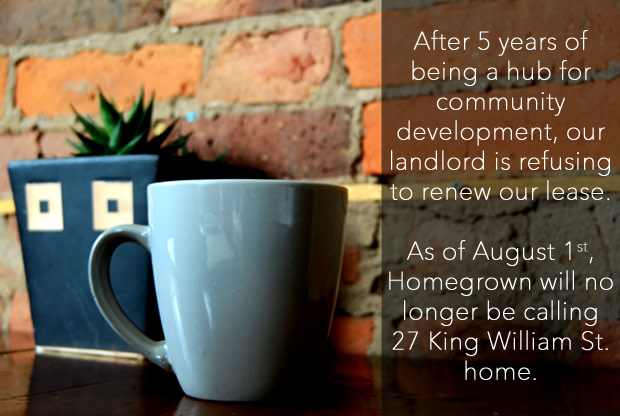 As a business, we've maintained financial stability while staying true to our ethical values. A great deal of support has come in from all sides, making it clear that these values are fundamental to our downtown community. At Homegrown we've worked hard to cultivate mutually beneficial relationships between local artists, musicians, small businesses, farmers, breweries and organizations. We feel these relationships help sustain the culture of our city.
With this campaign we are looking for your support to continue and expand upon this work. Your contributions will ensure our community still has a safe space to work and play for years to come.
PRESERVING THE ESSENCE OF DOWNTOWN
We are embedded in the centre of the city. This is where we began and this is where we belong.
During our time here, dozens of new cafes and restaurants have opened around us. Hamilton has emerged as a hip and desirable place to live.
We in Hamilton know who we are. We already have a strong identity and we want to preserve a space that keeps our values alive.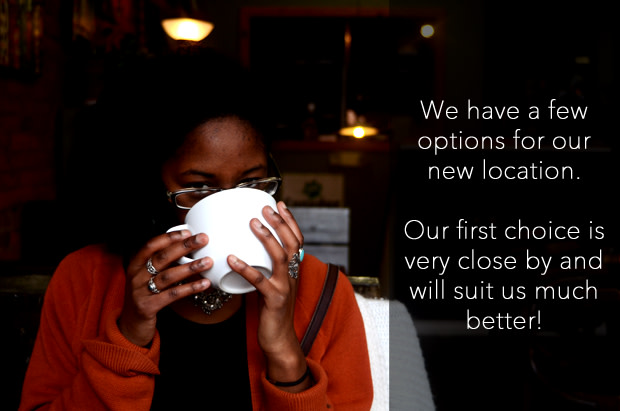 OUR NEW DIGS
While moving was not our intended summer agenda, we're excited about the prospects available to us in a new space with more room and fresh ideas!
We've learned a great deal over our five year journey and now we're ready to apply these lessons to someplace bigger and better. Countless DIY renovations and innovative problem solving allowed us to maximize efficiency despite our limitations here.  With this experience we're prepared to build something new that will better accommodate all of our current features and make it possible to do even more.
We've done a lot of searching within the area and have found a space nearby that is bigger and better. It's currently vacant which makes this a great opportunity to revitalize an under-utilized location downtown. Though nothing is set in stone, we are negotiating to secure this spot.
WHAT ARE OUR COSTS?
It will take a lot of work and money to rebuild our home. Here are some specific expenditures we face for transitioning into this new space: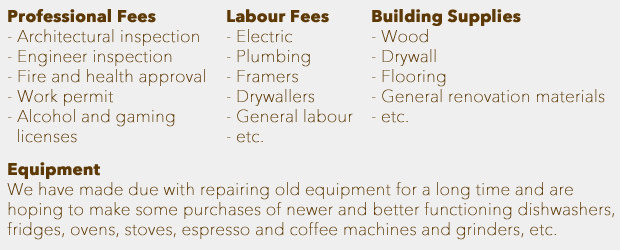 BUILDING FOR YOU
We're embracing this move as an opportunity to further our work in community development.
We want to maintain focus on fostering a space of acceptance, sourcing our products as locally and as ethically as possible, while steadily improving our environmental and social responsibility.
It's also important for us to support local organizations and movements. Our efforts thus far have looked something like this:
Our support has gone toward:
-Sexual Assault Support Work
-Newcomers/Refugee/Immigrant Support
-Youth at Risk
-LGBTQ Initiatives
-Anti-Racism Efforts
-Environmental Organizations
-Action on Climate Change
-Neighbourhood Associations
-Academic Clubs
-Alternative Transportation Efforts
-Organizations that work to resolve inequality, homelessness and poverty.
Our support has taken the form of:
-Sponsoring local initiatives
-Sharing proceeds of wholesale coffee with local organizations
-Providing affordable/free space for meetings and events
-Providing affordable/free coffee and catering
-Hosting weekly/monthly events
-Our Suspended Coffee program encourages patrons to pay for an extra coffee for someone else to have free if they need one.
Moving forward we will be aiming to achieve even more.
Some Community Development Goals for the Future:
-Providing space for meetings/events while staying open to the public
-Featuring products for sale at our counter made by new Hamilton start-ups
-Continuing and expanding our new Hamilton Independent Business Wall featuring products from local independent makers and business owners
-Maintaining an organized community news board for local Not for Profits and Independent Business
-Creating much more space and opportunity for local independent art, music and literature.
-Intentional partnerships with local music venues to promote Hamilton Music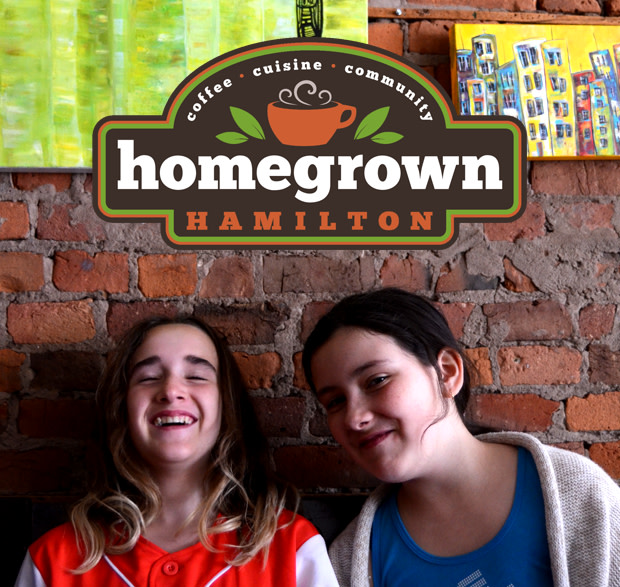 VOICE YOUR VISION!
We're doing this for our community: that's you! Community involvement and discussion is very important for us moving forward. We will need your help to improve in the right ways. Please give us your input on what you want to see created, expanded upon and changed at Homegrown.
Write a comment on this page, send us a message on Facebook or Twitter. and of course come talk to us in person! Look forward to the fun ways we'll be giving recognition to you and your ideas throughout this campaign!
LET'S CELEBRATE!
By contributing to this campaign, you'll be helping to strengthen and preserve the outstanding values of this community. We've also put together a bunch of fun ways of thanking you that are distinctively Homegrown in nature.
Our rewards start as simple as a suspended coffee (our pre-paid pick-me-up for whoever needs it most) and range to a full blown street festival with a local focus. There's also a big private bash (or two) with our staff featuring local beats, bands, beans and brews. Contributions of $100 or more will be honoured on our permanent Homegrown Wall of Thanks.
Check out all the fun along the right side of the page and be sure to follow us onFacebook, Twitter and Instagram for updates on more exciting events to come.
JOIN US
All of us at Homegrown feel that we have gathered a strong support network and a real sense of family within our community. As the James North neighbourhood faces much change, the people who live, work, struggle and play here have shown that they're committed to holding Hamilton to a high standard that we all deserve.  We are very proud to be a part of this. Everything that we have accomplished as a community at Homegrown Hamilton will be coming with us when we move.
We look forward to seeing you there too.
Find This Campaign On