iCrowdNewswire - May 11, 2016
Keep Baldface Books in Dover.
Baldface Books has been in Dover, New Hampshire, for 25 years. Help us keep it here!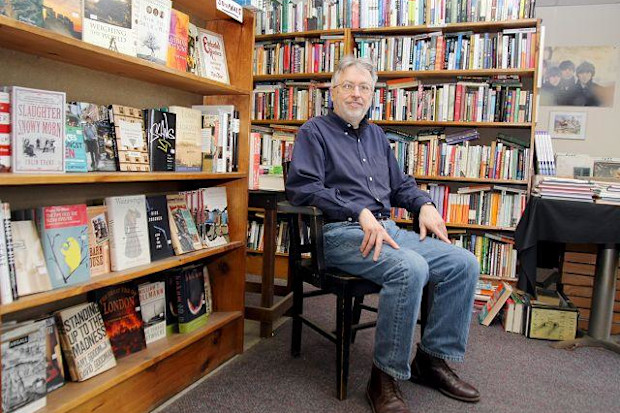 Short Summary
A town isn't a town without a bookstore ~ Neil Gaiman
Baldface Books arrived in Dover, NH, in 1991 and we have been a part of downtown for over 25 years. Since moving to our new location four years ago, however, business has steadily dwindled. The truth is we cannot survive if we don't take action. Our goals are simple:
– We want to stay in Dover for years to come
– We want book lovers to discover us all over again!
The next few months may determine the future of the store.
(To read the story in Foster's, click here)
What We Need & What You Get
Baldface Books strives to be an inviting, vibrant meeting place for our community. Going forward, we hope to host readings, open mic nights, live music, and other events. To do this, we'll be renovating the back corner of the store, creating a Community Corner with couches and tables where people can read, study, and perform, a space for book club meetings and performances, etc.
PERKS! (We'll keep this simple)
Each contributor, in addition to other perks, will receive a matching gift certificate to the store. (i.e. contribute $25 and we'll give you 25 Baldface Bucks!) Give 'em as gifts. Keep 'em for yourself. It's a win-win!
Everyone who contributes $10 or more will have their name added to a "Thank You Friends of Baldface Books" poster in the store.
Everyone who contributes $50 or more will receive a "Friend of Baldface Books!" tote-bag. (limit of 100).
Toward the end of summer, we'll host an event for all of our generous IndieGoGo contributors. There will be a raffle (rare books!), readings, food, and drinks. (Date TBD)
For every $10 you commit, you will receive 1 raffle ticket for the end-of-the summer party. (Ex. $50 contribution gets you 5 tickets, etc.) Prizes include books, records, and more!
The Impact
Each contribution, no matter the size, is a commitment to keeping Baldface Books in Dover. We love this town. We want to connect with customers, both old and new. To reiterate: every dollar contributed to the cause will be matched with a Baldface gift certificate! (Minimum of $5)
Risks & Challenges
Since moving locations 4 years ago, we have lost a lot of foot traffic. Many of our old customers thought we closed or moved elsewhere. In the past year, business has really slowed down. Despite all of this, we believe there is demand for Baldface Books, and so we've taken action. By hosting more community events and outreach, we hope to reinvigorate the store and let people know we're still around. 
Other Ways You Can Help
Can't contribute? There are other ways to help!
Stop in and say hello! Browse our books and records.
Share this campaign on Facebook, Twitter, etc. Help us spread the word!
Tell your friends about Baldface Books
Find This Campaign On