iCrowdNewswire - May 11, 2016
EcoHack 2016 at Swale
Join us for a gathering of art, performance, and skill-sharing on a floating food forest!
Who is Biome Arts?
Biome Arts is a collective of artists, designers, engineers, biologists, and activists producing work that anticipates the next global paradigm: ecologically sustainable, open source, commons-based culture. We create large scale, eco-digital installations that enable other artists and the public to reimagine their relationship with nature and technology.
Biome Arts' installation "The Core"
What is Eco_Hack 2016?
Eco_Hack 2016 is a free, month-long gathering open to the public by Biome Arts that includes a giant installation, a performance series, and skill-share workshops. Eco_Hack 2016 is taking place this summer at Mary Mattingly's Swale, a floating food forest on the Hudson River.
Rendering of Swale, a floating food forest on the Hudson River: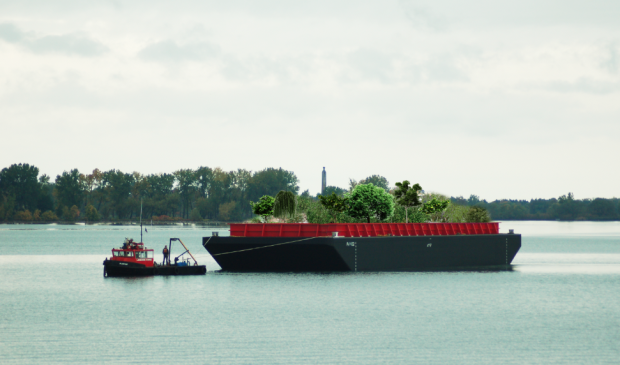 Rendering of Eco_Hack 2016 structure to be built on Swale: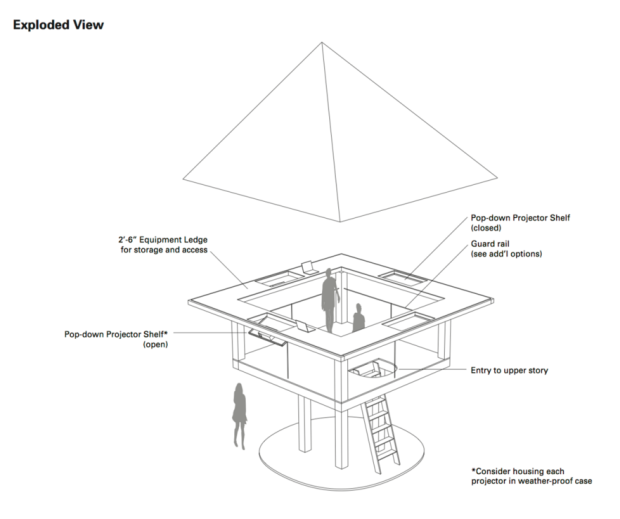 Diagram of technology built into the Eco_Hack 2016 structure: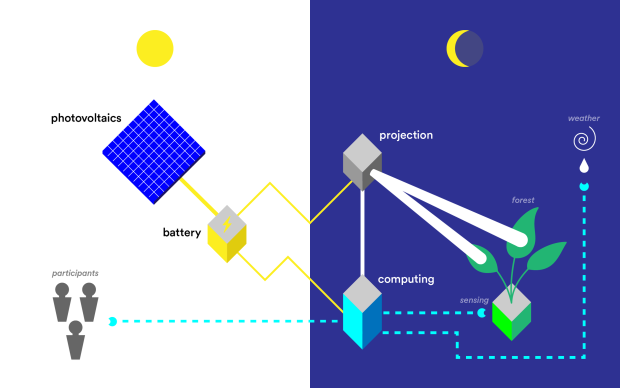 Prototypes of forest projections for Eco_Hack 2016 :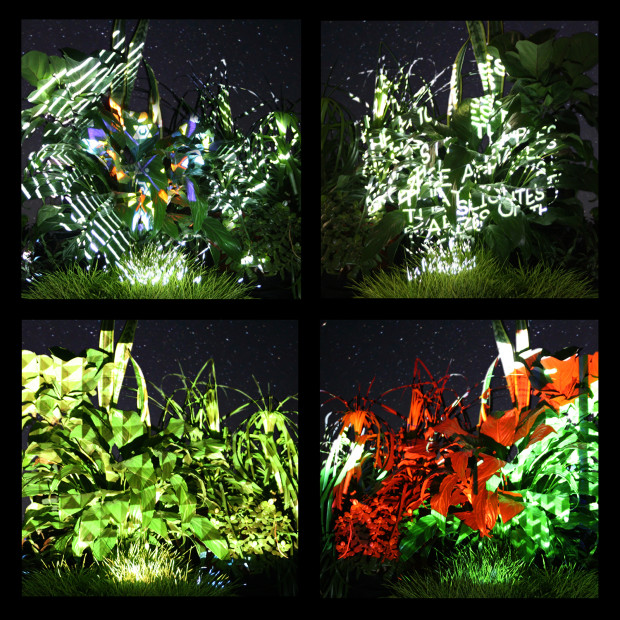 Your Contribution Will Support
THE INSTALLATION – a pavilion that projects visualizations of the forest's activity (tree growth, precipitation, wind direction, etc.) directly onto the forest at night, translating nature's pace to human time; the pavilion includes a terminal that allows the audience to send messages to the forest, which are aggregated into illumination that draws pollinating insects to the island, creating a feedback loop between nature, technology, and you.
PERFORMANCES – such as Shake by Lucia Monge, which uses a speculative language informed by the installation's data to translate the movement of trees to the human body.
ARTWORK – such as Data Bell by Brian House, where the installation's data is mapped to the parameters of ringing bells that subsequently change their character over the course of the day, reflecting the "mood" of the forest.
SKILL-SHARES – in urban agriculture, renewable energy, mesh networks, data privacy, decentralized currency, and distributed governance that contribute to self-reliance, grassroots organizing, and community-run local infrastructures in NYC neighborhoods.
ACTIVIST SUMMIT – focused on developing a Green-Black Alliance (Green Party – Pirate Party) in NYC, i.e. a unifying banner and support network for the diverse initiatives and groups that currently support clean energy, cooperative economics, and open data in NYC and globally.
FLOATING COMMUNITY CENTER – that functions as a laboratory, theater, gallery, school, and sociopolitical forum, and offers an experimental, open-source response to climate change for NYC and other coastal communities around the world.
Eco_Hack 2016 is a unique platform for design, art, engineering, and politics that exists nowhere else in the world; your contribution is critical to making this space and programming freely available to the public, making tools for ecological sustainability, civic technology, and distributed governance accessible to everyone.
What We Need
We have applied for grants, are seeking funds from various foundations and patrons, and are soliciting in-kind donations from manufacturers and companies throughout our network. We are confident that these efforts will raise over half of the $46K and resources needed for Eco_Hack 2016, but we also need your help!  We are asking for your help in raising the following:
MINIMUM BENCHMARK: $10,000 – We can make a smaller-scale version of the structure and create an installation that includes a basic sensor network, essential computing power, a solar array capable of minimal power duration, and 2 projectors for partial coverage of Swale.
GOAL: $20,000 – We can make a full-scale version of the structure, create an installation with a more robust sensor network, 4 projectors for greater coverage, stronger computing capabilities for more complex graphics, a more powerful solar array, and embedded audio equipment such as speakers, microphones, mixers, and headphones for performances. We could also supplement the flora on Swale with hydroponics, grow lights, beneficial insects, and hire a professional photographer and videographer to document the installation and performances.
STRETCH GOAL: $30,000 – We can make the ideal realization of the structure, create an installation with a dense, comprehensive sensor network, 6 projectors that will cover the whole island and interior of the structure, optimal computing capabilities, an impressive solar array capable of powering all equipment  day and night, and provide modest stipends to performers and participants.
Breakdown of expenses: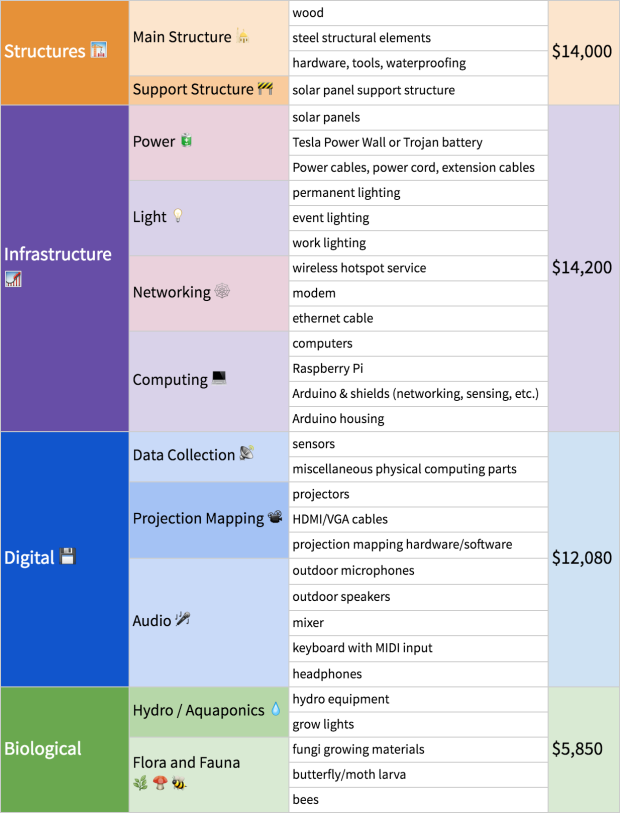 Risks & Challenges
Such a multi-faceted project is extremely difficult to organize, fund, and execute; nonetheless, we have a proven track-record. The Biome Arts team includes experts in their respective fields: artists, designers, architects, engineers, activists, biologists, etc. In the summer of 2014, Biome Arts created a large scale collaborative project, Eco_Hack 2014: a two-week symposium on ecology, technology, and the commons that culminated in the construction of a networked, semi-autonomous structure in the woods of Delhi, New York.
This structure served to house five other artworks created by the artist-participants: a time-lapse video of the forest during the day projected onto the structure at night, a dance performance that traced the supply chain of the computer from the Congo to the United States, a musical performance based upon data gathered from the local geographic conditions, a series of sculptures inspired by the surrounding flora and fauna, an immersive three dimensional meeting space for international activists, as well as housing Biome Arts first major installation: The Core, a nexus of ecological systems, human communities, and digital networks.
Images of Eco_Hack 2014: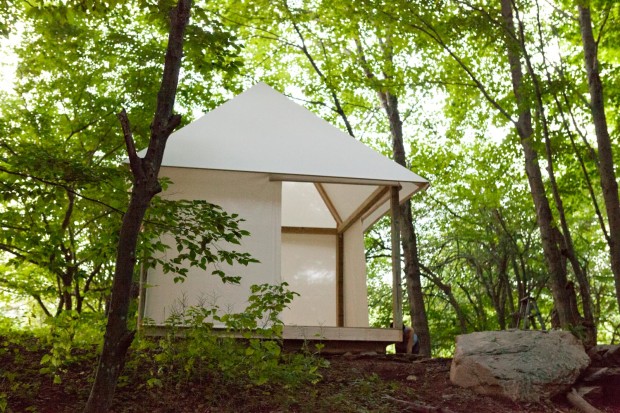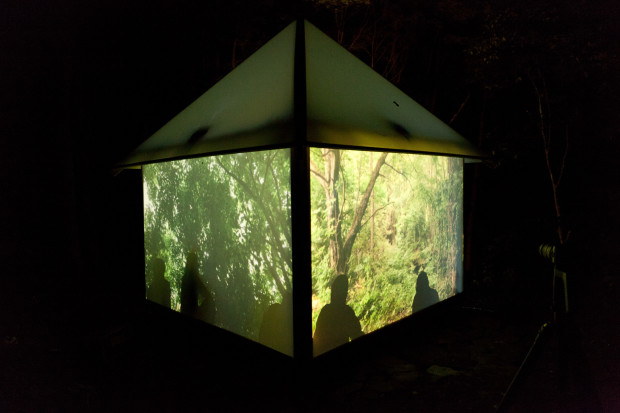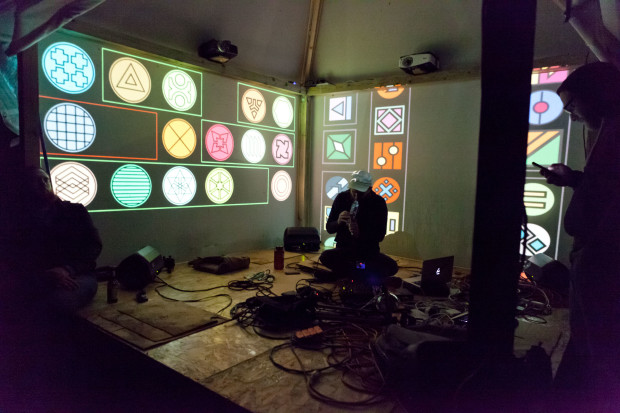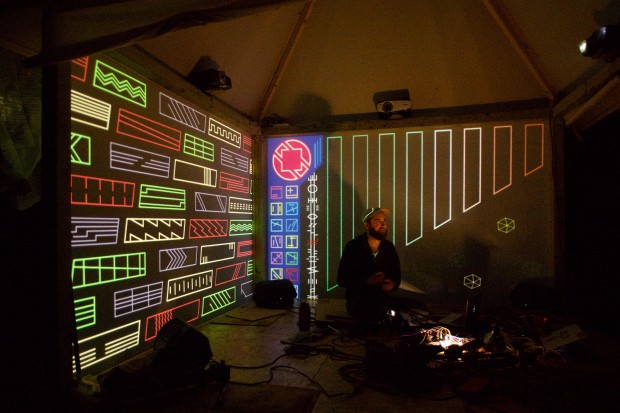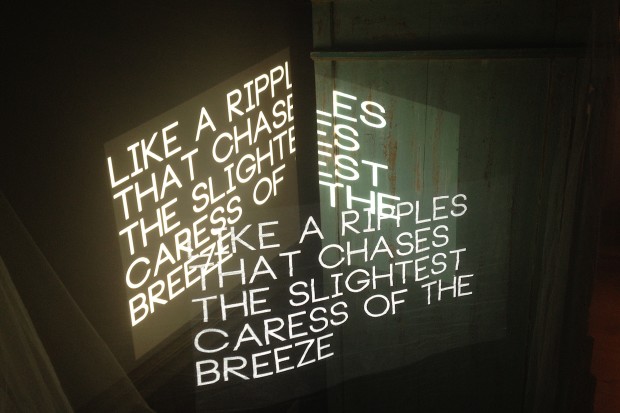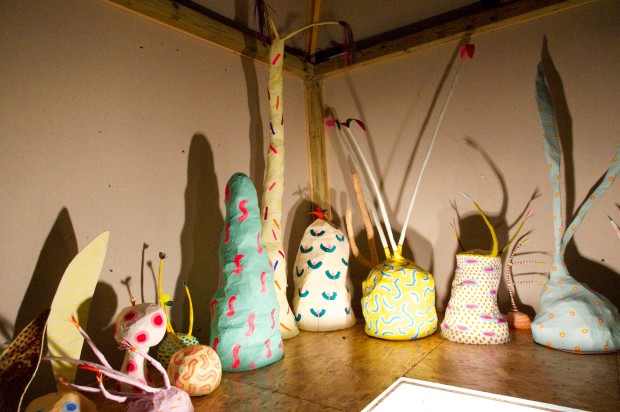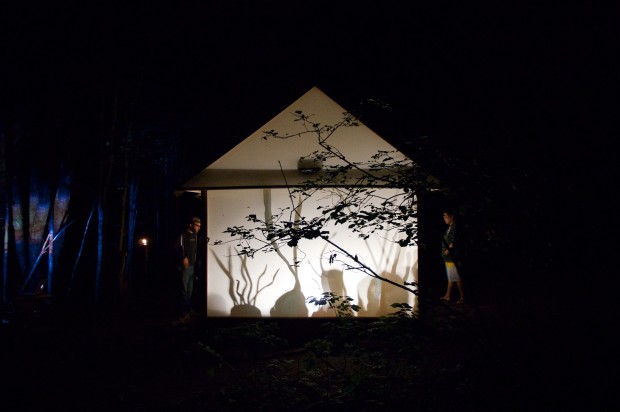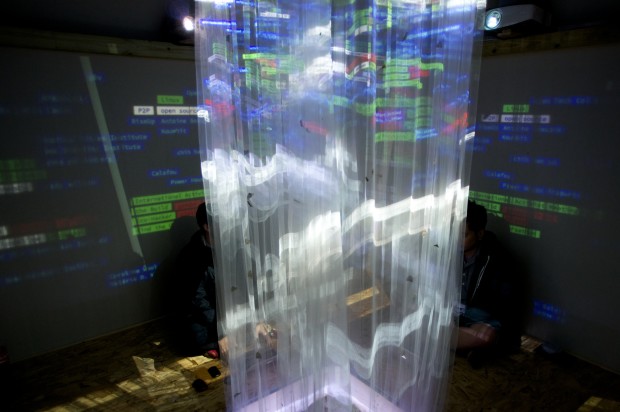 Other Ways You Can Help
Share this campaign with your family and friends and follow us on social media!
What You Get (Campaign Perk Details)
$25 – Biome Arts Zine 
An original design first edition Biome Arts zine with the Eco_Hacking Manifesto
$50 – Kickass Coasters
An original design first edition Biome Arts zine with the Eco_Hacking Manifesto
Set of 4 lasercut Eco_Hack 2016 coasters by Biome Arts member David Kim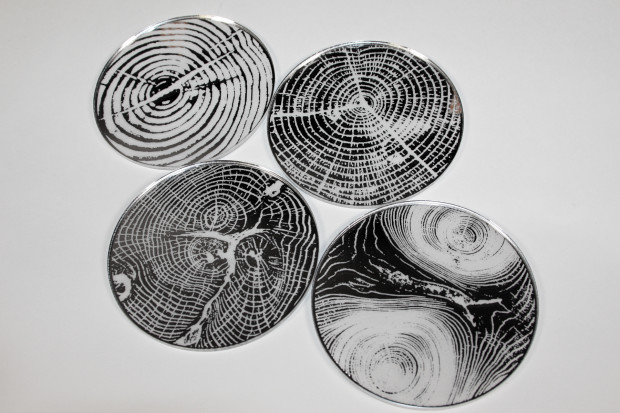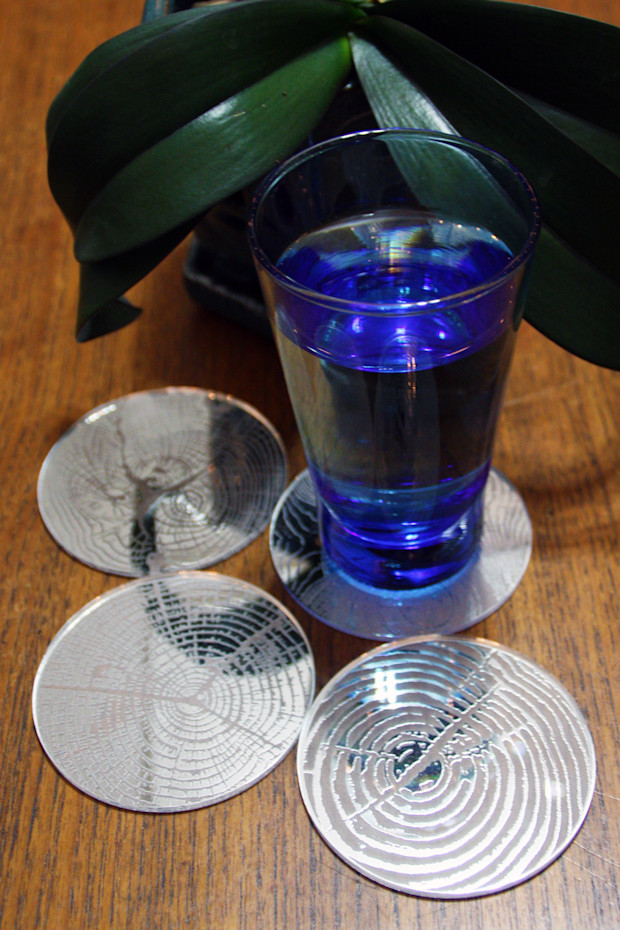 These stylish coasters are made of mirrored acrylic that is laser-etched with the real wood end grain patterns shown here. Dimensions: 1/8″ (3.175 mm) thick and 3.75″ (95.25mm) diameter.
$100 – Swale Cyanotype Print
An original design first edition Biome Arts zine with the Eco_Hacking Manifesto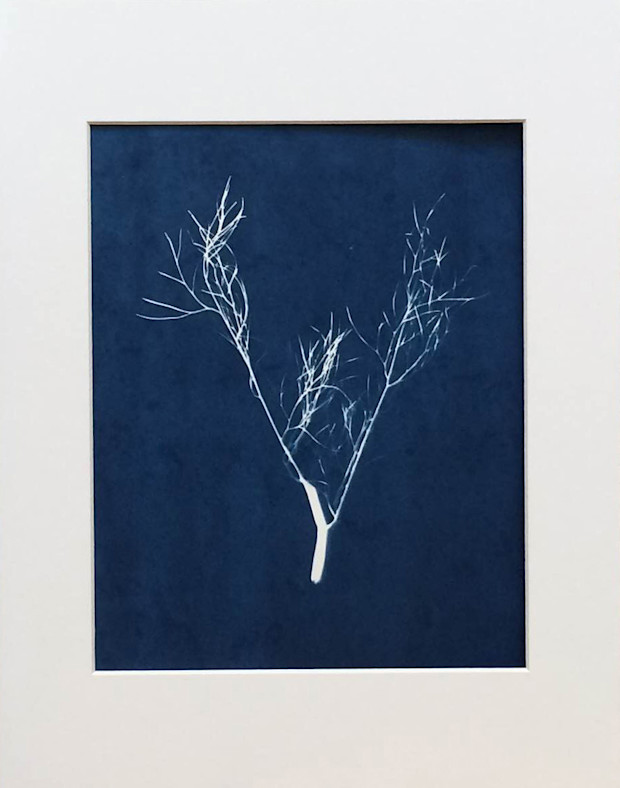 Rhizosphere prints creates one-of-a-kind botanical prints using the historical cyanotype process. Cyanotype is a 19th century printing processes known for its lush blue tones. All perk cyanotypes are one-of-a-kind 9 x 12″ (23 x 30.5 cm) prints created by placing plants directly onto paper and exposing them to the sun. All images are made using plants grown on Swale (mat not included.)
$250 – Print + Lump Nubbin – Only 15 Available!
An original design first edition Biome Arts zine with the Eco_Hacking Manifesto
Set of 4 lasercut Eco_Hack 2016 coasters by Biome Arts member David Kim
Handmade, one-of-a-kind cyanotype print of a plant on Swale made by Rhizosphere Prints
Small Lump Nubbin sculpture by Biome Arts members Adam Frezza and Terri Chiao
Lump Nubbins – mixed media paper pulp sculptures on concrete base
Junk mail, old bank statements, scrap paper, and newspaper are torn apart and stewed together for several days to create a pulp. The pulp is pressed in our hands or through a screen, forming lumps that are then carefully transformed with paint, plaster, and other mixed media
$250 – 3 Swale Prints – Only 15 Available!
An original design first edition Biome Arts zine with the Eco_Hacking Manifesto
Set of 4 lasercut Eco_Hack 2016 coasters by Biome Arts member David Kim
Set of three unique cyanotype prints of plants on Swale by Rhizosphere Prints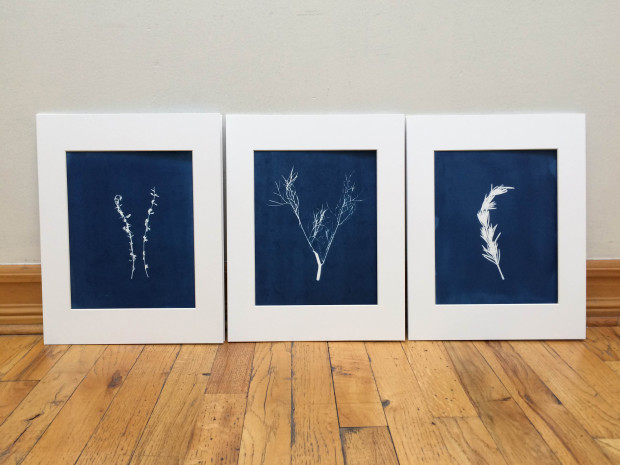 $500 – Super EcoHacker Skill-Share
An original design first edition Biome Arts zine with the Eco_Hacking Manifesto
Set of 4 lasercut Eco_Hack 2016 coasters by Biome Arts member David Kim
Set of three unique cyanotype prints of plants on Swale by Rhizosphere Prints
Please CHOOSE ONE of these services provided by Biome Arts:

Consultation with David Kim to create a custom laser etched art piece based on your photo/image
Sally Bozzuto of Rhizosphere Prints will work with you to design and create a custom made cyanotype print using plants or image of your choice
2hrs with Chihao Yo and Saito Group on a consultation on the code, user interface and graphic design of your, your business' or your community group's web platform (via video call)
$1000 – Ultra EcoHacker Skill-Share
All $500 level perks +
Please CHOOSE ONE of these services provided by Biome Arts

5*1 hour photo lessons (NYC or via video call): photography basics or advanced photography with Brooklyn-based photographer and Biome Arts member Sally Bozzuto. Specializations include camera, Photoshop, Lightroom, lighting, alternative process photography and film photography
5*1 hour sessions with Chihao Yo on how to code for your social activism with d3.js (Taipei, Taiwan or via video call).
5*1 hour sessions on digital fabrication (Providence, RI): 3D printing, laser cutting, UV printing CNC technologies, plotter, vacuum forming, etc.
5*1 hour lessons in creative coding from Saito Group: Processing (general creative software: data visualization, animation, etc.), Python (natural language programming), p5.js (visual web coding). (anywhere in the world, via video call)
$5,000 – Mega EcoHacker Skill-Share
All $1,000 level perks +
5 hours of consultation with Biome Arts Core members on 21st Century Technology, Arts and Industries (Information Science, Bio-Tech, Digital Agriculture, Renewable Energy and Distributed Governance for Organizations) as it applies to you, your business or your community (anywhere in the world, via video call)
If you are in NYC during Eco_Hack 2016 (July 15th to August 15th), the core members of Biome Arts will take you on a personal tour of Swale and our installation, as well as out to dinner and drinks
Questions? Comments? Contact us at biomearts@gmail.com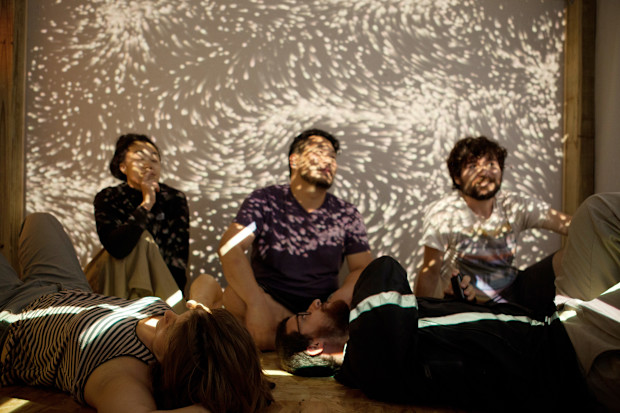 Find This Campaign On