iCrowdNewswire - Apr 30, 2016
by Zac Adams
Welcome to the crowdfunding campaign for our feature documentary, "IRON WILL: Veterans' Battle with PTSD".  A powerful journey into the minds and lives of Veterans suffering and battling with some form of post-traumatic stress disorder, (PTSD); a disorder that claims the lives of 670 Veterans a month. That's over 22 people a day!
Things YOU should know:
Why is this film important to us? This is more than "just a film" to us filmmakers; it's a way to engage and bring awareness to an important issue that has affected so many people including us. In fact, many of us have lost dear friends and family to PTSD (mental illness/depression via suicide).  It's painful and heartbreaking. As filmmakers, and most importantly, human beings we ask ourselves, what can we do?  Our answer is to make this Documentary!
Who's on the team? Our filmmaking core includes award-winning film Producers Zac Adams and Tim VandeSteeg; Director Sergio Valenzuela, and Co-producer/DP Mike Stryker. Together, with the rest of our passionate team and partners, we thank you for taking the time to review our campaign and for your support.
 
Tell me a little about the structure of the film. The spine of "IRON WILL" are the personal stories shared by multiple Veterans firsthand experiences of battling PTSD. These interviews are both powerful and insightful and involve Veterans from various wars. Family members, experts, and  specific organizations that deal with PTSD daily also share their unique and perspective.  Artistically, we will be supplementing off-camera interviews with dramatic re-enactments (like "Man on Wire"), and taking the audiences into the minds and memories of veterans to create suspense, empathy and, most importantly, understanding for the men and women living with PTSD.
 
How will I be able to see the the film? On completion of the documentary we will screen the film in multiple film festivals, along with proceeding with conventional distribution avenues. Though it is our intention to use the film to make a positive impact in lives of Veterans and people battling PTSD. Specifically, we will share IRON WILL with various Veteran and PTSD organizations, support groups and communities as way to educate, encourage and enlighten as well as a potential fundraising tool for many of those specific groups and organizations.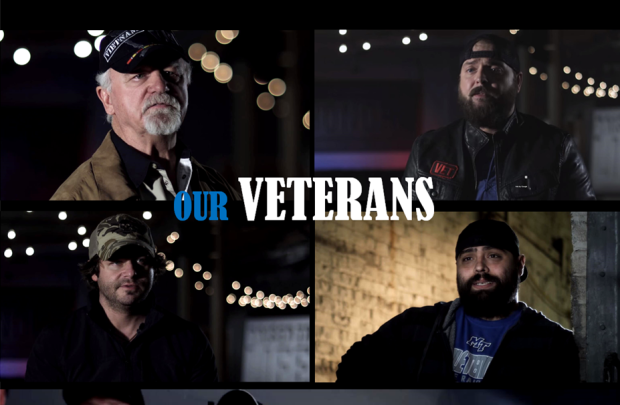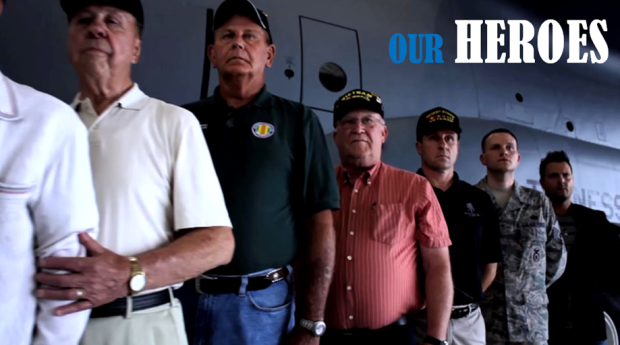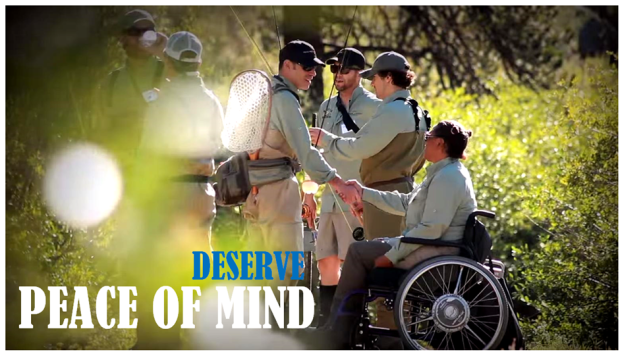 OUR CAMPAIGN GOAL $40,000 
(With a "stretch goal of $75,000″… any additional funds over the stretch goal will be allocated towards the Marketing and Distribution of the film.)
Most importantly, your contributions will help bring awareness  to the struggle of Veterans living with PTSD.  
Recent Accomplishments: 
– Secured a talented and passionate production team.
– Secured Academy Award-winner Billy Bob Thornton as the film's narrator.
– Already filmed over a two dozen powerful interviews with Veterans, family members, organizations throughout the United States.
– Recently, we filmed country music star and Veteran supporter Charlie Daniels and Big Kenny of Big & Rich. Grew

You have an opportunity to receive a variety of very cool perks and rewards for your contributions.  Just go through and select what donation level and perk you want to receive, and then click on the Contribute Now button… and that's it.
Please contribute whatever you can to help us get this story out in the world and together we'll create the positive momentum.
Besides our eternal gratitude, you will have the satisfaction of knowing that your contributions and support has made this film possible
EXCLUSIVE "IRON WILL" Commemorative Coin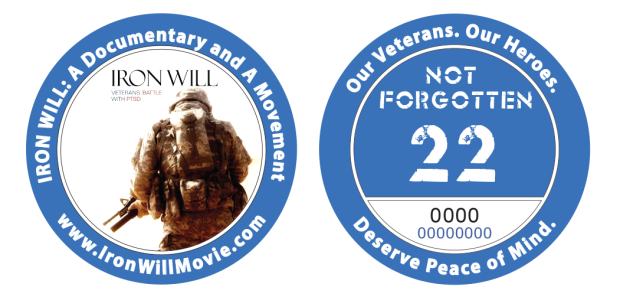 EXCLUSIVE "IRON WILL" CROWDFUNDING T-SHIRT
(This is a mock up, the final design may slightly change.)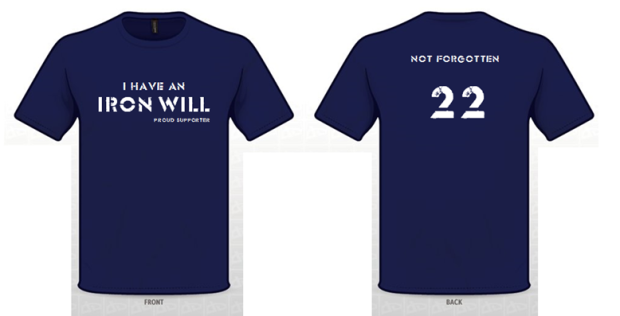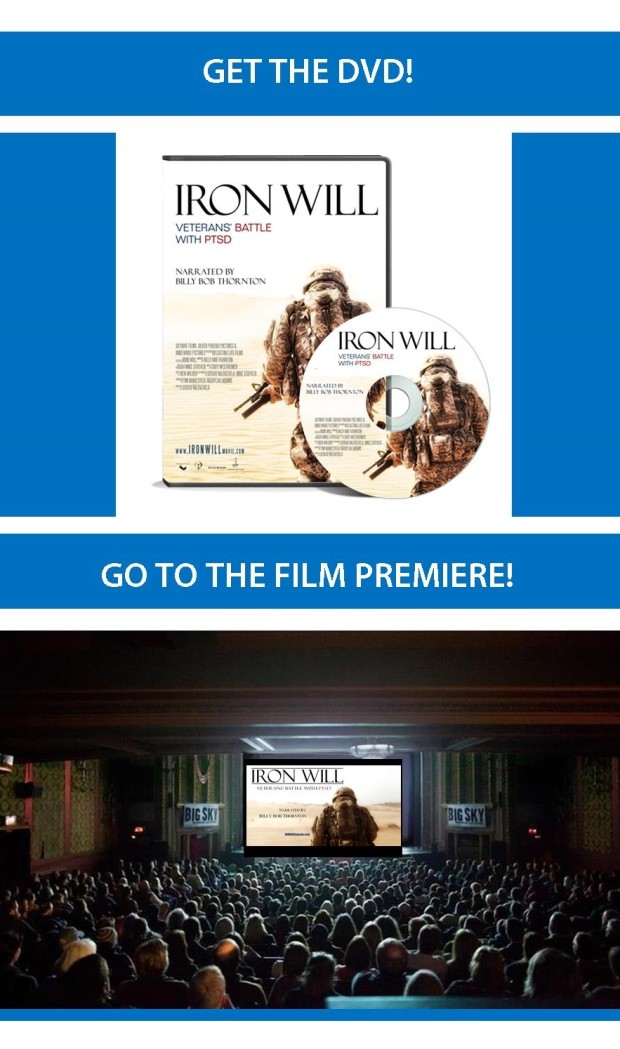 WRITER/PRODUCER: Zac Adams is an award-winning filmmaker and CEO of Skydive Films. Most recently, Zac directed and produced the Midsouth Emmy nominated AUTISM IN AMERICA; a film focusing on autism acceptance and awareness. It's narrated by "Grey's Anatomy" star, Chandra Wilson and premiered in October of 2015 at the Twin Cities Film Festival.
Previously, he directed and produced the Midsouth Emmy award-winning HUNGER IN AMERICA; which highlighted the hunger crisis happening in America's own back yard. The film was narrated by "Desperate Housewives" star, James Denton.  For more about Zac and Skydive Films, go to: www.skydivefilms.com
PRODUCER: Tim VandeSteeg is an award-winning Producer, Director and CEO of of Indiewood Pictures. Tim directed and produced the 10-time award-winning and inspirational documentary MY RUN, narrated by Academy Award winner Billy Bob Thornton, which after making a positive impact on the film festival circuit the film opened in over 500+ movie theaters nationwide.
With Tim's next film, he produced the 10-time award-winning documentary THE EYES OF THAILAND, narrated by Ashley Judd.  The inspirational film was awarded the prestigious "ACE Film Grant" from the Humane Society of the United States and had the honor to screen at the International Campaign to Ban Landmines in Switzerland. For more about Tim and Indiewood Pictures, go to: www.indiewoodpictures.com
DIRECTOR: Sergio Valenzuela is an award-winning Director, Editor, and recent Silver Telly Award winner for his documentary, MY STRUGGLE. Sergio is also the CEO of Silver Phoenix Pictures. Sergio has edited numerous award-winning documentaries, most recently the Midsouth Emmy award-winning HUNGER IN AMERICA by Skydive Films, in association with Casting Life Films and Indiewood Pictures.
Sergio's perspective brings a unique vision to the film as a director, Veteran and someone who is battling PTSD himself.  For more about Sergio and Silver Phoenix Pictures, go to:www.silverphoenixpictures.com
Co-PRODUCER/DP: Mike Stryker, owner of Casting Life Films, is a three-time Emmy, Grammy nominated, 9-time Golden Addy Award winner, and two – time silver Telly winner for producing, directing and cinematography.
Mike  has received numerous awards for short films and commercial work as well. He has produced four feature documentaries narrated by celebrities such as James Denton of "Desperate Housewives", which received an Emmy. Others celebrities include Chandra Wilson of "Grey's Anatomy", and Oscar and Golden globe winner Billy Bob Thornton.  For more about Mike Casting Life Films, go to: castinglifefilms.com
EXECUTIVE PRODUCERS: Judy Diethelm and Rob Moore, Co-Founders of WagTree; a company specializing in the identification, development, and distribution of new business concepts, talent, and content. With extensive backgrounds in branding, marketing, management, media development, and public relations, WagTree is one-stop shopping for clients who want their brand, business, or story to achieve its fullest potential. The Global Give Network℠ (GGN) is an innovative turnkey marketing program, focused on creating a network of passionate people committed to giving, fundraising, and helping others.Global Give Network is a WagTree, LLC program.