iCrowdNewswire - Apr 20, 2016
CoWatch: The Most Affordable High-End Smartwatch
Productivity in style. The world's first Amazon Alexa integrated smartwatch.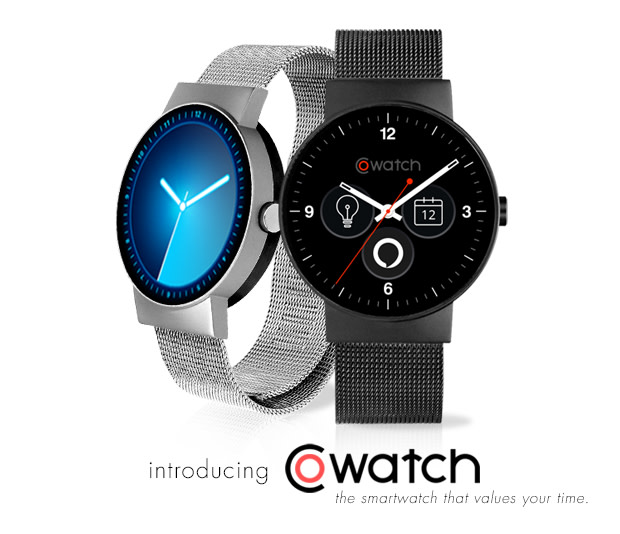 With a design philosophy that marries style with accessibility, CoWatch packs next-level features, while being one of the most affordable smartwatches on the market. As the world's first smartwatch to integrate Alexa, Amazon's advanced voice-recognition software, CoWatch is your perfect companion into the future.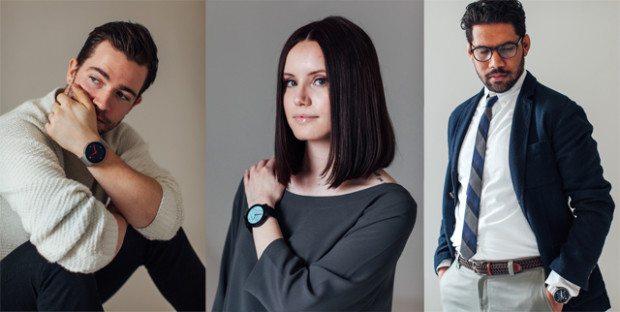 Take the leap with the next generation of smartwatch technology.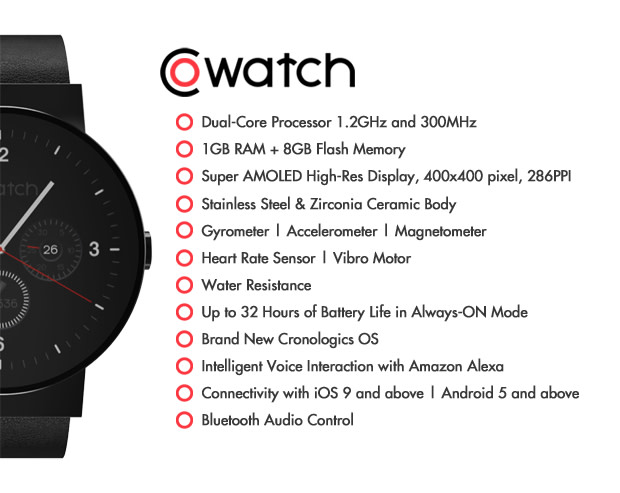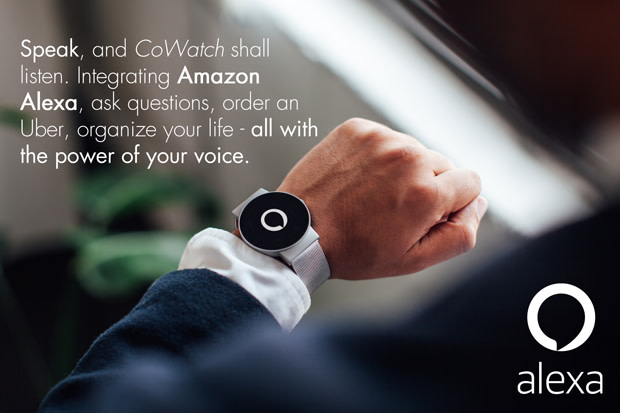 Speak, and CoWatch will listen. As the first smartwatch to integrate Alexa, Amazon's cloud-based voice service, you can ask for a traffic report, control connected devices, make a phone call to a friend, order a taxi to your home, pay your bills, and so much more.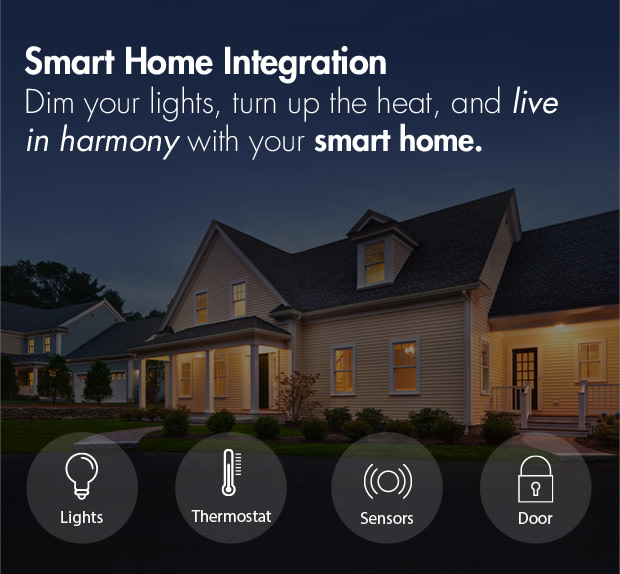 Your smart home is at your fingertips. The power of Bluetooth 4.1 and cloud connectivity lets you dim the lights, check on your car, turn up the heat, and interact with the devices, products, and services that matter to you most.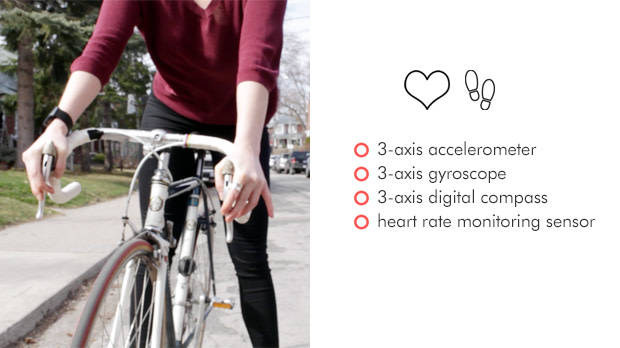 Friends encourage friends to stay healthy. Be proactive and let CoWatch sweat the small stuff. CoWatch can track your calories burned, count your steps, even monitor your heart rate after and during a workout. Using a nine-axis accelerometer, digital compass and gyroscope, as well as heart rate sensor andvibro motor, CoWatch can help you keep track of every move.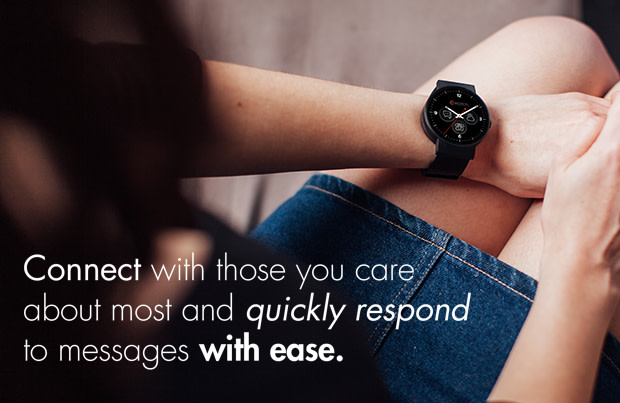 Maximize efficiency and connect with a simple touch. Send a quick response through text message, check your emails, connect to your favourite streaming service and turn on your favourite song – CoWatch can do it all.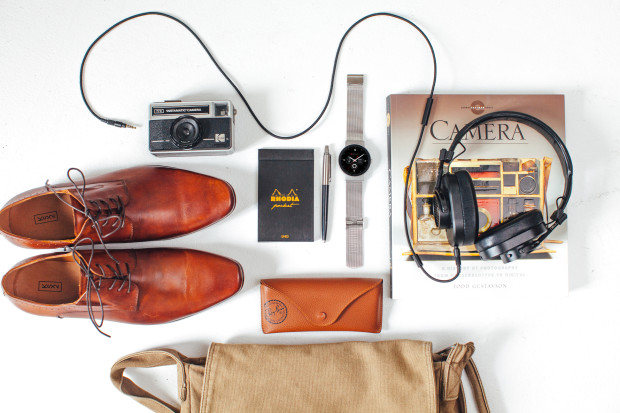 CoWatch unites classic watch design with state of the art technology. Elegantly constructed and at a price point that competes with other luxury brands, you have a choice between carbon black or mineral silver stainless steel, with a fracture-resistant zirconia composite ceramic body for excellent wireless signal. The vivid super AMOLED 400 x 400 high-resolution touch screen has an interchangeable and reactive watch face, catering to your mood, experience, and look, from day to night.


Hand pick the watch face that matches your mood. Professional? Minimalist? Fun? We've created a variety of watch faces to choose from that anyone can enjoy. Switch on the fly and be  ready to pair with any ensemble or occasion.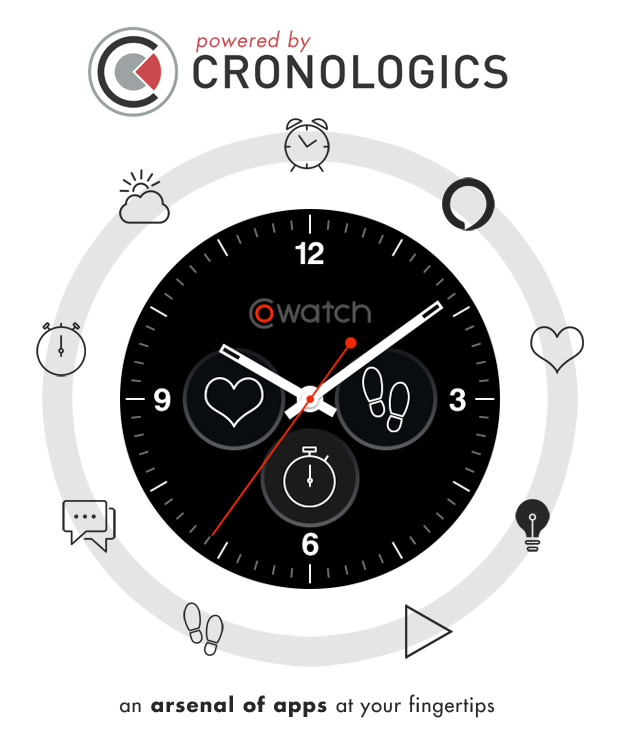 The design of CoWatch's software and hardware architectures were carefully synchronized with Cronologics, a software platform built to deliver a precise next generation smartwatch experience. The essentials, and then some – app developers will also soon have an opportunity to get involved to build a unique experience on every CoWatch.
iOS? Android? You're covered. CoWatch is designed to improve, not complicate your experience. CoWatch compliments your favourite mobile device, carefully passing information back and forth to save you time. CoWatch is compatible with both iOS (9.0 and above) and Android (5.0 and above).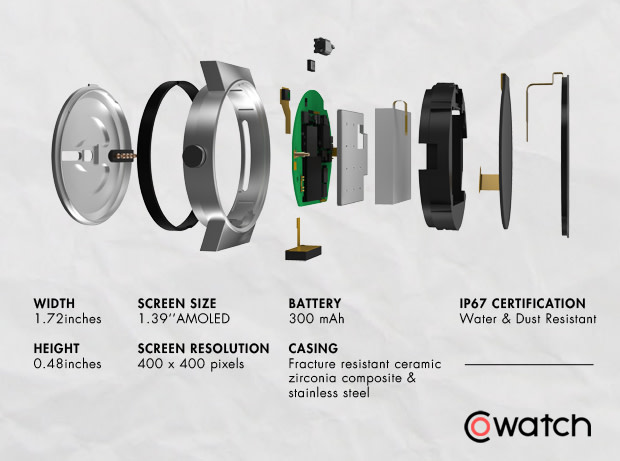 With a platform that competes in a class of its own, including an industry leading internal processing capability (1.2GHz), the cherry on top is the CoWatch is one of the first smart watches with 8GB of memory to guarantee unmatched performance.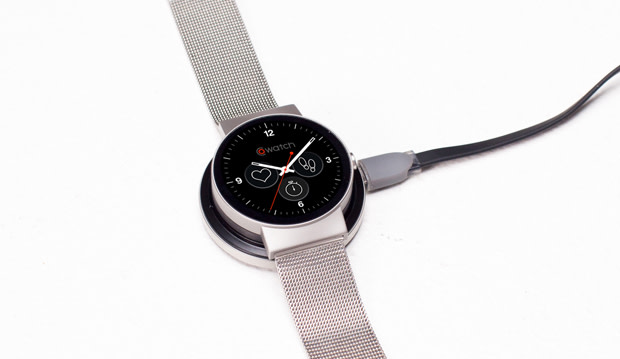 With up to 32 hours of battery life in an always-on mode, CoWatch works as hard as you do – from dusk 'til dawn. Connect directly to the magnetic charging cradle and within one hour, you'll be guaranteed up to 70% battery capacity, working as fast and efficiently as your CoWatch.





__________________________________________________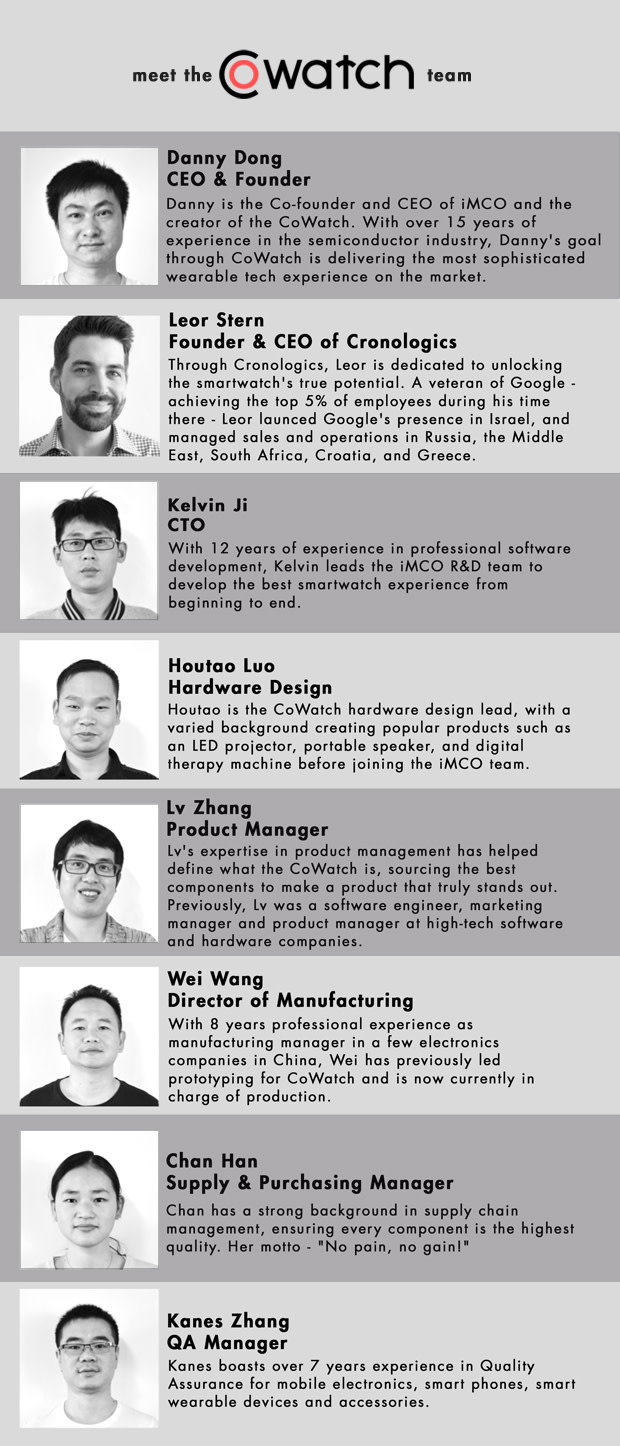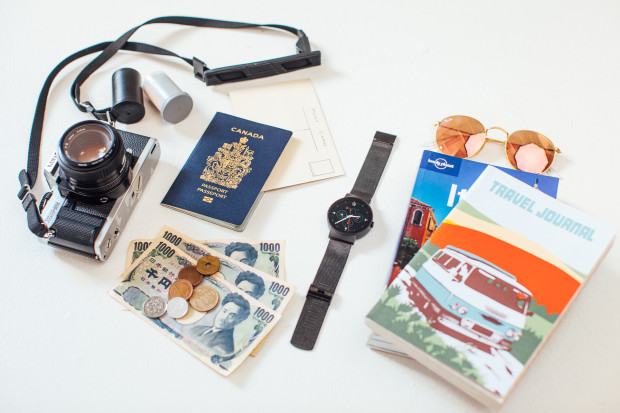 We at iMCO and Cronologics have worked tirelessly over the past year and a half to bring the CoWatch to life. Our desire has always been to create a smartwatch that's not only high-quality, but affordable and accessible to everyone. We're ecstatic to have achieved our goals with the CoWatch! 
Production is already underway with our first 800 watches, all of which will beshipped to our early adopters within 3 weeks of the end of this campaign! Early supporters will also have exclusive access to production updates, and exclusive pricing on any additional perks and accessories that roll out during the campaign. Mass production will continue throughout the campaign cycle to fulfill all Indiegogo orders and beyond.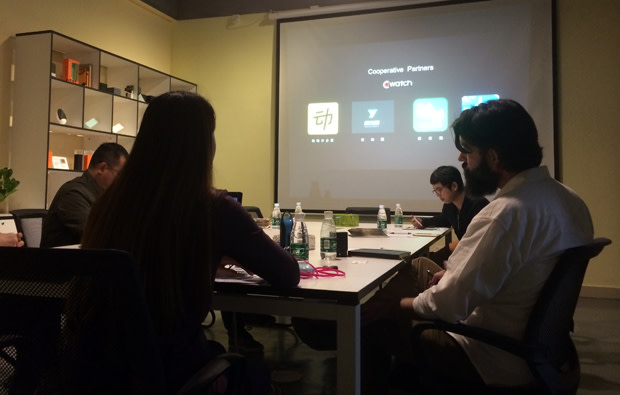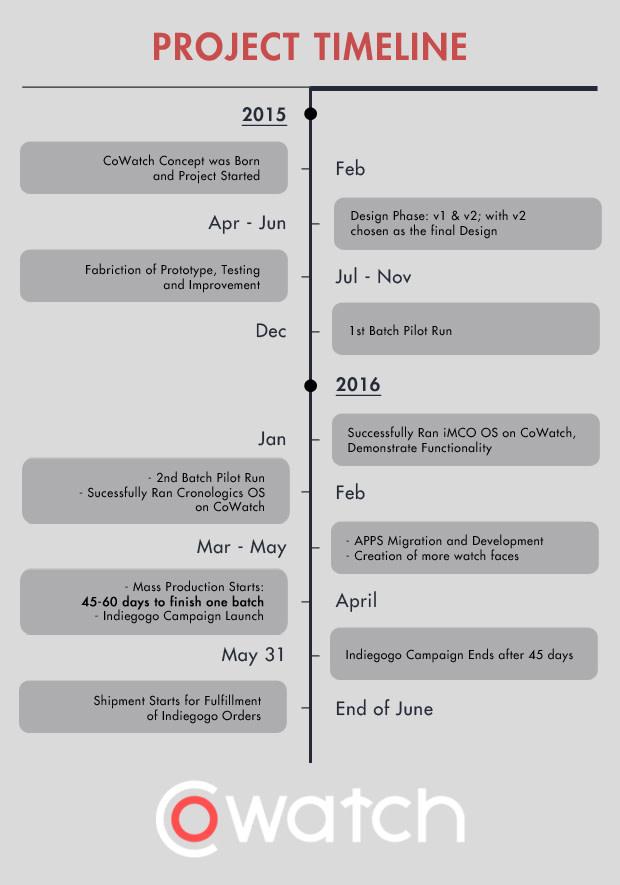 The time is NOW to join the smartwatch revolution – with CoWatch by your side!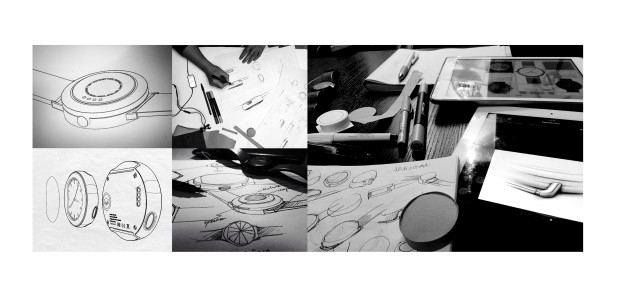 PRODUCT
Is the CoWatch water resistant? 
Yes – it's water/splash resistant, though it shouldn't be submerged intentionally! 
I have small wrists, can I still wear the  CoWatch?  
Yes! The adjustable clasp means the CoWatch can fit everyone. The band is a standardized 22mm watch band.
Can I change the watch straps easily? 
Yes – all watch packaging will come with an easy-to-use clasp adjuster allowing you to change the straps quickly and easily. 
Will the CoWatch be available in any other colours? 
Right now there are no plans to deviate from carbon black and mineral silver cases, however coloured stainless steel and leather bands allow you to customize the watch further.
Is setting up my CoWatch easy? 
Yes, your CoWatch will arrive with a easy-to-read manual with step-by-step details on how to set up. 
How do I choose the color of my CoWatch?
Once the campaign has been completed, we'll be in touch to help you choose your color – choosing between Carbon Black and Mineral Silver.
Will there be a leather band be available for my CoWatch?
Keep your eyes peeled, as we have a lot of surprises and perks coming up throughout the campaign!
Warranty info?
All consumers will have a 1 year limited warranty on parts and labor. Shipping and delivery cost is to be paid by the end user. 
BUYING & SHIPPING
When will I get my CoWatch? 
The first 800 orders will receive their CoWatch in June 2016. Orders after that point will receive their watch within 90 days. 
What if my CoWatch is broken during shipping or has defects at arrival – can I send it back?
CoWatch offers a 1-year limited manufacturer warranty. With repair centers in North America and Asia, we will ensure your product is taken care of quickly. Free shipping is provided to and from the repair center within 30 days from the date your product is received. 
How can I pay for my order? 
Indiegogo accepts Paypal and credit card payments online from Visa, Mastercard, AMEX, and Discover. 
What are shipping costs? 
Depending on where you are located shipping costs will vary. Shipping costs range from a flat rate of $10 USD in USA, Canada, and China, to $25 USD internationally. 
OTHER QUESTIONS
Email us at [email protected]! 
Find This Campaign On