iCrowdNewswire - Apr 18, 2016
You #GetToGive so that we can help children in need with education, food, water, shelter & clothing.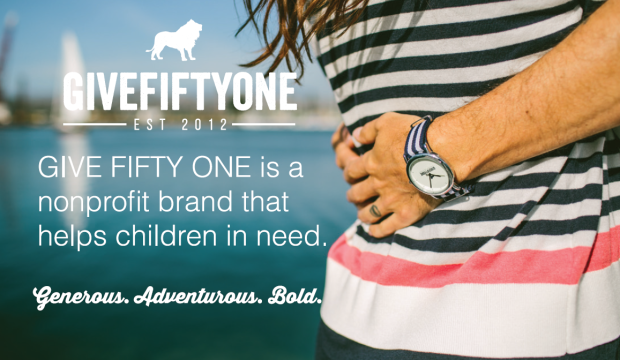 HELLO
Thank you, for taking time to learn about us! We are GIVEFIFTYONE, a nonprofit watch brand that helps children in need.
With this campaign introducing our giving model called, Get To Give: 
When you get a watch, we will give a watch & 51 keys of greatness to a child in need.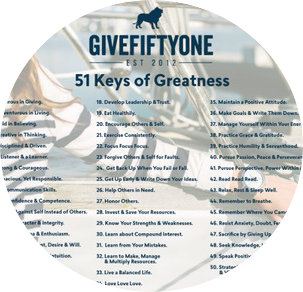 EDUCATION, FOOD, WATER, SHELTER & CLOTHING
In addition to our giving through Get To Give, we also partner with local & international organizations that help children in the following 5 areas: 1. Education. 2. Food. 3. Water. 4. Shelter. & 5. Clothing. Among other things, much of our partnership help is done through child sponsorships.
EDUCATION
We are currently giving to our partners, MCDF in Zimbabwe, Africa to provide education to children there. Our goal is to sponsor at least 17 children by the end the year, if we could, it would be great to sponsor as many as 51 children this year! The children that we sponsor attend school for three terms each year. For every $40 you give to our Spondor a Child fund, we can sponsor a child's education for one of their three terms. For every $120 you give, we can sponsor one child for their entire school year.
FOOD & WATER  – GIVE 51 CENTS CREW
Since, our partners MCDF in Zimbabwe, Africa are also experiencing food shortages due to the El Nino effect, we are specifically raising funds to get food to their children. For every 51 people that give $.51 cents to our GIVE 51 CENTS CREW food fund, we will be able to feed 100 children! Our goal is to feed at least 5100 children by the end of the year.
Also, we are giving to provide water to a village in Uganda, Africa through our partners Action in Africa. For every 51 people that give $.51 cents to our GIVE 51 CENTS CREW water fund, we will be able to provide over 100 gallons of water a month to their village!
SHELTER & CLOTHING
We have several other partners that help out in these areas, such as A Child's Place & CF Housing, so if you are passionate about providing to these areas, give to our Shelter & Clothing funds respectively.
OUR CAMPAIGN: THROUGHOUT THE YEAR
This is specific campaign is our 2nd Quarter Get to Give Campaign. Our Get to Give Campaign is continuing through out this year, & is set up in quarterly goals that will help us raise funds each quarter to meet our overall 2016 goals to help children in need. Thank you for your continued support as we proceed throughout this year!
OUR STORY 
Our story's inspirational beginning can be traced back to over a decade ago. It started with overseas orphans, it began with a 10 year old homeless child in the U.S., & it continues through a nautically inspired, generous, adventurous, bold brand culture.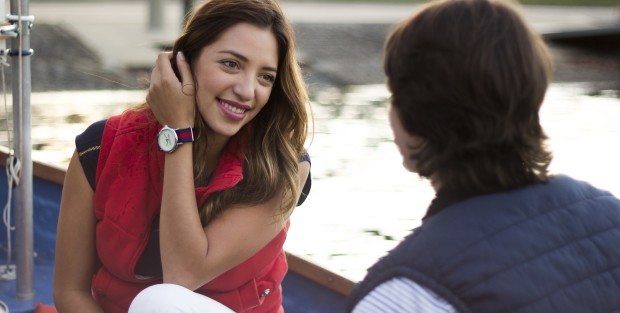 In December of 2011, Alexander Greer started mentoring at a Charlotte based mentoring program. Several weeks later, he discovered that the 10 year old child he was mentoring was homeless and that he was helping take care of his other younger homeless siblings. This realization grabbed Alex's heart with compassion and inspired him to start a movement to help impoverished children in Charlotte and beyond. So, Alex joined with his friend, Jonathan Jones to form GIVE FIFTY ONE (GFO) to help children in need.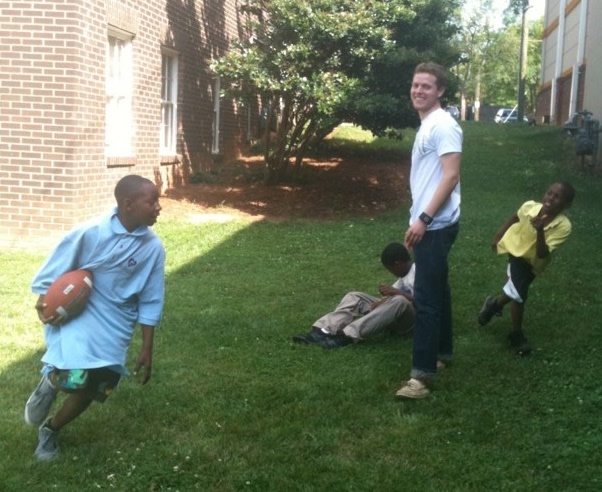 Alexander with some of the children he mentored.
Soon after discovering the homeless child, they began to research child homelessness and learned that at that time, over 1.6 million children in the United States and tens of millions of children worldwide were without homes. Jonathan and Alex soon became aware that in their own community of Charlotte alone the number of homeless children had risen from 1,038 in 2004 to 4,711 in 2011.
Additionally, Alex's mission trip to Africa in the Summer of 2011, and Jonathan's mission trip to the Dominican Republic in the Spring of 1999 exposed them both to impoverished children which planted within them a passion to one day help children in need. So after their direct encounter with child homelessness through the Charlotte mentoring program, they took action by purchasing 12 t-shirts to sell to friends so that they could use the profit to help children. After selling t-shirts, they started selling watches to bring more awareness to helping children. As of 2015, Alex and Jonathan transformed GIVE FIFTY ONE into a nonprofit brand.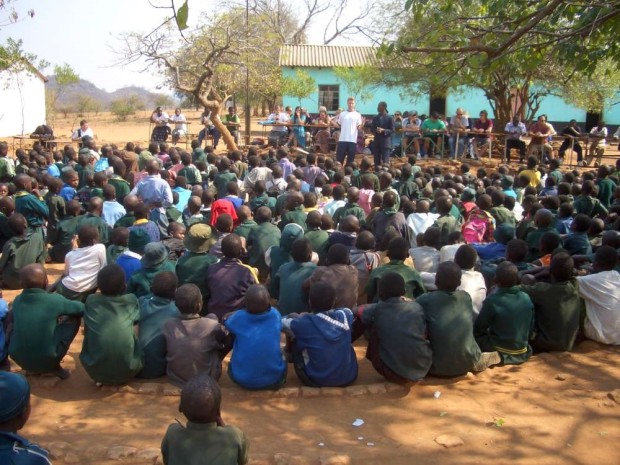 Alexander in Zimbabwe in 2011 (standing center).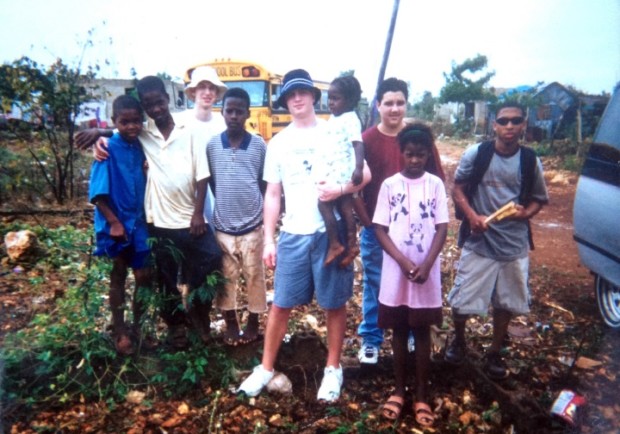 Jonathan in the Dominican Republic in 1999 (far right).
Now, we continue to help children locally, through partnering with organizations that help children in need & helps children internationally, through child sponsorships. We currently sponsor 7 children in Zimbabwe & 1 child in the Dominican Republic.
THE IMPACT: PROBLEM, SOLUTION & BEYOND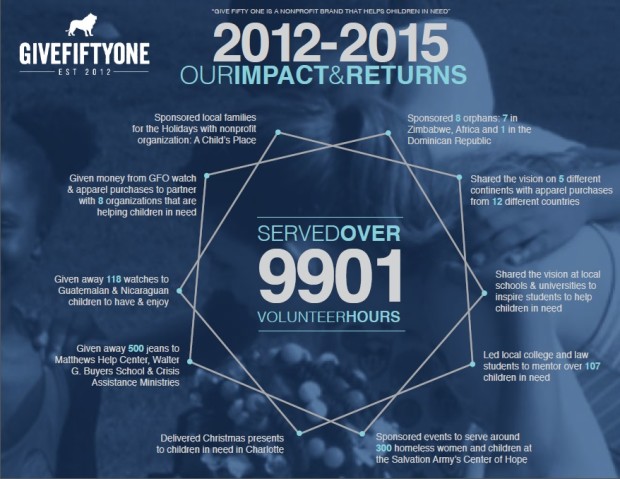 Thank you to each volunteer & supporter for helping create this impact!
As our Co-Founder Alex stated, there is a problem when there are tens of millions of children in need throughout the world. To counter that problem, we see a solution, through offering watches that provide funds to meet these needs. So, this campaign & your contribution both have value extending beyond this generation.
The value of your contribution lies not only within the GFO watch you will receive as a perk in return, but also within the life change of children that is generated from your giving. When considering which level you will back us on, remember Normally, pictured below. According to her village's reports, many sponsored children like her, have either graduated and are pursuing higher education or they have careers. So likewise, Normally's life can be made greater through your contribution!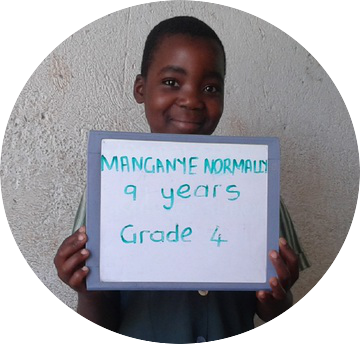 WHY THIS CAMPAIGN
First Campaign Launch ReasonWe are launching this campaign for several reasons. As stated above, we are raising funds to meet our 2016 goals. We are also using this campaign to help share our New Coast is Clear Watch with our friends, families, & beyond!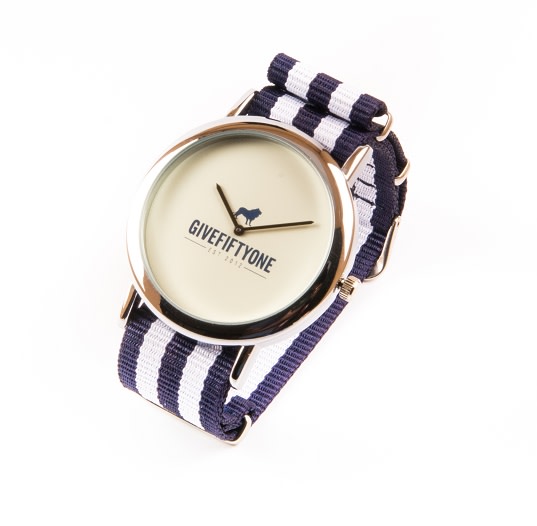 The Coast is Clear is a classic timepiece that is both stylish and comfortable to wear. In creating it, we kept it clean, with no hour marks, so that the message is clear: It's not about time, it's about a story. The story of how when you get a watch, we will give a watch & 51 keys of greatness to a child in need!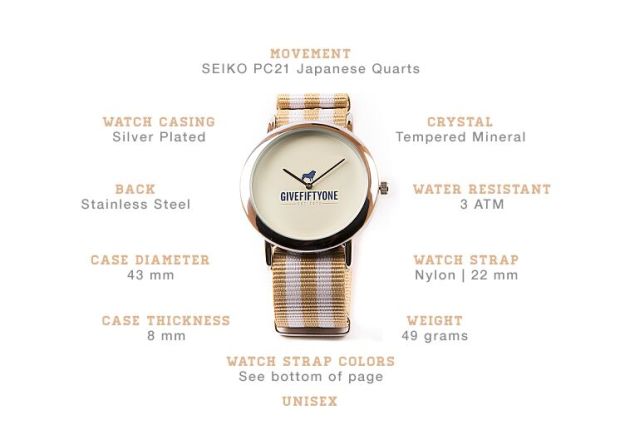 Also, when you purchase and wear a Coast is Clear watch, you are able to be a voice for children in need & share with your friends and family how you are contributing to our GIVE FIFTY ONE story, so that they are able to help also.
The Coast is Clear is great for almost any occasion. Whether you are sailing, at work or hanging out with friends, it will fit right in. And remember, when you wear a Coast is Clear, you are not just wearing another ordinary watch, you are wearing a watch with purpose.
OUR COAST IS CLEAR WATCH LINE
Below are our watch strap options: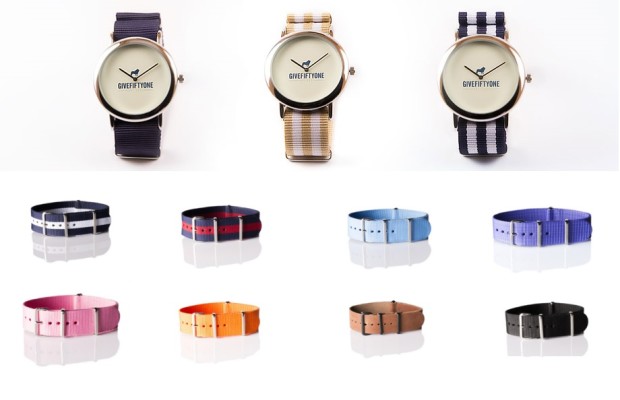 OUR COAST TO COAST WATCH LINE
ALSO AVAILABLE

Other Campaign Reasons
Additionally, we are launching this campaign so that we can meet our other goals for this upcoming year, such as doubling our child sponsorships, covering administration & improving customer experience, among other things.
WHAT WE NEED & WHAT YOU GET
With this campaign, we are seeking to raise $4,435 for this 2nd quarter. We are seeking to raise this amount so that we can feed 5100 children, provide over 1200 gallons of water to a village, sponsor at least 17 children's education, & give to provide shelter & clothing to children in need.
Additionally, this amount will help us accomplish each of our goals in an excellent, efficient & effective manner & hopefully raise more funds beyond our goal to help us grow as a organization!
Aside from this amount we are raising, we plan to be able to use our post-campaign watch sales from the rest of the 2016 year & beyond to be able more direct giving to help children in need.
In return for your contribution, you  get a perk, one or more of our watches. Also, when you contribute, you are both becoming part of Our 2015 Launch Team & additionally, helping us reach our goal!
OUR PLAN
1. Launch Go To Give 2nd Quarter Campaign on March 19th, 2016.
2. End Campaign within 60 days of start, by May 16, 2016.
3. Send your perks to you within 60 days after Campaign, by July 15, 2016.
4. Sponsor 17 or more children in need by year end 2016.
5. Feed at least 5100 children by year end 2016.
6. Provide over 1200 gallons of water by year end 2016.
RISKS & CHALLENGES
The risk that we foresee are as follows:
The timeline risk of fulfilling your perks after our campaign  completion is a 2 month duration. As stated above,we are estimating that your watches will be shipped out within 2 months after completion of our campaign, which ends on May 16, 2016. So, your watch(es) should be sent out by July 15, 2016. Sometimes manufacturing & shipping delays can occur, if they do, we can keep you posted on any delays, if necessary.
We do not believe the timeline risk is an obstacle we can't overcome. Our team is dedicated to getting your perks to you in a timely fashion.
We have set our campaign to flexible funding so that the risk of not reaching our goal is outweighed by the benefit of keeping all the money we do raise. We plan to use the money raised according to our budget & priorities. If we do not raise the entire amount, we will adjust our budget, so that we meet our priorities first.
FREQUENTLY ASKED QUESTIONS 
Are you a non-profit? Can I write-off my contribution with my taxes? Yes, GIVE FIFTY ONE (GFO) is registered as a public 501(c)(3) nonprofit, GFO donations are tax-deductible to the extent permitted by law. Contributions made when receiving a perk are not tax deductible for the amount of the value of the goods received. In other words, since our watches are discounted, they are not tax deductible, unless you contribute an extra amount exceeding the perk price we have listed. Each of our pure donation perks are tax deductible, since you will not receive any good or service of value from them. GFO's tax ID number is 45-5265575.
How can I get a tax deductible receipt? When you contribute, you will receive an email from FirstGiving (Indiegogo's nonprofit payments processor) confirming your contribution.  This email receipt can be used for tax deductible purposes. For all contributions over $250, you will receive an official receipt for tax-reporting purposes by email after the the campaign ends.
How do I select which strap I want with my watch?
For watch strap selection: See our available strap options in middle of campaign page. Choose a strap color & e-mail your selection to watchstraps@givefiftyone.org
*If ordering your indiegogo perk on a mobile device, email strap color choice to watchstraps@givefiftyone.org. 
If choosing a striped navy strap with your perk, please specify in comments section which exact striped navy strap, i.e. striped navy double white, striped navy single white, or striped navy single red.
OTHER WAYS YOU CAN HELP
If you are not able to contribute, that doesn't mean you can't help.  Will you consider getting the word out & making some noise about our campaign? You can use Indiegogo's share tools for social media or email.
THANK YOU
Thank you for your time & help!
Sincerely,
Jonathan & Megan & The GFO Team
Find This Campaign On