iCrowdNewswire - Apr 13, 2016
The Atom – The World Is Your Racetrack
The ultimate first person view (FPV) micro-racing drone.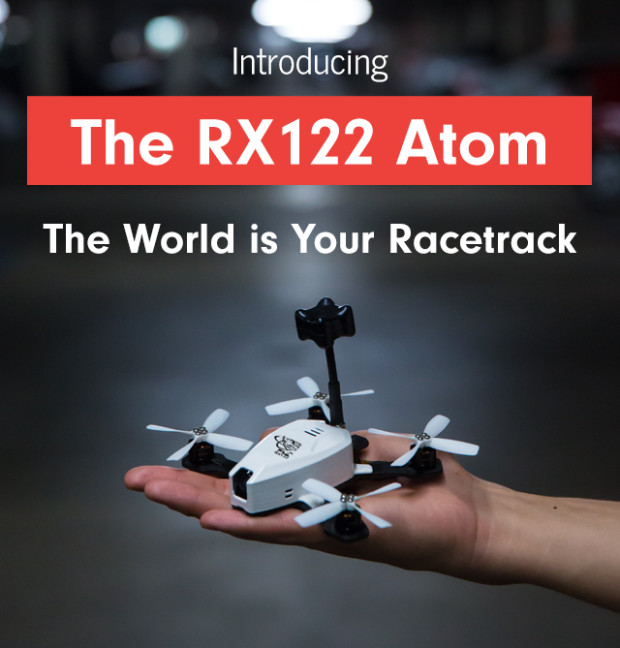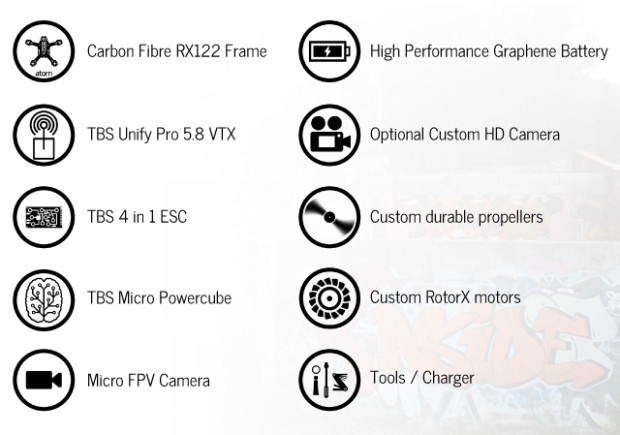 This is the ultimate out of body experience. It puts you in an entirely new dimension with your surroundings. Feel the thrill of flying like you've never had before. Putting you in an entirely new dimension with your surroundings. 
Real-Time First Person View (FPV) Video Feed
First Person View lets you experience flight as if you were sitting in the cockpit of your very own drone. You see what your drone sees, controlling your drone with manual control.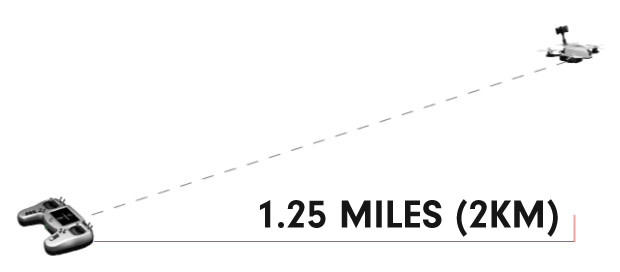 No Latency Over Huge Distances
The Atom is equipped with an industry leading FPV system, meaning you pilot the Atom via a crystal clear, realtime video feed, with no latency over huge distances.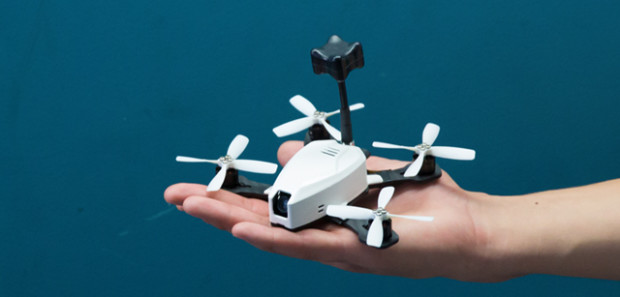 Superb Handling
RotorX micro drones are designed for maximum functionality and performance. Our lightweight drones are optimized for fast speed, superb handling, and immense power.


The Atom weighs less than 5 ounces, well under 250 grams, so No FAA registration is necessary.
The RotorX Atom is a 122mm size quadcopter, half the size as our competitors. Larger drones need more space to fly in, while the Atom can fly inside the house, or out in a huge field, and everywhere in-between.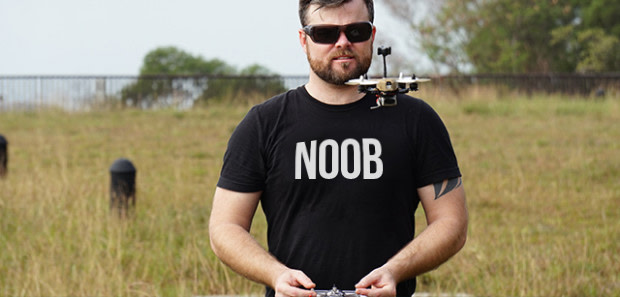 Perfect for learning FPV
Our Ready-to-Fly (RTF) packs are put together by our expert team and shipped directly to your door. All you have to do is open the box, pop in some batteries, and find a friend to race.
Get Support From a Worldwide Community
Support is provided on multiple social media platforms and forums from hundreds of existing pilots. A dedicated team of RXTechs will be available worldwide to provide support in your language and timezone, so you can get technical support from someone near you if required. This reduces downtime and shipping costs if you ever have a problem.


Cutting edge drone technology meets open source development. RotorX are the pioneers of micro scale drone racing technology, including custom designed high performance motors and propellers.
Atom was designed from the ground up by pilots for pilots. With over 1000s of hours of beta testing, our prototypes have been tried and tested by over a 500 different drone pilots.
Go ahead and crash it. The Atom can handle it.
The Atom is reliable, resilient, safe and affordable. Crash it over and over and over again. It's lightweight, carbon fibre construction makes it the most durable racing drone on the planet. All components are easily repairable, customizable and readily available.



Customize Your Atom or Build It Yourself
Get our DIY or RTF packs and customize to your heart's content.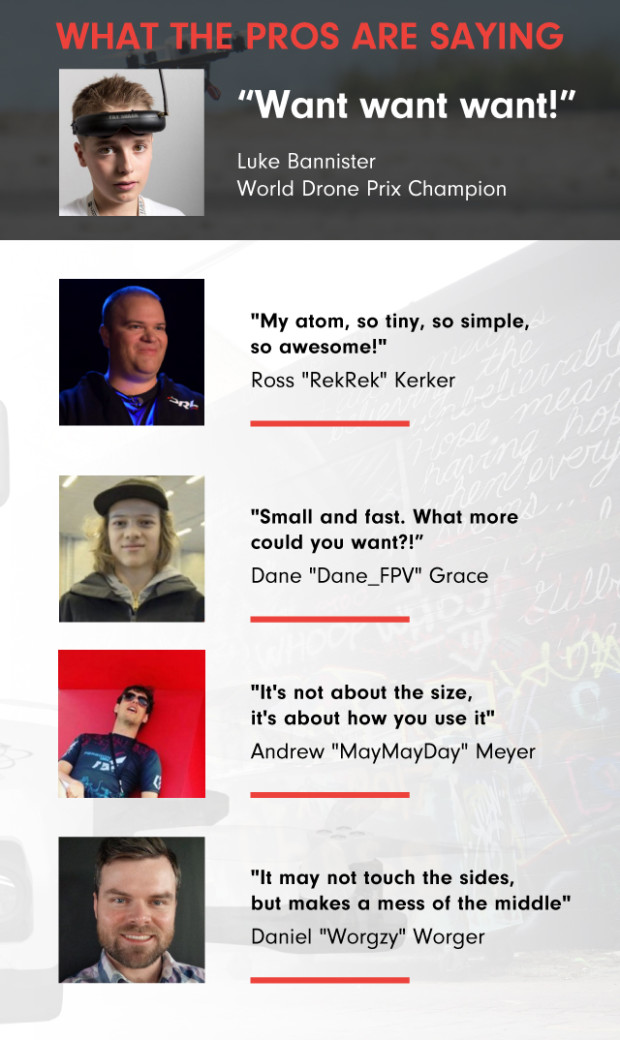 Want to start right away?
First time pilots or those not looking to put the drone together yourself should get our Atom Racer perks. These come with a fully assembled ready-to-fly Atom Racers.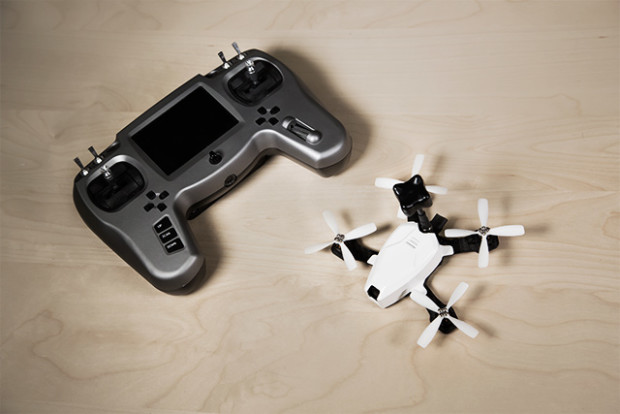 Want to build or customize your Atom?
If you are looking to build the Atom Racer yourself, you should get our Atom Racer DIY perks. These come with all the parts necessary to build your own Atom Racer. Estimated build time is only 30 minutes!

Experience flying like never before with FPV Goggles
Imagine the freedom of soaring over the earth, the thrill of skimming tree tops or the rush of screaming along inches from the ground; you'll need the "Atom Racer + FPV Goggles" perk which comes with the FatShark Dominator V3 FPV goggles.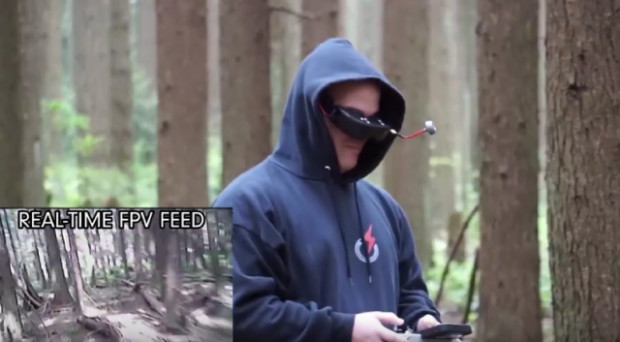 Add Upgrades to your order AFTER you back one of our Atom perk levels.
BUNDLES
PRO Bundle Atom Upgrade – $99
*SHIPS IN SEPTEMBER
INDIVIDUAL UPGRADES
PRO Atom Upgrade – $25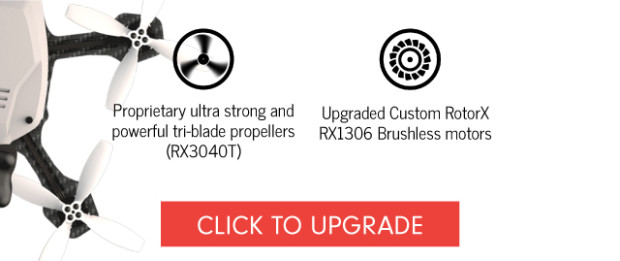 HD Camera Atom Upgrade – $69
*SHIPS IN SEPTEMBER

Custom Atom Carry Case – $19
*SHIPS IN SEPTEMBER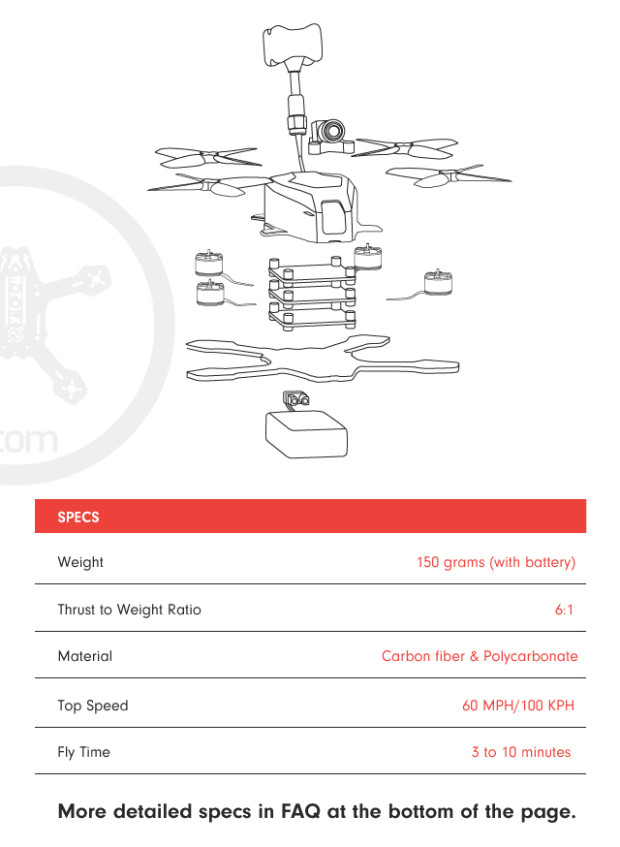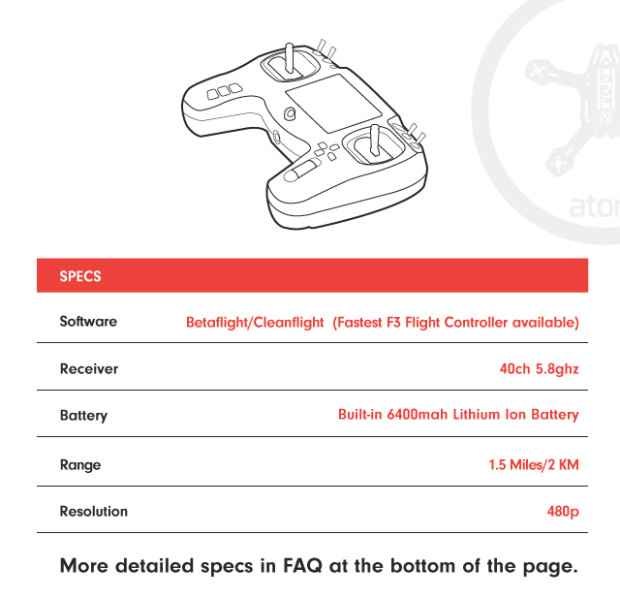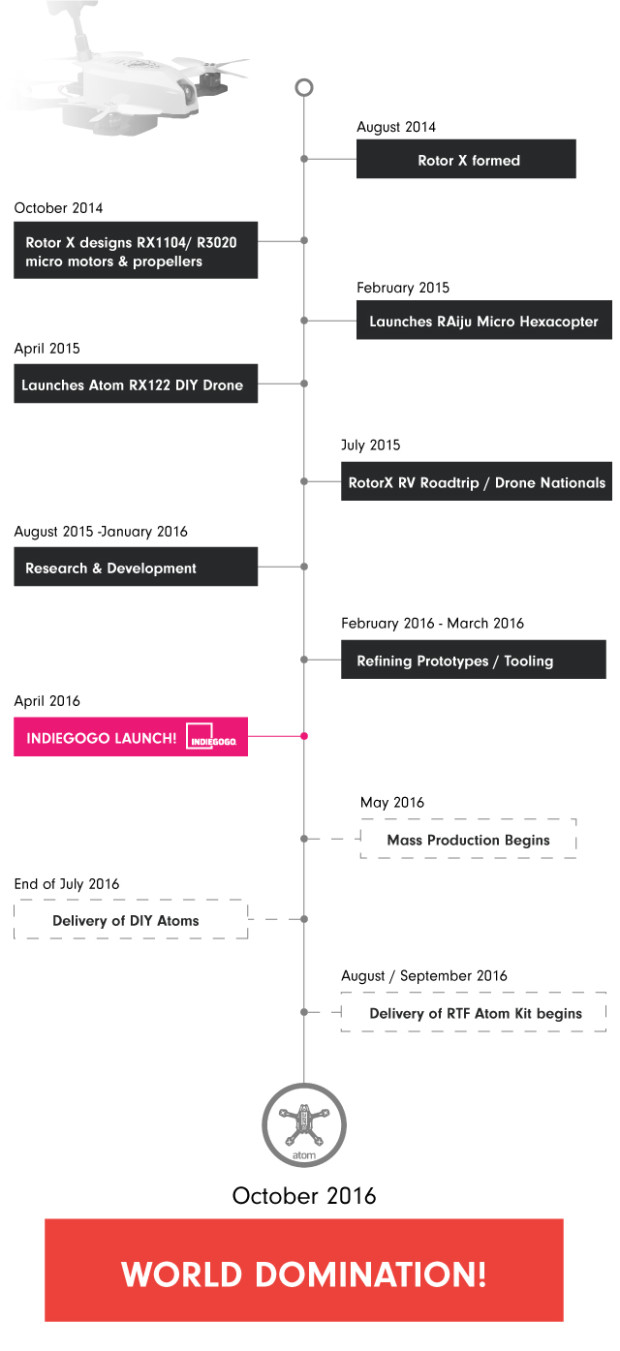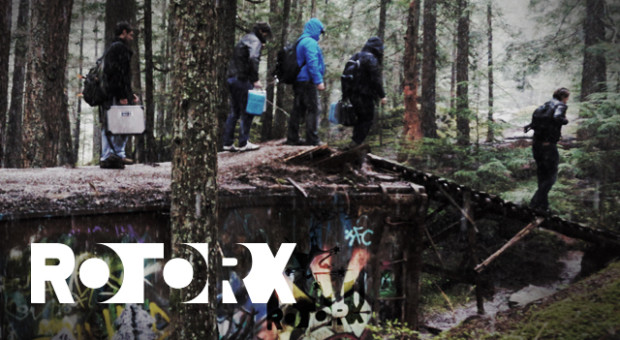 RotorX has been around since the formation of drone racing as a sport. We're a small group of drone racing pilots not desk bound engineers. Our company has been vetted by the community and we're partnering with the top brands and organizations to make the sport of drone racing fun and accessible to all.

ABOUT

Why Crowdfunding if you are already selling the Atom V1?
RotorX was formed by a small group of FPV pilots/friends that got together regularly to fly for fun, it wasn't long before we wanted to see how small we could make an FPV racing drone to let us fly in more places than our larger, expensive, noisy and fragile drones could handle.  Our experience as pilots and technical ability as engineers and designers put us in the unique position of being able to design products that were so far ahead of the curve that we were regularly called crazy and dreamers.  Fast forward 12 months and RotorX motors and propellers are some of the most heavily cloned drone products in the market.  RotorX micro drones the RX155 raiju and RX122 atom have led a trend in the community towards smaller safer racing drones, that was recently validated by the FAA ruling on no registration required for drones less than 250grams.  Our lack of an international distribution network and financing to create large volumes of our cutting edge designs left the door open for an army of zombie cloning companies that wanted to capitalize on our popularity and designs.  We need Indiegogo to help us keep creating next level products while also pushing down costs to the customer, so that more people can afford to get into drone racing safely and share in the amazing experience of being a FPV drone pilot.  Whether it is for racing competitively, with friends or just for fun!
What flight modes does the Atom V2 racer come with?
Because the Atom is designed for many different skill levels, the default mode will have low power self leveling flight mode that is a good starting point for getting used to the basic controls.  There will be several pre-programmed switches for intermediate and advanced levels of flight that will allow you to really surf the skies and race if you so desire.
Does the Atom V2 have GPS, Return to Home, Follow me mode and Wi-Fi control to my smartphone?
The simple answer is NO to all of those, for many reasons that we will try to explain.  You don't have to look very hard to find drones that have had situations where these "automated" control modes have failed, and there are many ways they can fail.  Solar flares, poorly designed hardware/software, cloud cover, and obstacles like trees and mountains are just a few of the reason why even the most expensive GPS controlled drones are susceptible to "fly-aways" let alone the cheap, low quality – but affordable – ripoffs, that flood the market.  At RotorX we feel like why should we rely so heavily on a system so proven to fail so often? Why should a robot have all the fun of flying?  The Atom, like most pure racing drones, lets you fly in what's called manual/rate/acro mode meaning you are absolutely in control of every movement that the drone makes, and as soon as that control link is broken the drone is no longer able to operate (called failsafe) without you, a human.  How can you fly like a bird if you are using waypoints or a smartphone? These flight modes give the operator a false sense of security about their skill level and their drones reliability/handling.  Wi-Fi controlled drones have an incredibly short control range, and extremely delayed video stream that makes FPV piloting clumsy and impractical for racing.
What differences are there between the Atom V1 and Atom V2 Racer?
The Atom V1 was launched on RCGroups exactly 1 year ago, and the discussion about it has now over 10000 comments and half a million views.  The V1 Atom was the first of it's kind and required a complicated mix of over 10 individual components from different suppliers designed for much larger racing drones, meaning assembly of the Atom V1 takes around 5-10 HOURS of complicated soldering, setup and assembly, meaning only the most advanced drone builders could attempt to put them together as intended.  The Atom V2 Racer requires less than 30 minutes of assembly, and comes preconfigured and set up for operation as soon as it's plugged together, the DIY kit only requires soldering of the motors to the central brain, and the RTF kit obviously is fully assembled and tuned for perfect flight.
Why should I buy an RotorX Atom Racer over any other drone?
Very rarely does a drone come along that is this easy to use, upgrade and enjoy at a reasonable price while also being made from the highest quality components currently available.  The Atom is designed to be safe enough to learn to fly on, while quiet enough to fly without causing undue disruption to your surrounding area, meaning you can fly away from people and private property purely for fun without fear of disturbing anyone.  Additionally the Atom is a platform that is as durable as a drone should be, not just surviving many crashes without even needing to replace a propeller, but a drone that could last a lifetime if taken care of with minimal maintenance.  The modular design allows part replacement in minutes with no soldering!  When you are ready the Atom V2 is a racing machine, especially if built in the PRO configuration for ultra fast racing or carrying the HD Camera.
What kind of HD Camera is in the upgrade package?
RotorX has designed a custom HD camera solution that will only work on the Atom V2 Racer, unfortunately because it is not in production yet we can't share too many details except that it will be extremely light weight, designed to survive crashes, and record 1080p quality video onto a micro SD card.
Why does the RTF kit cost $699 retail? I have seen bigger racing drones online for less.
There are a few things to consider when purchasing a RTF racing drone. Do you have a controller/transmitter? FPV Goggles or groundstation to fly in First Person View? Generally a high quality RTF racing drone with everything needed to get you flying is around $1000. Our kit is comparison is very cost effective, especially for the race calibre quality of the components included.
The Atom costs the same or more than some 250mm sized racing drones. 
Shouldn't a micro racing drone half the size cost half as much?
This is a common misconception. We have built a drone that performs just as well or better than large, more dangerous racing drones. We have had to develop the same components and high quality electronics into a much smaller package. This in fact increases cost, rather than lessening it, due to the more intricate manufacturing process required to create quality micro and nano scale drone parts
Why should I buy your micro drone, rather than a larger more common 250 sized racing drone?
There are many reasons why a micro racing drone is better than it's larger counterparts.For Example:
Crash resistance – A sub-250gram racing drone has less potential energy, and as such is less likely to cause damage to the drone, or the object it crashes into.

Safety – Again due to the smaller size and lighter weight, an Atom is less likely to maim or kill someone if they are unfortunate enough to walk in your path whilst flying. This doesn't mean it is smart or safe to purposely fly them into other pilots or bystanders

Registration – Due to FAA regulations, sub 250gram drones do not require registration by the FAA. Meaning you can buy and fly without having to forgo privacy by having your contact details listed publicly with the FAA.
What does RTF and DIY mean?
RTF means Ready to Fly, meaning the Drone itself is assembled, and a controller is provided meaning that you just need to connect the battery to make it go(after reading the instructions)!  DIY obviously means some assembly required, in this case it's quite limited.  Do not be too daunted by this, there are hundreds of customers available for guidance and no question is unanswerable.
What does the RTF basic kit come with?
Atom V2 Racer
Controller with built in FPV screen and video receiver with battery
Atom Racer Batteries are not included in product shipment, but you will receive notification of where to purchase batteries locally and cheaply before your drone arrives.  This is due to a recent change in international shipping requirements for Lithium Polymer batteries.
Will we still offer our current RX122 V1 Atom kits?
Yes, but in limited supply, focus will be making Atom V2 parts available before kits are delivered
Is the Atom safe for kids?
Being micro, the Atom is safer than current full sized racing drones. Though it is still a very powerful drone, so we recommend users 14 and above.  The PRO upgrade is really not as beginner friendly at the Racer standard kit using RX1105 motors and propellers
Do I need tools?
With any racing drones, you will eventually need to modify and repair. Basic soldering iron, allen keys, pliers, screw drivers etc will get you out of trouble. Alternately, our Pro bundle comes with a small tool kit.
Where can I get help in building my DIY Atom?
There are many people that will help you with your build online, either provided as a service to build it for you
https://rotorxracing.com/pages/forums-links-to-the-best-places-to-discuss-rotorx-and-engage-with-the-community
Do I need to be an experienced builder to build the Atom DIY?
The DIY Atom is suitable for beginners, but some basic soldering is necessary to install the motors. Even if you get the ready to fly version, it is important to have basic soldering skills in case you need to replace components or want to upgrade to the larger motors in the future.  If you are worried that you can't solder at all, a post campaign service will be offered to presolder the components.
Why don't you list the exact electronics? Your tech specs are very vague.
Due to the high volume of companies copying our products. We cannot reveal exact specifications until we have the first actual units delivered to customers.
Who are your partners?
MultiGP – Community based racing league, 300+ chapters worldwide meaning there's always a race near you. http://www.multigp.com/
DRL – Drone Racing League – FPV racing drones. The top pilots in the world. Epic courses. Join us for the entire DRL 2016 Season where we'll crown the world champion as the best FPV pilot on the planet. http://thedroneracingleague.com/
Fatshark – FPV Goggles – Makers of the best First Person View goggles for drone racing
MQC – The Mini Quad Club is a Facebook group and a great place to share your videos of flight, connect with the worlds best pilots or just find tips and friends to fly with. http://www.facebook.com/groups/miniquadclub 
TBS – Team Blacksheep – Makers of the finest drone racing electronics in the world, masters of radio frequency and efficient long range control and video systems. Without them the Atom v2 wouldn't exist! – http://www.team-blacksheep.com/
TECHNICAL

Atom Racer Frame/canopy:
RotorX RX122 Atom V2 3K Carbon Fibre frame

Custom molded canopy made out of crash resistant polycarbonate, with interlocking camera mounts
Electronics :
RX122 Atom Racer custom stacked electronics

STM32 F3 Flight controller running Betaflight/Cleanflight  (Fastest F3 Flight Controller available) – Pre-tuned for the Atom

OSD (On Screen Display) displays Battery Voltage, Amps and Timer among other features that allow you to configure you new racing drone.

600TVL CMOS FPV Camera, 120 deg Field of View for optimal view angle

Regulated and filtered power for Cam and VTx (5V/12V/VBatt switchable)

Buzzer for finding lost models and indicating battery status

Addressable LED's visually display Atom Racer status

TBS Unify Pro VTX(25-800mw) with selectable Band Channel and Output power

Custom made Silabs F396 ESCs (Electronic speed controllers) Oneshot BlHeli preflashed and calibrated

Current Sensor, PDB, and connectors for add-on modules
Motors/Propellers
Custom made RotorX RX1105 Brushless motors and RotorX proprietary quiet and powerful propellers (RX2535)

Custom RotorX RX1306 Brushless motors (Pro Upgrade) proprietary ultra strong and powerful propellers (RX3040T)
Controller/Transmitter
Built for multirotors

Goggle port for power & video

Easy channel scanning capability to find your video feed

40ch 5.8ghz receiver with FPV screen

Built-in 6400mah lithium Ion Battery

Built-in Long Range FPV circular polarized antenna

JR Module port for maximum compatibility with all protocols

USB Chargeable

We plan to start shipping the first batch of DIY kits within 2 months from campaign completion

Shipping rates are based on an average to keep it simple and cost effective while still being able to ship worldwide with proper tracking and insurance

Perks will be sent with tracking information as soon as ready

DIY kits will ship first, followed by RTF packages
CUSTOMER SERVICE

RotorX has built a vast network of Atom builder/repairers. There is likely a customer/ repairer located near you to help get your Atom working again if you have any hardware related issues
Existing RotorX Reseller network will be able to get you any replacement parts quickly and cheaply if needed, and the modular design of the Atom means you will be able to self repair easily, or ship locally for repairs.
Forums – One of the best ways to get assistance with your new Atom is through our well established forums. https://rotorxracing.com/pages/forums-links-to-the-best-places-to-discuss-rotorx-and-engage-with-the-community
Contact support@rotorxracing.com
SAFETLY AND REGULATION

General Drone Safety Tips
Follow community-based safety guidelines, as developed by organizations such as the Academy of Model Aeronautics (AMA).

Fly no higher than 400 feet and remain below any surrounding obstacles when possible.

Keep your Atom in eyesight at all times, and use an observer to assist if needed.

Remain well clear of and do not interfere with manned aircraft operations, and you must see and avoid other aircraft and obstacles at all times.

Do not intentionally fly over unprotected persons or moving vehicles, and remain at least 25 feet away from individuals and vulnerable property.

Contact the airport and control tower before flying within five miles of an airport or heliport.

Do not fly in adverse weather conditions such as in high winds or reduced visibility.

Do not fly under the influence of alcohol or drugs.

Ensure the operating environment is safe and that the operator is competent and proficient in the operation of the Atom.

Do not fly near or over sensitive infrastructure or property such as power stations, water treatment facilities, correctional facilities, heavily traveled roadways, government facilities, etc.

Check and follow all local laws and ordinances before flying over private property.
General personal safety and equipment tips
ALWAYS remove propellers when performing routine maintenance on Atom

Unplug battery to power down Atom when not flying

Always supervise charging of lithium polymer batteries, and preferably charge the batteries in a safe place in case of any potential problems due to battery damage.
Find This Campaign On