iCrowdNewswire - Apr 7, 2016
The Nimble Urban Scooter
Nimble Scooters is about getting things done the fun way. The world's first Urban Cargo Scooter.
We think scooters are awesome. Help us bring the world's first cargo scooters to you!
The Nimble Urban is the first scooter of its kind. It's designed to be the best way to travel short distances and carry over 50 pounds (25kg) of cargo. We've been making scooters for four years in California and now we need your help in launching our best scooter yet.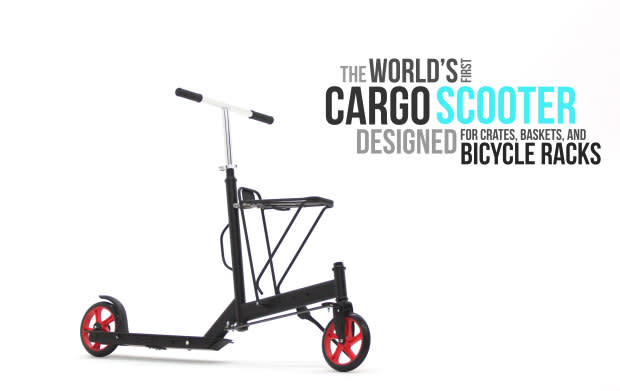 The Nimble Urban Scooter
Simpler than a bike – Easier than a bike, smaller than a bike. Designed for short trips when all you need is a little extra speed. Zero maintenance and no grease
Easy to carry and store – Folds up and can be taken inside easily. Fits in most trunks and the tiniest of apartments!
Fits all sizes –  One size fits all with the Nimble Urban's adjustable handle bars (up to 6'4″ / 1m96)
Carries more than you can – The Nimble Urban can hold baskets, bags, dogs, tools, anything! It can support over 300 pounds (~136kg) and fits standard bike baskets, racks and bags
Designed with a purpose – We've designed the Nimble Urban to be perfect for distances too far to walk but not far enough to be worth taking a car or bike. It's more versatile, more functional and more nimble than any alternative on the market

For Work and Play
The Nimble Urban's simple design makes it fit in anywhere. Whether around town or going to work, you'll enjoy your ride. With our team based in California and Paris, we set out to make a sleek, functional and stylish design which holds up to daily use.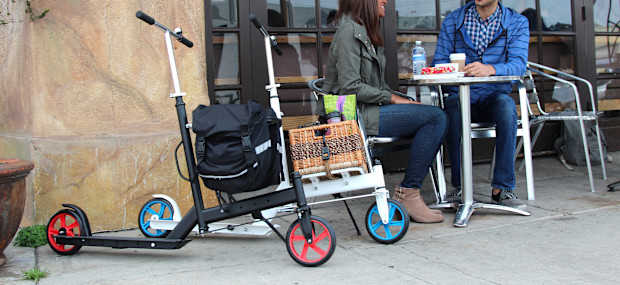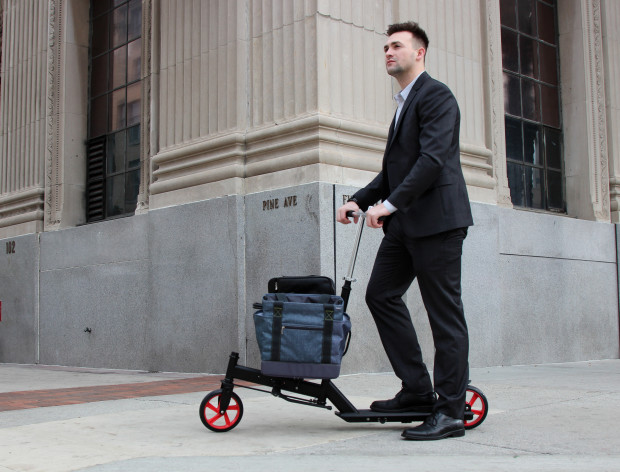 Over 50 pounds (25kg) of it! 
From groceries to dogs, the Nimble Urban can carry whatever you need either on its front flat rack or through standard bicycle bags and accessories. Your imagination is the limit with the Nimble Urban!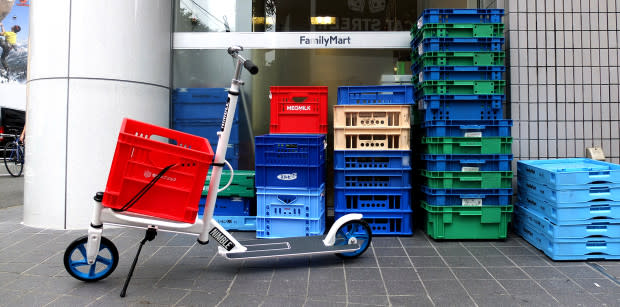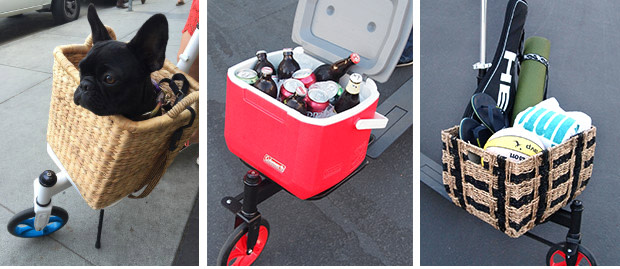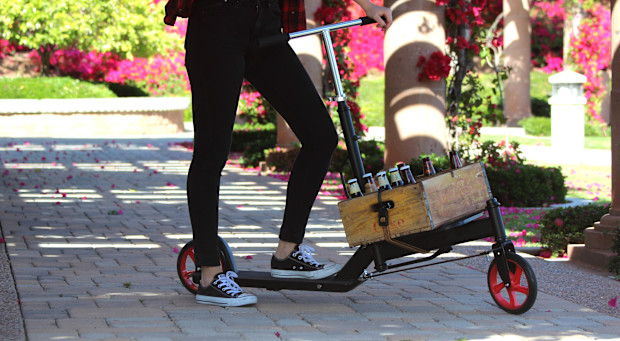 Easy and Exciting
At its core, the Nimble Urban is fun. It's agile, quick and has a very smooth ride. You can wear any type of clothing without worrying about it getting stuck in gears, and never have to pump the tires. There's nothing easier than getting on a scooter and taking it for a spin!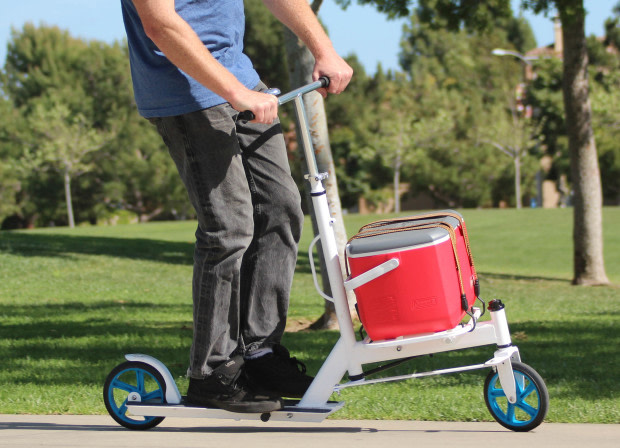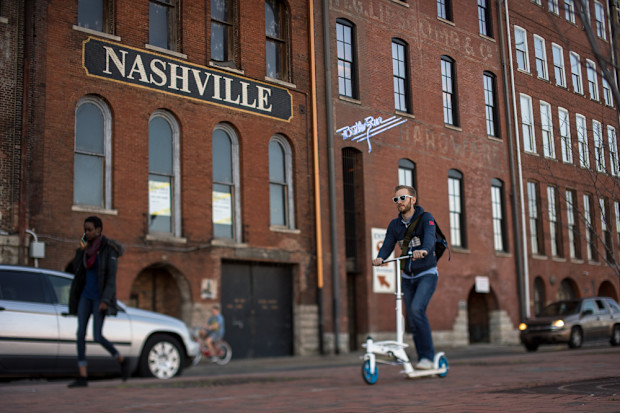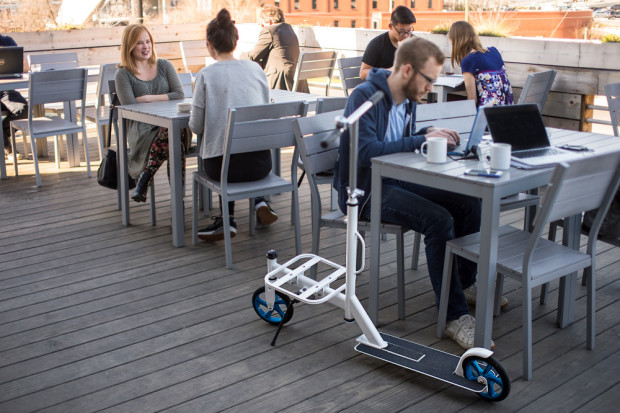 Carry and Store It!
The Nimble Urban folds making it easy to carry and store.  It will fit in your car's trunk, office, train or even the tiniest of apartments.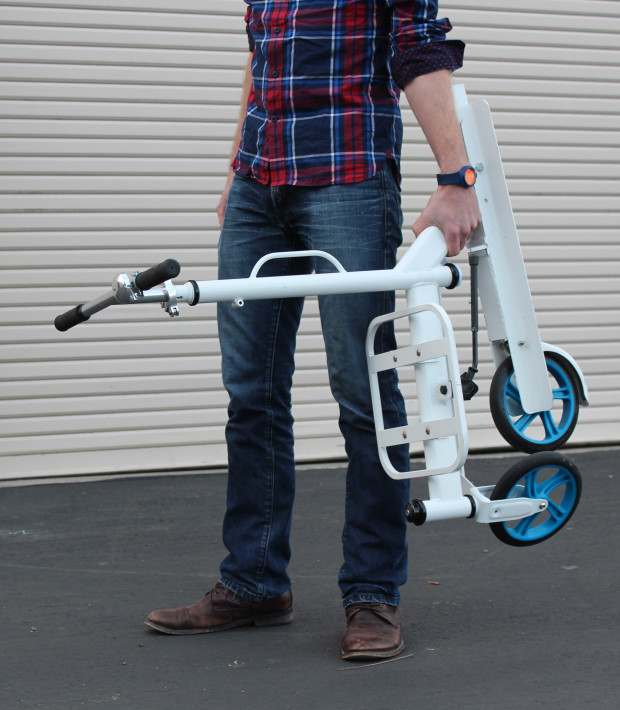 In return for your contribution, we have carefully selected and designed a few gifts that you can wear, ride and show your support for Nimble Scooters!

The Indiegogo campaign will end in May and based on our experience making scooters for the last four years we know that we can begin manufacturing in June. You can expect your Nimble Urban to arrive end of June/July depending on where you live!


Made in California
All Nimble Urban scooters will be made in our cutting edge manufacturing space in Orange County, California. We do not outsource. Making scooters is what we do and we are damn good at it. 

A Proven Team
Nimble Scooters has been making scooters for large industrial and warehouse spaces since 2012. Since then, we've noticed a lot of interest from families and individuals and so we designed a more consumer focused product, the Nimble Urban. Our team has decades of combined experience launching automotive, bicycle and other consumer products. Scooters have been our specialty for the last four years giving us the production know-how  required to deliver these kick ass kick-scooters to you this summer.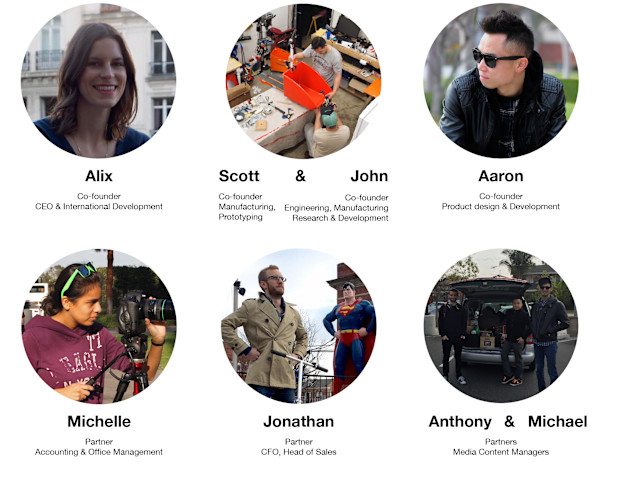 Why We Need Your Help
We need $20,000 for the tooling required to make this unique scooter. This money will be used to purchase raw materials, packaging, tooling, and various smaller parts like wheels, grip tape, hand grips and quick-releases. The scooter goes through several steps of manufacturing including cutting, tumbling, welding and powder coating which all add up to the making of a Nimble Urban.

What people are saying: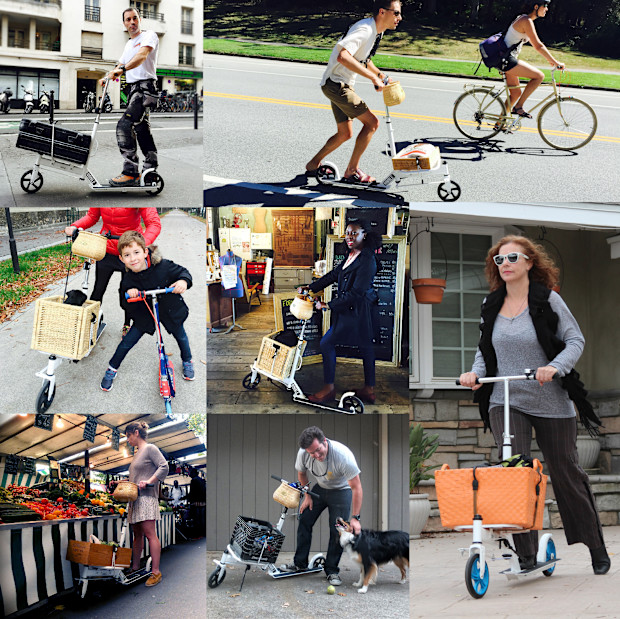 If you like what we're doing and want to help us achieve our goals, share our work using these simple tools. Word-of-mouth & social media helps a lot more than you know!




FAQ
How do I choose the colour I want?
At the end of the campaign, we will send you a questionnaire about the color you´d like for your Nimble Urban.
Do you ship to Switzerland?
Yes we can. The shipping system did not include Switzerland in the EU so we´ll send you an EU address you may use. 
Can you lock the scooter? 
– Yes there is a metal loop on the center post through which you can attach any standard bicycle lock
Can you take the Nimble Urban on a train or plane?
– Yes, the scooter has been taken on trains before, on the Thalys, Pacific Surfliner, Parisian subways and buses, without any problems, folded or unfolded. We have also packed it up in its box and flown with it. 
What kind of brake does the Nimble Urban have?  
– There is a flex brake located on the rear wheel which you use with your foot.
How far do you recommend going with a loaded Nimble Urban?
– The Nimble Urban is designed for short trips of about 1-2 miles. It works well on campuses, in office buildings, facilities, studios, to go to the local farmer's market, to school, around your neighborhood, etc.
What is the Nimble Urban made out of?
– The Nimble Urban is made of cold rolled American steel. We spent a great deal of time selecting the metal and we went with steel instead of aluminium because we found the ride quality to be smoother.
What are the Nimble Urban's dimensions?
– The Nimble Urban is 52 inches (132cm) from wheel to wheel but folds up to 34 inches (86cm). The Nimble Urban's height is determined by its handlebars which are adjustable from 24 inches (60cm) up to 38 inches (97cm) allowing the Nimble Urban to fit almost any rider.
How large is the Nimble Urban's rack?
– The Nimble Urban comes with a flat rack which measures 12 inches by 12 inches (30cm x 30cm). The rack can carry 50lbs (25kg). 
We'll add Q&A as they come in!
Find This Campaign On