iCrowdNewswire - Mar 27, 2016
Vero High Current, Silent Powered Headphone Amp
The Worlds only High Current, "Silent Powered" Headphone Amp containing MIT's Multipole™ Technology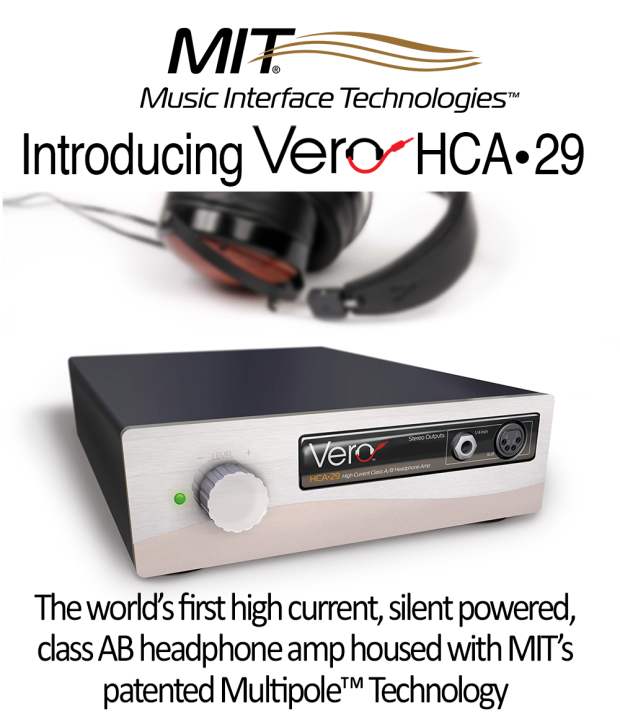 The Vero HCA 29 is for music lovers who are passionate about the absolute best sound they can get out of their headphones.  Through the use of  Multipole™Technology and Silent Power™, MIT Cables has developed the Vero HCA 29 to present music they way it should be heard, as if it were truly being performed right in front of you. 
Most users describe what they hear as "holographic" or spacious, meaning that they can literally point to the instruments and vocals as they are being presented, hearing notes and other nuances that didn't exist through their current listening source.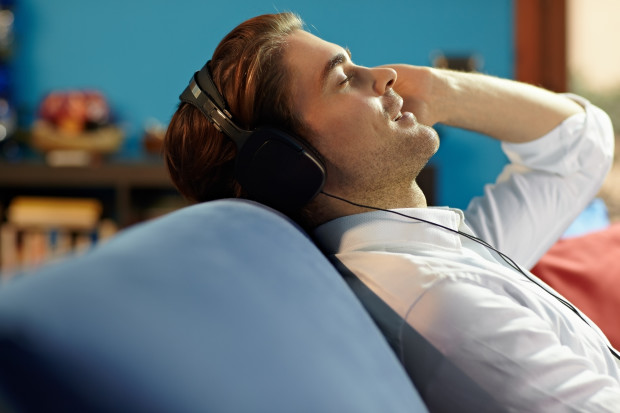 MIT Cables has been manufacturing high-end audio interfaces for more than three decades, bringing award winning products and solutions to home audio and professional recording studios around the world. 
Until now, Multipole™ Technology has only been housed within the little network "boxes" found on all of MIT Cables' award-winning products, which have been used on many Academy Award winning film scores and Grammy Award winning recordings.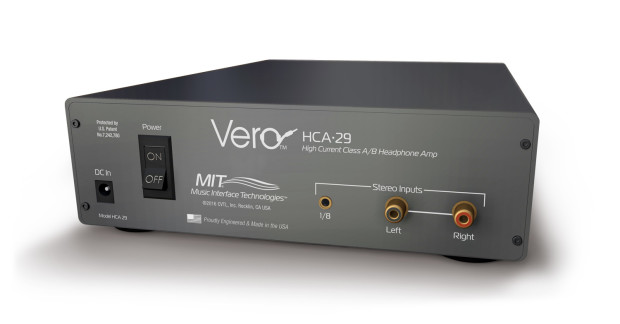 For the first time ever, MIT is now putting this technology inside of a non-cable product, and the results are stunning!
The Vero HCA•29 Headphone Amp is the only headphone amp in the world housed with Multipole™ Technology. This new breakthrough product was was designed with the help of Aaron Reiff, former Chief Engineer at Lucasfilm's Skywalker Sound and former audio engineer at Capital Studios, Hollywood.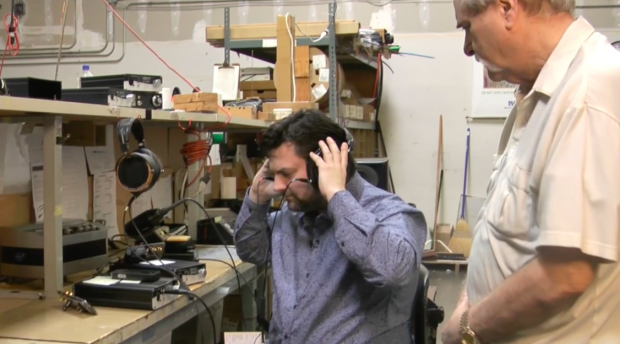 Photo: Aaron Reiff and MIT Cable's Founder and President Bruce Brisson testing the latest Vero Prototype.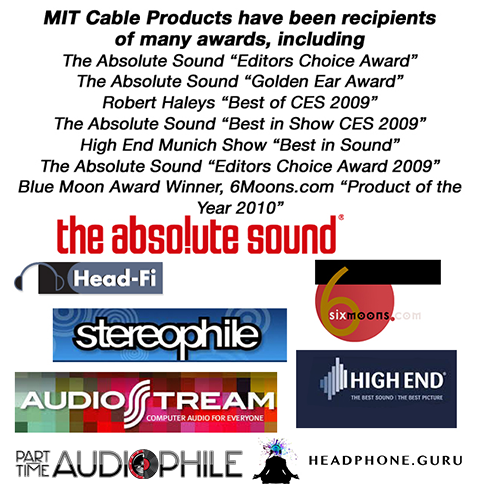 Your Input is Valuable and Needed! 
During our last Indiegogo Campaign for the Vero Headphone Cable, we relied on the feedback from our backers to create our personal line of audio products, something we had never done before in our more than 30 years as an award winning audio interface manufacturer. Now, as we venture into a groundbreaking new product, the first of its kind, we need your input more than ever before to help us determine which version of the Vero HCA we bring to market. 
What is MIT's Multipole™ Technology? How does it work with the Vero HCA 29?
MIT Cables VP, Kent Loughlin explains 
MIT Cables' core audio technology is our exclusive Poles of Articulation, named after the fact that every audio signal has a single point where it is most efficient at storing and transporting energy. At this point in the audio frequency spectrum, the notes will articulate best, and represents the audio's particular Articulation Pole. The Vero HCA 29 Headphone Amp represents 29 Poles of Articulation, providing controlled bass, and smoother, more extended highs along with a lower noise floor that is even more apparent with the use of "Silent Power™".
Graph A: Represents the bandwidth of the audible range of the human ear. We will use this graph to describe how well a component articulates across the audible bandwidth. The 50% line serves as our baseline for articulation response.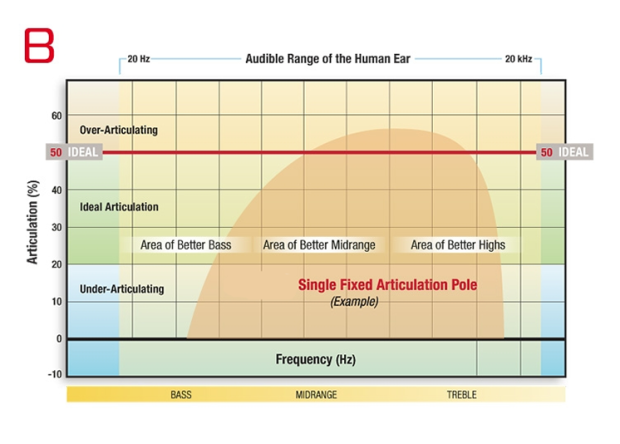 Graph B: This articulation plot describes an Articulation Pole tuned to a high frequency, described by audiophiles as "bright" or "fast." Conversely, an Articulation Pole tuned to a lower frequency would be described by audiophiles as "muddy" or "veiled." MIT Cables' networks are engineered to have multiple Articulation Poles optimized for the lows, mids, and highs. Our Poles of Articulation synergistically work together to transport the audio signal with a more even, linear response.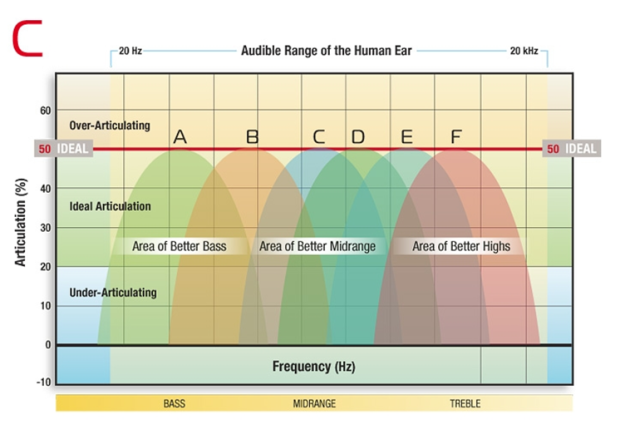 Graph C: This conceptual illustration shows how Multipole™ Technology works synergistically throughout the audio spectrum. Poles A & B provide an area of better bass, Poles C & D provide an area of better midrange, and Poles E & F provide an area of better highs.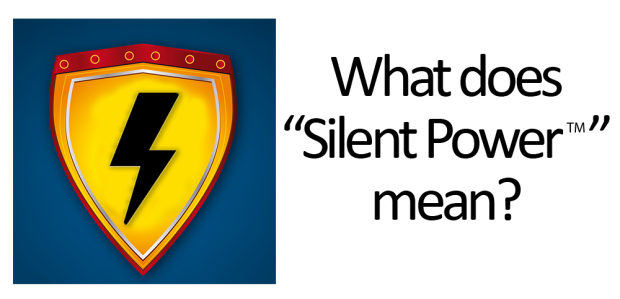 When you reduce noise, audio fidelity improves proportionally. 
Just like rolling the windows up in your car to listen to your car radio, there is no simpler way to improve audio fidelity. Similarly, if we decouple our audio electronics from AC power (60hz) and power them with DC (direct current) there is a plethora of low level detail to be retrieved. This is due to the contrast of a background that is for the most part "silent".
The Vero HCA•29 works on this principal, relying on two rechargeable lithium ion batteries to enable the "high end headphone enthusiast" to enjoy performance  similar to two channel systems found in the world's finest audio salons. 
With the proper sources and a good set of modern headphones, listening to music through the Vero HCA•29 is commonly referred to as a "totally immersive" experience.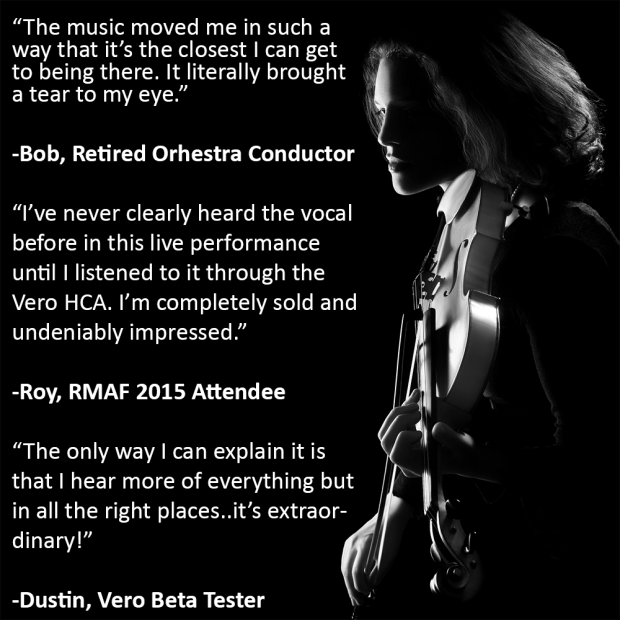 Perk Highlights!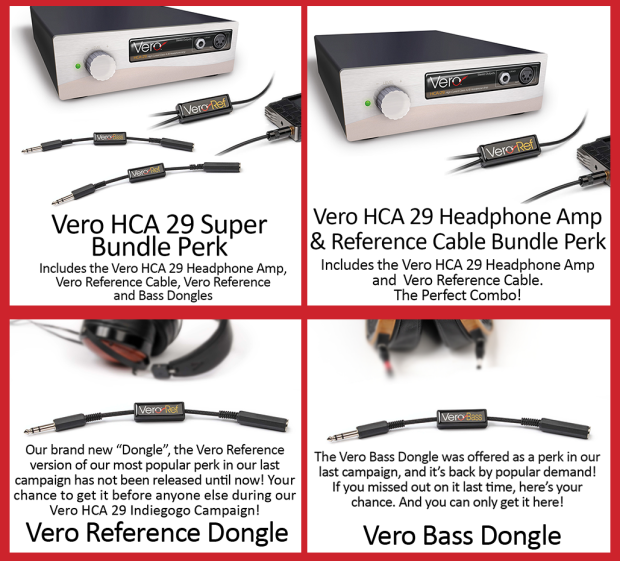 The Vero HCA 29 Order & Production/Fulfillment Timeline
MIT Cables will hand build the Vero HCA 29 Headphone Amplifiers with all assembly taking place in the MIT Factory in Rocklin, California. Each unit will be both electrically, as well as sonically approved before shipping, making sure that every Vero HCA 29 Headphone Amp is functioning perfectly providing the user with that legendary "MIT Sound".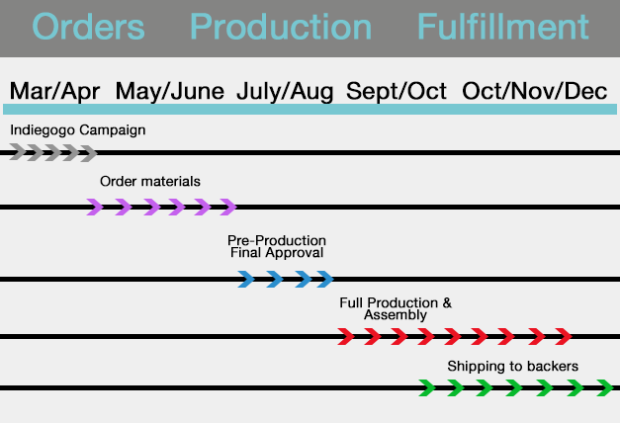 FAQ's
Q: What is Multipole™ Technology and how is applied to the Vero HCA-29? 
A: Multipole™ Technology works to overcome inefficiencies in audio interfacing. It works the same way on the active circuits from Aaron Reiff and Bruce Brisson. That is, it has MIT input circuit technology and output technology (just like our cables) for a total of 29 poles.  With this combination, the HCA-29 delivers a linear articulation response AND high current!
Q: If I'm an early backer, will my perk be shipped first?  
A: Vero Amp backers who opt in first will be shipped in the same order they backed the campaign. We will form a "production queue" as we get more backers. We project a production throughput of 5-9 units/wk so early backers will be rewarded. 
Q: How long will it take before you begin shipping?  
A: We believe that once the campaign has funded, it should take 30 to 45 days to receive the the parts for the campaign. However, delays in parts delivery may occur. We want to anticipate and minimize backorder issues with parts suppliers but this date cannot be guaranteed as exact. There is always a chance we may ship earlier, but we would rather side with caution. As we learned in the Vero Headphone campaign (we ran over by ~90 days) fulfilling orders are the top priority, but quality is number one. Ship dates are based on the order of backer funding, but factory throughput will be constant until all orders are filled. 
Q: Does the HCA 29 include an impedance switch for IEM's?   
A: We have decided not to include a circuit for IEM's. Why?We were tasked with "making the MIT sound" come from tiny IEM motors.  We tried a few "familiar" ways to address the IEM question but never reached a point where it met our standard. Perhaps it is due to differing quality In-Ear Monitors, but we just don't have the time to sort this out in 30 days, the span of the launch. After much discussion, we decided not to include it in this campaign. However, we reserve the right to offer this feature as an upgrade in the future. MIT products are legendary for providing a realistic listening experience, best described as holographic. 
Q: How long does the Battery Charge last on the Vero HCA 29? 
A: We are still finalizing the battery choice but early tests reveal a 2-3 hour charge will play about 16 hours.
Q: Can I use the Vero HCA 29 while it's charging?
A: Yes you can but the sound will include any line noise from your AC, including the power supply. Battery power (quiet power)  is a main feature of this design and critical listening should always be done with the charging circuit disconnected or unplugged. Besides a black background this feature also makes it "transportable" to any location in your home or on the road.  The footprint is only 8 1/2″ X 11″ X 3 1/2″ tall. 
Q: If you already have the Vero Reference Headphone Cable in combination with the Bass Dongle and an additional adapter, will a future purchase of the Vero HCA 29 still have any added value on top of the network-cables, or is that rather too much of a good thing? 
A: Technically, you can apply Multipole to each component to optimize the signal throughput. That said, when you couple the Dongle to another Dongle and then to a headphone cable, you CAN get too much of a good thing!
Risks and Challenges
There are always risks involved with any crowdfunding campaign, and sometimes there are circumstances beyond our control that may delay the production of the Vero HCA 29. All of us here working on the Vero HCA Project are extremely confident in our ability to deliver MIT's first ever non-cable product in a timely manner! 
This is our second crowdfunding campaign, and we are proud to say that we have completed our first project and have hundreds of happy backers who have provided us with exceptional feedback on our last campaign. So we have a bit of experience under our belt! 
We have been working on the design of the Vero HCA for over 6 months with our engineers and have done most of the hard work of developing the best headphone amp we are certain you have ever experienced, and do not foresee any complications to our product development that would delay your shipment within the time frame that we have established. 
Of course, there is always a chance that our part suppliers have backorders or that Mother Nature decides to wreak havoc on any of our preparations, but we do not expect this or any other unforeseen acts of God or others to hinder our production schedule and anticipate shipping on time. 
We will make sure to update our backers frequently on any progress or delays in production or shipping. 
Find This Campaign On