iCrowdNewswire - Mar 24, 2016
MJ Technology's mission is to bring innovative, high quality hardware and software to the market at an increased value for you the consumer. Our MJ Technology Ubuntu Linux Tablet series is just one example.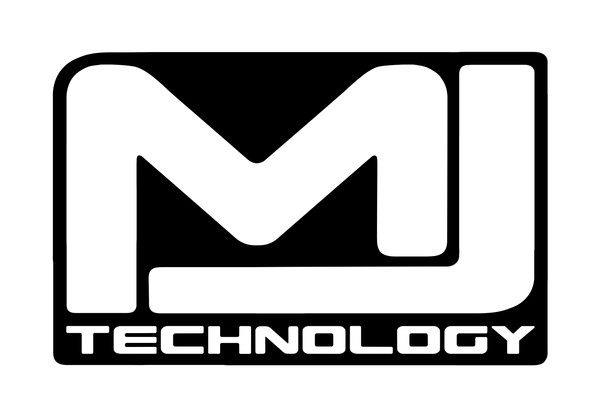 Our goal is to make a superior tablet, both in build quality and hardware performance. This lets consumers then decide how they can utilize it to their best advantage. Whether that is a dual boot Windows 10/Ubuntu Linux system for a system administrator needing to manage multiple servers remotely, or just Ubuntu Linux as your sole operating system for personal use, we have a tablet that will fit your needs.

We want the user to have the choice of what operating system and software they want for their given application. Even if a user would like multiple operating systems on one tablet, such as Ubuntu Linux, Elementary OS, Linux Mint, Red Hat, OpenSUSE,or Kali Linux, we can provide the user with the options they need.
We will assist them in that respect by working on making all known viable, popular Linux distributions compatible with our Linux tablets. It will take time to integrate the different Linux distributions shown above, as each has unique properties, but that is our end goal here at MJ Technology LLC.
The first OS to be installed on our tablet by default will be the latest stable version of Ubuntu Desktop 16.04 LTS with the most current version of Unity/Mir window manager.
Ubuntu Linux is the mostly widely used and recognized consumer-oriented Linux distribution to date, therefore it was the most logical choice to start our tablet development with. This allows the user immediate access to the hundreds of thousands of applications/games already available on Linux.
Once Ubuntu Touch is to a released state, we will provide an installable image built for our tablet, with instructions via our website so the consumer can upgrade/install the OS themselves, or with our tech support assistance if needed.
Our goal has always been a true x86/x64 Tablet/PC with true convergence of use across multiple devices being the end goal, just as Canonical has shown with Ubuntu Touch, but with the added bonus of being x86/x64 base with no compatibility issues or need of porting/redevelopment of software from x86 base to ARM base.
We want to put the power and control of the computer back in the user's hands.
Below are the current specifications of the MJ Technology Ubuntu Tablets: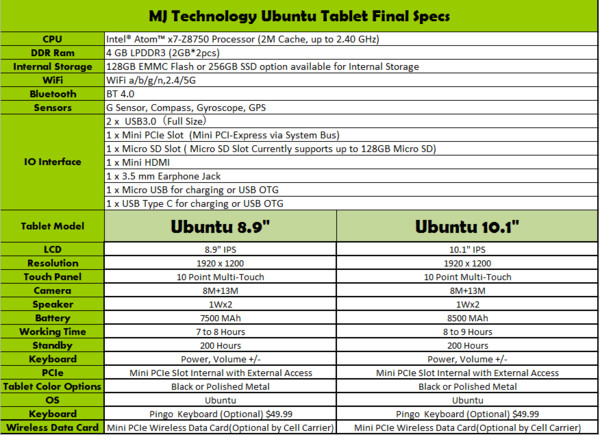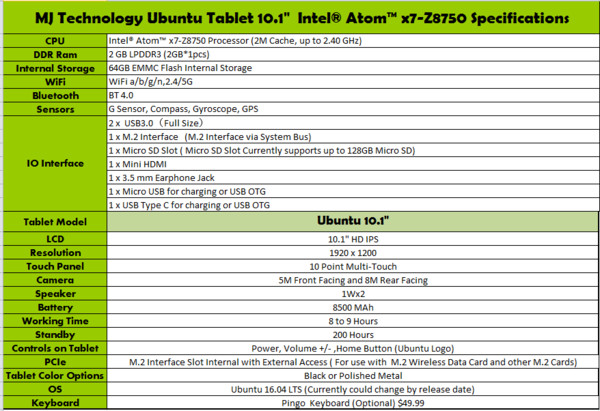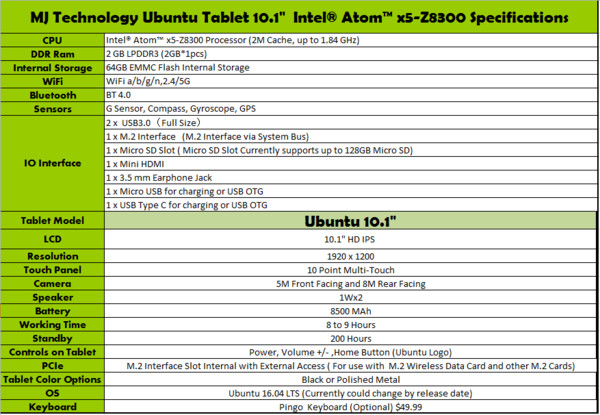 After hearing concerns expressed by some people about the initial pricing of the tablets with the higher performance level hardware, we have responded quickly to them and have come up with an additional mid-range model.
While providing mid-range level hardware, it will still provide an excellent user experience. It comes with the same case/multiple ports/display/battery and will function as just well as our other models for user not requiring the stronger performing hardware.
Below is what the 8.9 inch (on left) and 10.1 inch (on right) models will look like, each model coming with two available color options, matte black or a brushed aluminum finish. See our website for the optional matching tablet that provides for a true 2-in-1 Ultrabook experience.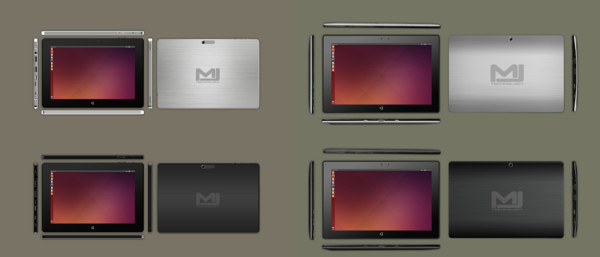 Here is a comparison of specifications between our MJ Technology Ubuntu Tablet and the BQ M10 Ubuntu Touch Tablet. The BQ M10 will only run Ubuntu Touch and Touch related software natively, as it uses an ARM processor.
This precludes it from running Ubuntu Desktop, or any other x86/x64 based distribution of Linux. You can be the judge, but we feel we have surpassed the BQ M10 with our tablet design that is a true multi-use system from the start.

Some people will ask "What does using Linux as your operating system provide you, the user, over other operating systems"?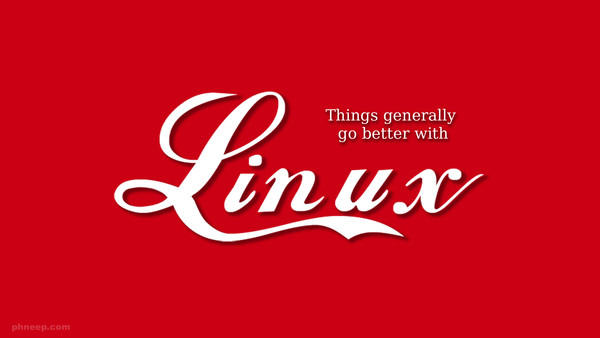 Linux provides multiple advantages: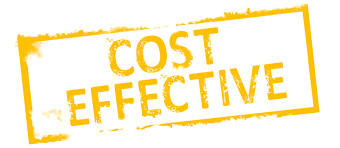 Cost – The most obvious advantage of using Linux is the fact that it is free, to obtain and use, while Microsoft and other products are available for a hefty, and sometimes, recurring fee. Microsoft licensed software is typically only allowed to be installed on a single computer, where as a Linux distribution and the related software can be installed on any number of computers, without paying a single dime.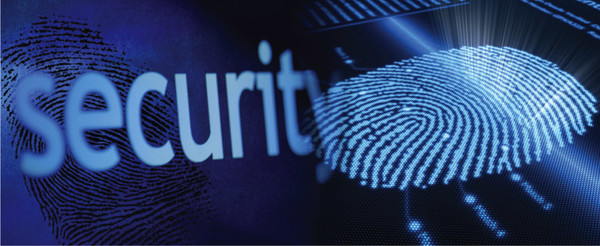 Security – In line with the costs advantage, the system security aspects of Linux is much stronger and robust than that of Windows. Why should you have to spend extra money for anti-virus protection software, taking up CPU time, memory, and disk space?
The Linux operating system has been around since the early nineties and has managed to stay secure in the face of widespread viruses, spyware and adware for all these years. It is modeled after UNIX software, which is run around the world in multiple business and universities, and was designed from the beginning with security as a prime function.
While the argument has been made by some that Linux not being widely used compared to other operating systems is a reason for there being few known viruses able to attach it, it is more the way Linux is constructed internally that precludes easy infection and spread of computer viruses.
The Linux operating system is open source and if there were a widespread Linux virus released today, there would be patches released in a matter of hours or a few days, either by ordinary people that use the operating system or by the distribution maintainers. You wouldn't need to wait for a patch from a single company like we do with some operating systems, that could take weeks or months maybe possibly years in some cases.

Choice (Freedom) – The power of choice is a great Linux advantage. With Linux, you have the power to control just about every aspect of the operating system. Two major features the user can control are the look and feel of their desktop by way of numerous Window Managers, and the kernel, which controls the computer hardware. In Windows, you're either stuck using the boring default desktop themes, or risk possible corruption or failure by installing a third-party shell. By controlling the kernel, the user can fine-tune their system for the way they work, not relying on a generic, one-size fits all usage pattern.

Software – There are so many software choices when it comes to doing any specific task, be it system admin, multi-media creation, education, you name it. If you need a specific program, you will probably find one or more that will work for you. You could search for a basic text editor from multiple sources at once, and yield hundreds, if not thousands of results.
Regular users and programmers contribute applications all the time. Sometimes it's a simple modification or feature enhancement of an already existing piece of software, sometimes it's a brand new application. In addition, software on Linux tends to be packed with more features and greater usability than software on Windows.
Best of all, the vast majority of Linux software is free and open source. Not only are you getting the software at no charge to you, but if you have a problem or an idea for an improvement, you can make a request to the software developers directly for them to make the changes. Another option, if you understand the programming language, is you, the end-user can modify the source code yourself and add more functions or fix problems. By contributing your changes to the source code back to the Linux community, you are improving the software for everyone.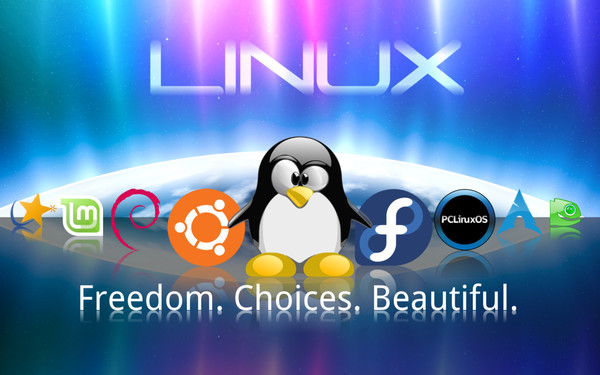 What more could you, the user, ask for?
In the coming days, we will be posting some videos explaining our vision for our tablets, plus showing some working preview examples of what is to come in the next few months when the tablets are available for delivery.
See our Facebook page as we will be posting continuing updates on the final testing and development progress.
https://www.facebook.com/MJ-Technology-LLC-576568032444682/
Below are some News/Media outlets that have referenced our upcoming tablet release: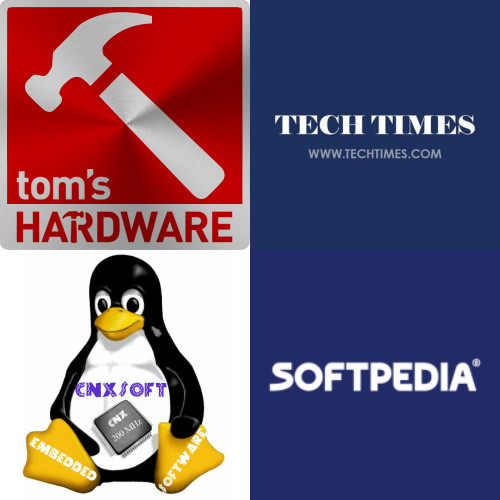 You can also do a search online to find out about our Ubuntu Tablet, just do a keyword search "MJ Technology Ubuntu".
Please join our vision, and support our work, as we strive toward providing the best possible Linux experience for all consumers, with a portable, powerful, and useful tablet now, and more devices in the future.