iCrowdNewswire - Mar 23, 2016
The World's first craft beer to turn great beer into clean drinking water in the developing world
#DrinkBeerGiveWater

Hey, we are Alan and Josh, two friends from Edinburgh, Scotland. One night we were having a pint in the pub, chatting and putting the world to rights, as we often do. After a few more beers, the idea hit us to try and use beer itself to make a difference to people who really need it – Brewgooder was born.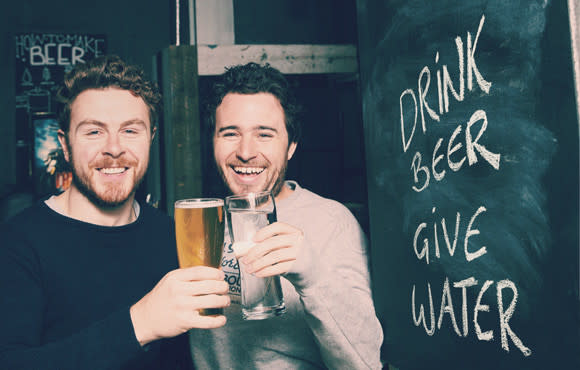 We set off on a mission to make a great tasting craft lager to a unique recipe, sell the beer and invest 100% of our profits – every single penny – into clean water projects. This means that when you drink our beers you are providing someone who needs it with clean drinking water. 
Our Indiegogo campaign is the start of a journey to build a business that provides 1,000,000 people with access to clean water for drinking, sanitation and hygiene.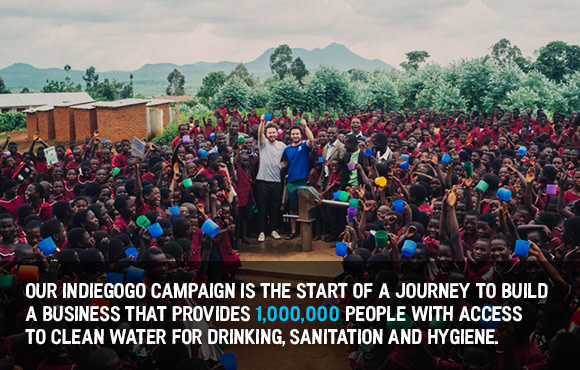 We want you to be our first supporters and the first ever Brewgooder drinkers.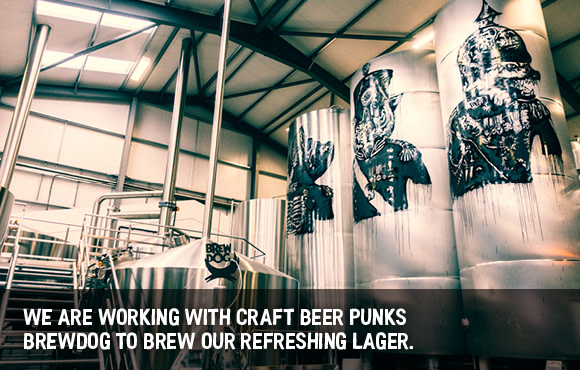 We're working with Scottish craft beer punks BrewDog to brew our lager and we've created a unique and refreshing beer that we can't wait for you to try. With your help, our crowd fund will help us produce the first 200,000 cans that will be ready to be delivered to your door in June.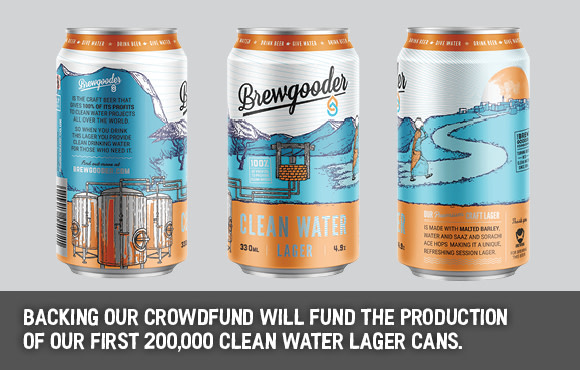 Profits from our crowdfund will be helping the Nora Doherty School (pictured below) in Dedza, Malawi, which is featured in the campaign video, to improve their access to clean water by installing solar powered water stations. This guarantees improved access to safe water in the dry season and reduce the time burden on women in the community. With your support we will be directly improving the lives of over 2000 people. We met these people personally when we visited the area  in February 2016 and we know what a difference the water stations will make.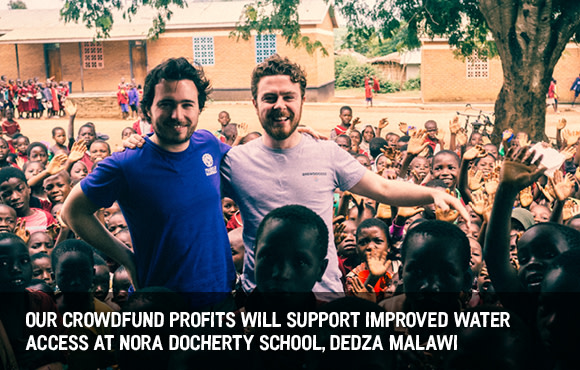 The remaining profits of this crowdfund will be going straight to clean water projects where we will be working with Oxfam, WaterAid and MercyCorps. The more beers we sell, the more people we can help – it's that simple.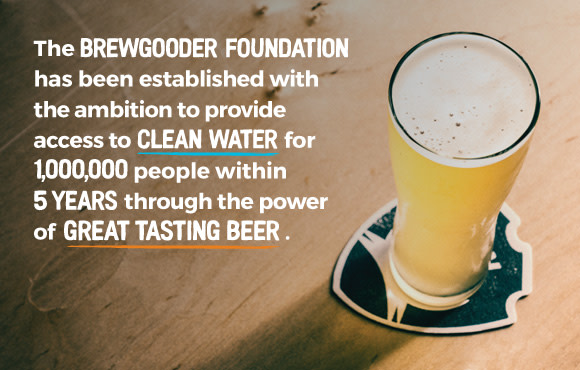 When we complete our crowdfund you'll be able to drink Brewgooder again and again in your local bar, bottle shop and supermarket from Summer 2016! So back our Indiegogo campaign and help us change the world through the power of beer.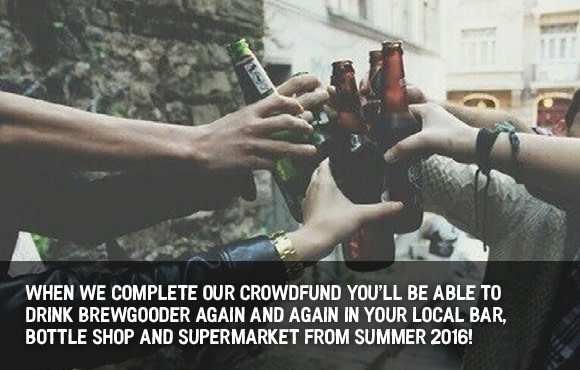 Our  Clean Water Lager (4.9% ABV) is made with malted barley, water,  a unique blend of Saaz and Sorachi Ace hops with a touch of wheat resulting in a crisp, refreshing lager with a citrus hit. Our lager is craft brewed to a totally unique recipe and has passed the taste test of one of the best craft breweries in the world – BrewDog.
Your beer will be packaged in environmentally friendly 330ml cans – with limited edition artwork for our first production run – preserving the freshness of the beer and caring for the environment at the same time.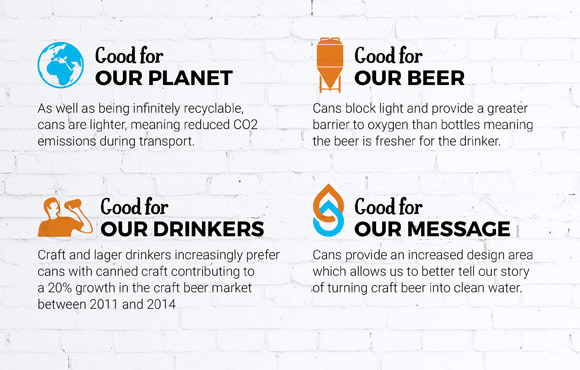 Can't wait until June to sink one of our brews? No problem. Get yourself down to a BrewDog bar in the UK. But be quick there is only a limited amount of our very first production run available!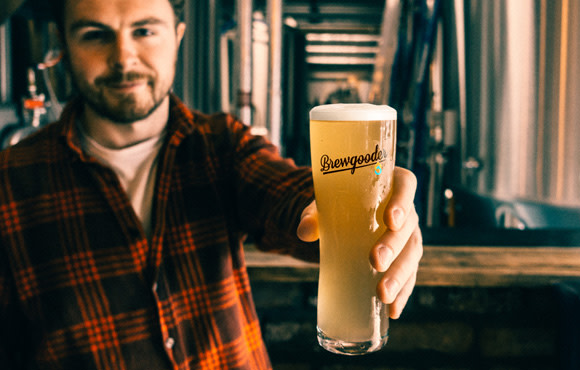 Don't forget to tweet us @brewgoodr with #DrinkBeerGiveWater when you are enjoying your pint.

We want to produce 200,000 cans of our 'Clean Water Lager' in May 2016. By backing our crowdfund you will be supporting us to cover the costs of brewing, canning and distribution, and helping invest our first profits into clean water projects.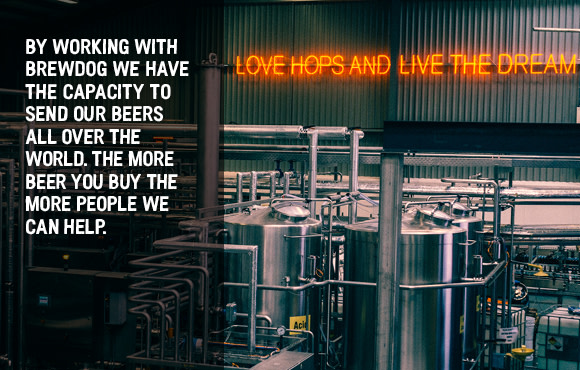 We'll be starting with the installation of solar powered water stations at Nora Docherty School in Malawi, and depending on how much beer we sell we plan to make a significant contribution to the work of Oxfam, WaterAid and MercyCorps.
So in return we are offering you some great perks to say thanks and to welcome you as a member of a very unique club – The Brewgooder Founders. So check them out: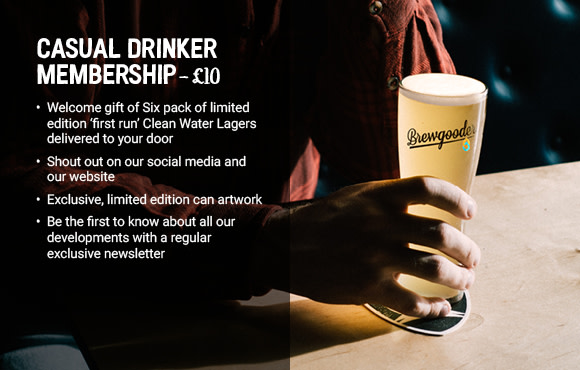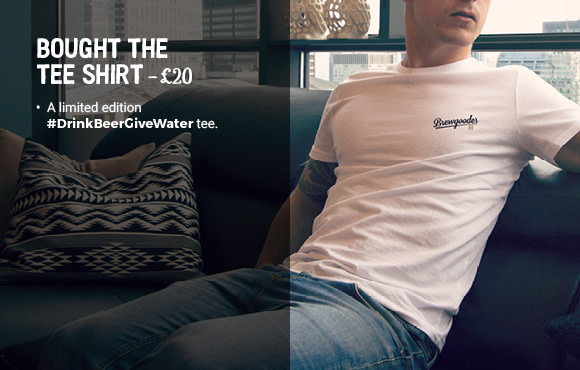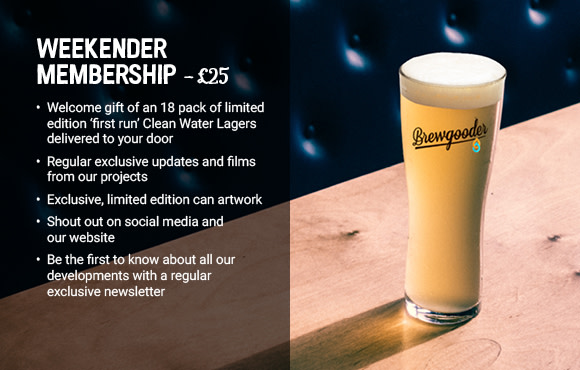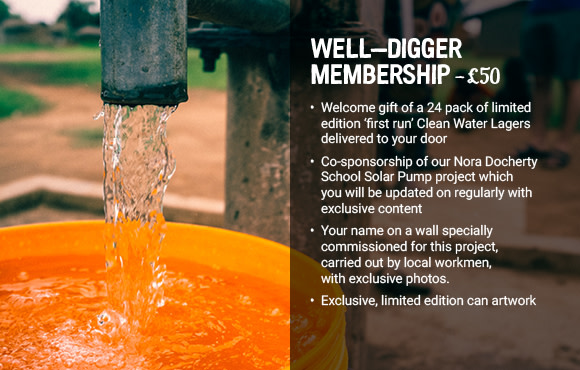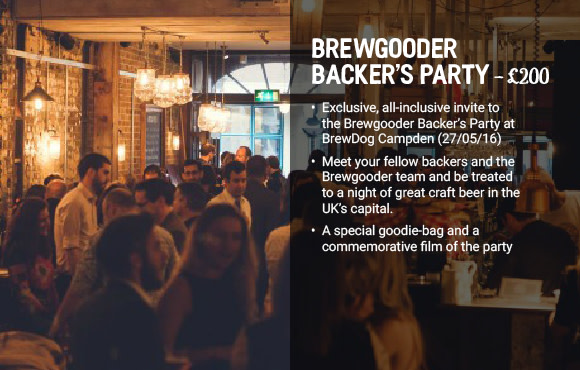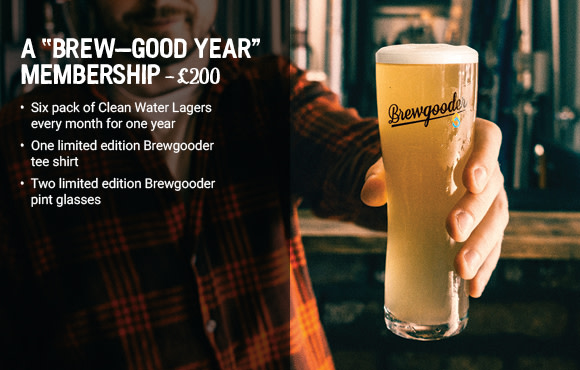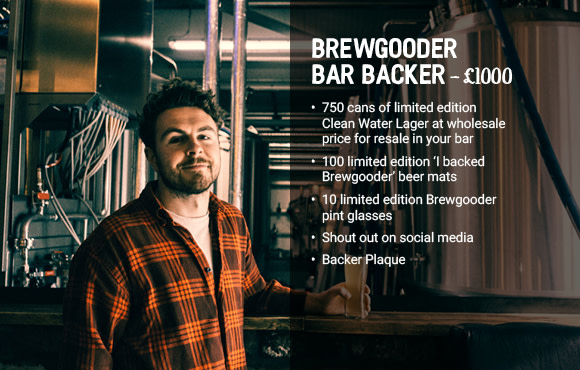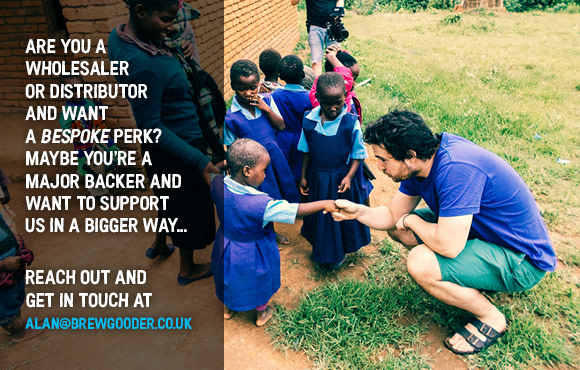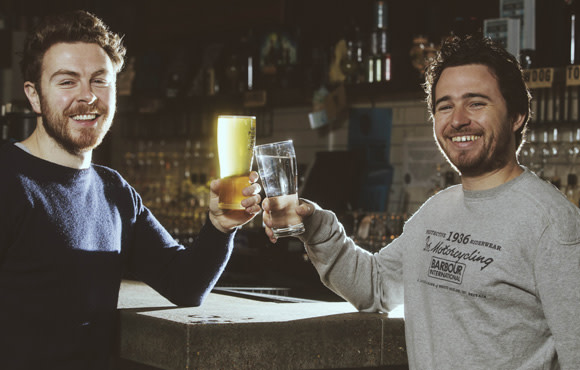 We are Alan Mahon and Josh Littlejohn, two friends based in Edinburgh, Scotland. We love the idea of using business to help people and we love great tasting beer… so we thought we would combine the two.
By backing our crowd fund, you'll be launching a beer label that will help lift hundreds of thousands of people out of poverty – not as a gimmick or a CSR exercise but as something we passionately believe in – providing clean water for those need it.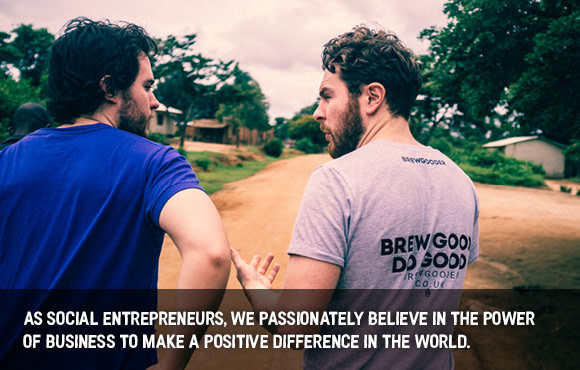 We have previously started and ran social businesses and not-for-profit events in Scotland. One of those companies – Social Bite – is one of Scotland's best known social enterprises. It is a chain of sandwich shops that employs 1 in 4 of its workforce from people with homeless background and donates all its profits to different charities. Social Bite also runs a "suspended food and coffee" service, where our customers can pre-pay for anything on the menu for local homeless people to claim later. 
Social Bite has grown to a large multi million pound business and recognisable high street name across Scotland, generating employment for almost 100 people, and providing a way to break the cycle of homelessness.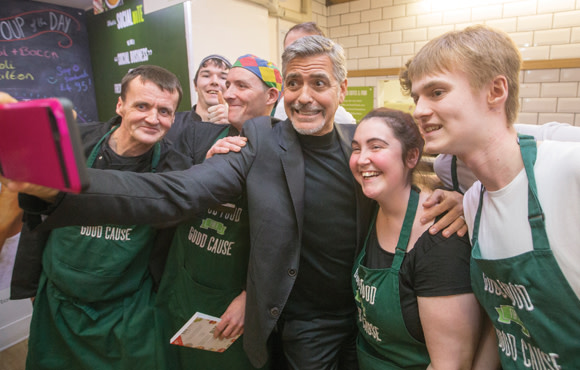 In November 2015, Hollywood Legend George Clooney visited our Edinburgh branch to see what we were all about and he had a great time with the team. Gorgeous George also helped us launch a Christmas campaign that raised enough money to provide 73,000 meals for homeless people across Scotland.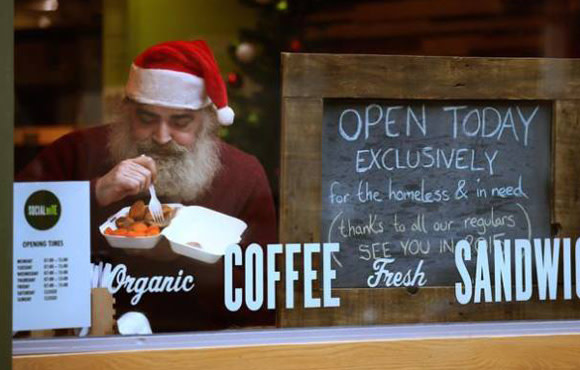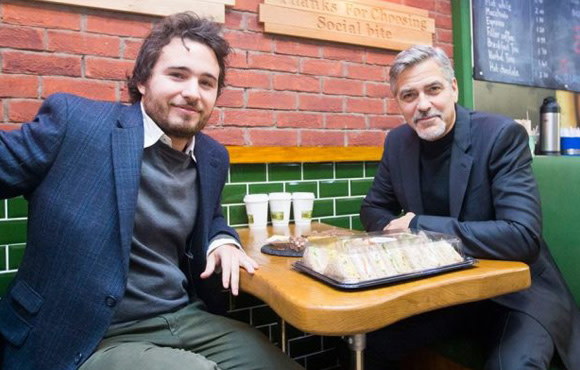 With our experience in Social Bite, we passionately believe that socially minded business can transform the world and with Brewgooder we want to give you the opportunity to help people while you do what you love – drinking great beer. 

Water is the basic necessity for life. Yet millions of people have no access to safe water and hundreds of thousands die every year from poor sanitation, water-borne diseases and dirty drinking water.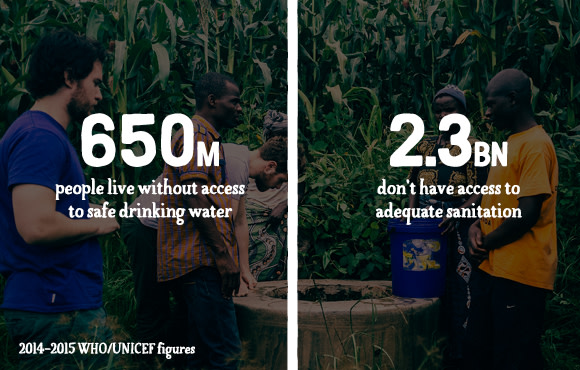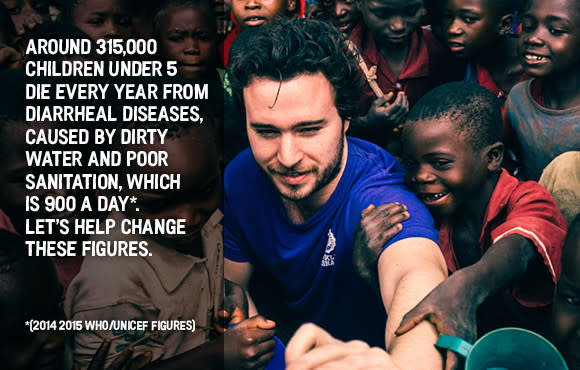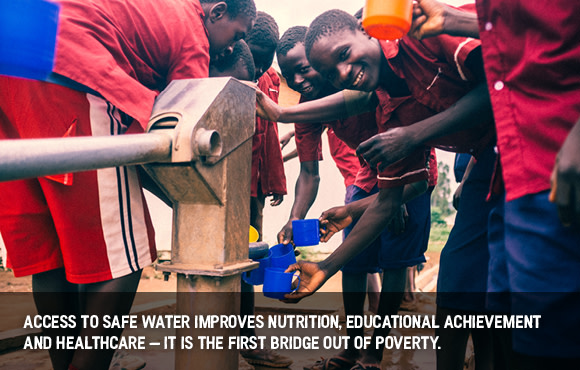 Access to clean water is the first step towards ending poverty and building sustainable communities. It impacts on everything from nutrition to healthcare and education. By supporting Brewgooder you get great tasting beer and someone else gets help with access to clean water. 

To help deliver our good work in the long term and to ensure the best return on our profits we are working with some of the best partners in clean water from around the world: Oxfam, WaterAid and Mercy Corps.

In 2014/15, Oxfam provided 4.1 million people with improved access to clean water. Brewgooder will be working with them on essential WASH programmes (Water, Sanitation and Hygiene) across areas such as long term infrastructure development and capacity building, disaster relief and innovative water education and essential services delivery to communities in Africa, Latin America, the Middle East and Asia.
WaterAid is the world's leading international water charity which transforms lives by improving access to safe water, hygiene and sanitation. In 2013/14 WaterAid reached almost 4 million people with safe water and sanitation.
Mercy Corps is a global organisation with headquarters in Edinburgh- working to bring big ideas and bold action together with local insights to build strength from within the communities we partner, in over 40 countries.  By enabling access to safe water – whether immediate provision in emergencies or equipping communities with long-term water solutions that promote good health, food security, improved livelihood opportunities, peace building, climate resilience and natural resources management  – Mercy Corps' approach to water is dynamic, innovative and responds to the distinct needs of both rural and urban communities. 

How long will it take for my beer to arrive?
We are brewing and canning our lager in May so expect your beer to arrive during June. We will let you know the moment it is on its way so you can get as excited as we are!
What if we raise more than our crowdfunding target?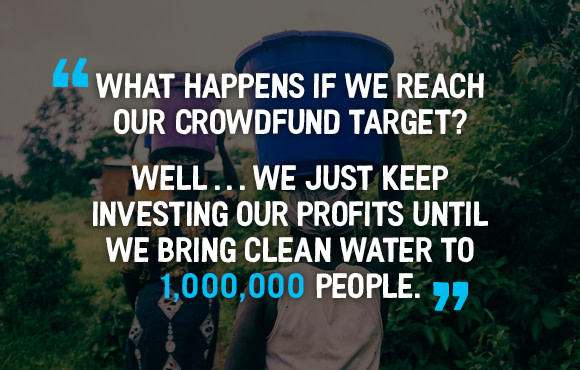 Please ensure you've read the FAQ before contacting us!
Backers: alan@brewgooder.co.uk
Business Enquiries: alan@brewgooder.co.uk
Press Enquiries: stephen.mccranor@framecreates.co.uk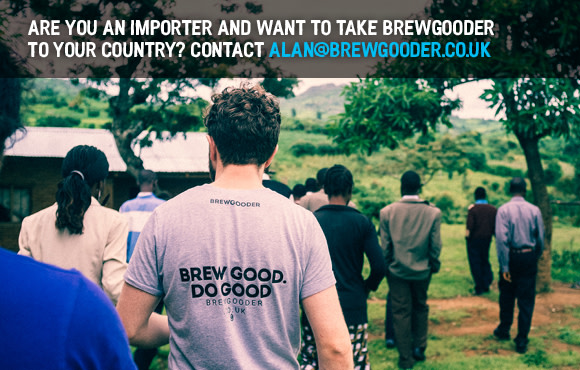 Thank you for taking the time to check out Brewgooder! We'd hugely appreciate you sharing it with your friends through the Indiegogo sharing tools.
#DrinkBeerGiveWater
Alan and Josh
Find This Campaign On