iCrowdNewswire - Mar 11, 2016
iKlips DUO: 256GB storage to manage iOS your way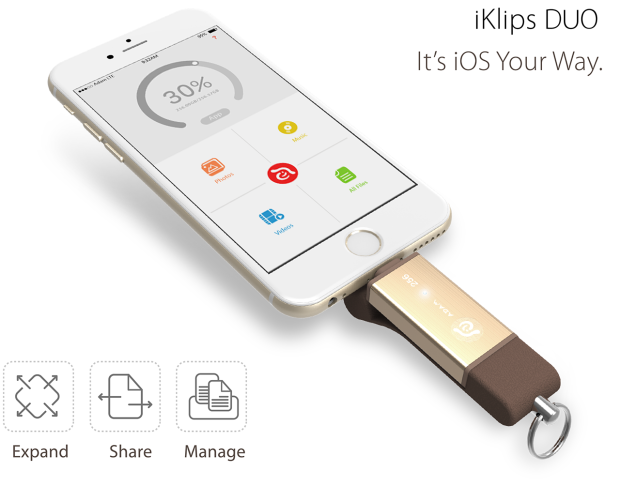 Along with increasing iPhone camera capabilities, storage solutions are becoming increasingly important for taking and keeping better quality photos. But is it your iPhone that needs all that storage? With iKlips DUO it's not about keeping everything on the go. It's about managing your device better with the content you need when you need it.
Now can easily and securely share your music, photos, videos, work projects, and all your other creations between all your devices – iPhone, iPad, iPad Pro, Mac, and PC. Having the ability to organize, store more and share on the go with friends, family, and colleagues gives you the power to do more on the go.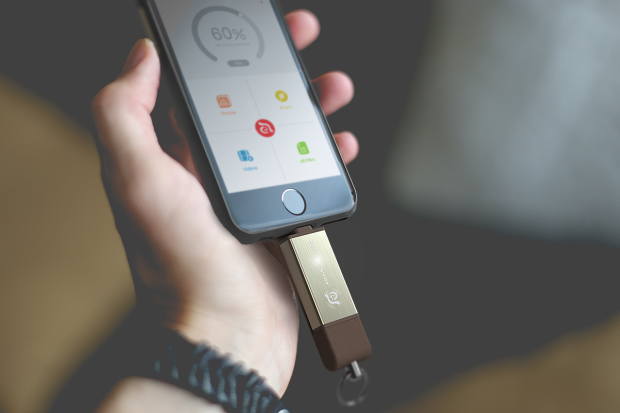 EXPAND
It's a step we're all familiar with – just plug and play. No need to sign up for a cloud account. No account details to remember. No need to backup with iTunes. Simply insert iKlips DUO into your device, and you'll be able to expand your storage space on the go. So the next time you're on vacation or on location doing photography, you'll have the storage you really need to capture your moment.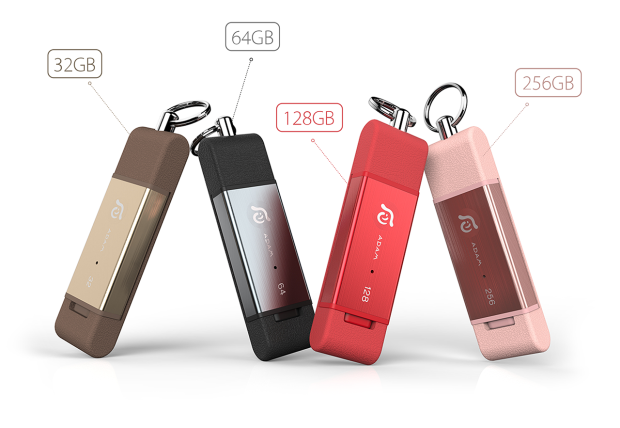 SHARE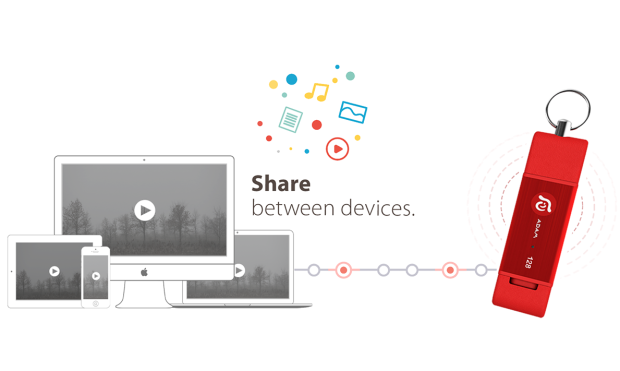 With both Apple Lightning and USB 3.1 connectors, iKlips DUO lets you easily and securely share your content between all your devices – iOS, Mac and PC. But it's not just about storage. It's about performance. Produced with top quality MLC flash memory, iKlips DUO has the fastest flash memory type for iOS devices. All your music, photos, videos, and other content can be shared in an instant.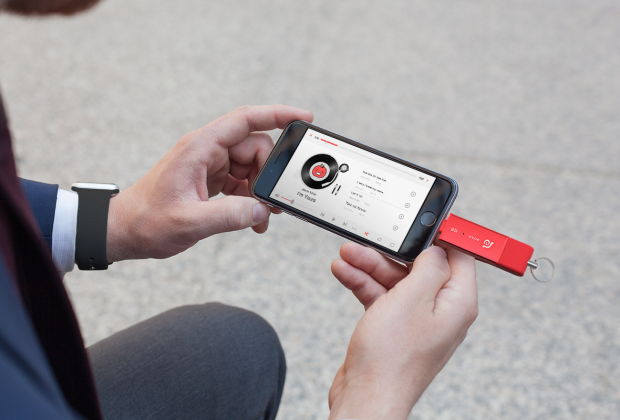 MANAGE
By using our companion iKlips 2.0 App, you manage iOS your way. – all on the go. So you can load your iKlips DUO with the content you want from your PC or MAC, and then you can play, watch, listen, and edit your media and work on your device without using its storage. If it's your HD/Full HD movie to watch on the plane or your HD/Full HD movie project to edit on your iPad, by managing iOS with the content you need, you can do things your way.


Manage iOS your way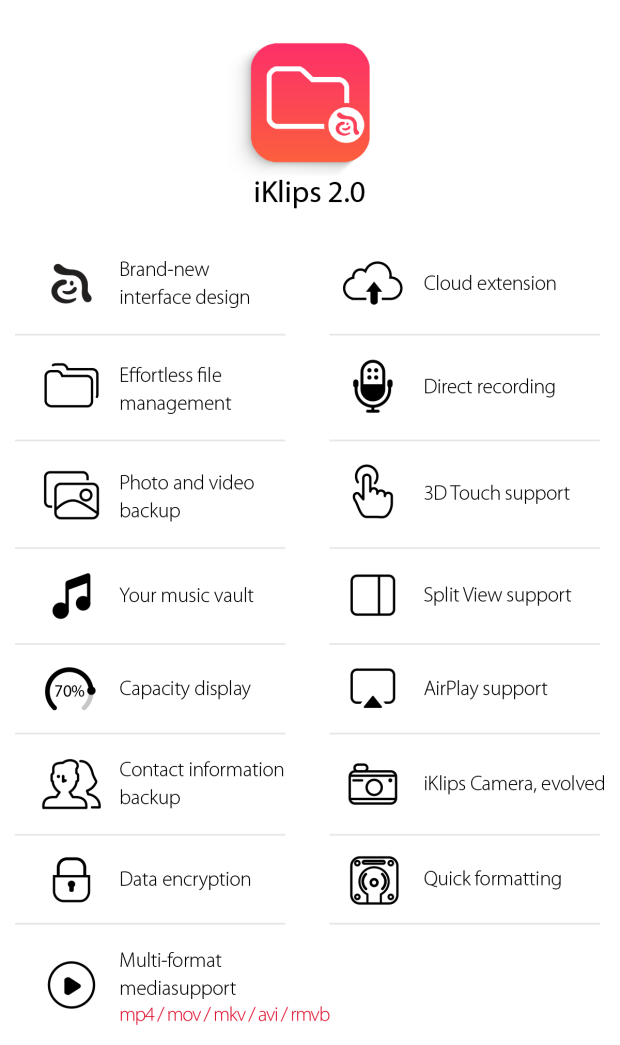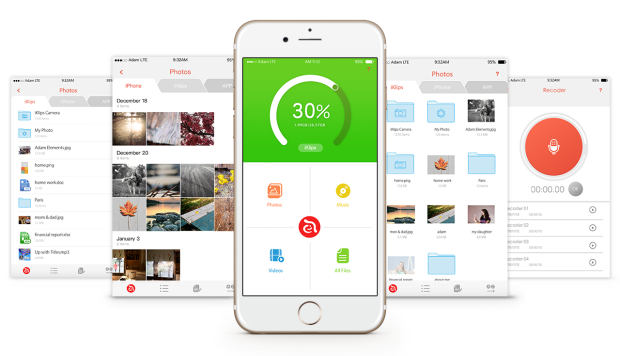 iKlips App 2.0 is one half of what makes iKlips DUO even better. It's an intuitive app that makes using your iKlips DUO an even easier experience, featuring 3D Touch support, multi-select, Split View, Touch ID password protection, Drop To, and even integration with Apple's Music app to access your iTunes purchases. It's your go-to app for managing the content you want to share and use on the go. But with Airplay integration, it's also mobile content ready for the big screen. Available for iKlips and iKlips DUO from mid-April.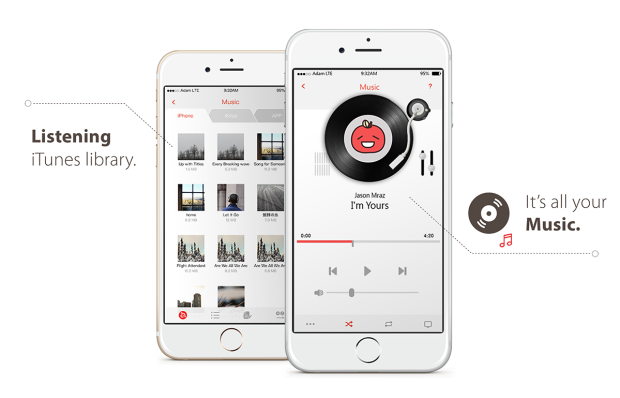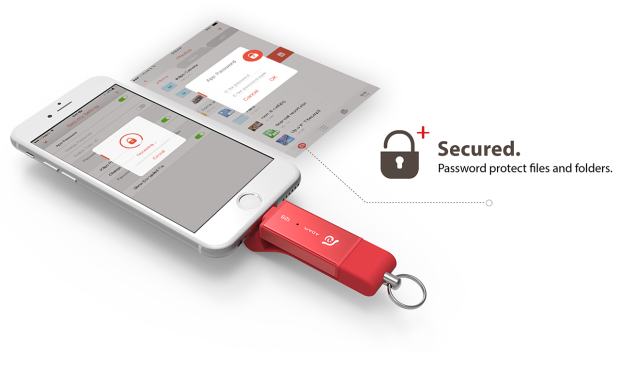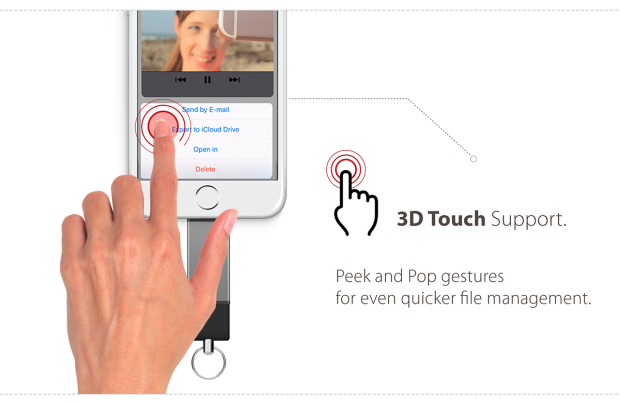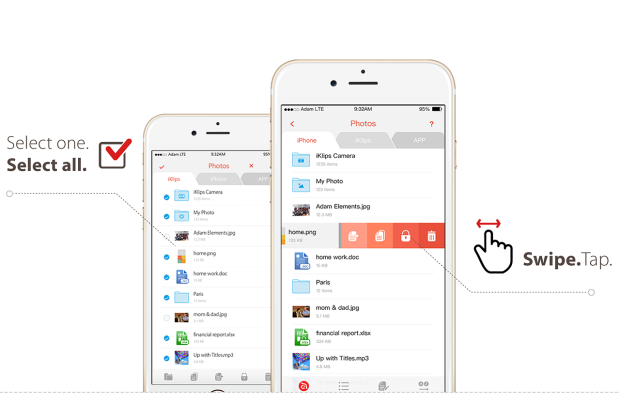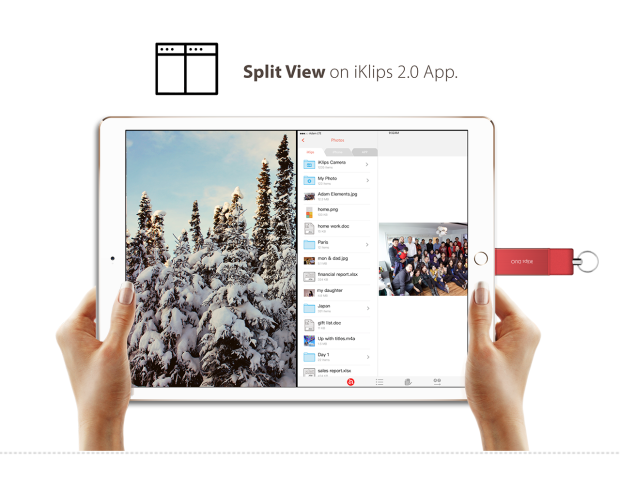 The DUO you've been waiting for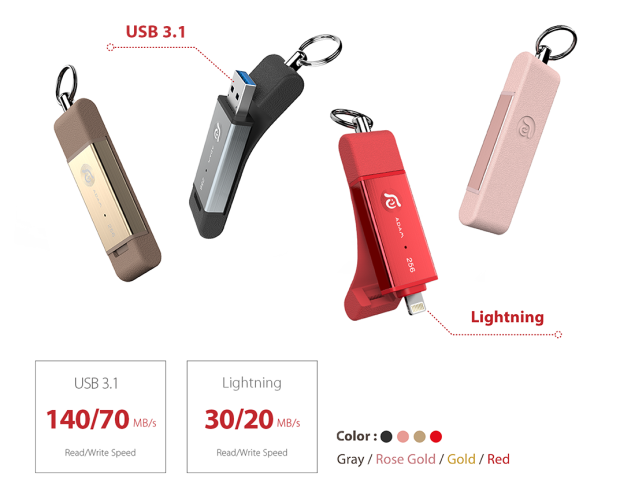 If you became attached to iKlips the first time round, then you'll love what we have in store with the new iKlips DUO. With a newly designed Lightning connector body that fits even more iPhone and iPad cases, a silicone body sleeve for total protection, a handy key ring, and a more powerful iOS app than ever before, it's quite the DUO.
Available in four vivid colors and four storage capacities, iKlips DUO has a style and purpose for everyone. When your iPhone is crammed full of photos, music, and games, iKlips DUO gives you the external storage you need – and with a style that complements your device and yourself. Available in 32GB, 64GB, 128GB and 256GB models.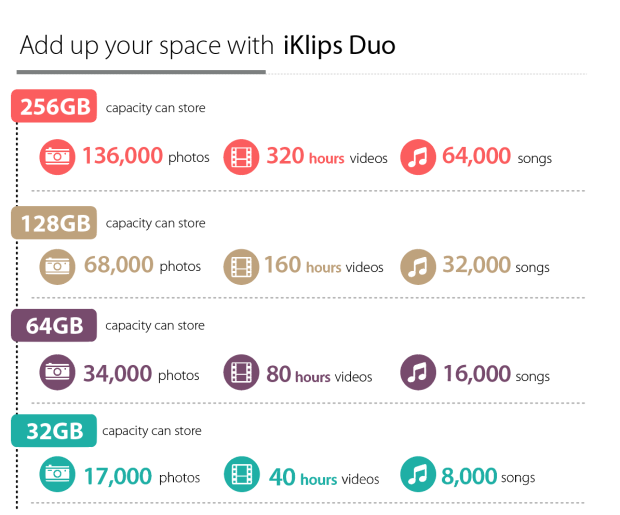 Design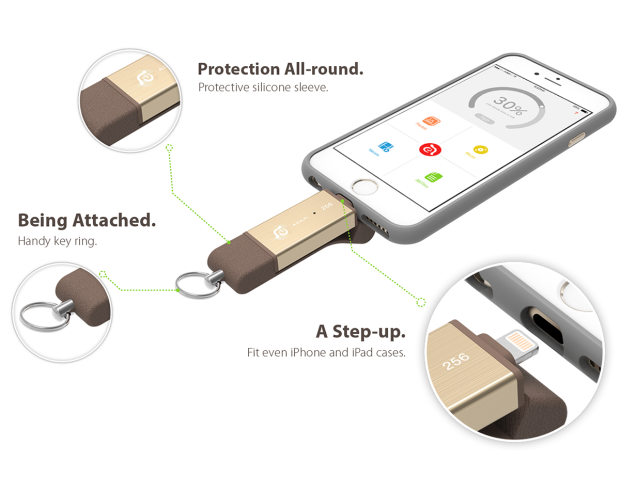 A Step-up
It's a design that's been perfected to be more practical, with a redesigned Lightning connector stepped body to fit even more iPhone and iPad cases. Use your iKlips DUO and keep your iPhone where it belongs, scratch-free and snug inside the case you love.
Protection All-round
A protective silicone sleeve stretches around both ends of iKlips DUO, giving its connectors the much-needed protection for day-to-day use. And because it wraps around iKlips DUO's body, losing protective connector caps is now a thing of the past. There's nothing to lose.
Being Attached
The simplest ideas can be the best. We've added a handy key ring, so that you can always keep it close without fear of losing it. Attach it to a keychain on your bag, clothes, or your actual keys. It is an attachment worth having.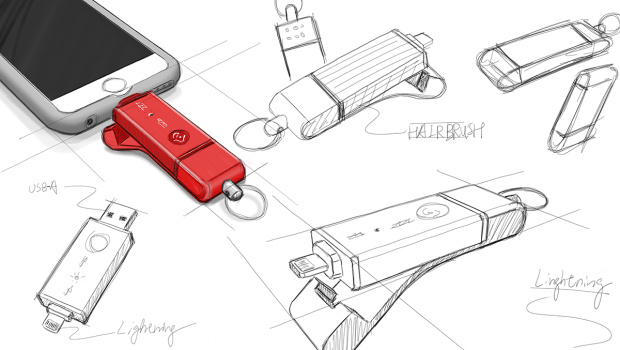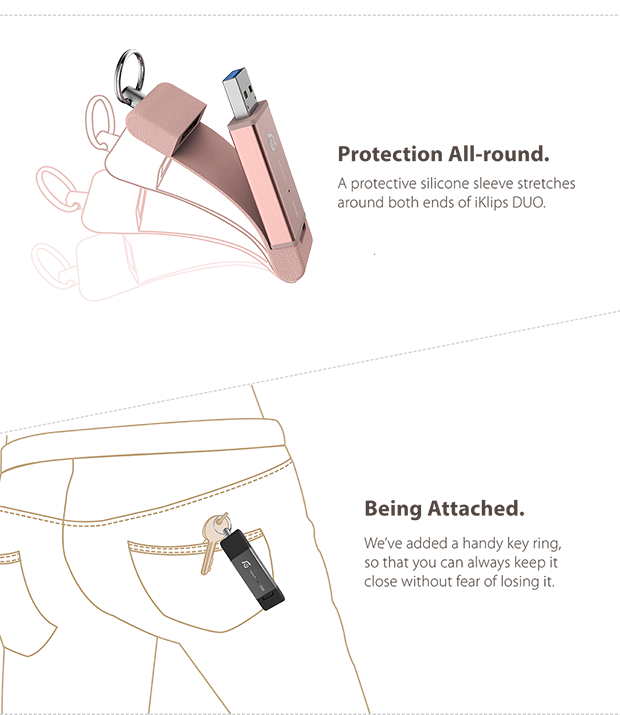 Hardware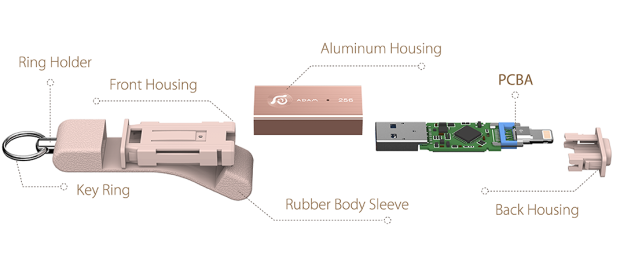 Better connected
With USB 3.1 and a Lightning connector, you can get your content from your iPhone or iPad to your PC or Mac in record time. Make real, physical backups of your precious Camera Roll memories or your iTunes music library. Think of it as your backup for the cloud and as your tool for sharing on the go. It's better to be connected when and where you need it.
exFAT – no limits
With iKlips DUO, you can forget about limitations. Formatted with exFAT, iKlips DUO doesn't have restrictions on individual file sizes. Other drives with FAT32 are limited to a measly 4GB per file – not even enough for most HD movies. If you've got the capacity, use it how you want.

MLC Flash memory.
Produced with top quality MLC flash memory, it has the world's fastest memory for iPhone, iPad, and iPad Pro. Besides enabling greater speeds, it provides greater stability and a longer lifespan. It will last as long as you want it to.
Apple MFi-certified. 
Fully certified and licensed by Apple as a product Made for iPhone, iPad & iPod. Designed specifically for Apple, iKlips Duo meets strict performance and manufacturing standards and is guaranteed  by ADAM elements.


Your Style. Your Purpose.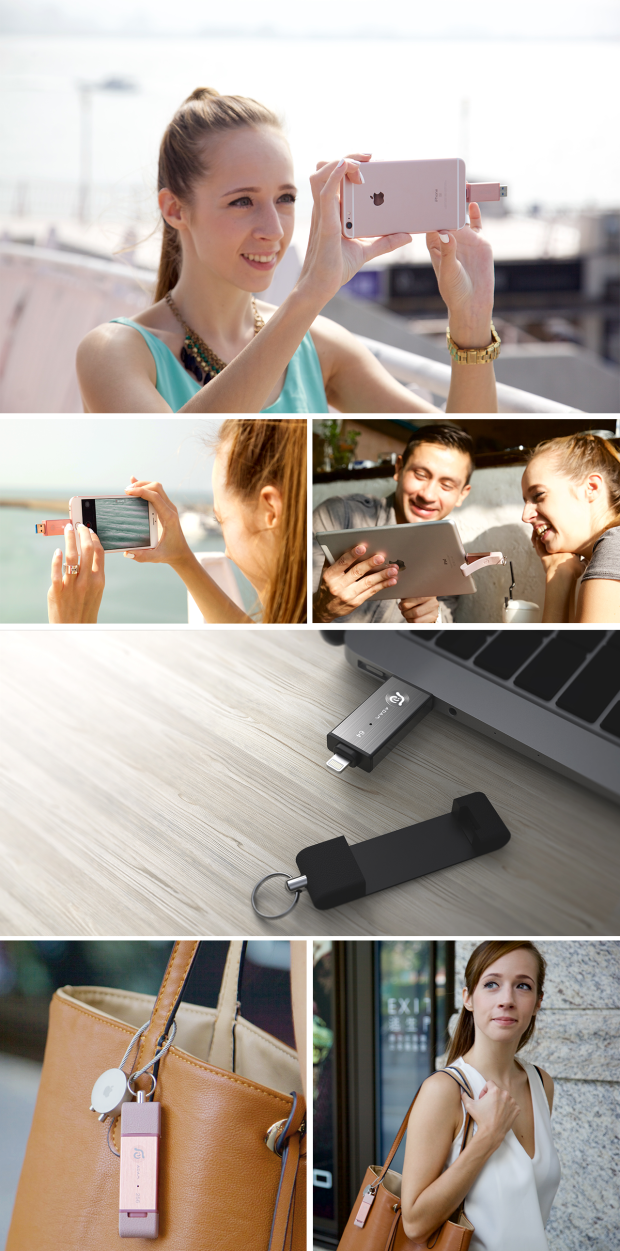 FUNDING 
We've turned to Indiegogo to open our idea to you in the hope that we can reach more people. And with your support, we can get iKlips DUO to the market much more quickly and cheaply. We can guarantee that those who back us will receive their perks. But the demand we hope to generate here will show that we're right to commit iKlips to mass production. That means more people will be able to benefit from making it easier to manage their content on the go.
BUILDING OUR APP YOUR WAY
We also invite your suggestions for building the app that suits how you want to manage your content iOS, which will be available for release in April. We want to improve workflow and manageability, so if you feel that is there anything else you'd like to see, then please contact us so we can build the features we can all benefit from: indiegogo@adamelements.com

REFERRAL PROGRAM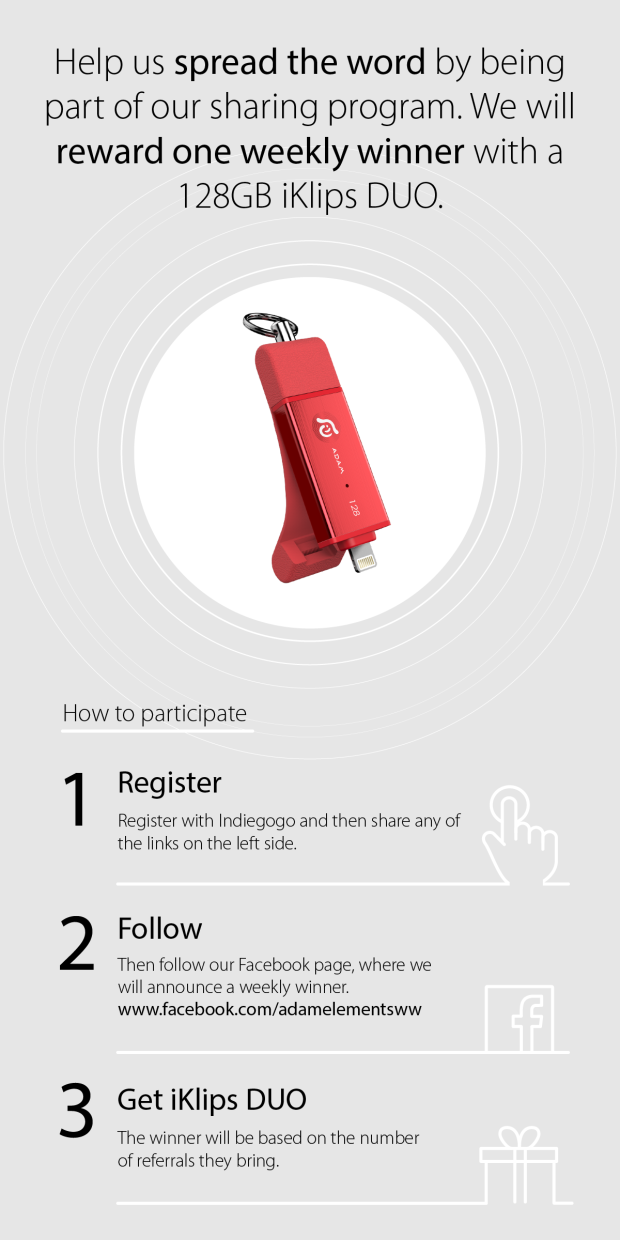 PERKS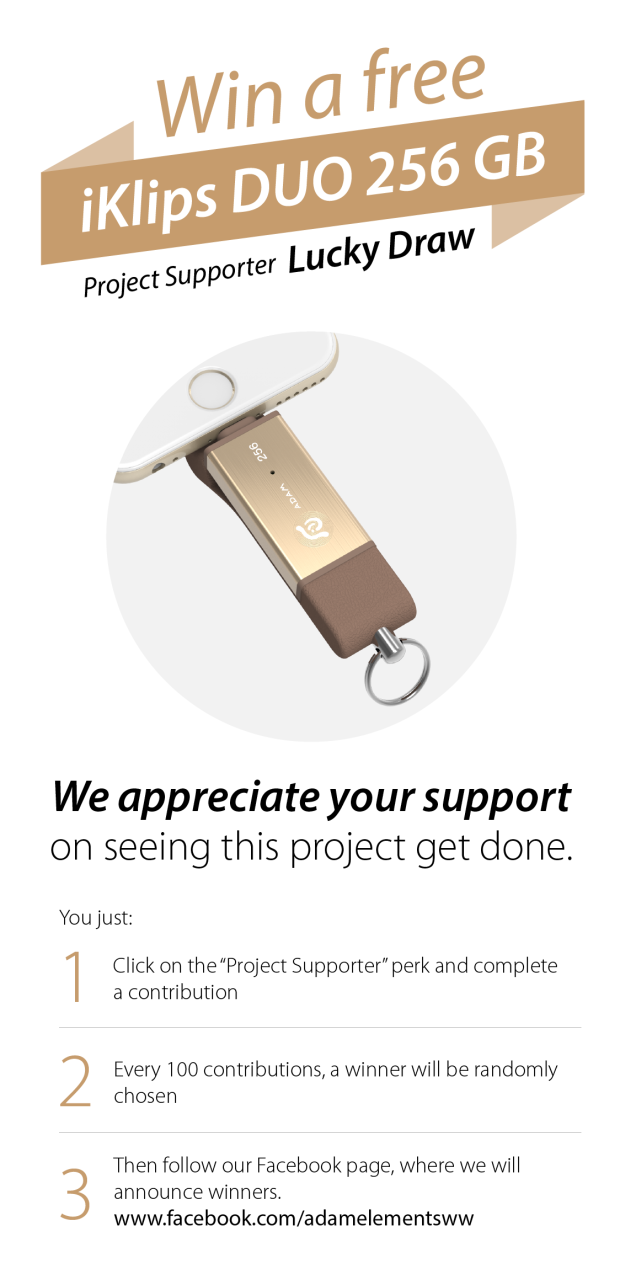 TECHNICAL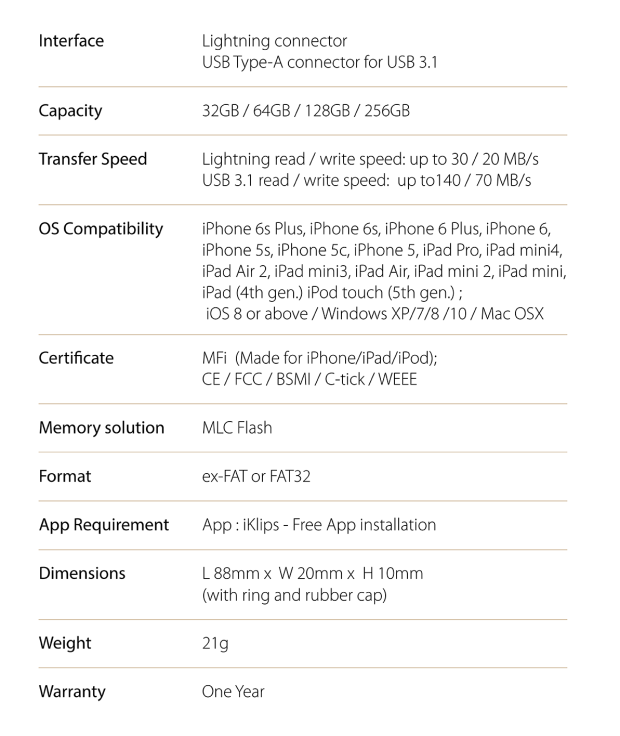 TIMELINE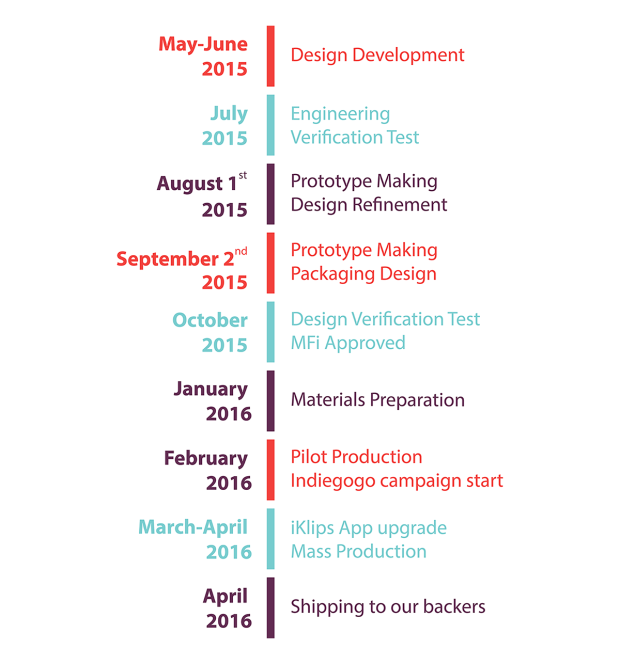 FAQs
How iKlips DUO Works
iKlips DUO works together with our free iOS companion – iKlips. When inserting iKlips DUO into your device, you'll be prompted to download the iKlips app automatically. iKlips DUO will then be powered by your device – no battery needed. 
Or you scan the QR code below to download it.
Can you store apps on iKlips?
No, iKlips can store and stream media files (.mp3,.wav,.mp4,.mov file formats support) and documents (.pdf, .txt, .doc, .docx, .xls, .xlsx, .ppt, .pptx, .jpg, .png, .tiff, .gif, .bmp).
Supported Video Formats
The following formats are supported: mp4, mov, m4v, mkv, avi, rm/rmvb
Supported Subtitle Formats
The following formats are supported: mp4 and srt in utf-8 coding.
Supported Music Formats
The following formats are supported: mp3, wav, acc, diff, and m4a.
Supported Formats
In addition iOS-native formats, the following file formats are supported: pdf, epub, txt, doc, docx, xls, xlsx, ppt, pptx, jpg, png, tiff, gif, and bmp.
Additional Apps
Apps cannot be installed only iKlips DUO directly. iKlips DUO is for content and file types, not apps.
Warranty
Each iKlips DUO has a one-year warranty.
Lead Time
All Indiegogo orders will be dispatched mid-April.
Shipping
All products will be sent with DHL for peace of mind. Please provide your telephone number. After dispatch, a tracking number will be provided for you to track your order. Orders take around 5 working days for delivery.
Returns
If you wish to return an item, please contact us at indiegogo@adamelements.com.

OUR TEAM – ABOUT US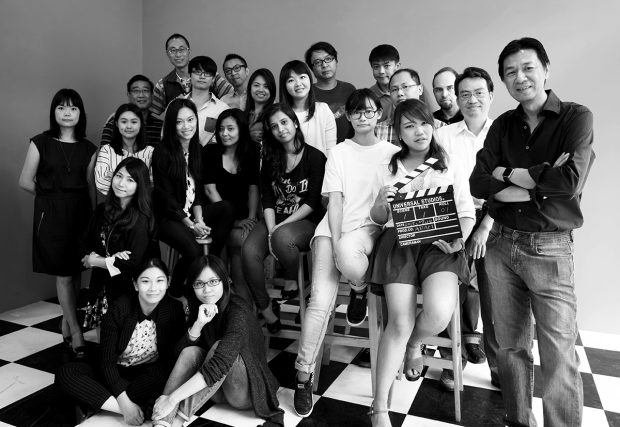 ADAM elements offers an exceptional selection of the world's best mobile smart products from renowned manufacturers. Covering mobile devices, smart wearables, intelligent peripherals, smart health products and other intelligent equipment, ADAM elements provides a diverse range of exciting products.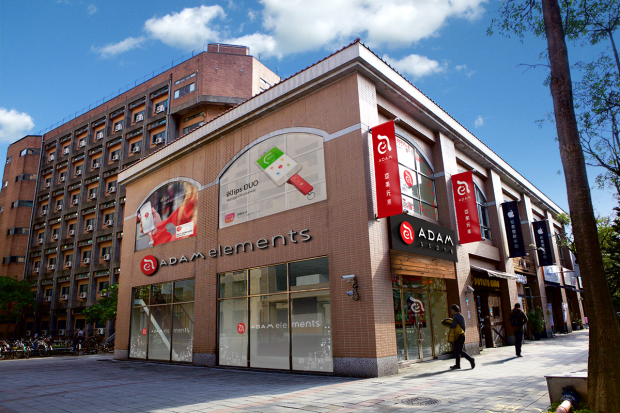 Find This Campaign On